Posted by DecoArt on Jan 10th 2016
Yesterday, the floor opened at the CHA Mega Show.
Before the doors opened, keynote speaker, Philip Fimmano of Trend Union spoke to attendees about the latest socio, economic, cultural, and demographics trends.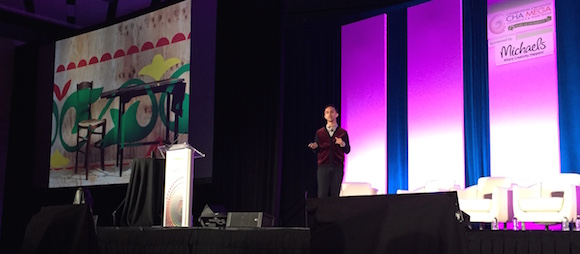 Following his keynote addres, a panel of industry experts and veterans spoke on the impacts that trends have on business and the creative arts industry as a whole. DecoArt's President and CEO, Stan Clifford was honored to be a member of the panel and represented
DecoArt
and the paint industry.
The panel was moderated by Jesse Genet, Founder and CEO of
Lumi
. The other industry professionals on the panel included: Penny Payne, Fabric and Notions Editor at McCall Pattern Company; Anna Davenport, Publisher at 
Immediate Media
; Idalia Farrajota, SVP of Merchandising at
Michaels
; and Ursula Morgan, CEO at 
Creativebug
.
The panel discussed ways in which trends are tracked and applied, methods to determine whether something is a long term trend or fast-passing fad, and how to act on trends as they materialize.

And then... the doors opened! Here are a few photos of the activities in the booth.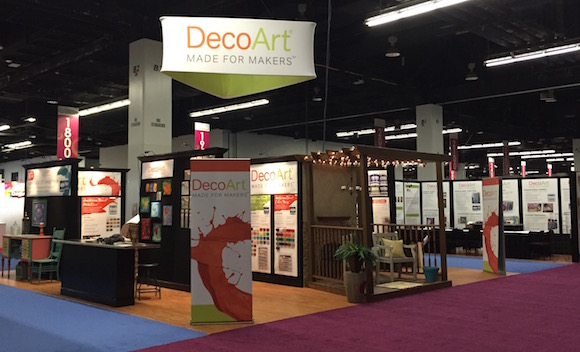 Mark Montano
drew in crowds of creatives for his Americana Decor
Chalky Finish
frame project. Don't worry! He'll be back in the booth tomorrow if you missed him.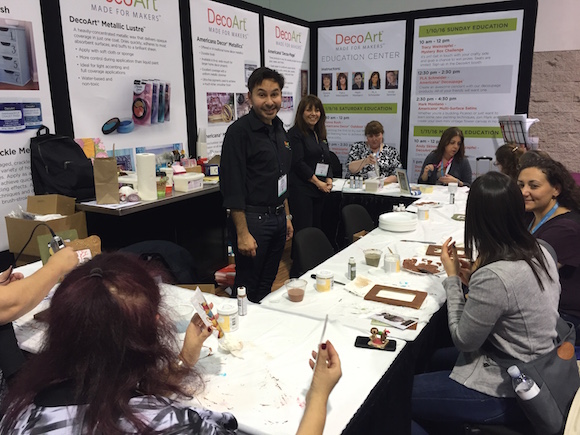 DecoArt Core Blogger, Pauline Molinari of
Club Chica Circle
showed everyone that
Metallic Lustre
is by far one of the coolest and easiest ways to achieve a metallic shimmer in your work. A huge shout out to
Artistic Wordworking
for the lovely moulding we demoed with throughout the show.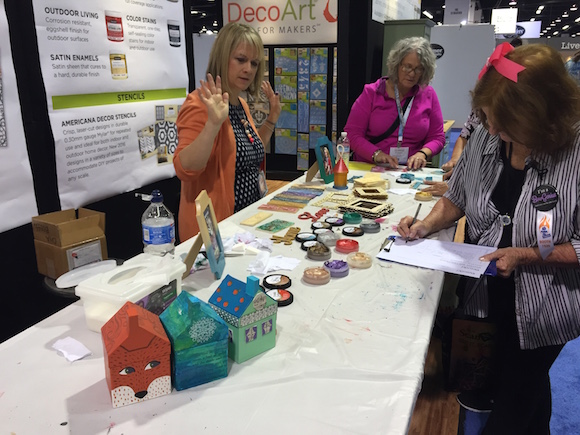 Today, we also had the opportunity to visit with many of our Partners in Promotion. We learned all about their new and exciting products and can't wait to share those with you. Stay tuned in the upcoming days for these videos highlighting our partnerships in the industry.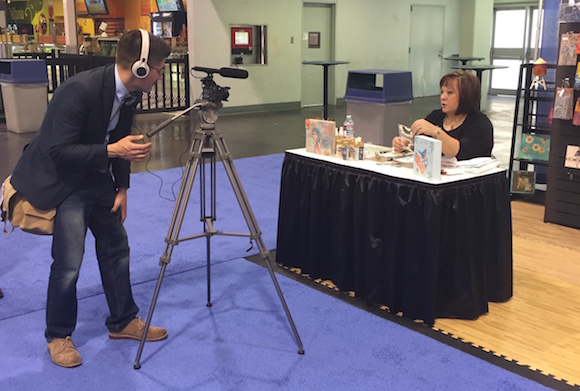 We ended the day with a fun-filled
Andy Skinner
workshop. They never disappoint! Andy Skinner walked the class through a mixed media journal project featuring
DecoArt Media
products and Andy's very own
Tando Creative
chipboard pieces.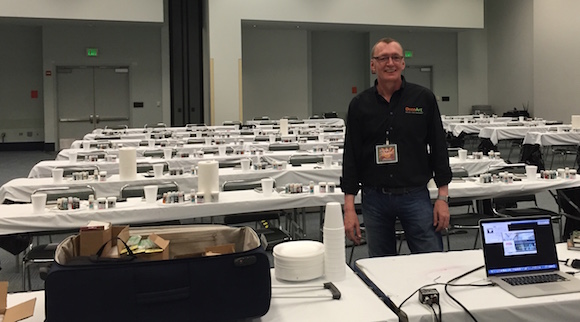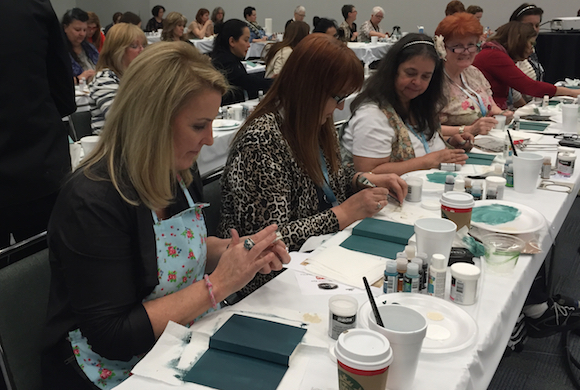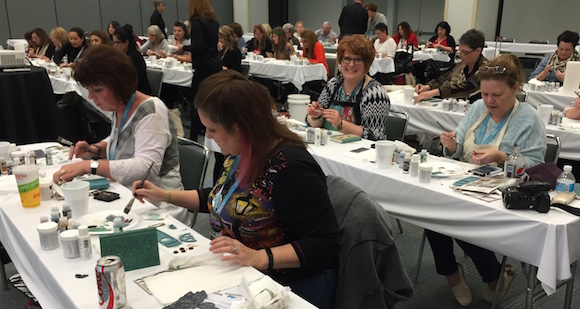 Join us again tomorrow for even more behind the scenes action at the CHA Show!
Here is the schedule for all of the exciting booth activities on Sunday. 
For the entire show booth schedule, 
click here
.
Education Area 
10:00am - 12:00pm: 
Tracy Weinzapfel - Mystery Box Challenge
It's on!! Get in touch with your crafty side and grab a chance to win prizes. Seats are limited. Sign up in the DecoArt booth. (Partners: Darice and Want2Scrap.)
12:30pm - 2:30pm:
PLA Schneider - Americana® Decou-Page™
Create an awesome pendant with our decoupage products. All of your friends will want one.
2:30pm - 4:30pm:
Mark Montano - Americana® Multi-Surface Satins
Whether you're a budding Picasso or just want to learn some new painting techniques, join Mark and create your own mini vintage flower canvas in no time.
Demo Area
9:30am - 12:00pm: 
Donna Bush - Americana Decor® Outdoor Living™ Paint
Come see DecoArt's Manager of Creative Design as she creates lovely floor cloths with one of our newest paint offerings and Roc-lon fabric.
10:00am - 12:00pm:
PLA Schneider - DecoArt® Media™ Line
Meet one of the DecoArt designers as she uses our line of products created for mixed media art.
1:00pm - 3:00pm:
Tracy Weinzapfel - 2016 NEW Product / Product Expansions
Stop in and meet DecoArt's Education Coordinator and check out a brand new DecoArt product or our newest color expansions!
1:00pm - 5:00pm:
Andy Skinner - DecoArt® Media™ Line
Come see mixed media mastermind, Andy Skinner, in action and using our line created especially for mixed media.
3:00pm - 5:00pm:
You Can Folk It!™
Meet the ladies behind the Folk Art sensation.