Posted by DecoArt on Jun 27th 2016
Botanicals never go out of style and they come in such a wide variety that it is easy to incorporate them into decor ranging from mid-century modern to rustic. 
Be inspired by these canvases to add a bit of floral style to your home. The designs are very simple and lend themselves to being altered to suit your decor. Just pick up some of our high-quality 
Americana Acrylics
 and a canvas from your local store to get started. Share your creations with us using #decoartprojects for a chance to be featured!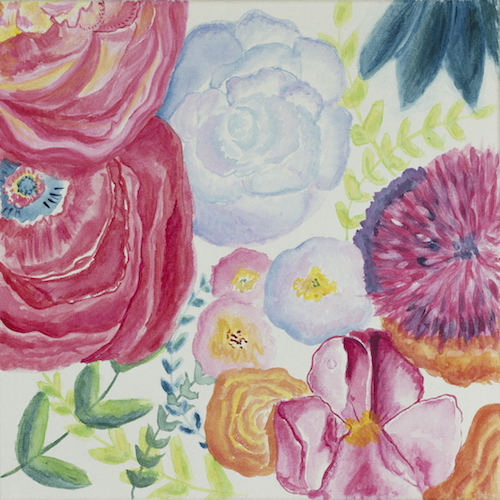 ARTIST: Micaela Spiggle
I was inspired both by close fabric patterns and some watercolor prints. With watercolor being very trendy I decided to give it a shot. Starting with the edges I wanted big bright flowers so I used a lot of pinks and reds like: Boysenberry Pink, Razzle Berry, Cherry Red, Next I added some oranges: Tangerine and Bright Orange. After that, I added some greens and blues: Wisteria, Lavender, Olive Green, Kelly Green, and Teal Green. Lastly, I added Cadmium Yellow to some of the centers.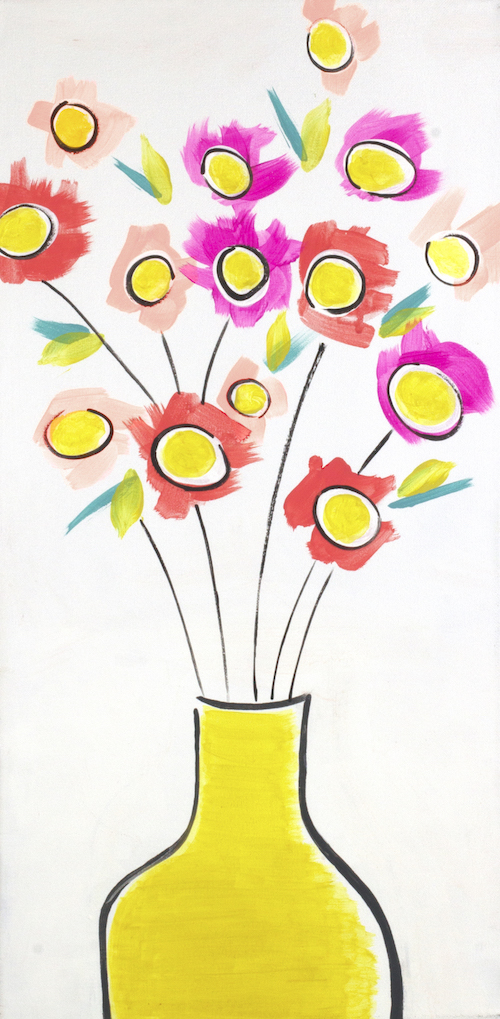 ARTIST: PLA Schneider
Modern simplicity was the inspiration for these mod flowers. If you like the type of painting that will take you under an hour... you might just love this one. I first painted the canvas in Titanium White. Next, I very loosely painted the flower petals in Peach Punch (one of my fav colors from the new Neon Lights collection), Vivid Violet, Coral Blush, Chartreuse Yellow, and Bahama Blue. Next I loosely painted a circle in the center of each flower in Titanium White, followed by Chartreuse Yellow over the Titanium White. I used a large brush to loosely paint the vase in Chartreuse Yellow. Lastly I added details with a liner brush in Graphite.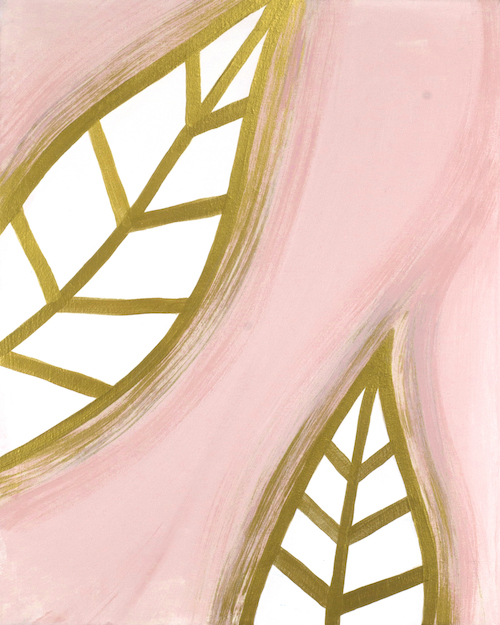 ARTIST: PLA Schneider
I love new trend of pastel colors combined with bold metallics, it proves that opposites attract. I painted the background in a very pretty and soft color appropriately named Pink Chiffon. Then I painted the leaves in white intentionally cropping them off the canvas. It was now time to add a  metallic pop, so I outlined and added the leaf's veins in Dazzling Metallic Splendid Gold. To add a feeling of movement, I loosely dry brush around the leaves in Baby Pink and Splendid Gold.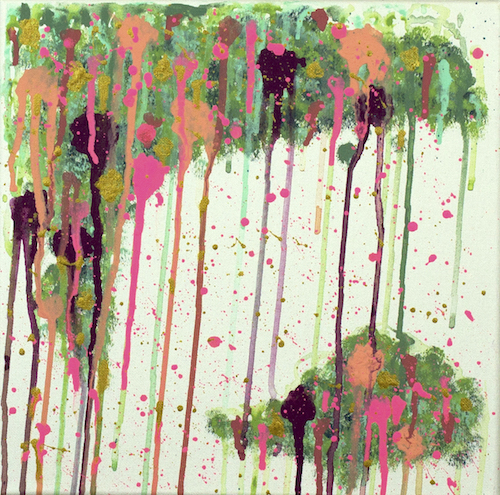 ARTIST: Micaela Spiggle
This one was an experiment that I wanted to try. I have done different drip techniques for backgrounds but never off of an image or design. All the rain we were having at the time also helped inspire this project. I first put the green onto the canvas by pouncing with a stencil brush. Greens used: Foliage Green, Silver Sage Green, and Forest Green. Next, I watered down the pinks and purples with water. The flowers are made with: Electric Pink, Coral Blush, Terra Coral, and Red Violet. There were also a few flowers made with Moon Yellow. I then let it sit vertically and drip down the canvas. Lastly, I splattered the same colors all over.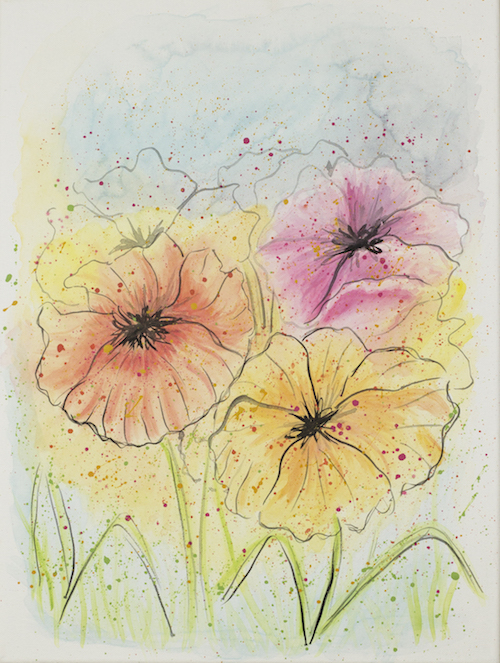 ARTIST: Micaela Spiggle
I was inspired by multiple watercolor florals. I decided to try a full watercolor where both background and design were watercolor. I wanted this one to have a very soft look so I watered the paints done more than usual about 30-­40%. I used: Spice Pink, Jack o lantern, and cadmium yellow for the flowers and part of background, Blue haven for the sky, and the grass was Hauser Light Green and highlighted with the Cadmium Yellow. 




ARTIST: PLA Schneider
When you were three years old, did you ever doodle on a wall? I have and this floral trio is inspired by just that. I remember the trick was to doodle super fast and try to finish your masterpiece before the grown-ups came in to stop you. I first painted all three canvases in Titanium White. Next, I randomly dabbed on Pink Chiffon, Terra Coral, Blue Haven, and Baby Blue with a big round sponge. Lastly I used a black permanent marker and doodled flowers as fast as I could without stopping... and... done!