Posted by DecoArt on Jul 7th 2016
Lit canvases are a fun surprise on the wall and making your own isn't as hard as you think. They transform your daytime art into nighttime pieces. They work especially well in kids' rooms as night lights or the hallway leading to your guest bathroom. What better way to light the path for guests? 


We'd love to see how you interpret lit canvas design. Share your projects with us for a chance to be featured #decoartprojects.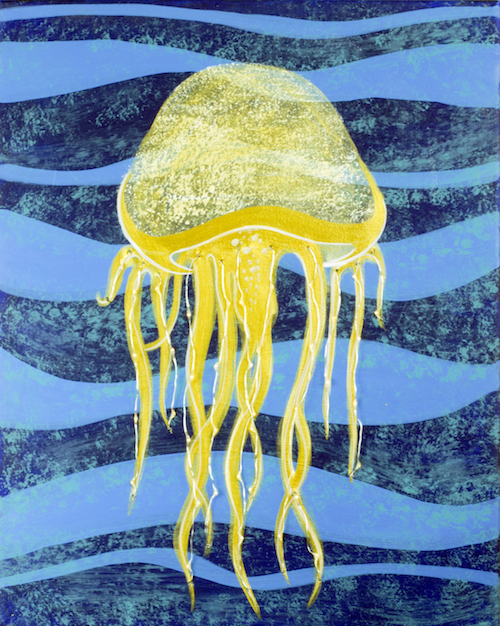 ARTIST: PLA Schneider
I've been lucky enough to have never seen a jellyfish up close and personal in the ocean... because we all know what can happen... ouch! But every time I visit an aquarium I love to watch them gracefully move about with their mesmerizing glow. As I usually do, I started off by painting the background. To mimic the deep blue sea, I painted wavy stripes in Navy Blue and Ocean Blue followed by sponging on Indian Turquoise. I also used a big round sponge to dab on and shape the top part of the jelly fish in Titanium White and Dazzling Metallics Splendid Gold. Next, I loosely painted the tentacles and added details in the same two colors, Titanium White and Dazzling Metallics Splendid Gold. Fairy lights were added to the tentacles to add a glowing effect.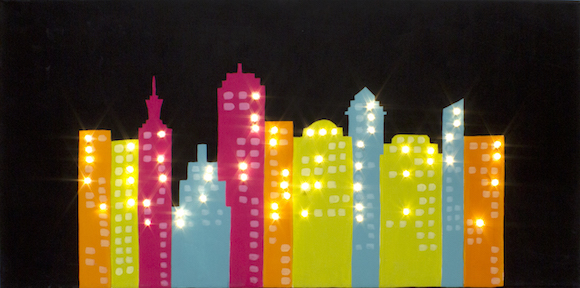 ARTIST: PLA Schneider
I love the excitement of big cities, especially at night. The black sky is the perfect background for all things bold and bright! I first painted the background in Lamp Black. Wanting this to look like "anyone's city" I created very simple non identifiable buildings and sketched them on with a white pencil. The buildings were painted in colors of the rainbow (my favorite!): Tangerine, Chartreuse Yellow, Dragon Fruit, and Aqua Sky. Next I made pastel versions of the same colors by mixing them up with a bit of Titanium White and painted the windows. LED lights were added to random windows to create a stunning nightscape.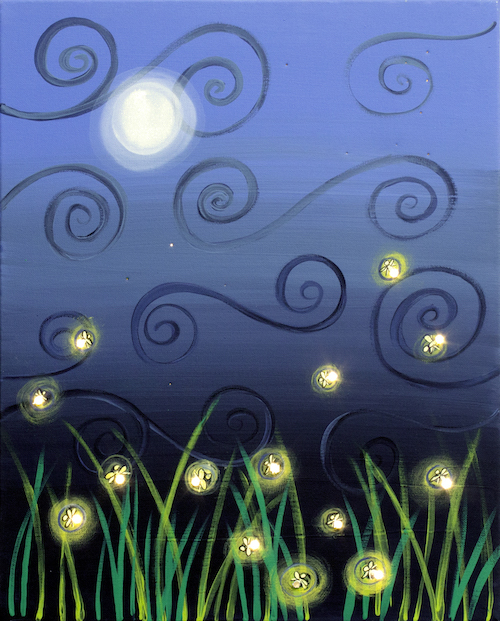 ARTIST: PLA Schneider
Seeing my little girl and her friends run around the back yard chasing fireflies always makes me smile. That was the inspiration for this simple LED painting entitled "Chasing Fireflies" (here in KY they call them "Lightning Bugs"... too cute!). I painted the back ground in Blue Harbor, then blended it down to Uniform Blue, then Black. To create the breezy look, I used the same colors to paint loose swirls throughout. The grass is made up of single upward brushstrokes in Yellow Green and Kelly Green. Next, I made the Fireflies "glow" by swirling Cadium yellow circles, then painted the fireflies in Pineapple. LED lights were added to bring the fireflies to life!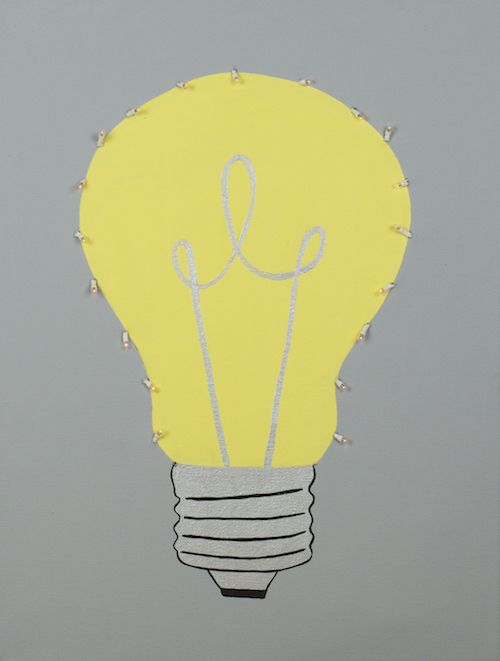 ARTIST: Felicity Greiner

I wanted to create a very simple, yet memorable painting. I knew I wanted to add some lights into the painting, so I started sketching simply shapes and scenes that would make sense with lights. I eventually decided on a very simple light bulb shape and used colors such as Grey Skies, Shimmering Silver, Pineapple, and Lamp Black to create the painting.
How will you incorporate LED lights into your next canvas painting?