Posted by DecoArt on May 19th 2016
Word art captures a feeling, moment, idea in a succinct style and set of words that resonates with the artist and later, the viewer. Some use them as motivational reminders to "stay calm", "smell the flowers", "conquer your fears" while others might use them to express pet peeves or behavioral modifications in a sarcastic, tongue-in-cheek manner that jabs without offending. However you like your word art, there's not denying that this trend has turned into a macro trend with staying power.
It's easy to be intimidated by the designs you see all over the likes of Etsy and Pinterest but you don't have to have a degree in calligraphy to create your own wall art. Be inspired by these designs to put paint brush to canvas and express your goals or acerbic thoughts for your personal decor.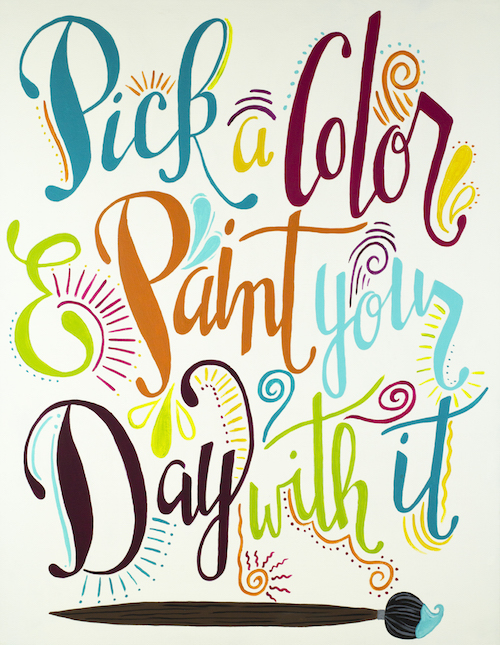 ARTIST: Felicity Greiner
"I chose my favorite quote from online and sketched in onto the canvas. I collected some of my favorite colors such as Mulberry, Bright Orange, Sea Breeze, Olive Green, Desert Turquoise, Boysenberry Pink, and Cadmium Yellow and painted each word in a different color. Once all the letters were filled in, I used a small brush to add lines, dots, and shapes in the same colors sprinkled around the canvas."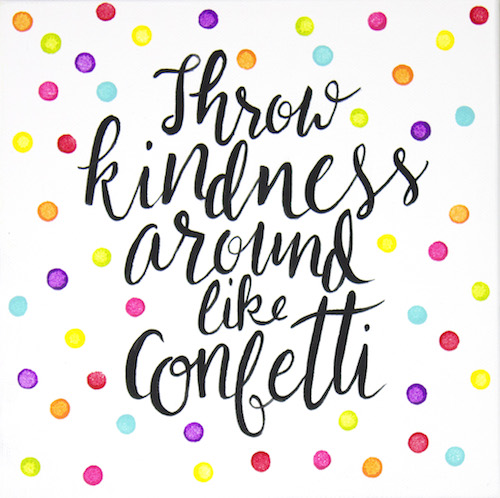 ARTIST: Felicity Greiner
"I found a simple quote online that I thought was fun and simple. I wrote the quote on the canvas and use a small brush to fill it in. Then I gathered some of my favorite colors, such as Dragon Fruit, Bahama Blue, Purple Pizzazz, Yellow Green, Bright Yellow, True Red, and Bright Orange and used a Q-Tip to add random dots of color."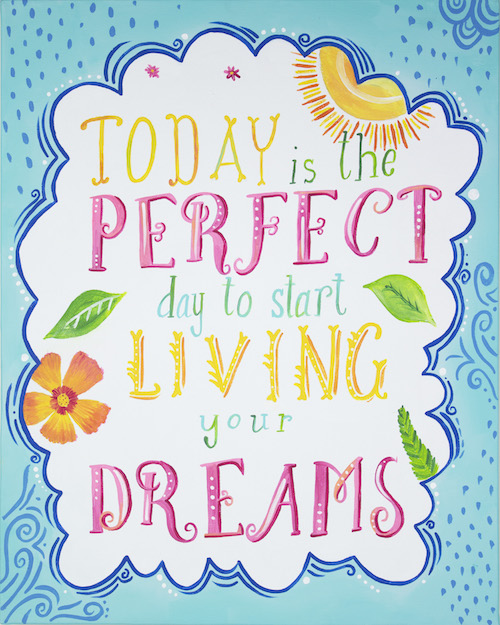 ARTIST: Felicity Greiner
"I started by making a large white cloud onto the canvas with a Bahama Blue background. I found a quote that was inspiring to me and different texts that I liked and drew them into the cloud.  I filled in all the letters with Cadmium Yellow, Dragon Fruit, Leaf Green, and Bahama Blue. Once the letters were completed, I added flowers, leaves, and sunshine."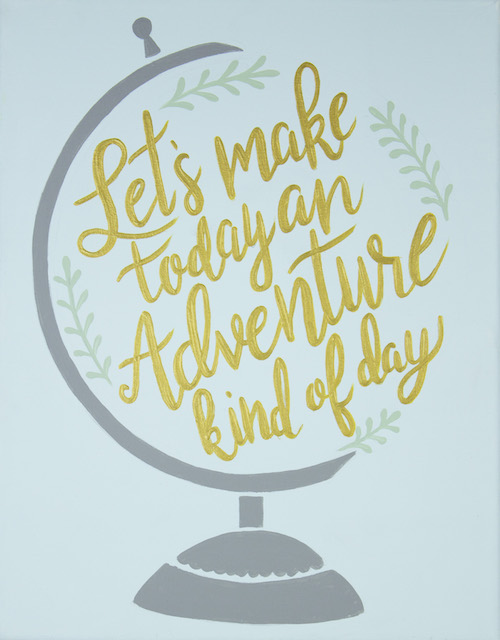 ARTIST: Felicity Greiner
"I always see images of painted globes all over the internet and thought it would be a great project. I lightly traced the right size plate (or round object) onto the canvas where I wanted the globe to be, then penciled in the base of the globe around it. I wrote in my adventurous quote and used Bright Brass to fill it in."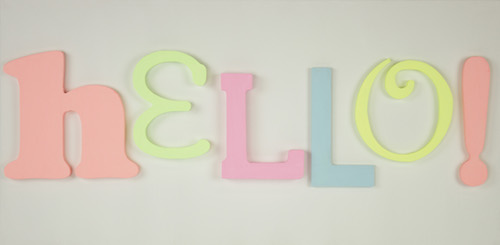 ARTIST: Felicity Greiner
"I gathered letters in different shapes and sizes to make a word. I painted each letter in a different color of Neon Lights and simply glued them onto a white canvas. This project is extremely simple but leaves a big punch of color."