Posted by DecoArt on Jul 31st 2016
It's back to school time! Bohemian style is all of the rage now, so a great way to bring some flair to boring old school supplies is with some boho chic pencil boxes!  Pencil boxes are one of those things on almost every school supply list, but aren't always that fun. By adding a little of Decoart Americana Multi-Surface Satin, Americana stencils and some boho-inspired trim, school supplies can be elevated from boring to boho chic!
Items Needed:
Painter's Tape
Pencil Boxes
Boho Inspired Trim
Multi-Surface Glue
Cotton Swabs
Rhinestone Embellishments
Instructions:
The surfaces of the boxes needed to be cleaned with soap and water to remove any oily or greasy residue so the paint would adhere properly. There are directions on the side of the paint bottle for proper application on surfaces, even if you want to use them on ceramics and make them dishwasher safe!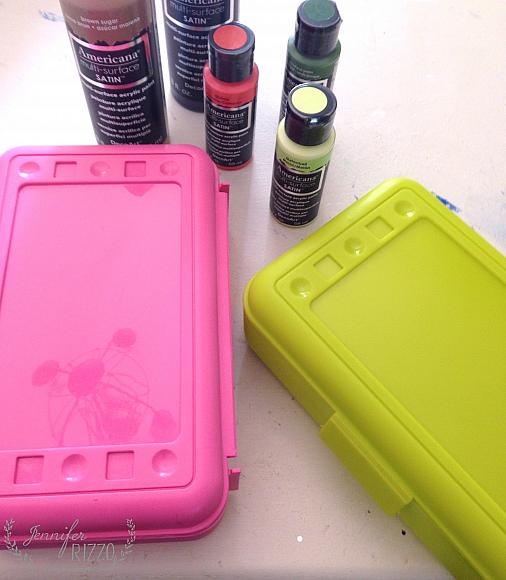 On the pink pencil box, a cute arrow stencil and a triangle stencil were used and taped down with painters tape, then painted with the multi-surface paint in Melonball in multiple coats.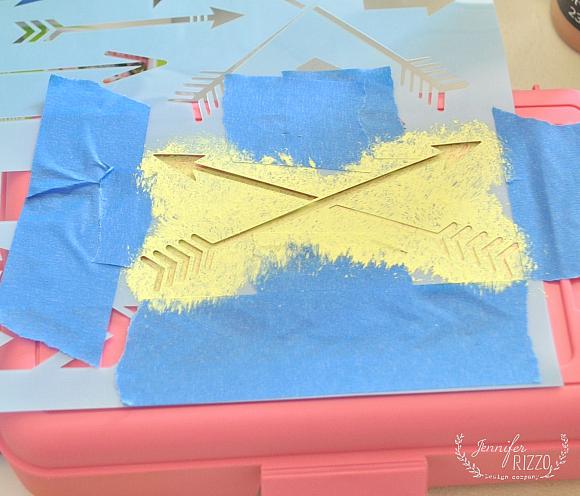 Since it's a slick surface, the best technique is to gently pounce on a layer and then let it dry. Then do another layer to get the full coverage. Once the paint has dried a little, carefully remove the stencil and then remove any paint that has bled underneath with a damp cotton swab. Dry time depends on humidity, so it's helpful to move between the pencil boxes and work on one while the other one dries.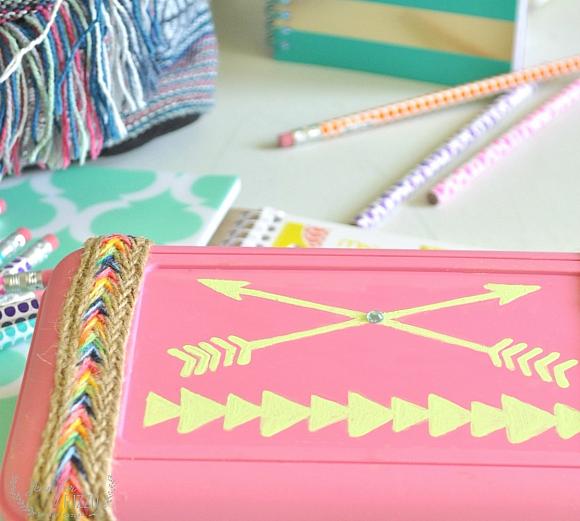 For the neon green box, the Americana multi-surface paint in Shrimp and Woodland Green colors were used with smaller arrow pattern stencils. The two-tone color made a nice contrast against the bright color.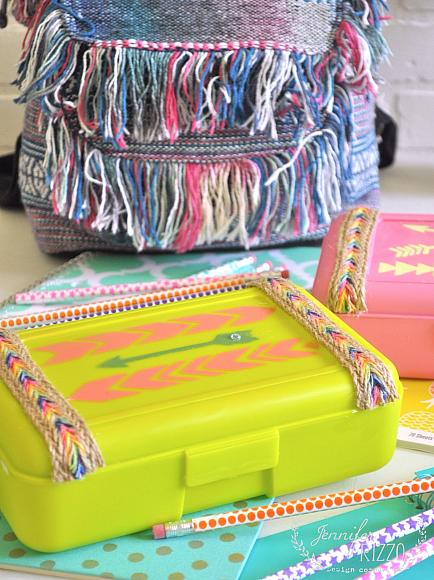 Once the pencil boxes were dry, to complete the boho chic pencil box look, a fun trim was glued on with a non-toxic multi-surface glue, plus tiny rhinestone embellishments to add just a touch of glam. School supplies don't have to be boring with these boho chic pencil boxes!