Posted by DecoArt on Oct 31st 2018
Servus and thanks for stopping by! Today I am sharing a wrapped journal with you that I have created using Eileen Hull's "Wrapped Journal" die and a used large cardboard envelope.
November is a special month to me - autumn breathes its last and you can already smell winter in the air in the Vienna Woods. The last red leaves have turned into a murky grey and mingled with the soil on the paths. It gets dark early, the puddles on the ground start to freeze and crunch under your feet and first morning frost puts a glittery coat over the world's shoulders. The crows gather in large flocks and sit in the dark bare trees surrounding the empty vineyards all around the Kahlenberg, looking like large black sprinkles there, chatting away in their typical harsh melancholic cries.
I love this particular sight and time of year because I have been associating crows and their cries with glorious late autumn days ever since I was a child, spending the most wonderful time with my beloved grandma out in nature, hiking forests or visiting the botanical gardens. So when creating this wrapped journal I tried to capture some of the magic of those days on the covers.
I haven't decided on what to use this journal for yet, but as the signatures are exchangeable, I do not have to worry too much should I find I want to fill it with something different.
Items Needed:
Assorted Brushes
Heavy Cardboard Envelope (DIN A 4 Size/US Standard Letter Size)
Eileen Hull "Wrapped Journal" Die
Andy Skinner Industrial Stamp Set
White Cardstock
2 To 4 Small Notebooks (DIN A 7 Size/2.9x4.1 Inches)
Black Stamping Ink
Black Rubber Bands
Vintage Buttons
Die Cutting Machine
Ravens Or Other Birds Dies
Small Alphabet Dies
Awl Or Pokey Tool
Splatter Brush
Instructions:
Step One: I cut off the envelope's edges lengthwise and one of the narrow ends as well, so I could unfold it in its full length (see picture). Using the Wrapped Journal die I aligned the fold of the envelope with the spine area before I put it in place properly on the die and ran that through my die cutting machine.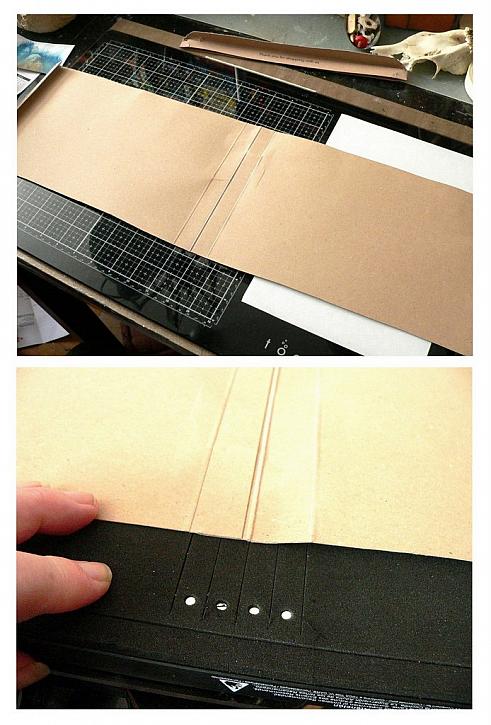 Step Two: The inside and outside of the journal cover were given a thorough coat of black DecoArt Media Gesso. Then I went in on the front cover area with Americana Titanium White and added loose vertical brushlines with a bristle brush, loading the brush only lightly. Once that was dry I randomly added scraped on black gesso on top with a palette knife.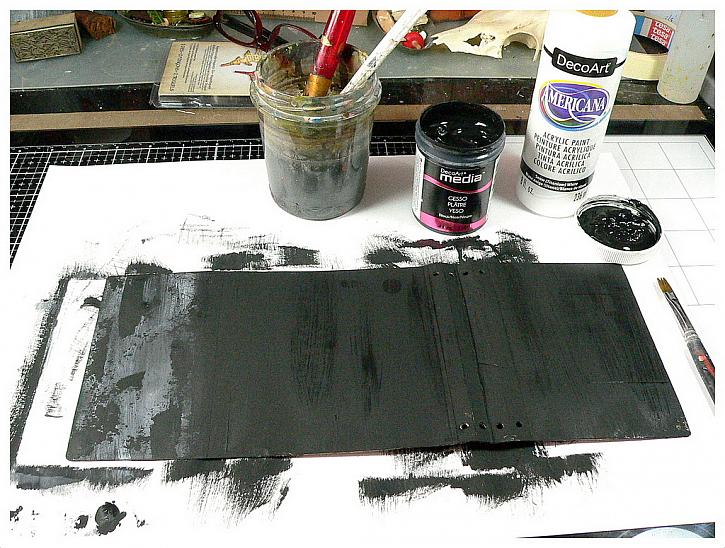 Step Three: I painted the white oval with an almost dry brush in Titanium White, working my way from the center outwards. While the paint was still slightly wet, I loaded the brush with water and smudged the painted circles for a softer look. Then I loaded a splatter brush with slightly diluted Titanium White acrylic paint and added sprinkles across the whole cover.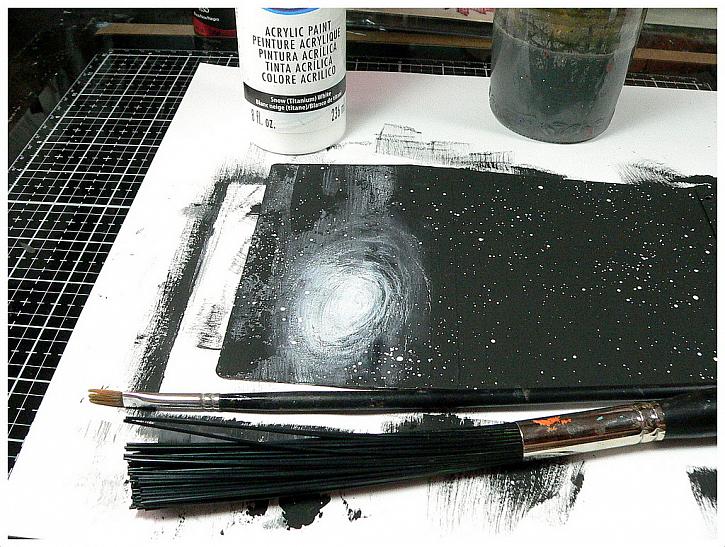 Step Four: After die cutting my crows, the feather and the branch from white cardstock, I covered these with DecoArt Media Black Gesso as well. This way I made sure the tone of the black I used was consistent throughout the whole project.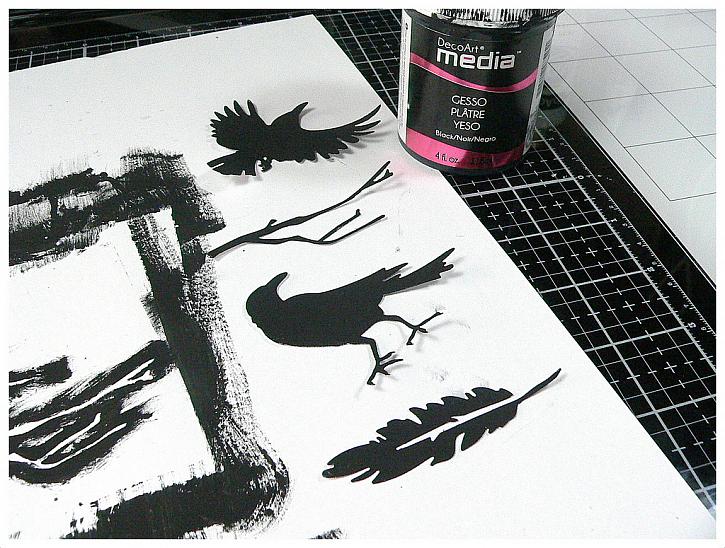 Step Five: While painting the die cut pieces with the black gesso, I had accidentally created a quite interesting and painterly looking black area around the crow-shaped white negative space on the protective paper sheet. I actually liked how this looked – so this gave me the idea on how to create the background for my second crow on the back cover!

I used white DecoArt Media Gesso and another die cut crow shape and repeated the effect on the cover – only with black and white swapping places.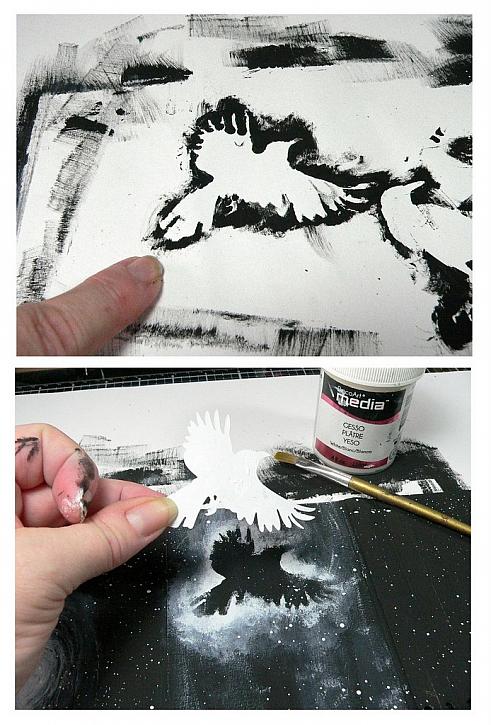 Step Six: I repeated this procedure with the feather shape on the left front cover that was to go under the right front cover when the journal was being wrapped close.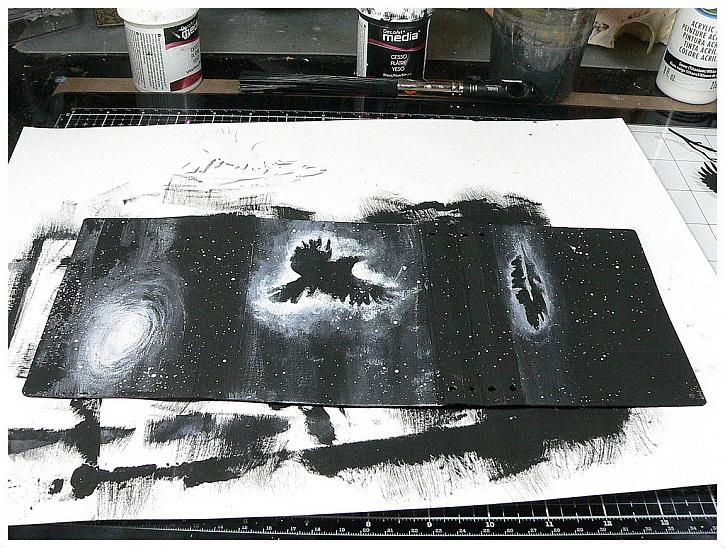 Step Seven: Time to paint the die cut shapes I had already primed with the black gesso! I used DecoArt Media Fluid Acrylics in Titanium White, Titan Buff, Prussian Blue Hue and Carbon Black to paint the crows, the feather and the branch.
Painting the crows' feet was mainly a procedure of moving back and forth, adding black or white and then tuning it down with adding only a bit more of the opposite colour.
Adding a mix of Titanium White, Titan Buff and only traces of Carbon Black I started with a generous layer of medium grey to which I added pure Carbon Black directly on the piece. I added it on the sides where I needed dark shading and added Titanium White where I needed highlights. Working wet on wet, I created subtle shading and dimension by dragging either the dark paint into the lighter area or the other way round. I had to use a very very fine detail brush as the crows' fangs were really small and narrow to work on.
The beaks and eyes were painted the same way.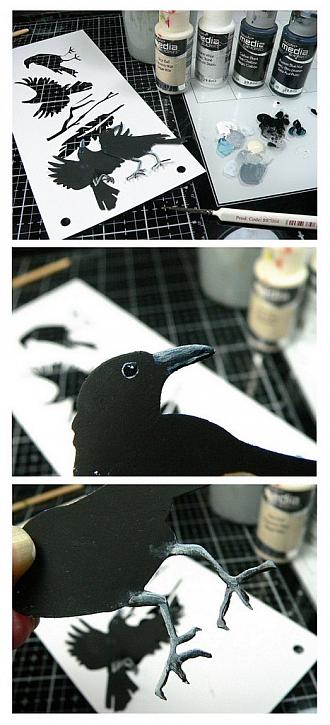 Step Eight: To add a bit of colour to the black and white cover, I first applied a thin wash of Transparent Yellow Iron Oxide and then another with Transparent Red Iron Oxide. Once that had dried I sealed the whole cover with a thin layer of matte Americana Decou-Page (which was needed for the next step).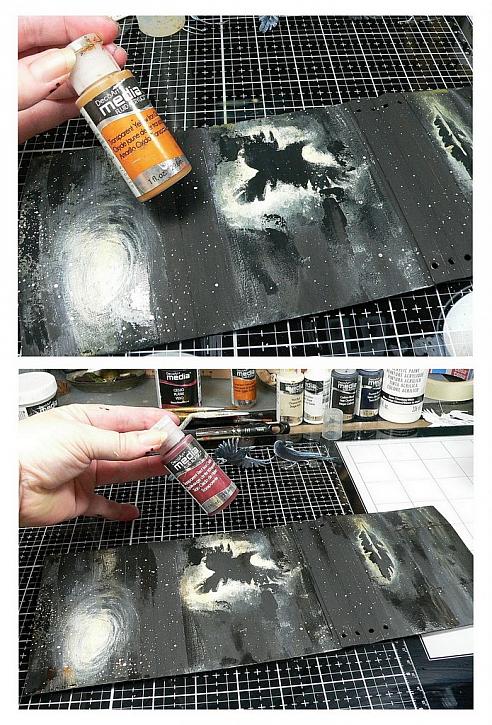 Step Nine: I used the splatter brush again to add sprinkles of Prussian Blue Hue and Transparent Red Iron Oxide across the whole cover.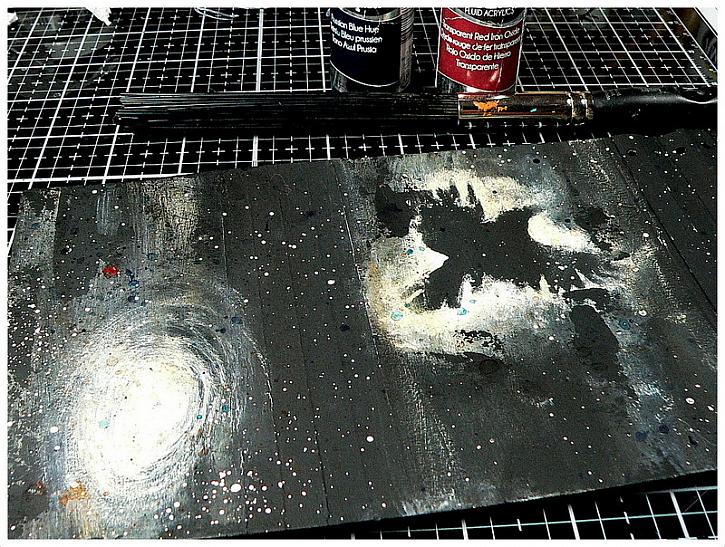 Step Ten: Once the Decou-Page had dried, I scraped on clear DecoArt Media Crackle Glaze with a palette knife, creating random patterns. I set the cover below the warm light bulb from my desk lamp to lightly speed up the curing process of the Crackle Glaze (which took about half an hour this way). The areas where Crackle Glaze was added appear dark on the cover.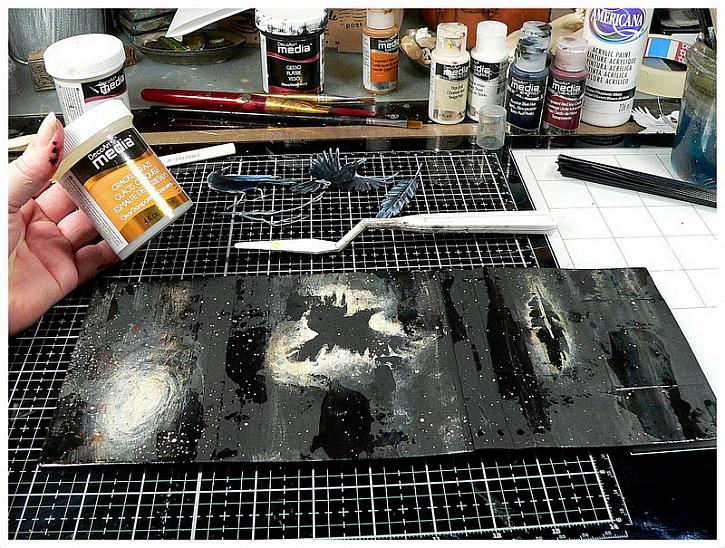 Step Eleven: While the cover was set aside for the Crackle Glaze to cure, I took a piece of scrap from the envelope and painted it with a quick layer of Transparent Red Iron Oxide. On top of that, I stamped some rust pattern using Andy Skinner's stamp from the Industrial stamp set in black stamping ink. Using a set of small alphabet dies I die cut the letters for my "Book of Crows" quote.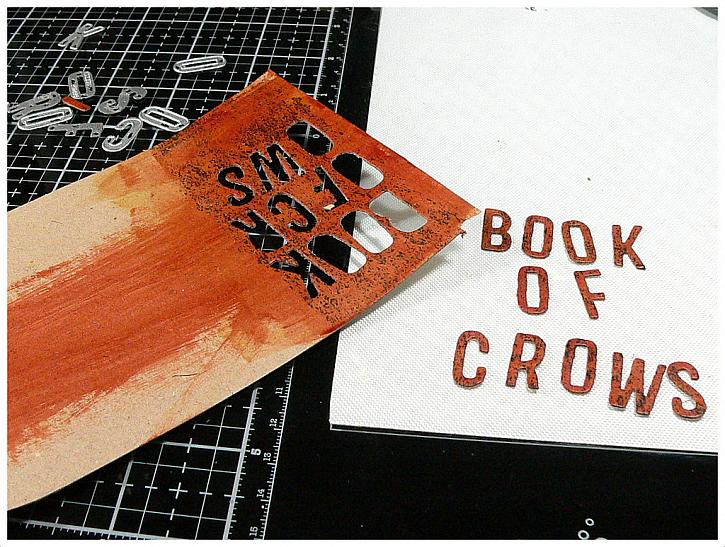 Step Twelve: The Crackle Glaze had done its magic in the meantime – so I could go in with DecoArt Media Antiquing Cream in Titanium White to highlight the cracks. To do so I simply brushed on the Antiquing Cream, let it set and then wiped off the excess with a soft damp cloth until I was content with the look.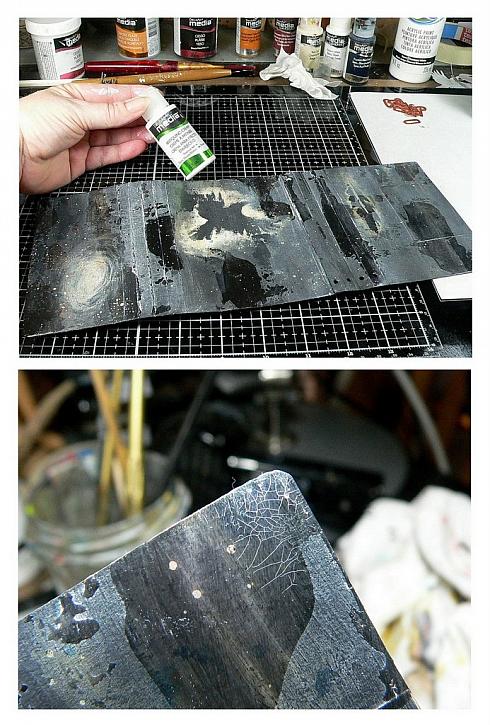 Step Thirteen: Time to glue all the painted and die cut pieces into place with matte Decou-Page! I also added a layer of matte Americana spray sealant across the whole cover to make my journal more durable and to prevent the white Antiquing Cream from being re-activated or being worn off.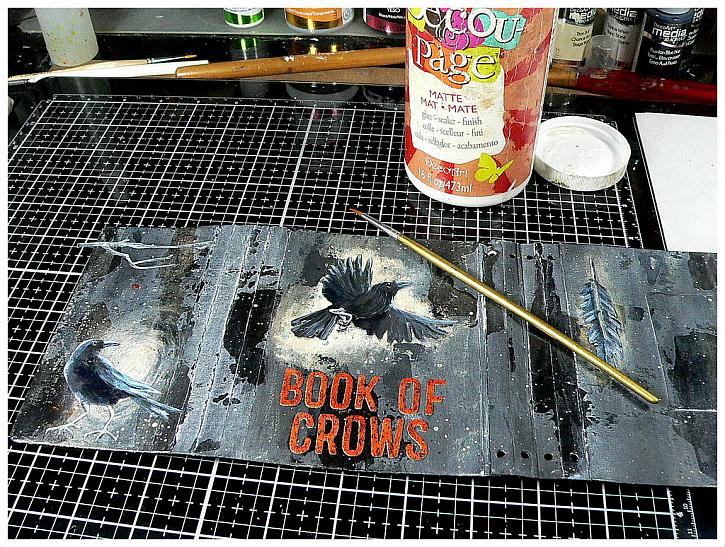 Step Fourteen: One of the last steps to do was some fine-tuning as I like to call it. I found that the painted crows, branch and feather were too hard a contrast being a cold blue against the warm background (remember – I had added washes of Transparent Yellow and Red Iron Oxide to add a bit of a warm tone to the cover). So I added washes of these to the glued on pieces too to tone them in.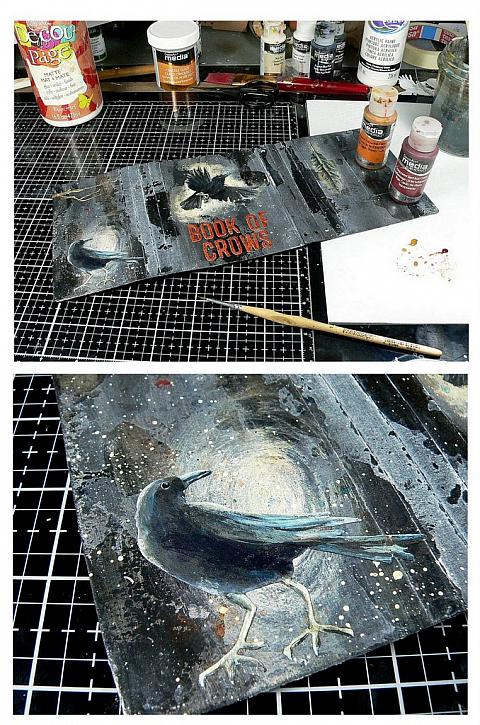 Step Fifteen: Almost there! Time to add the binding for which I used a thin black rubber band. I added four separate rubber bands to hold the four signatures and created a large loop to wrap around the journal to keep it closed. But I didn't really like how the horizontal string of black rubber visually cut my cover in halves…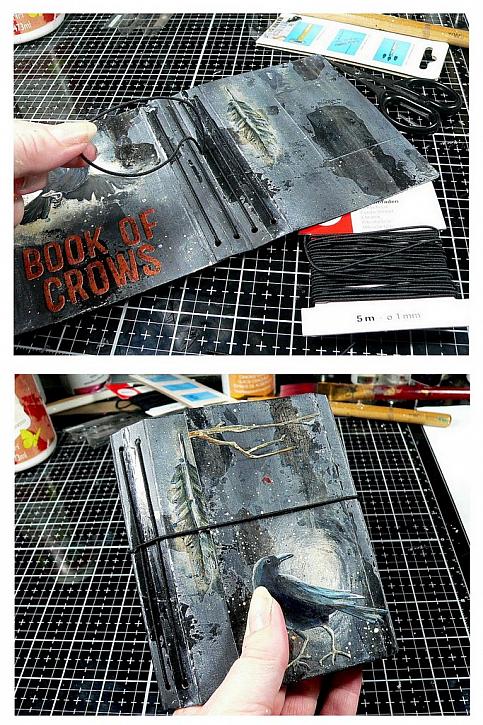 So I decided to add a vintage button as a closure to wrap a shorter loop of rubber band around so my journal would stay closed. I fixed the ends of the rubber band on the cover's inside by threading them through another button and tying a knot. I added a bit of superglue on the rubber band knot to keep it from sliding open again. Much better!
Step Sixteen: All I had to do to finish up my journal was to insert some DIN A7 size bought notebooks (which equals the size of 2.9 to 4.1 inches). If you use bought notebooks as signatures these could even be a bit wider then this, but the height fits just perfectly. This way you don't have to cut your own signatures (which I admit is something I am shying away from as I am a lazy girl and want my journals to be finished and ready for use as quickly as possible).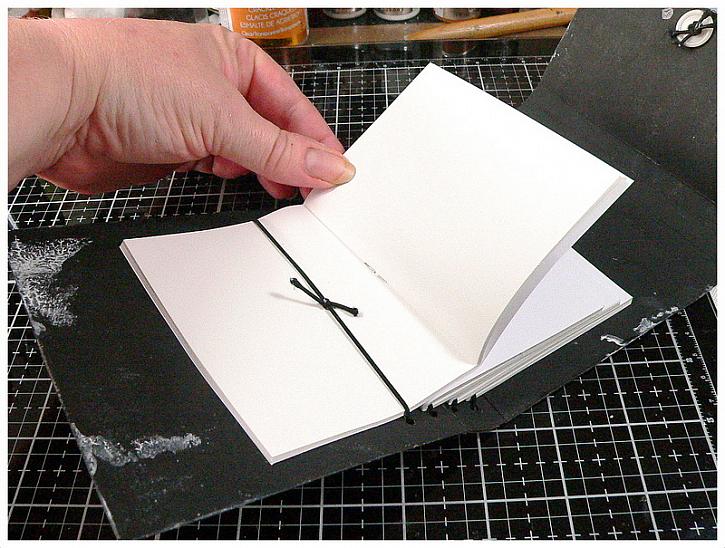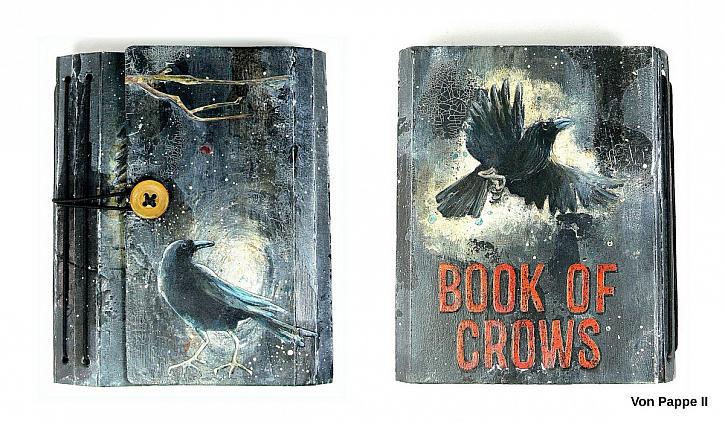 I hope you like my little autumnal "Ode to Crows" project and maybe some technique or the other has inspired you to create some mixed media goodness yourselves! Have fun and as always hugs and happy crafting!
Claudia
xxx