Posted by DecoArt on Nov 3rd 2014
One thing I love about Fall is curling up by the fireplace with a delicious cup of hot chocolate!  Which tastes even better in a fun mug! Today I'm sharing an Easy DIY Splatter Painted Mug that is a fabulous holiday gift idea! Make a few for your family and a few for gifts and get a head start on your handmade gift list!
I'm also including a super easy semi-homemade Hershey's Hot Chocolate recipe that's been a big hit in our family!
Items Needed:
Instructions:
Using painter's tape, tape off top third of mug and tape off handle so that no paint gets on these areas.
Pour a small amount of each color on a pie plate to create separate pools of paint to dip the brush into.
Dip toothbrush in the cobalt paint. Hold the brush close to the mug and run a finger over brush so that paint splatters on the mug. Let dry. Repeat this step using Overcast color and let dry.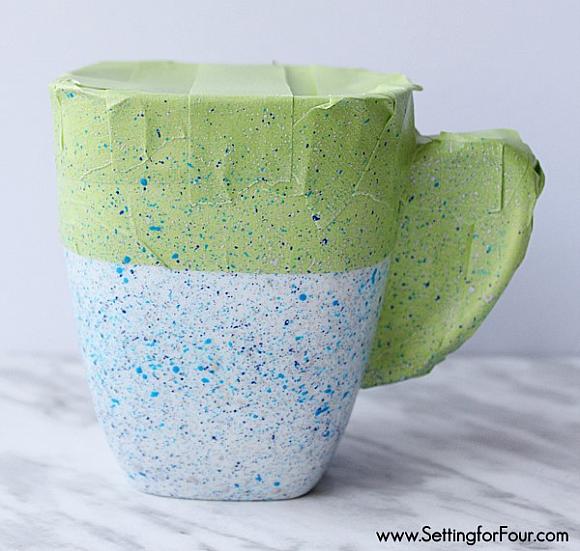 Repeat with Neon Blue. Let dry.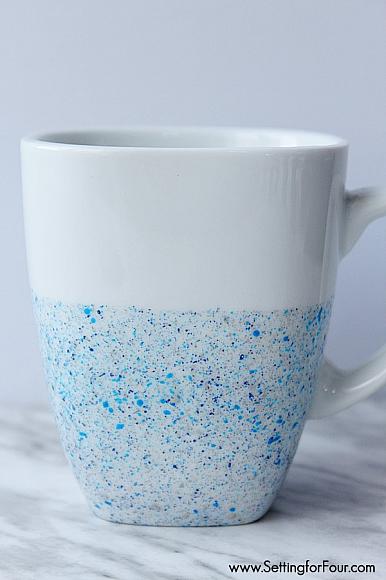 Let paint dry and bake in oven according to directions. A dishwasher-safe finish can be achieved by air curing for 4 days, then baking for 30 minutes at 325° F
That's it - now enjoy your mug filled with this delicious semi-homemade Hot Chocolate!
Hershey's Hot Chocolate Recipe


- Add 3 tbsp of hot chocolate mix to mug.
- Add two Hershey kisses. Pour boiling water over contents. Stir to mix.
- Top with whipped cream.
- Add white chocolate curls and snowflake sprinkles.... and enjoy!