Posted by DecoArt on Mar 2nd 2017
I just love playing with layers of colour, and I especially love the effects and the fast results you can achieve when applying paints with a brayer. The Tinting Base allows you to build up beautiful layers of colour with the DecoArt fluid acrylics giving you a really vibrant look on your journal pages. IF you find your brayered background is getting too bright or is a little clumsy, Tinting Base can be applied as you go along to knock the back and allow you to add more layers.
When using a brayer with paint I find it really useful to always have a spare piece of card to one side to roll off any excess paint. This surplus page often turns out to be a wonderful work of art in itself, probably because you are not overthinking it, but is also great for cutting out additional focal elements for your page.
Items Needed:
Brayer
12" X 8" Smooth White Cardstock
Oil Pastels
White Gel Pen
Fine Black Marker
Flourish Stamp
Texture Stamp
Sponge
Old Credit/Gift Card
Fine Paint Brush
Black Inkpad
Glitter
Instructions:
Begin by brayering Tinting Base onto the smooth white card moving in a horizontal and vertical direction. While this is still wet brayer a small amount of Cobalt Teal Hue over the top so that it blends slightly. Work the paint onto your brayer on a craft mat first to ensure even application, and always use very light pressure onto your cardstock. It is easier to work in several applications of small amounts of paint as it is easy to add more but not so easy to take it away.
Repeat this step with small amounts of the Green Gold. You can also add another layer of the Cobalt Teal Hue and keep repeating these layers until you like the look.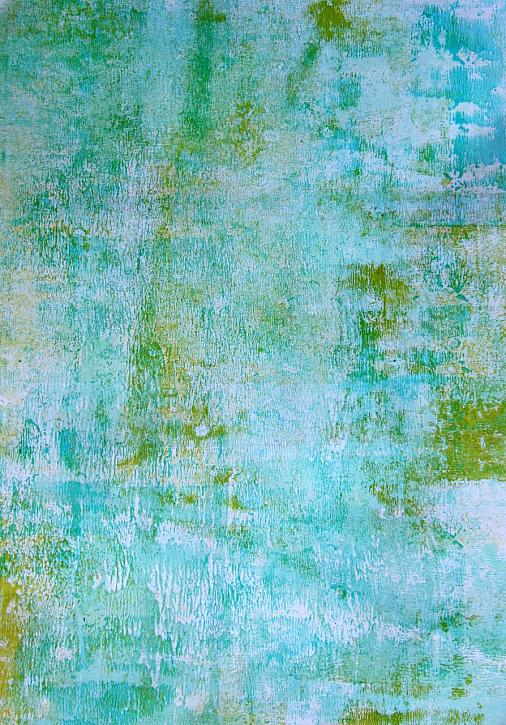 Begin with the Vermilion and brayer a very small amount of paint working from the outside in, in three or four areas. On top of this add a little Primary Magenta, and then add a little Quinacridone Red, so that these areas of contrasting colour build up gradually.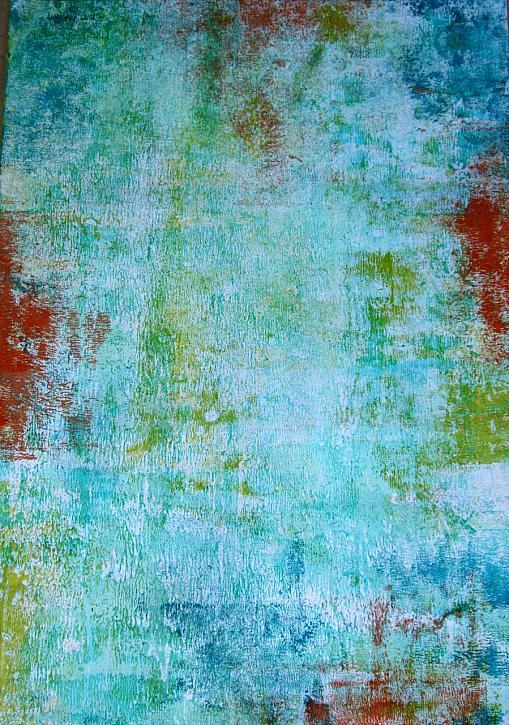 Brayer small amounts of Phthalo Turquoise around the edges to add depth to the colour, and even a little Carbon Black if you're feeling brave! Add marks to this background by printing with the edge of an old credit card, in Carbon Black and also any of the colours already used, and also add a few splats with a fine paintbrush. You may need to add a little water to your paint for this.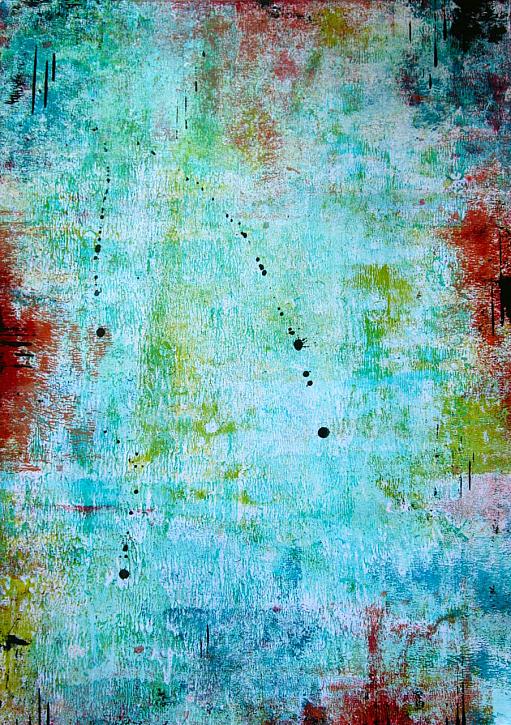 Use the sponge to gently push paint through the stencils to randomly add pattern to the background. I used the Halftone and Typeface stencil for this.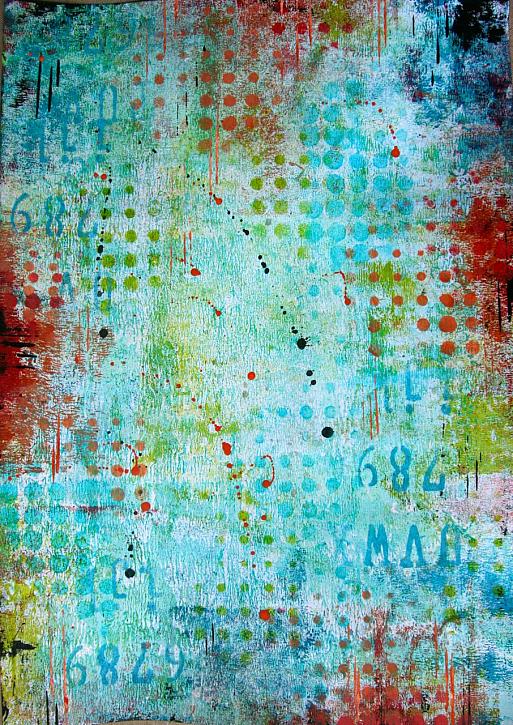 Any flourish or scroll stamp repeatedly stamped around the edge adds a striking addition to the edges and also frames the page.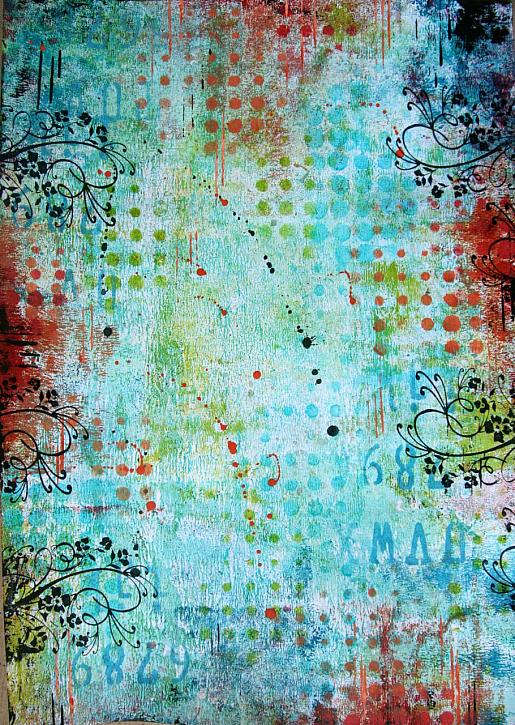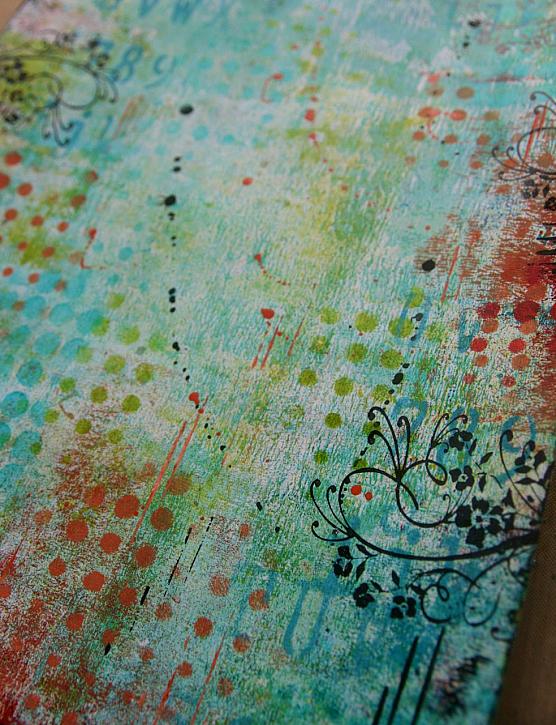 Further stamping can be added by using texture stamps, and either inkpads in corresponding colours or Fluid Acrylics on the stamp (just remember to clean it off straight away!) Doodle around the stamping and the stenciling with a white gel pen to tidy things up a bit and to add interest.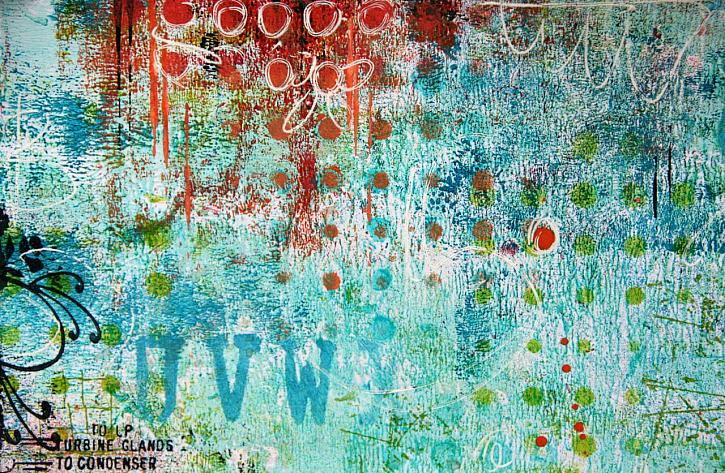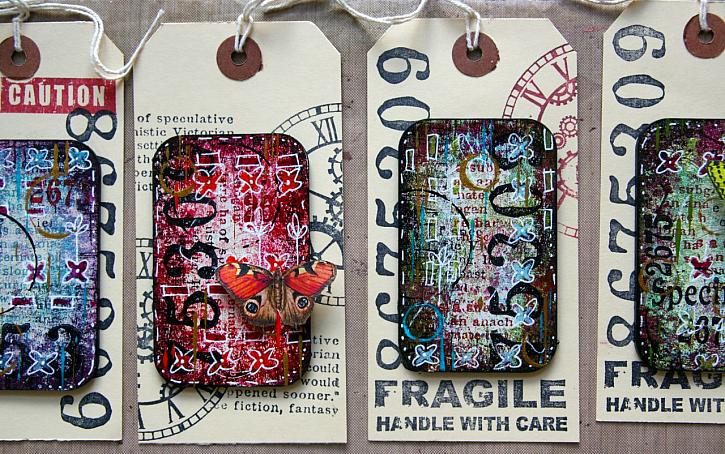 If you have been brayering off excess paint onto a spare piece of card then you will have a colourful piece to cut some shapes out of. Scribble three large circles on this extra card and cut out. Doodle with white pen and add some extra colour to the centre with oil pastel.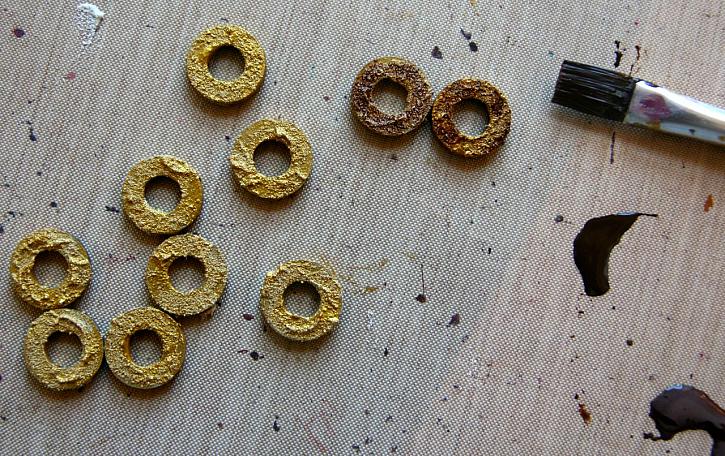 Sponge Phthalo Turquoise through a stencil to add a word to the lower right of the page, and outline loosely with a white pen.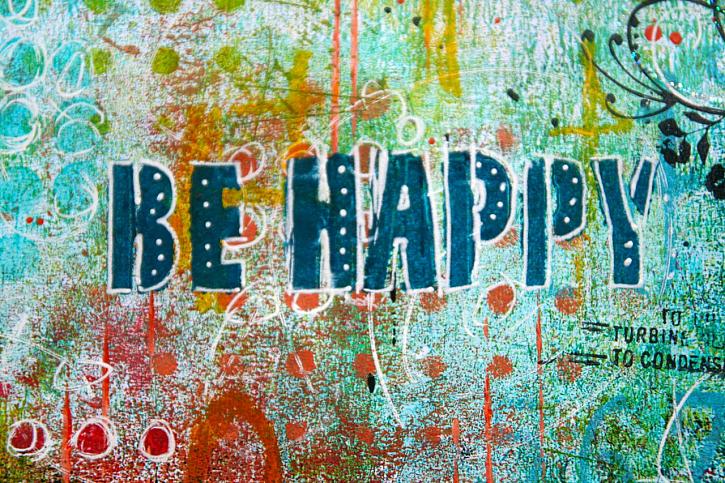 Add Texture Paste through a stencil in carefully selected areas. At this stage I look to fill any gaps and create balance on the page.
Add the scribbled circles to the page with Matte Medium. Hand draw stems and then journal up the stems. Add glitter to the flowers and along the flourishes if you wish. And finally, add a little oil pastel (or similar) around the circle flower shapes, and around the edge of the page to additionally frame the page.