Posted by DecoArt on Jan 22nd 2018
Here at DecoArt, a new year means new products! We are excited to share with you a sneak peek of what you will find on store shelves and in our online store over the next few months. Leave us a comment and tell us which product you are most excited to try out!
---

2018 PAINT POURING PROGRAM


Make stunning art without a paintbrush! Paint pouring enables anyone, from the novice crafter to the expert artist, to create unique pieces by layering and pouring acrylic paints and mediums onto almost any surface.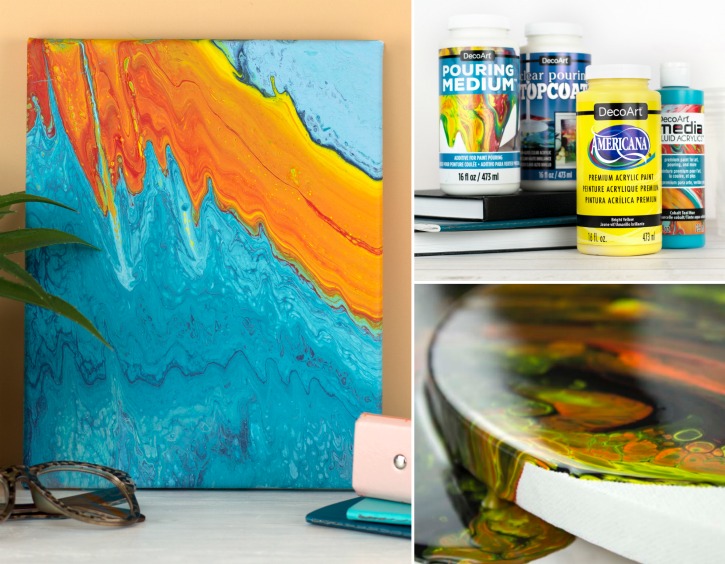 DecoArt® Pouring Medium™:
A fluid additive specially formulated to enable paint to flow easily across a surface. It thins the paint to the ideal consistency for pouring, without sacrificing adhesive properties. Its flexible film will not crack or craze. Available in 8-oz., 16-oz, and 64-oz. sizes.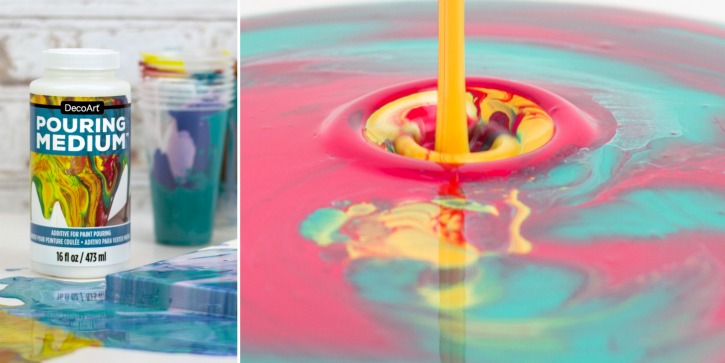 DecoArt® Clear Pouring Topcoat™:
Pour over acrylic paintings to achieve a high-gloss, lacquer-like finish. This one-step formula eliminates the need to mix harsh chemicals and flows into a self-leveling coat that will not yellow or bubble. Cures to a crystal clear, hard finish. Available in 8-oz., 16-oz, and 64-oz. sizes.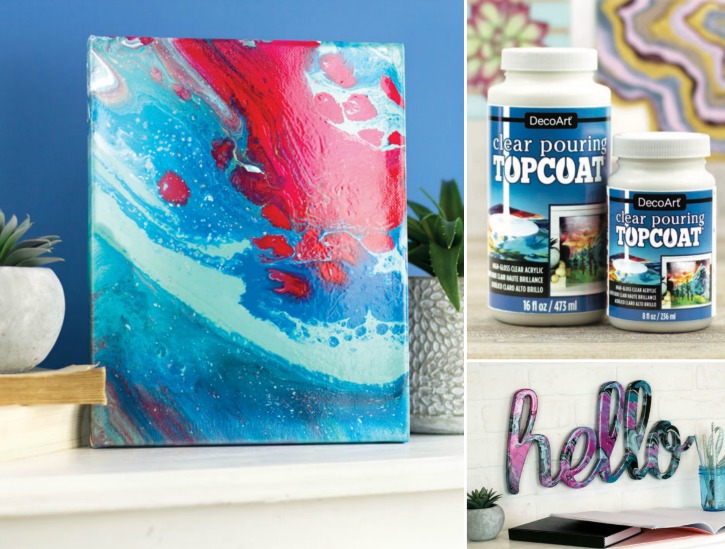 DecoArt® Media Fluid Acrylics™: 
Premium semi-gloss acrylics formulated with lightfast and artist-grade pigments so that pours will display rich, intense colors. Since they possess such high-quality pigments, the 8-oz. size is ideal for paint pouring: a little goes a long way.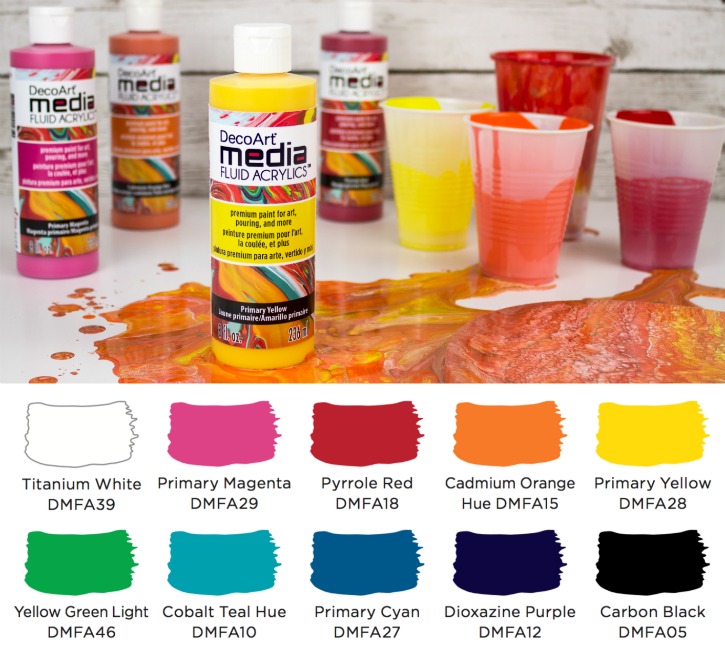 Americana® Matte Acrylics: 
Matte finish paints that deliver superior coverage with a permanent, durable finish. This economically-priced, 16-oz size is ideal for the paint pouring trend and is loaded with bright, lightfast pigments, offering artists, crafters, and students great results with vibrant colors.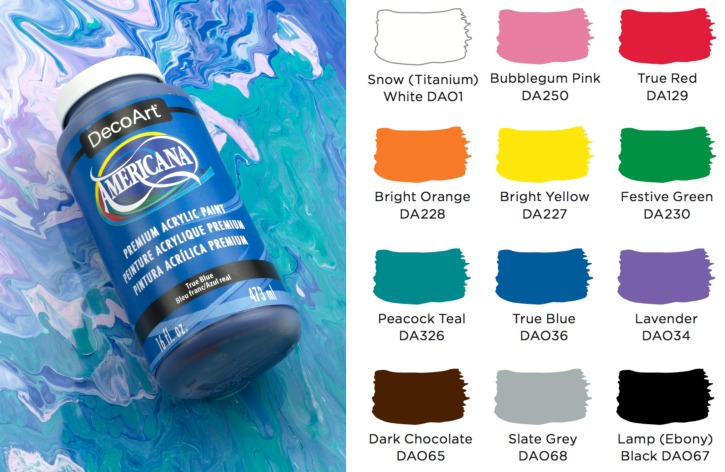 ---
2018 NEW DIY PRODUCTS
Americana Decor® Matte Metallics™:
 Metallic Acrylics that offer a subtle sheen and deliver excellent, opaque coverage to any home décor project.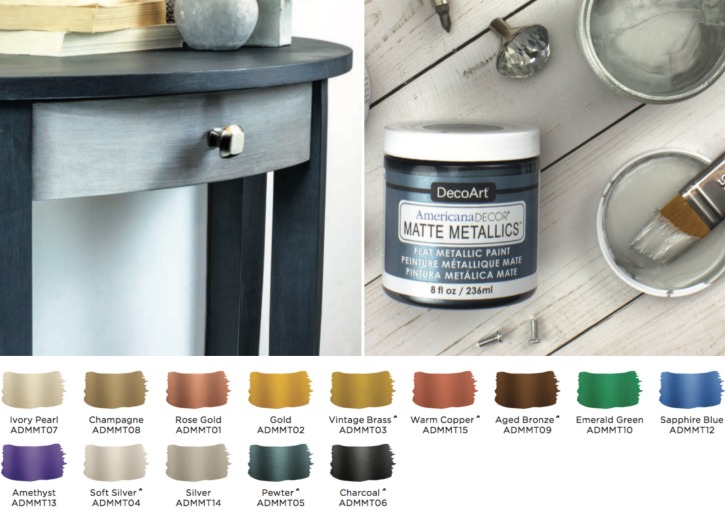 Americana Decor® Texture™:
 Embellish furniture and home décor pieces with added dimension and texture.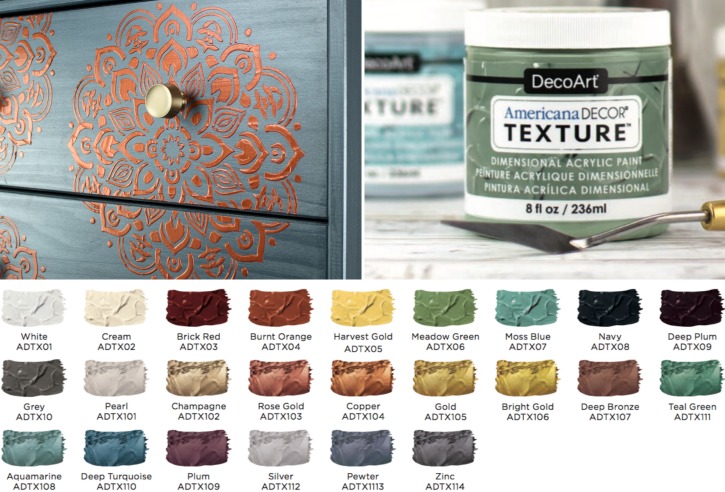 ---

2018 NEW CRAFT PRODUCTS
DecoArt® Stylin™:
 Breathe new life into favorite purses, shoes, kids' sneakers, jewelry, journals, and more. This flexible paint was specially formulated to prevent cracking or peeling. It penetrates the surface to create a seamless, durable finish.
DecoArt® Matte Metallics™:
 Premium, all-purpose, permanent metallic acrylic to transform almost any craft surface into a chic item with a trendy, matte look.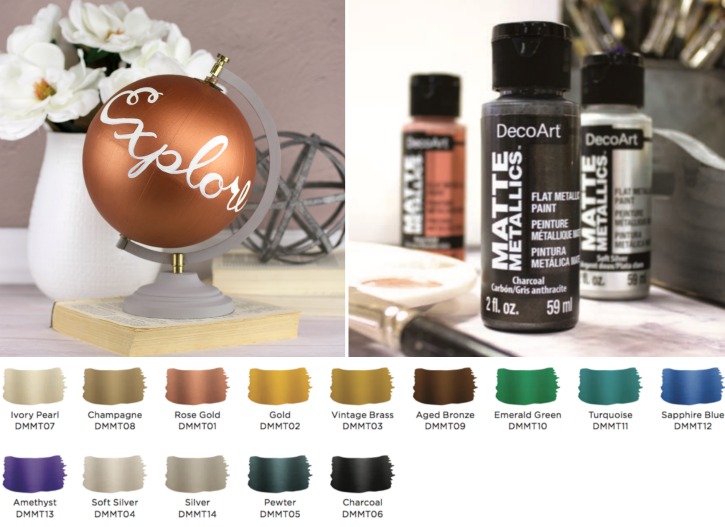 ---

2018 NEW SPECIALTY ACRYLICS
DecoArt is launching three of its popular DIY paints in a convenient 2-oz. size. This new size is ideal for smaller craft projects, allowing makers to purchase only what they need, saving them money, generating less waste, and creating beautiful, vibrant pieces. 
DecoArt® Vintage Effect Wash
™ 2oz.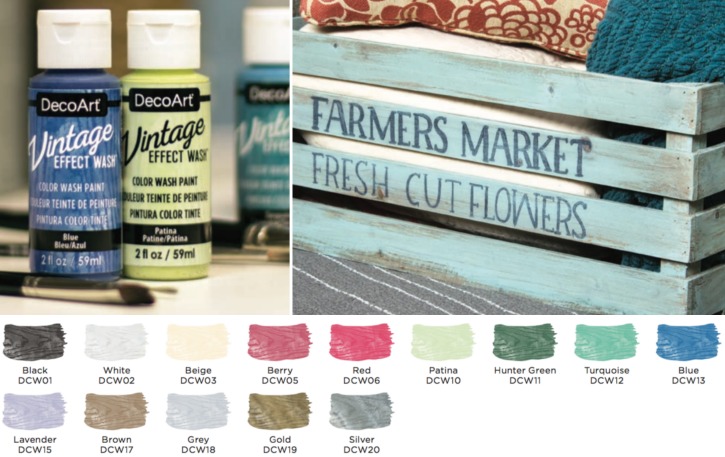 Americana Decor® Outdoor Living™ 2oz.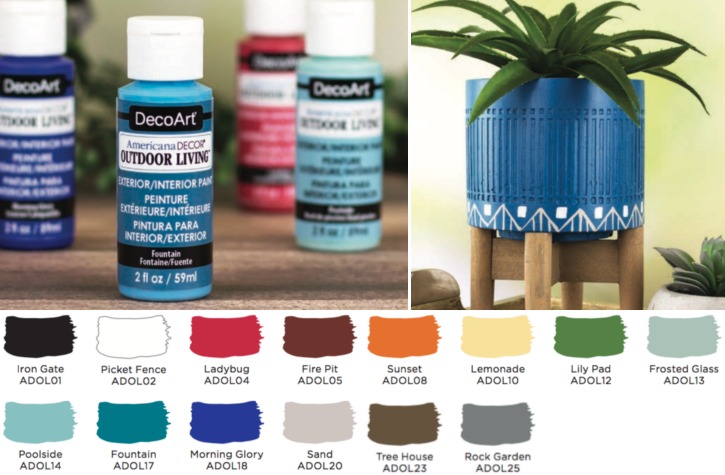 Americana Decor® Color Stain™ 2oz.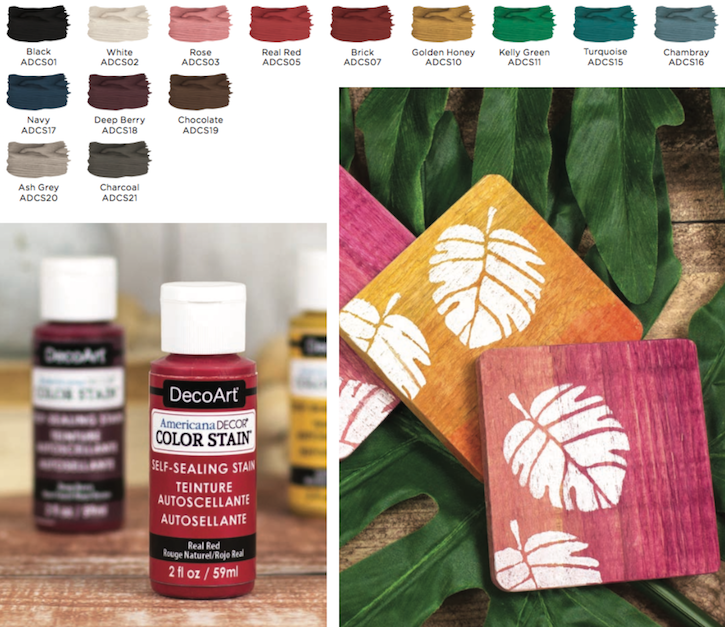 ---

2018 NEW STENCILS

Americana® Reusable Stick-On Stencils (10"x10"):
 Soft and flexible stencils designed specifically for both curved and flat, smooth surfaces. Use on glass, glazed ceramics, terra cotta, slate, wood, metal, stone, plastic, and more.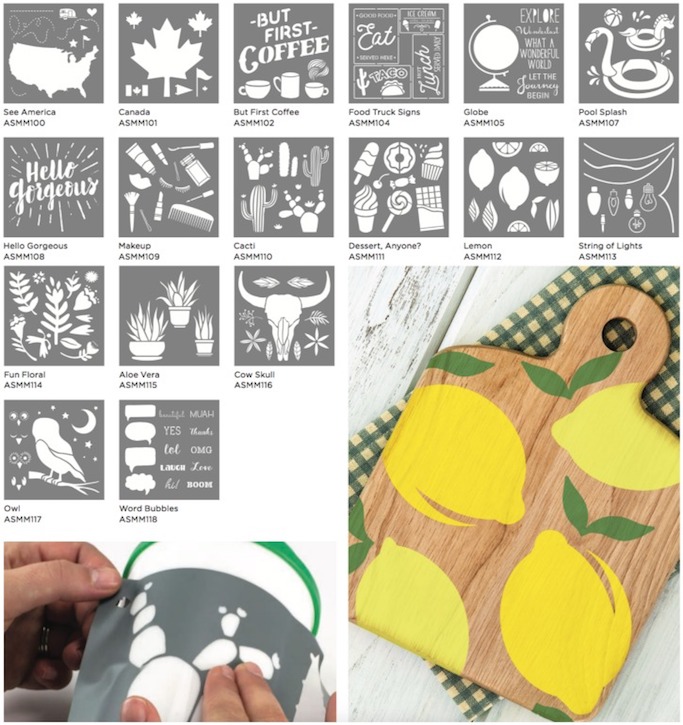 Americana Decor
® Stencils (8"x8"): 
The thickness provided by these stencils is ideal for use with texture and dimensional products.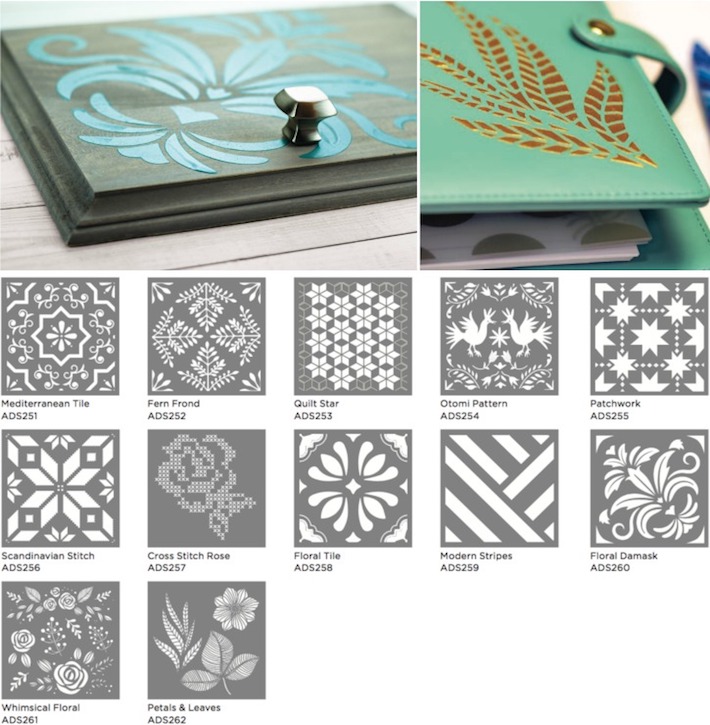 ---

2018 NEW AMERICANA ACRYLICS


Americana brings
15 new colors
to the line of America's favorite craft paint. Standard pastels get a makeover by mixing with trendy earth tones to create soft and delicate hues, while last year's super brights take on a new identity by transforming into more subdued and saturated colors. These bold new colors are diverse, yet cohesive, and will be a welcome addition to the Americana family.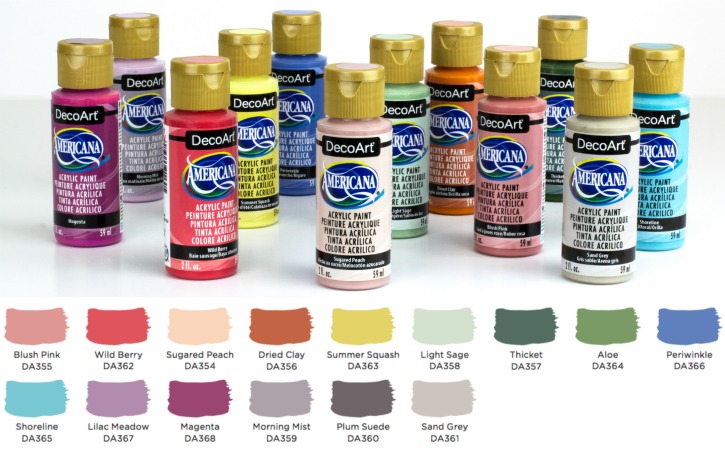 ---