Posted by DecoArt on Nov 24th 2015
I was asked to design a Christmas card, using a deer. I had several deer drawings on my inspiration board. The smallest one caught my eye and was already cut out into a circle. I began to gather up other materials related to the holiday and my Christmas journey began.
Items Needed:
Assorted Brushes
Palette Knife
7in By 9in Burlap Canvas Panel
Blending Stick
Scissors
Charcoal Pencil
Black Pen
Vintage Leger Paper
Dictionary Page
Washi Tape
Doilies
Cardboard
Instructions:
Draw a deer head onto a piece of drawing paper. Using a blending stick, soften edges and pull pencil into the background, creating soft shadows. Cut it out into the shape of a circle. Randomly gesso the canvas panel. Gather supplies and lay them out onto the canvas.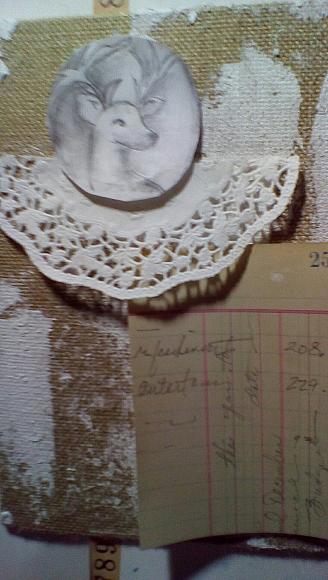 Adhere materials to board using Matte Medium. Circle the word Christmas if applicable. Add wash tape of your choice and lightly brush Primary Magenta here and there.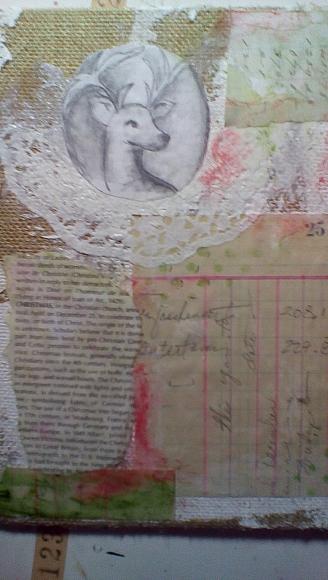 Use a playing card and or cardboard to cut out two different size triangles. This makes a nice handmade stencil to use over and over again. 4 inch and 1 3/4 inch. Place largest to right corner and generously apply Modeling paste with palette knife. Follow with Sap Green, Yellow Green Light and Titanium White applied with stencil brush.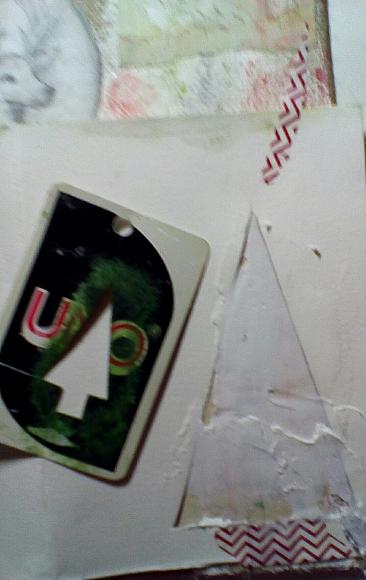 Brush Metallic Gold and Sap Green to some edges and begin to add stickers, words, memories and more. Paint swirls and holly around the deer drawing. Dot in red and shite berries. Add Primary Magenta and stencil with Between the Lines Stencil. Stencil Raw Sienna Stars with Between the Lines Stencil. Add stamps, more writing, cutouts to make this your own personal Christmas greeting. Have fun with it!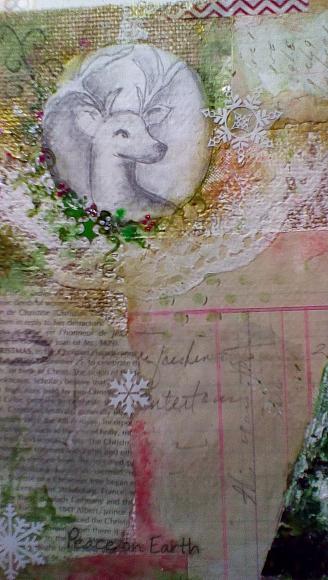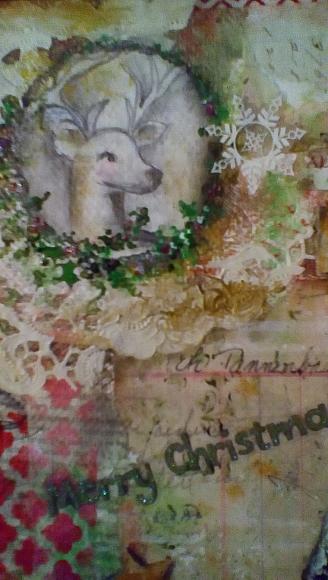 Add the small tree stencil you made to the bottom of design. Add more doily cutouts. Spatter with Greens and Titanium White. Brush on more Metallic Gold to edges, spray and add this to your holiday decor.