Posted by DecoArt on Apr 17th 2018
I've very recently fallen in love with paint pouring! I always love being able to try new art supplies and techniques. After making a few canvases, which was really fun, I decided to see how else I could use the DecoArt Pouring Medium. I had an old wood bowl near our front door we use as a key drop when we come in. It could use a little bit of perking up, so I thought  it might be the perfect thing to use paint pouring on.
I used acrylic paints in the DecoArt Americana line for my project. I wanted colors that were bright and pretty, so I used White Peach, Sunny Day, Snow White, Slate Grey, and Melon. 
Items Needed:
Tarp (or Place To Catch Paint)
Disposable Cups
Stirring Stick
Paper Towels
Clear Container To Pour From
Plastic Gloves
Instructions: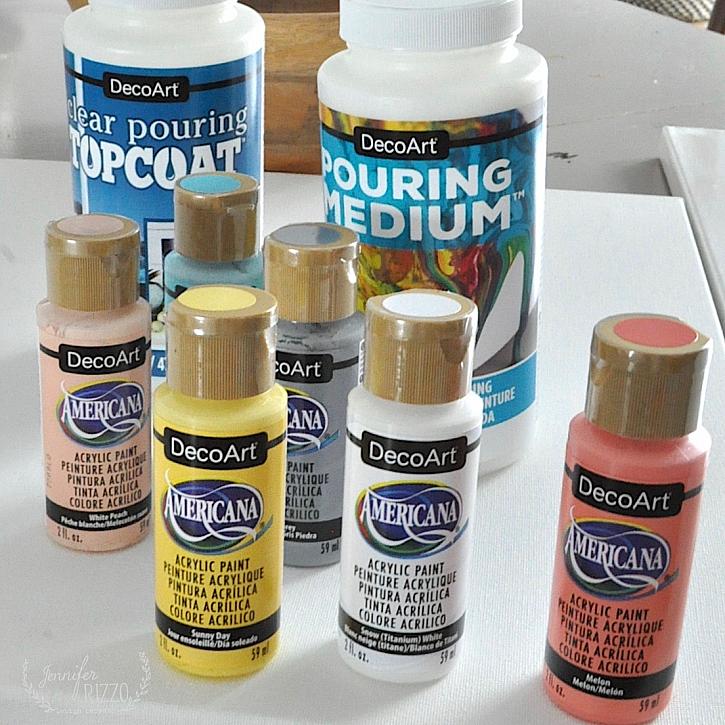 I started by placing my bowl on my surface upside down, and I masked the bottom of the bowl with a paper round so it would stay clean when the paint was poured over the top. Even though you can use a pan underneath to catch the drippage, I decided to use a canvas. I thought it would be a great way to make abstract art by layering all of the paint over time, with each paint pouring project.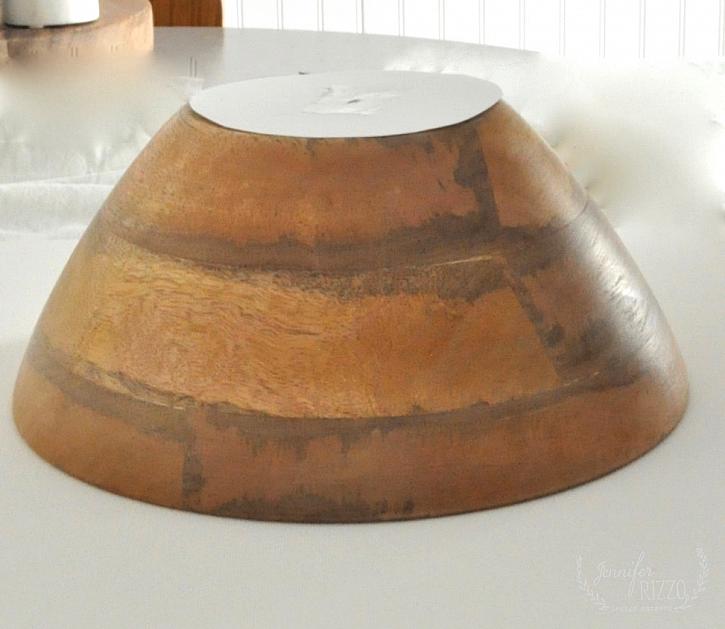 I mixed equal parts of my DecoArt Pouring Medium and acrylic paint in small paper cups.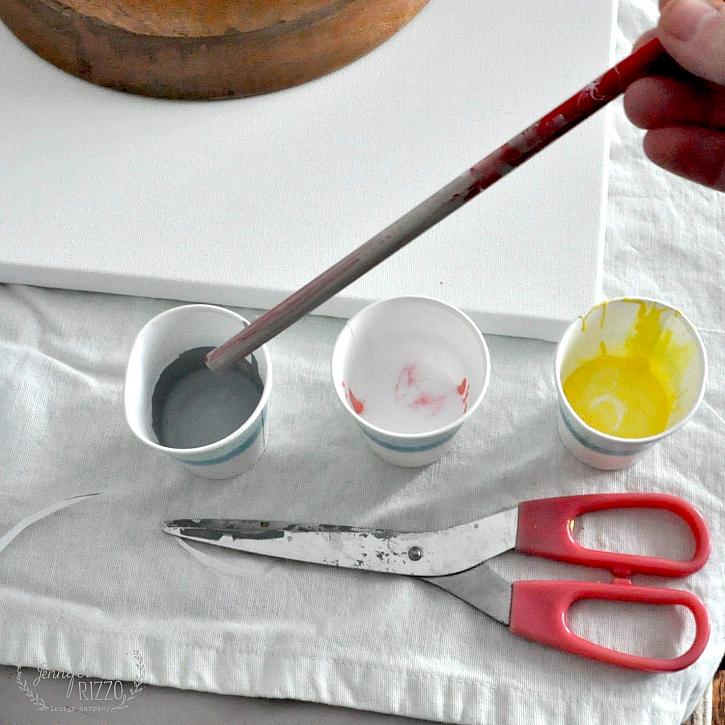 After stirring, I poured the mixed medium and paint one at a time, into my recycled jar, pouring into the center on top of each other.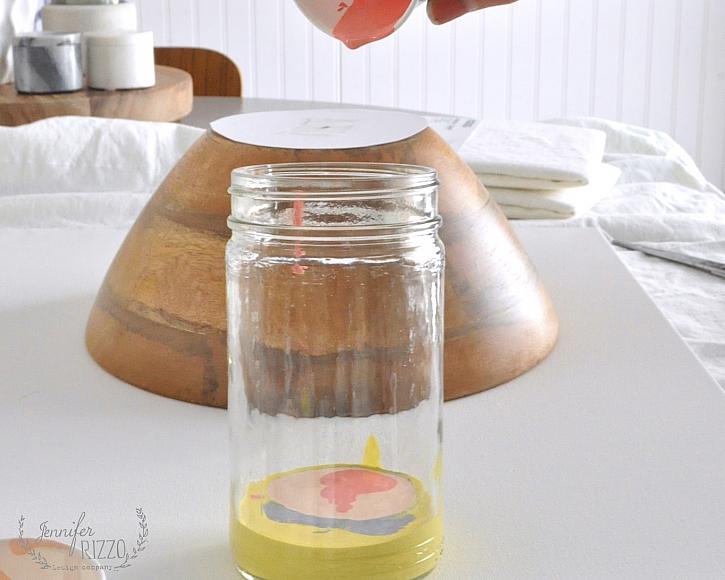 When everything was mixed, I poured the paint directly over the top of the bowl, and let it run down the sides. Picking up the canvas it was on, I tipped it side to side. I wanted the paint to run down the sides of the bowl but I didn't want it to cover all of the wood completely.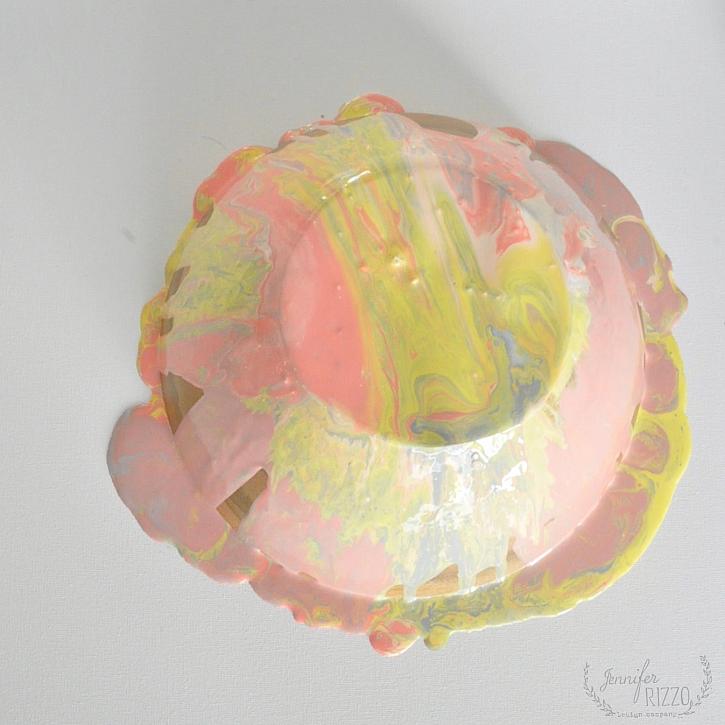 Once the paint had the right coverage, I removed the paper off of the bottom, and with a damp paper bowl wiped any paint while it was still wet. Carefully, I lifted it from the canvas by a clean edge, placing it upright on clean paper cups to dry, and to let any dripping paint run off. I also cleaned the inner lip of the bowl so the inside was free of any splotches or run over. I did check on the bowl occasionally and removed any drips from the bottom of the bowl.
Once it was dry, I flipped it back over to upside down on clean cups, and then poured the Clear Pouring TopCoat over the sides. I poured a little bit, and then used a soft brush to paint it on the rest of the way. The TopCoat has a nice feature where it self-levels, so I didn't have any brush strokes when it dried.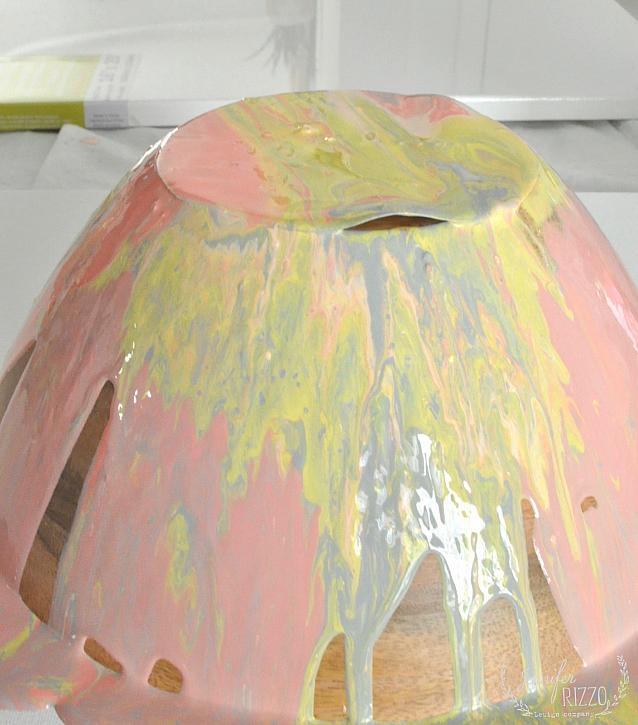 I love using the new DecoArt Pouring Medium, and I just adore how my bowl turned out! It's such a fun medium to work with, and I can think of a ton of projects to use it on!!!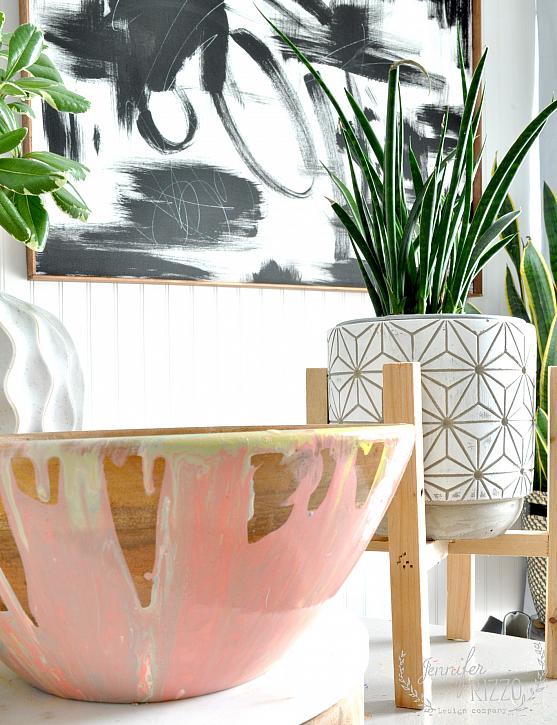 For more inspiration and project ideas, you can visit me at Jenniferrizzo.com, or visit our lifestyle retail store and Makery at Thecollectivelhe.com.