Posted by DecoArt on Mar 3rd 2015
Today I want to share with you a tutorial on how to create this lovely Steampunk Angel Queen! 
Items Needed:
Card (the Thicker The Better)
Foam Board (or Thick Corrugated Card)
Tissue Paper
Texture Stamp (Andy Skinner's
Black Archival Stamping Ink
Brushes (for Gluing And Painting)
Scissors
Carpet Knife
Clothes Pins
Ruler
Cutting Mat
Copy Of An Old Portrait
Pair Of Wings (chipboard Or Other)
Big Shot And Sizzix Dies: Moveable Garden Fairy, Mini Gears, Mini Clock Key & Pocket Watch, Mini Crown And Fleur (Movers And Shapers), Circles (Framelits)
Instructions:
Die cut all the parts needed from heavy card: a large circle base, a smaller base for carrying the torso, body and arms, crown, several gears of both sizes and the clock key.
If you have thin card only cut all pieces twice and glue together. Measure and cut four beams from the foam board (or heavy corrugated card if you don't have any foamboard at hand). Make sure you cut the beams' ends slopingly and parallel as these will form the lower conical section.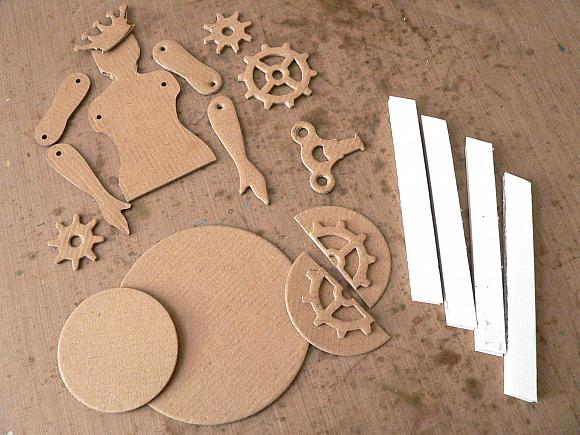 Stamp rust texture onto tissue paper using black archival ink. Cut into four stripes to wrap them around the foamboard beams. Use matte Decou-Page.
Stamp more rust texture directly onto your card.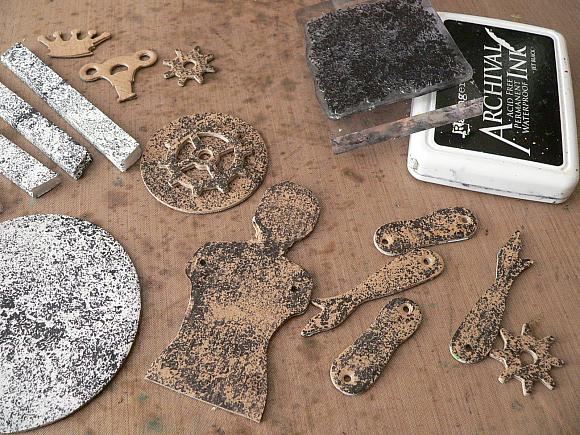 Paint beams and other stamped pieces with various tones of DecoArt fluid acrylics. As these are translucent paints this will create the look of rusted metal as the stamped texture will still show through.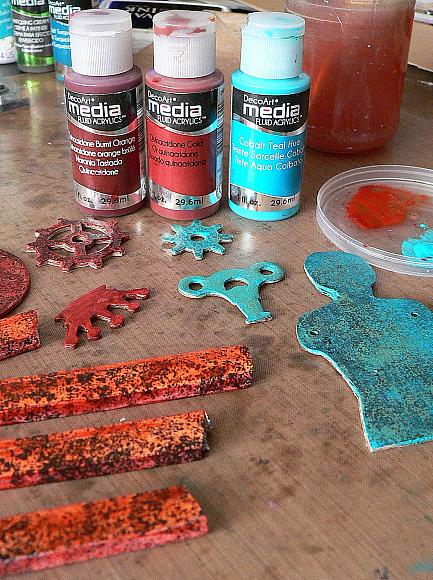 Once dry dab some Carbon Black Traditions paint onto the edges of the beams and die cut parts. Use your fingertip to get an uneven pattern.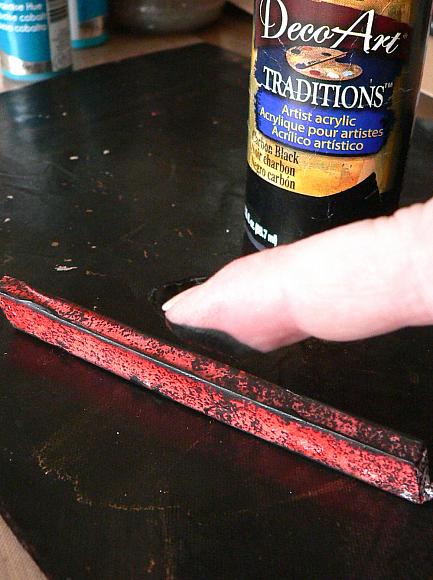 Your parts should look like this: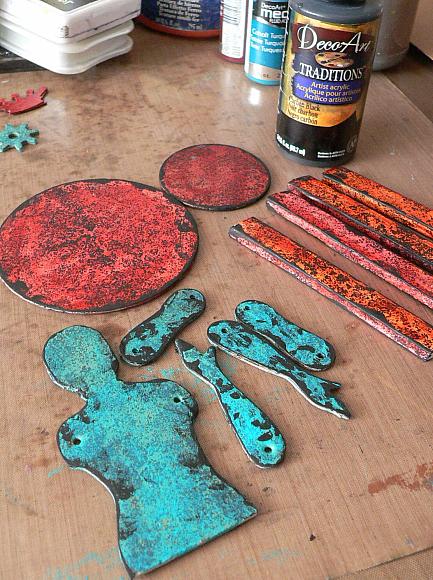 Cut one of the larger gears into half and one of the smaller ones into fourths. These will form the stand for the torso.
Build up the cone-shaped lower part of the body from the large and the small circles and the four beams using the matte Decou-Page glue. Let dry thoroughly.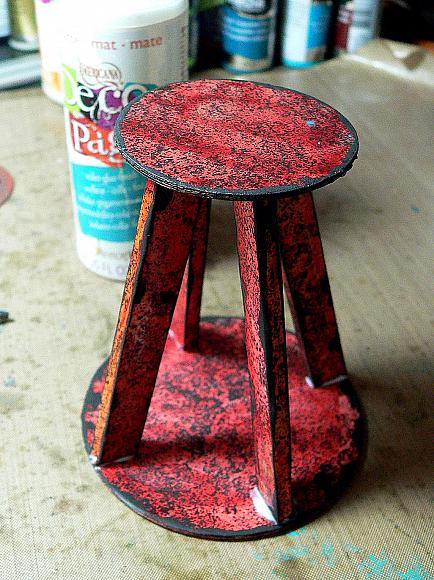 Search for an old portrait to use as the doll's face and glue to the head using the matte Decou-Page. Tint lightly using markers once dry. Randomly add streaks of Metallic Lustres to the painted parts for more interest.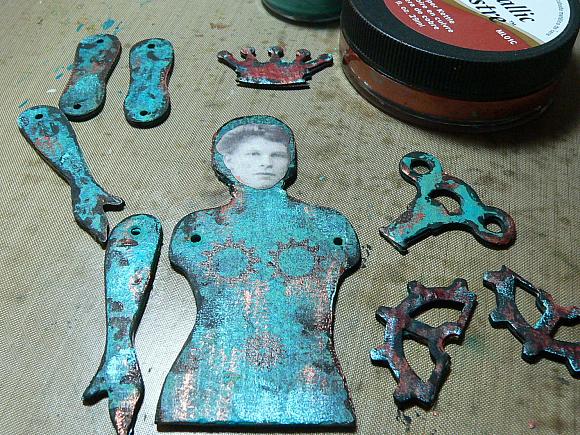 Create an assemblage for the lower section from two gears and the clock key. Insert the key into the hole of the gears – the Decou-Page will hold it in place once dry.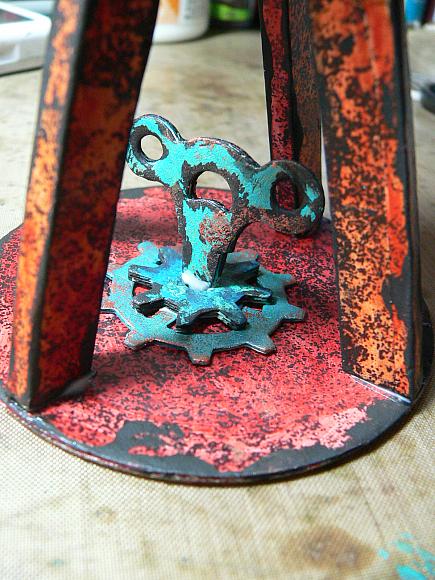 Use the gears halves and fourths to fix the torso to the top base. These will function as supports.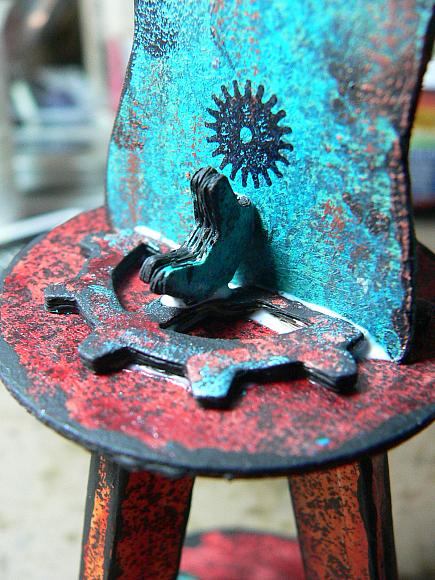 Treat the wings with "Copper Kettle" Metallic Lustre.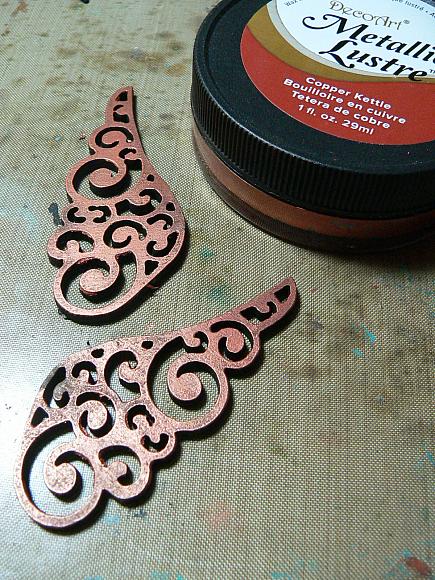 Assemble the whole figurine using the matte Decou-Page. Use cloths pins to hold everything in place until dry.
Embellish the bottom base with "faux nails heads" (made using Andy Skinner's fab and quick technique (see steps 2 to 4).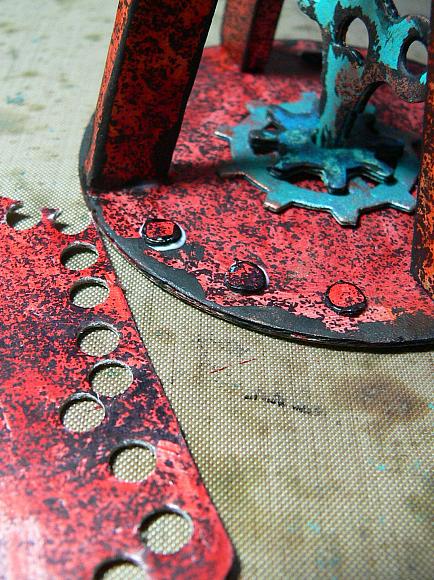 For further embellishment you can use whatever comes to mind. I for example let my Steampunk Angel Queen hold a heart in one hand (maybe she doesn't have a real heart inside, so she needs to carry hers that way). But metal embellishments from your stash will look great too! You can also add stamped gears to add some more interest if you like. The possibilities to finish off your Steampunk Angel Queen are actually endless! Have fun creating your own!