Posted by DecoArt on Jul 31st 2017
Some of you may still remember my last project and tutorial here where I showed how to create some beautiful altered art jewelry from metal tags. Now's the time to create a beautiful box to give them away in. I will show you an easy way on how to create your own customized jewelry box from plain card without too much measuring and how to turn that box into a treasure by itself.
Items Needed:
1/8 Inch To 1/4 Inch (5 To 7 Mm) Thick Piece Of Foam Board
Heavy Cardboard (from An Old Packaging)
Old Dictionary Pages
Assorted Brushes
Scissors
Craft Knife
Bone Folder
Palette Knife
Palette
Old Butttons
Lace Ribbons
Rough Cord
Crocheting Hook
Instructions:
Gather the object you want to create your box for to find out what size your container needs to be. Add about half an inch (1cm) to all four sides for a frame. Then add another quarter of an inch (½ cm) to all four sides for the cardboard covers. Use a set square and a pencil or ball point pen to exactly draw your covers' rectangles onto some cardboard and the outer and inner rectangles for the foam board frame. As all will be covered with dictionary pages anyway you can draw directly onto your pieces and don't have to worry about any lines visible. Cut out the opening from the foam board using a craft knife. Use scissors to cut out your covers.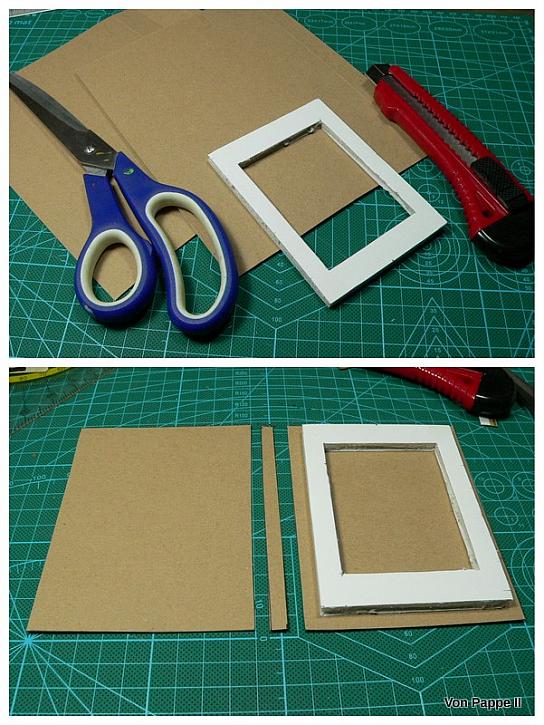 Use your cut out foam board frame as a stencil to get the exact measurements for the dictionary page you will use to cover the frame. Simply draw in and around the foam board's edges. Mark the inner and outer four corners and the inner edges. Connect the inner and outer edges with drawn lines. Cut along these lines towards the inner corner marks.
Fold the dictionary page along all four inner frame lines. Then fold the page inwards on opposing sides as shown in the lower image.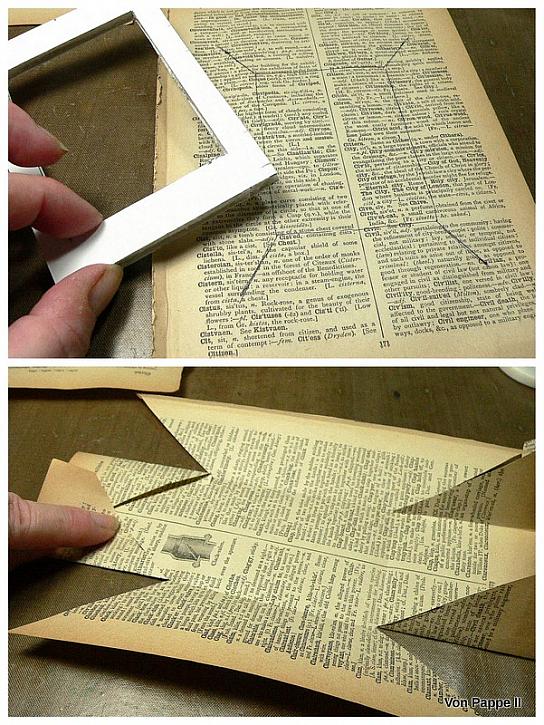 First glue the cardboard covers onto some dictionary pages using matte Decou-Page and a soft brush. Leave about ¼ inch (½ cm) overlap on all four sides and trim as shown. Then glue the foam board frame to the other side. Let dry.
Apply more Decou-Page to the inside of the glued on frame and place your pre-folded dictionary page into the opening. Use a bone folder to even out any bubbles.
The box should now look like mine in the lower image with the flaps of the dictionary page standing out.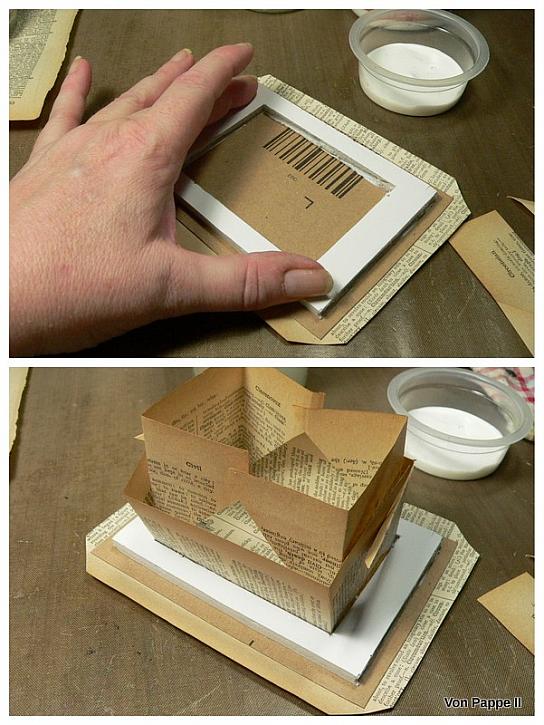 Fold over the overlaps from the other side of the cover and glue them down. Then - using more Decou-Page and the bone folder - carefully start folding over the overlaps and glueing them in place. You can either "test-fold" your pages' overlaps before you add the glue so you can trim them first or simply glue first and then trim off any excess (though the first way provides the more precise results).
Prepare the front cover by also folding over the overlaps from the other side and glueing them in place. Let dry.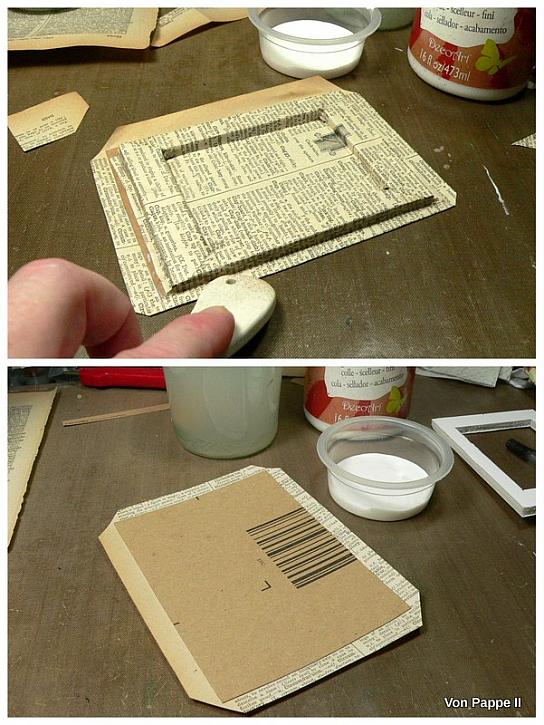 Cut out another rectangle from a dictionary page – this time a little bit smaller than the size of the cover. (see upper image). Glue it to the inside of the cover.
Once all is dry apply some white Crackle Paint to both covers through the Fossil and fern stencils using a palette knife.
Let dry naturally.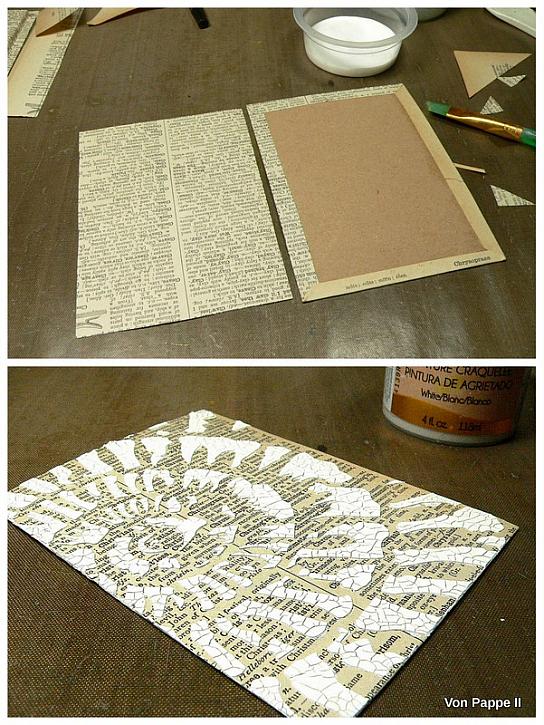 Apply washes of Prussian Blue Hue, Raw Sienna and Quinacridone Gold to the front cover with the fossil. Let each layer dry before you add the next. Then let dry completely.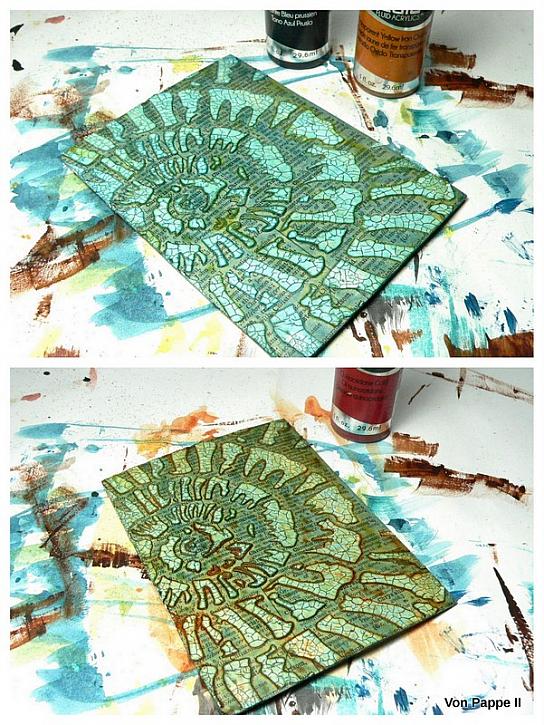 Using a soft brush dry brush on some Titan Buff to tone everything down a bit.
Then add a very light wash of Transparent Yellow Iron Oxide. Let dry.
Using your fingertip apply Orange Flicker Metallic Lustre to the raised areas. Then dab on some Prussian Blue Hue fluid acrylic with your finger for a frame. Let dry.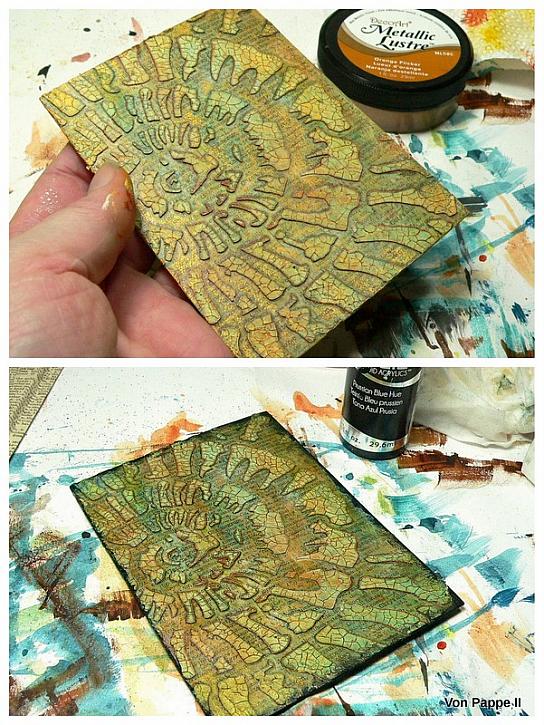 Use a very cheap (or old) fine tip brush to generously apply some Triple Thick to all raised areas from the fossil. Let dry naturally (which may take up to three hours).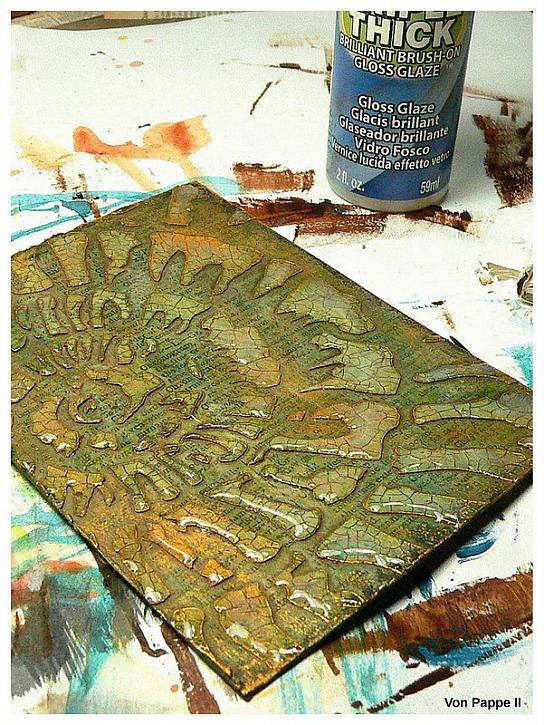 Put the dry front cover in an upright position and create drip lines using diluted Prussian Blue Hue. Let dry. Then be brave and add more drip lines with diluted English Red Oxide. Don't be afraid – once these have dried they will look a lot less intense!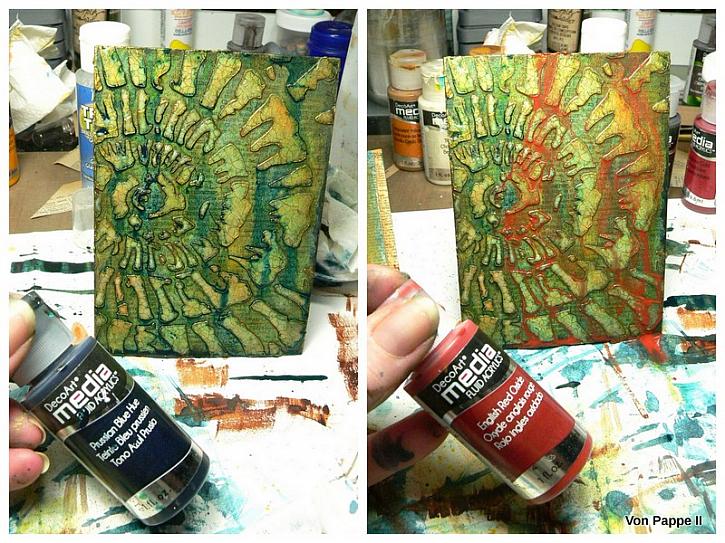 Use the left overs from your paint washes and sprinkle and spritz them onto both cover's insides. Let dry. Add some Orange Flicker Metallic Lustre to the frame's edges. Also paint the inside of the front cover with it. Add a coat of Interference Turquoise to the side with the box for additional bling.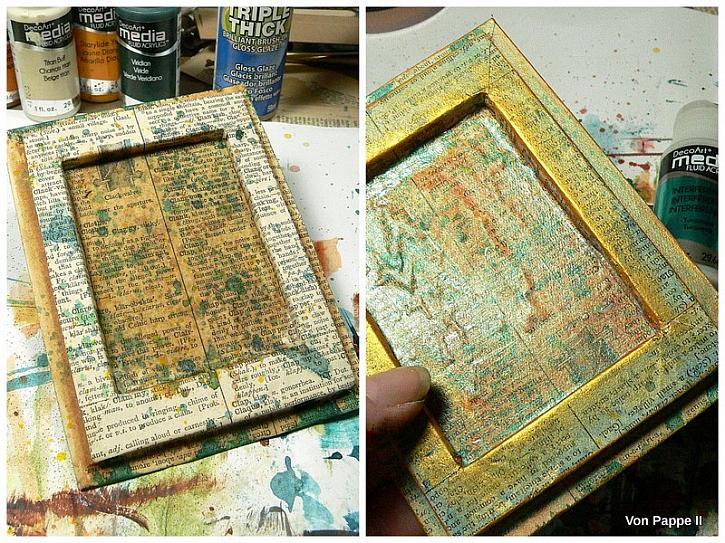 Now on to the back cover. Apply a thin wash of Viridian and Prussian Blue Hue and while it is still wet sprinkle on some Diarylide Yellow, Raw Sienna and Quinacridone Gold. The paints will react and create lovely spreckled patterns. Once all has dried apply some Orange Flicker Metallic Lustre to the cover's edges as well as those of the stencilled on fern.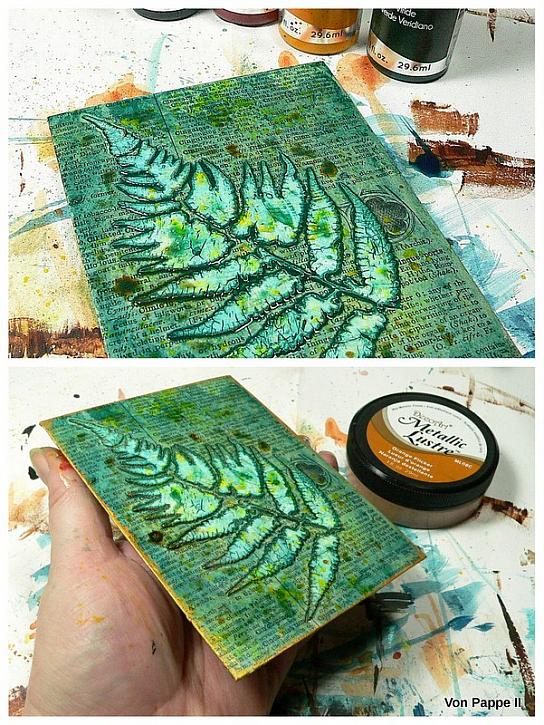 Using Liquid Glass glue an old button or brad to the center of the fossil's spiral and let dry naturally.
Then use matte Decou-Page and some lace ribbon to fuse the box with the front cover.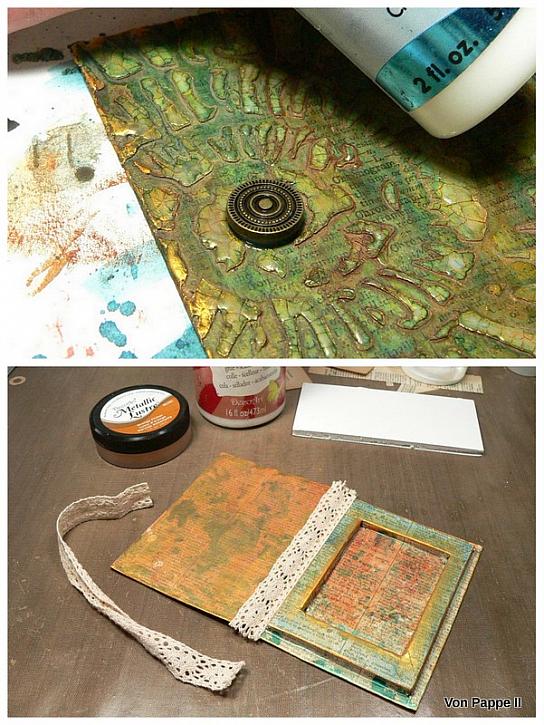 Crochet a ribbon from rough cord that will wrap around the closed box about two and a half times. Punch a hole into the front cover and fix the crocheted ribbon and a button to it.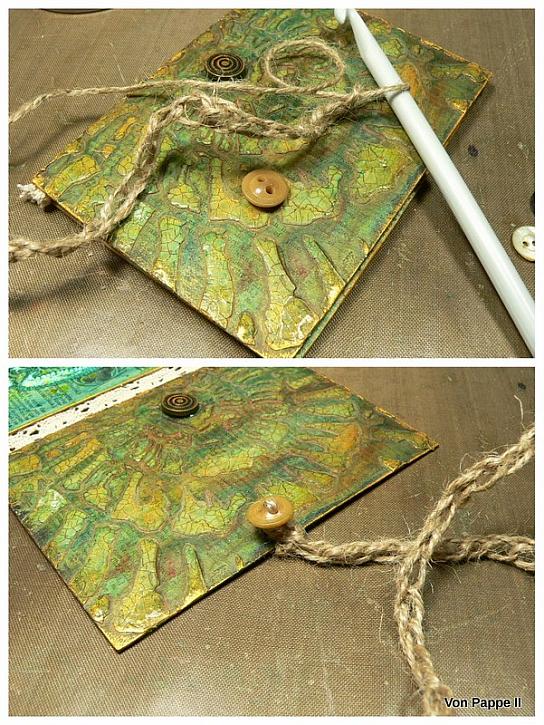 To keep your jewellery box closed wrap the ribbon around the box and then around the button twice. Thread the end of the ribbon under itself to keep it in place.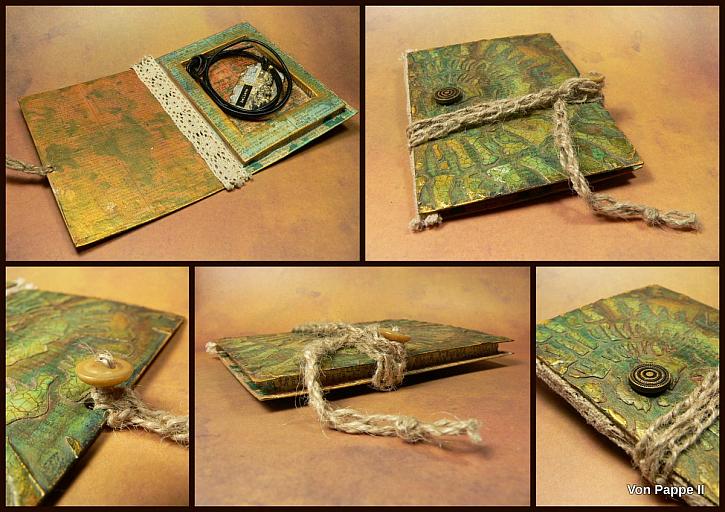 If you have a bulkier present or piece of jewellery simply layer up several foam board frames until you have the depth that you need. Isn't it awesome to know that you can always create the perfect sized and individual wrapping for your self-made presents? And I am sure the box will then be treasured just as much as what's inside.