Posted by DecoArt on Dec 8th 2016
Hi everyone! Barbara here today with an adorable Steampunk Snowman canvas that will warm your heart. The colors may not be the traditional ones you normally see at Christmas time, but they are still warm and inviting, and any lover of steampunk will surely be pleased to display this during the holiday season and all through the Winter.
Items Needed:
Tando Creative - Industrial Elements Set
Snowflake Stencil
Assorted Brushes
8" By 10" Canvas Board
Spatula
Baby Wipes
Chipboard Hat And Clock Hands
Mini Gears Metal Embellishments
Plastic Letters
Instructions:
Tear a piece of the music sheet from the Americana Victorian Romance Decoupage Paper pack and adhere to an 8"x10" canvas panel with DecoArt Media Matte Medium. Let dry.
Use a spatula to spread DecoArt Media White Modeling Paste through a snowflake stencil, as shown. Let paste dry thoroughly.
DecoArt Media White Gesso is very thick and gives excellent coverage, but I want my background paper to show through a bit, so I made a wash with the gesso and water and brushed over the background. This pushes the paper to the background so it is not so prominent. Let dry.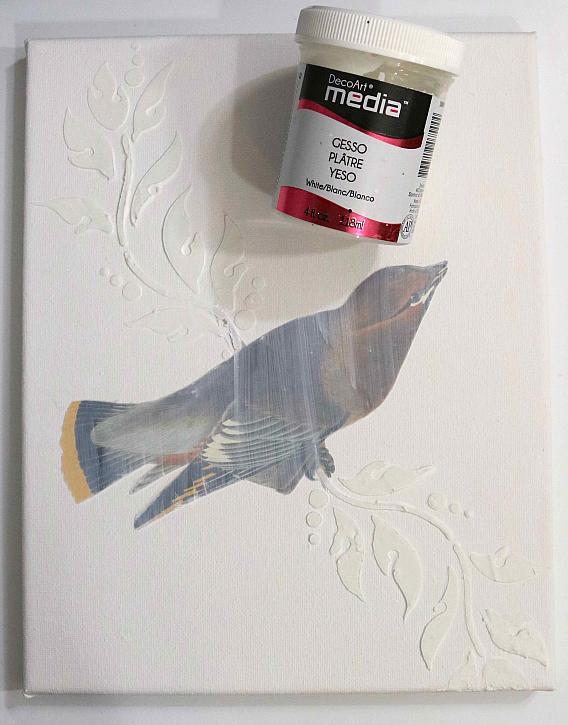 Brush a wash of DecoArt Media Phthalo Turquoise and water over the background, leaving darker washes to remain around the snowflakes to add depth. For more interest, leave puddles of the wash to dry randomly over the background. If you are impatient, like I am, you can use a heat tool to speed the drying time.
Lighten the background with a wash of DecoArt Media Titanium White and water. Brush over entire background, leaving the edges a bit darker than the center. Let dry.
Lay the corresponding snowflake from the stencil over the stenciled snowflake to protect the surrounding background. Use your finger to apply DecoArt Metallic Lustre White Frost over each snowflake, as shown. Set canvas aside.
Let's start building our Steamy Snowman by choosing our pieces from the Industrial Elements kit. Remove the punch-out pieces from the openings in the gears and use some of them for mechanical parts, or use them beneath pieces to elevate the mechanical parts when necessary. Paint all of the chipboard with a coat of the DecoArt Media White Tinting Base. You can also use white gesso, but I love the smooth coverage obtained with the White Tinting Base.
After chasing down all of these tiny pieces while trying to paint them in Step Seven, I got smart and decided to get some double-sided tape and adhered them to a piece of scrap chipboard. Use your finger to apply a thin, uneven coat of DecoArt Media Texture Sand Paste and let dry. Use a stiff bristle brush and dab DecoArt Media Quinacridone Gold over each element except the two circles, which are covered with the Victorian Romance (music) Decoupage Paper using DecoArt Media Matte Medium.
Apply a wash of DecoArt Media Paynes Grey and water over each element, as shown. Let dry. Now you can really begin to see the Texture Sand Paste that gives the rough look so prevalent in rusted metal.
Brush a light coat of Media Transparent Yellow Iron Oxide over all elements, including the two music paper circles, as shown. Let dry.
Use your finger to pick up a tiny amount of DecoArt Media Patina Green Antiquing Cream and dab very randomly over the gear elements. Let dry. If you get too much on an element, you can wipe some off, even after it dries.
Repeat Steps Seven through Eleven to "rust" the clock hands and hex nuts.
Trim a circle from the Victorian Romance (music) Decoupage Paper that is large enough to fit the opening in the largest gear and apply a light coat of the Transparent Yellow Iron Oxide. Let dry. Adhere the circle to the canvas using DecoArt Media Matte Medium, as shown.
Assemble the gear elements to form the parts of the snowman, as shown. Color the eyes and mouth of the snowman with DecoArt Media Carbon Black, and the nose with Cadmium Orange Hue.
Adhere the music paper circle to the canvas with DecoArt Matte Medium. Adhere the sections of the snowman to the canvas, beginning by first adhering the largest gear section over the decoupaged circle and then continue with the middle section. Glue a scrap piece of the punched out chipboard above the middle gear section so that the top section (head) will be elevated when glued in place.
Paint a chipboard hat with DecoArt Media Carbon Black and glue to top of snowman head. Apply DecoArt Burnt Umber with a damp baby wipe along the edges and blend into the background. Let dry. I thought about using sticks for arms, but I changed my mind.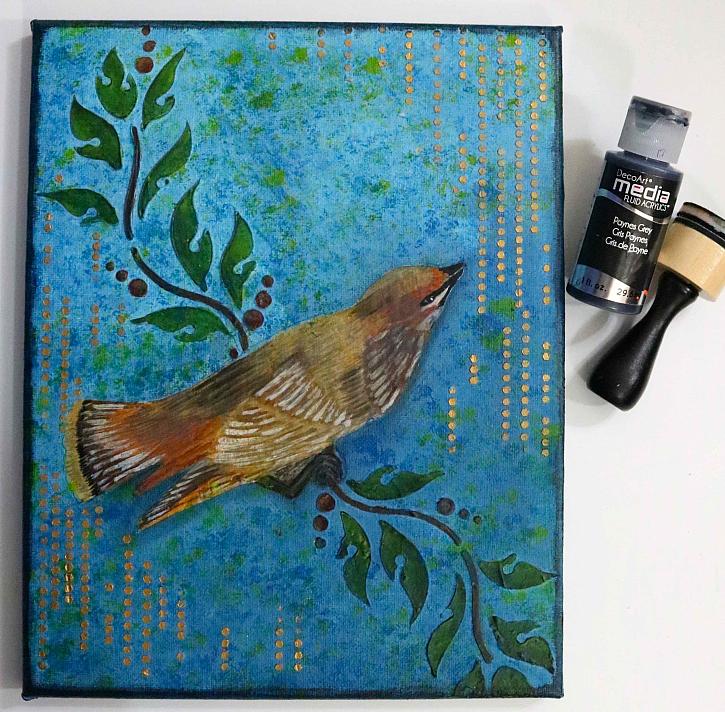 Brush a layer of DecoArt Media Interference Gold over entire background, including the snowflakes, for extra warmth and shine.
Replace arm sticks with finished clock hands from Step Twelve. Finish canvas by adding letters "Steamy" and mini gears, as shown. Pick up DecoArt Metallic Lustre White Frost with a damp paintbrush and give the black letters a light coat, allowing some of the black to show through. I was going for a steel look.
I hope you enjoyed my Steampunk Snowman project today and maybe you will want to make a "Steamy" snowman for your holiday decorations or to give as a gift. Perhaps you prefer a shabby chic steampunk snowman, or make one with pastel colors or, of course, the traditional red and green… the possibilities are endless!
Have a wonderful holiday!
Barbara