Posted by DecoArt on Aug 29th 2013
After digging through the bottles in our recycling bin, it dawned on me that I could use a lot of the item that we toss away. Good for the environment, and for keeping supply costs down with the plentiful projects that are always coming out of my art studio.
This month, I grabbed two empty vodka bottles and one cooler bottle, then set off to pick out my paints. I really wanted to use the new Multi Surface Satin and to put some awesome color into our small powder room that lacks a lot of inspiration.
Items Needed:
Glass Bottles
Parchment Paper
Instructions:
First, cut off a piece of parchment paper to protect the surface that you'll be painting your bottles on. Next, make sure that your bottles are clean and that you've peeled the labels away. I chose the large vodka bottles because they actually do not have sticker labels on them, so there was less prep that I had to do. They also have this really cool looking wax seal indentation that I thought would bring another dimension to the bottles once they were painted.
Using your flat tip paint brushes, paint your bottles using long, vertical strokes. To carry on with the black and white trend in our home, I chose to paint my largest bottle with Black Tie and the medium bottle with Dolphin. You will notice that the Multi-Surface Satin has great coverage, even on glass!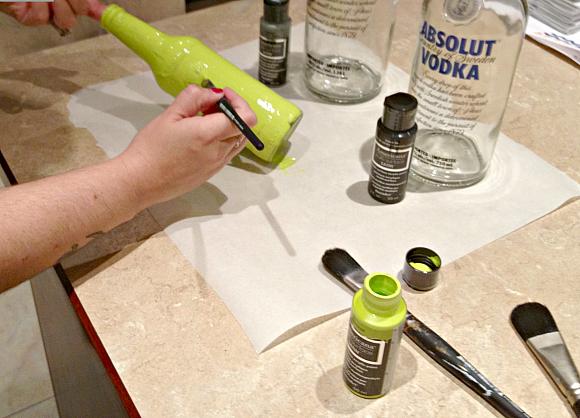 To bring a pop of color into an otherwise forgotten space, I thought it would be a good time to use a brighter tone of neon. As soon as I pulled out the Chartreuse paint, I fell in love. I painted my smallest bottle with this paint, as it is such a bright color that it really doesn't need a large surface to make a statement.
I let my bottles dry for 24 hours, and then painted a second coat just to make sure that the color saturation was perfect.
Once they were completely dry, I worked a large white taper candle into the large bottles, and put a few white spray roses into the Chartreuse bottle to soften the overall look. Then, I set them on the counter in our powder room and PRESTO! Instant, and frugal, transformation!