Posted by DecoArt on Dec 4th 2019
Sometimes it's just so easy to grab some gift wrap from the store and wrap a gift in under a minute flat. I get that, and I do that. But there's also something magical and fun about making your own special wrapping for Christmas gifts. Making our own gift wrap is something we do every year around our house. It's a great activity for kids too! This year, I decided to try to use what I had on hand to wrap some presents. I do most of my shopping online, so I have tons of boxes that I save for the Christmas season. Instead of using wrapping paper to cover the boxes this year, I decided to let the boxes be their own sort of gift wrap. 
The main thing you need here to make these package boxes look good is paint and lots of it!
Items Needed:
Foam Paintbrush
Small Tipped Paintbrush
Rubber Paint Scraper
Rubber Woodland Stamp
Ribbon
Instructions: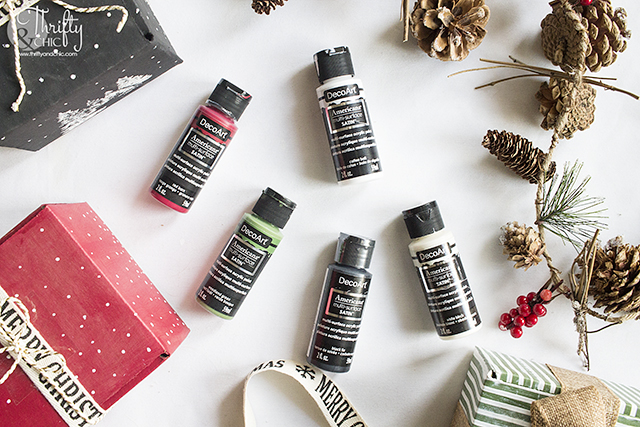 As for the boxes, I used different sizes and tried to pick the ones that had the least amount of tape and stickers on them, although you can totally work with it if they do.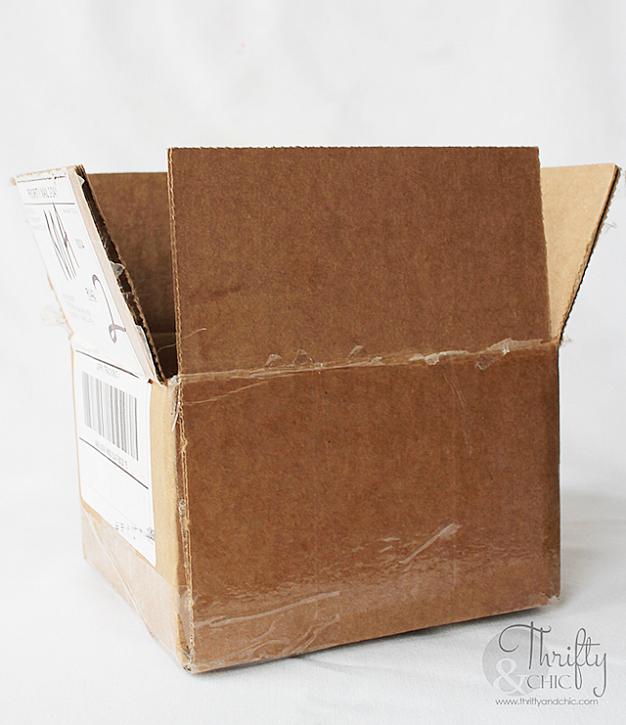 I painted the boxes with a couple of coats of paint. To cover the stickers and tape, it does take about 3-4 coats. The best way to do this is just one layer at a time and to not rush it. For quicker drying time, use a blow dryer. If there are logos and whatnot on the box, that also takes time to cover with multiple coats.
Depending on what look you are going for will depend on your base color. For two of the boxes, I chose Red Barn.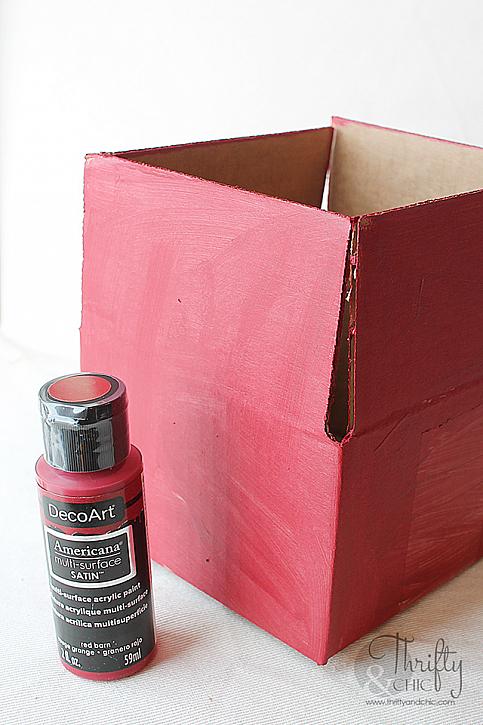 For the first smaller box, I used my small tipped paintbrush, dipped it in White Birch and randomly placed dots around the box to resemble snow. I added more little snow 'dots' on the bottom to mimic snow collecting on the ground.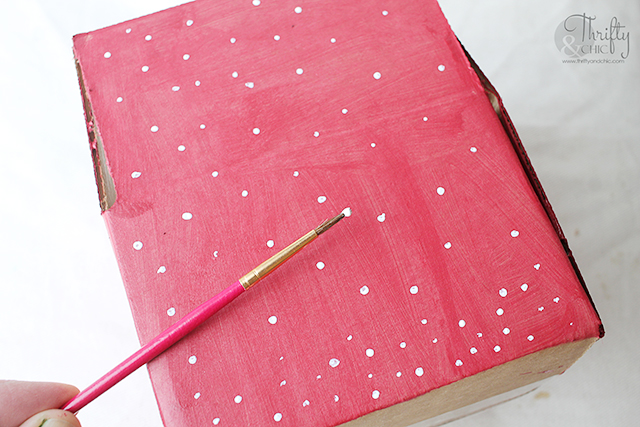 As for the bigger box, I used a rubber scraper to create a striped look. To get this effect, wait for the base color to dry completely (as with all of them). Add a layer of the Cotton Ball onto one side and lid.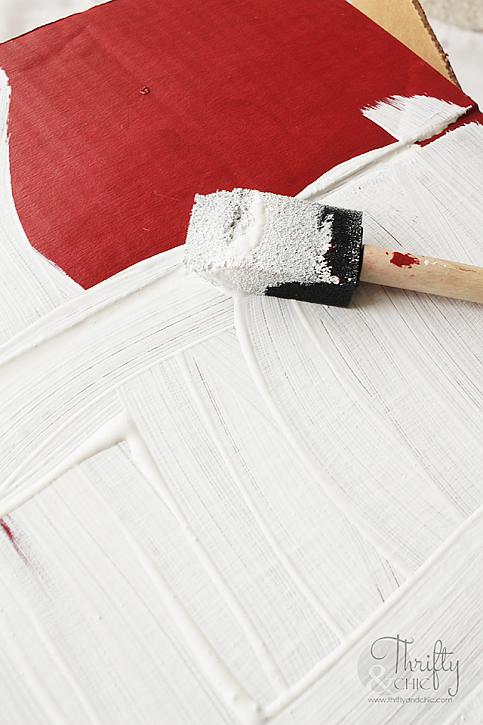 Before the top paint layer dryers, take the rubber scraper, starting from the top of the lid and going to the bottom, scrape away the top layer of paint. You have to do this quickly before any of the top paint layer dries. If you need more than one row, eye where the next line should be and place the rubber scraper parallel to the already completed line and duplicate the process.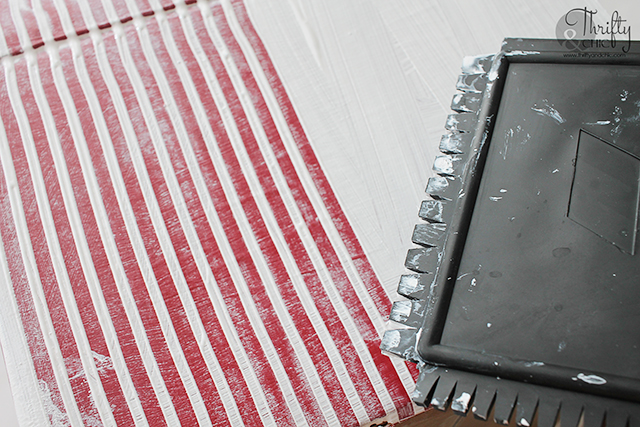 Do this on all sides of the box, making sure each side is dry before proceeding to the next side. You wouldn't want to mess up such hard work!
This is the finished look of this box. I also did one in Cotton Ball and Woodland Green.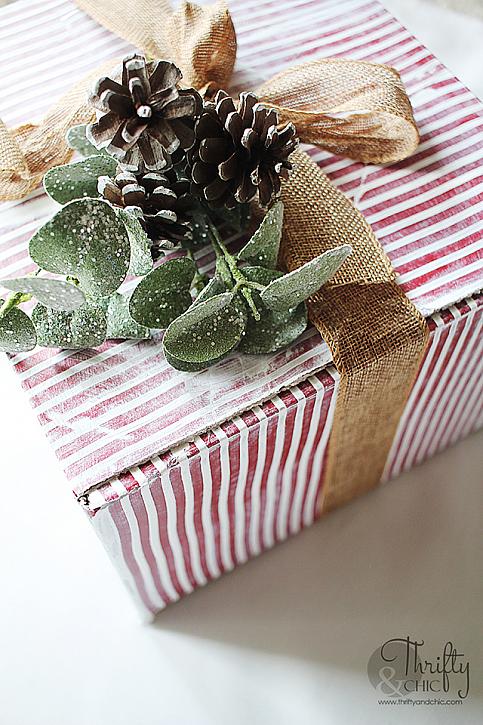 As you can see above, it's okay if the box isn't perfect and has some dents in it. It actually gives it more character! This box also had some crazy bright blue logos and lines all over it before I painted it. With just a little patience and extra coats of paint, you would never even notice.

Now for the box that I used a stamp on. I painted the box Black Tie and wanted to create a white woodland feel with it. I found this stamp at a local craft store. I simply brushed on a light layer of Cotton Ball. I pressed it first onto some scrap paper to get the big globs off.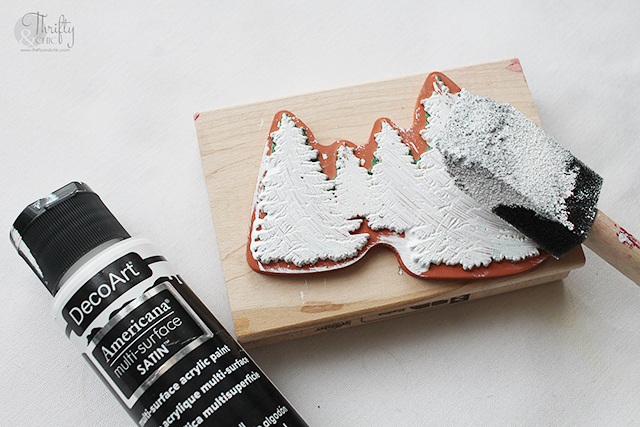 On the second press, I stamped it onto one side of the box (the side that didn't have tape). Once this was dried, I added snow falling with little dots using a small tip paintbrush and the Cotton Ball. I mimicked this look on the opposite side. I then finished the other two sides with the light 'snow'.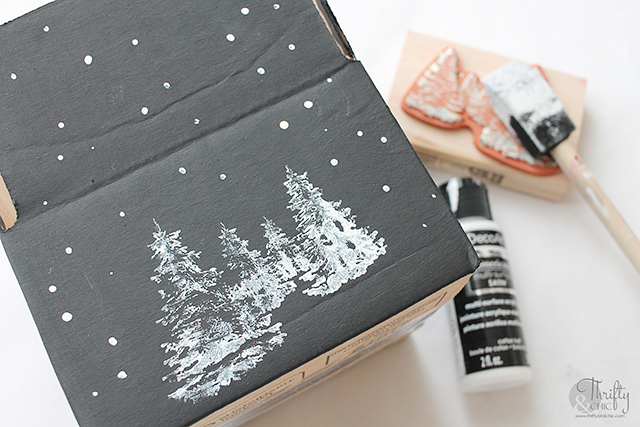 Here are some of the boxes together. They look alright, but the biggest difference is when you start adding the bows and ribbon!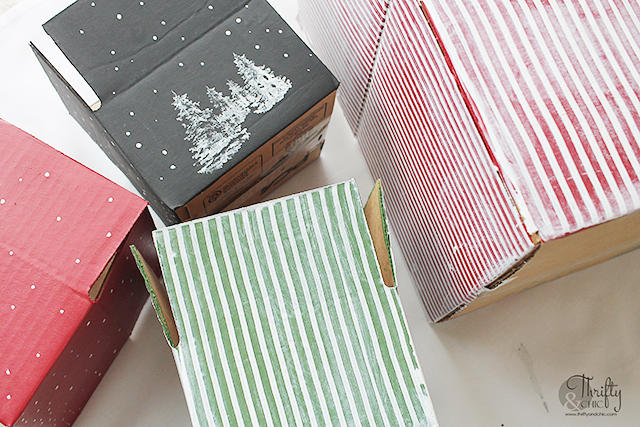 I actually reused this ribbon from years past. You can also easily stamp letters onto the ribbon too to create a special look.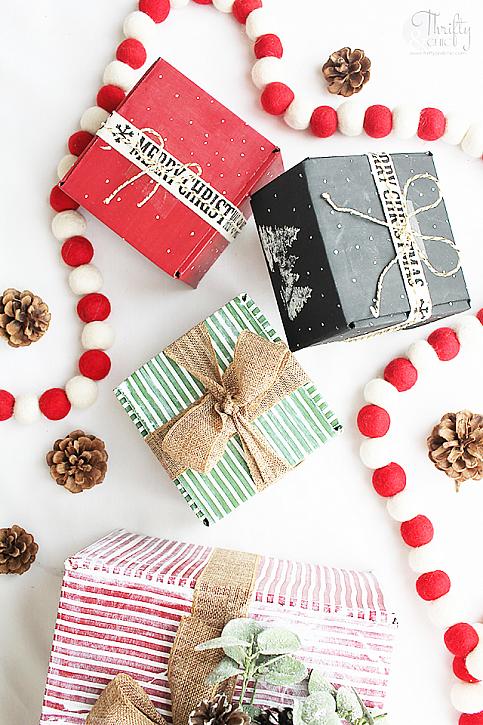 The holidays to me are all about special moments spent with family and my kids. This is such a fun, unique way to have your kids help with gift giving! Let them paint and decorate their own boxes to put gifts in. Mine will be doing boxes for their sibling gifts, grandma/grandpa, dad and aunts/uncles! Good thing I have a ton of boxes ready to go!