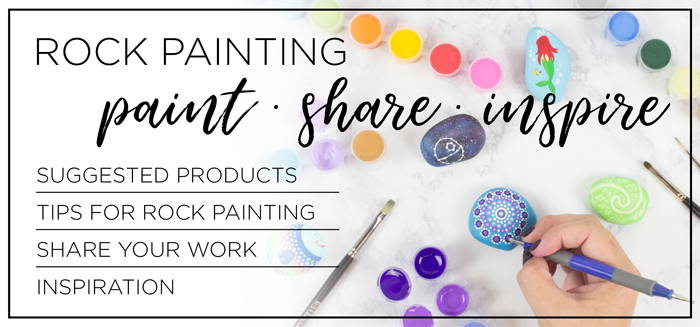 The act of painting rocks and hiding them is spreading across the globe! Families are having a lot of fun unleashing their creativity on such a common surface and then sharing the spirit of community by hiding the painted treasures in places all around town. Finding these inspirational art treasures are just as much fun as creating them!
Below you'll find tips on how to paint rocks and also how to share your creations. We will also offer some advice on how to get started with a rock treasure hunting group. However, you might have so much fun painting, you won't want to part with them and instead give them a home in your own garden. Either way, let's get everyone in the family involved in this fun and simple craft!
Americana® Multi-Surface Satin™
Ideal, satin-finish formula for rock painting. Self-sealing, so no primer or varnish is required and they offer excellent coverage in one to two coats. This special formula is designed to brush out smoothly and once fully cured, creates a durable, hard finish.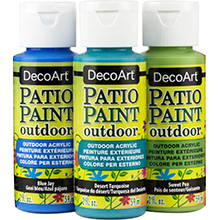 Painted rocks will withstand harsh elements with this water-based outdoor paint formulated for durability. It provides excellent adhesion to exterior surfaces such as concrete, terra cotta, masonry, and wood. Does not require a primer or varnish.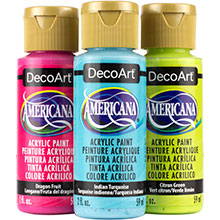 Provides a matte finish in the largest variety of colors for an unlimited rock painting color palette. Water-based acrylic paints that deliver superior coverage with a permanent, durable finish that can be varnished to create various sheens, on almost any surface. If using outdoors, must seal with an Americana Spray Sealer, Multi-Purpose Sealer, or DuraClear Varnishes.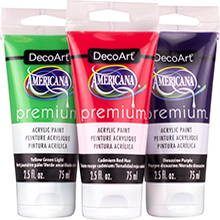 Americana® Premium Acrylics™
Ideal formula for higher-end artistic rocks for display or to be sold. Medium-bodied paint that offers excellent coverage from its light-fast, heavily-pigmented formula. The colors are intermixable, allowing for a wide range of options. If using outdoors, must seal with an Americana Spray Sealer, Multi-Purpose Sealer, or DuraClear Varnishes.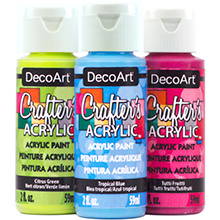 Low-cost option for rock painting groups and kids that is designed to brush out smoothly and evenly, covering in two coats. Available in a matte and gloss finish as well as a selection of metallics and neons. If using outdoors, seal with an Americana Spray Sealer, Multi-Purpose Sealer, or DuraClear Varnishes.

PREPARING ROCKS FOR PAINTING

Do not take rocks from state and national parks. Find them in other outdoor spaces or purchase inexpensive bags at a craft or home improvement store.
Use a small amount of dish soap and water to soak your rocks in a bucket. Scrub rocks to remove any caked-on mud or other debris.
Rinse well and allow the stones to dry completely.
Remove any overly-rough patches with sandpaper.
Use Gesso, Multi-Surface Sealer, or a coat of Americana® Multi-Surface™ in white to prime the rock before painting.
Use a pencil or chalk to lightly create your design before painting.
Start painting the biggest design sections first then move down to the tiniest of details last.
Use a binder clip to hold thin rocks.
Use permanent markers to add tiny details.
Add fun details and make your rocks glimmer in the sunlight by adding touches of metallic paints like Extreme Sheen or glitter paints like Craft Twinkles or Glamour Dust.
Use Decou-Page Outdoor to add pictures cut from magazines or printed from your computer to decorate rocks easily.
Make geometric designs by taping off different areas of the rock. This makes great designs for those not sure of their painting skills.
If using a paint besides Americana Multi-Surface or Patio Paint, seal with Multi-Purpose Sealer, or DuraClear Varnishes before placing outside.

Join a local rock painting & finding group on Facebook and hide your rocks for others to enjoy. Check out The Kindness Rocks Project.
Share your rock art on Instagram using #decoartrocks.
Display them using mini easels as pieces of art for your home.
Use them to decorate your garden.
Add a magnet to the back with hot glue for your refrigerator.
Attach a hook to the back of seasonal designs to make Christmas ornaments.
Have kids paint larger rocks to give as paperweight gifts.