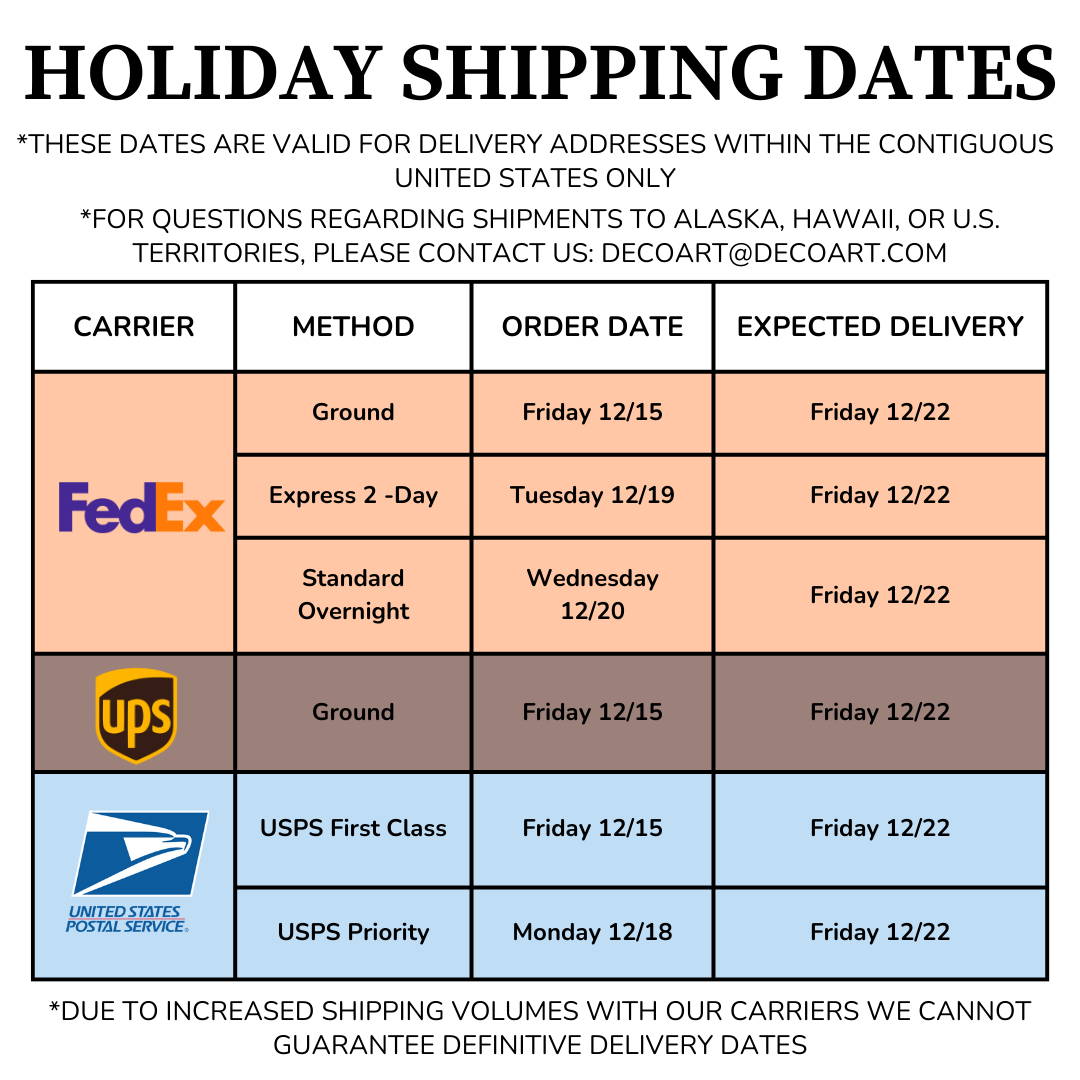 Order Processing & Shipping:
Orders placed before 1:00 pm Eastern are typically processed on the same business day. Typically, orders ship from our warehouse within 1-2 business days.
Order Status:
You may check your order status at any time by logging in to the DecoArt online store and clicking the "Order Status" link in the main navigation. If your order has not been received within the time frame outlined below, you can contact us online or call us at 1-800-367-3047 for assistance. Be sure to have your email address and order number handy when contacting us.
Shipping Guidelines:
For US orders shipped via Ground, please allow 6 to 10 business days from the time of order for processing and delivery.
For 2nd Day shipping (US only), please allow 2 to 4 business days from the time of order for processing and delivery. (Note that aerosol sprays will not be shipped via 2nd Day.)
Delivery of items offered in our online store is limited to an address in the United States including U.S. territories, Alaska, and Hawaii. Shipments cannot be delivered to PO Boxes.
Looking for DecoArt products outside the United States? We'd love to help find a DecoArt distributor near you.
Pricing:
Orders totalling over $50 that are being shipped to the US will have the option for free UPS ground shipping (excluding Puerto Rico, Alaska, and Hawaii).
**Free shipping will not be applicable on any orders containing aerosol spray cans as they are considered hazardous by our shipping providers.
Items purchased will be charged at the sales price indicated at the time of purchase. Prices are continuously updated and are subject to change. Past orders will not be updated to reflect later prices. Pricing is always in US dollars.
Clearance Products:
Items offered at clearance pricing are available only while supplies last. Should a clearance item be no longer available, e-mail notification will be sent identifying the cancelled item. Your credit card will not be charged for any item not shipped.
Returns:
Thank you for purchasing from the DecoArt family of products! With over 35 years of delivering quality paint, we stand behind our products. If for some reason our products do not meet your expectations, please refer to our Return Policy below:
Return Requirements
Products must be returned to DecoArt within 60 days of receipt.
Product must be returned in original condition and bottle/package.
Customer is responsible for return shipping costs. DecoArt will pay for shipping costs if the return is a result of our error.
Initialising a Return
If you have an account and purchased an item from the DecoArt website:
Sign into your store account.
Access the Order tab, click on the order, locate the item you wish to return and hit "Return Item" button
Complete the Return Items form and click Submit.
After completing the request, you will receive an email confirming receipt of your request. Simultaneously, a notification email is delivered to the email address specified in your Store Profile Settings with updated status of your request.
Someone from our DecoArt team will respond to your request by the next business day. We may request additional information, such as batch codes, product photos, etc. to properly service your request.
If a product needs to be returned, someone on our DecoArt team will instruct you on the return process.
You will receive an email notification every time the return status changes.
If You have not set up an account, or you purchased from an authorized retail store please email your return request to returns@decoart.com.
To better assist you in resolving your request in a timely manner, please include the following information:
Purchase location (Retail store, eCommerce site, etc)
Order Number (if applicable)
Product name, Part number, (generally located above the UPC code) and quantity.
Once the request is received, someone from the DecoArt team will contact you by the next business day.
QUESTIONS? Our Sales Service Team will be happy to guide you through the process or advise on options. Call us at 800-367-3047 or email us at returns@decoart.com.