Posted by DecoArt on Jul 25th 2017
We love to be outside in the summer and play fun outdoor games with friends and neighbors. Our go-to has always been Cornhole, but this year we decided we're a little burned out on it and wanted a different outdoor game to play. Our new favorite outdoor game is Flying Donut Disc Golf. It's so fun to play (and fun to make)!


How it works:
Flying Donut Disc Golf is like a hybrid of ski-ball and frisbee golf. There are small discs that you aim to fling into the score buckets (the score gets higher the farther back and higher the buckets go). To make the making of the game an activity itself, why not paint the flying discs like donuts? Because… donuts!!
Items Needed:
Sandpaper
Assorted Brushes
Pouncer
4 Buckets
Large Number Stickers Or Numbers Cut From Vinyl On A Cutting Machine
Instructions:
Flying Donut Disc Golf is ideal for 2 - 8 players. There are 2 teams (in this case team chocolate donut and team cake donut) and each team has 4 discs per round to attempt to throw into the buckets. The 1st team to reach 500 points (or however long you want to play) wins. Easy enough, right? Here's how you can make your own Flying Donut Disc Golf outdoor game: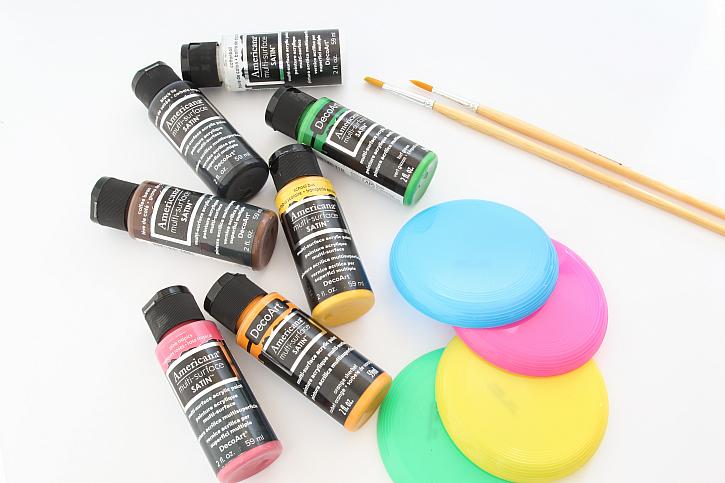 Lightly sand the surface of the mini frisbees; when working on a slick surface like plastic it's best to give the surface some tooth for best paint adhesion by roughing it up a bit.
Paint the donuts on the mini frisbees by painting a large disc with a hole in the middle. I put stickers in the middle of the discs to make sure I didn't get any paint in the donut hole. For the chocolate donuts I used Americana Multi-Surface Coffee Bean and for the cake donuts I mixed School Bus, Coffee Bean and Cotton Ball. To give the donuts a dimensional appearance, I added some Black Tie to the Coffee Bean and shaded around the outer edge and inner rim of the chocolate donut and for the cake donut I added more school bus and coffee bean for the shading. For shading the inside of the donuts a pouncer worked the best.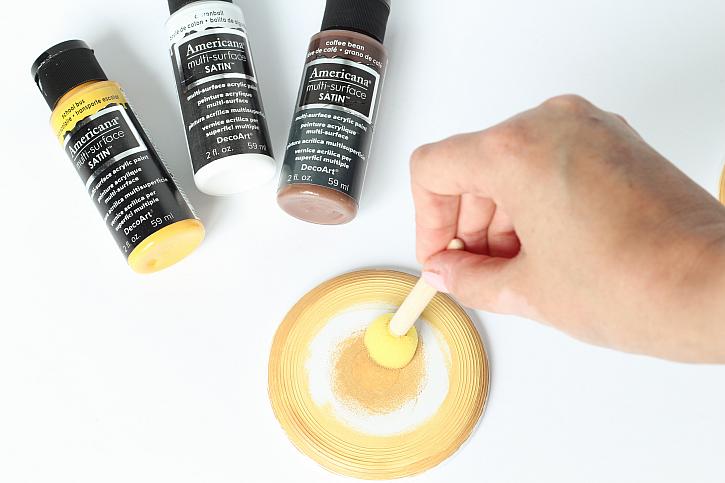 Next, paint the icing. I iced my chocolate donuts with Pink Tropics and my cake donuts with Iris. To give the icing a dimensional look too, I highlighted the inside of the icing ring by adding some white to each color. Since they're your donuts, design them however you'd like; there are no rules here, get crazy with it!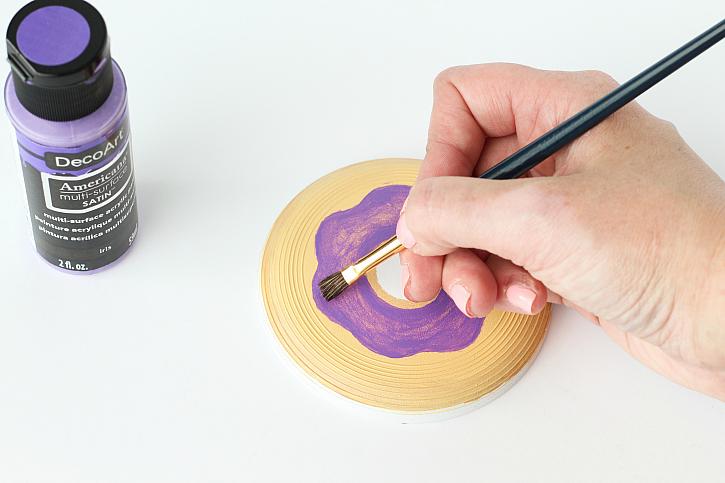 And now for the sprinkles… whether you're #teamchocolatedonut or #teamcakedonut, everyone is #teamsprinkles, right?! Using a fine pointed paintbrush, paint small lines in various colors to create multi-colored sprinkles. A toothpick will work for painting the sprinkles too. For the chocolate donut sprinkles, I used Cotton Ball, Orange Sherbet, Coffee Bean, Blue Lagoon and Apple Green. For the cake donut sprinkles, I used the same colors but traded the Blue Lagoon for Pink Tropics.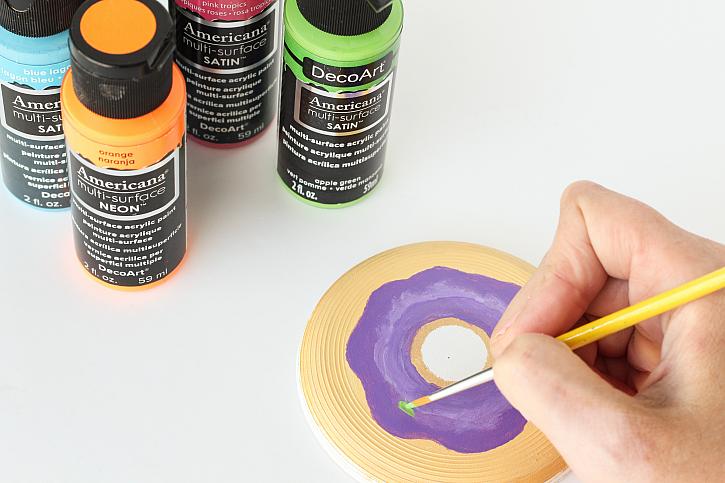 Once fully dry, if you'd like, apply a coat of Americana Multi-Purpose sealer.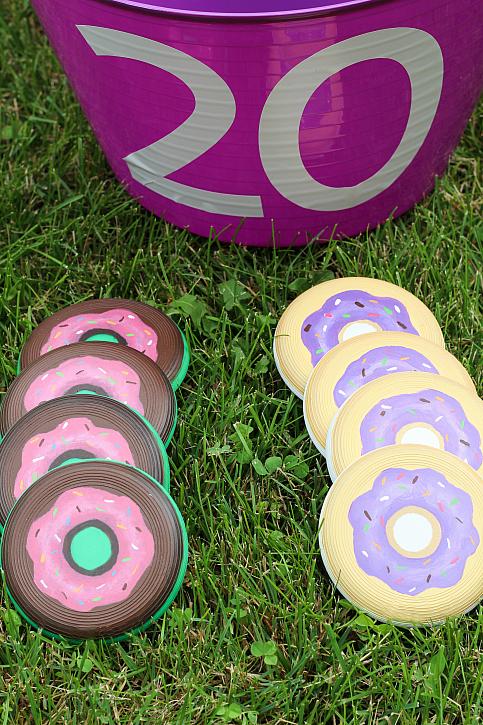 Apply large white stickers on buckets in 20, 30, 40 and 50 point values and stack the buckets on pots, bricks, boxes or whatever you have handy to create steps.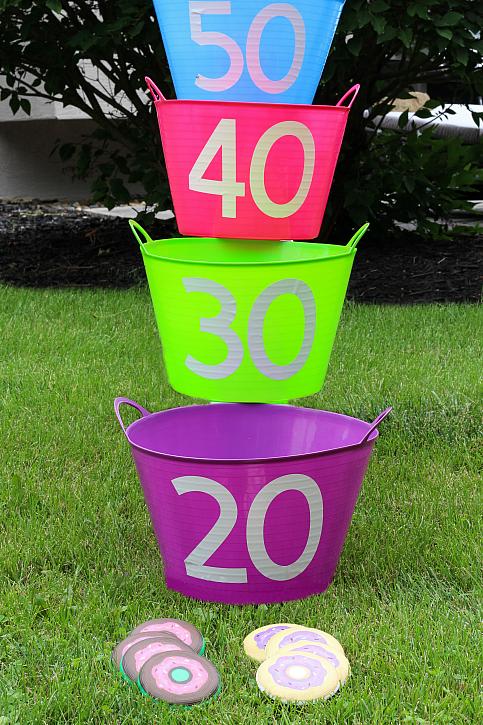 Now you're ready to play Flying Donut Disc Golf!