Posted by DecoArt on Mar 15th 2023
Suminagashi:
Creative Colors


Dive into the traditional water marbling process of Suminagashi. The paint will flow into unique and beautiful patterns that you can capture onto paper. Get creative and be inspired by these techniques. Explore and experiment color combinations and create a mindful practice to appreciate your art practice.
Level: Easy- Intermediate
---
---
---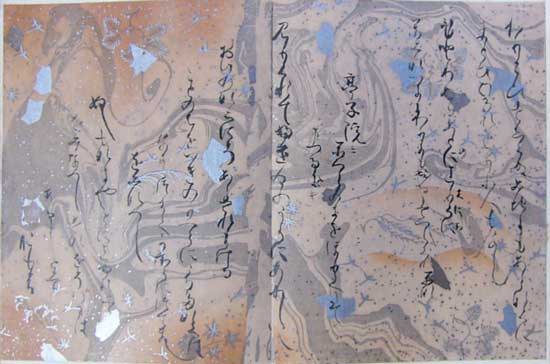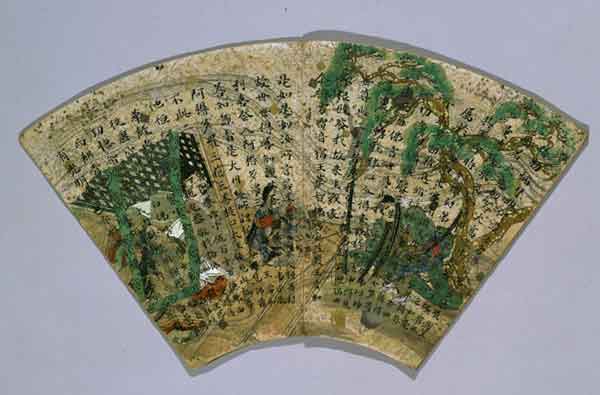 Used for important documents, books and art, traditional Suminagashi was believed to originated by monks in Japan during the 12th century.
---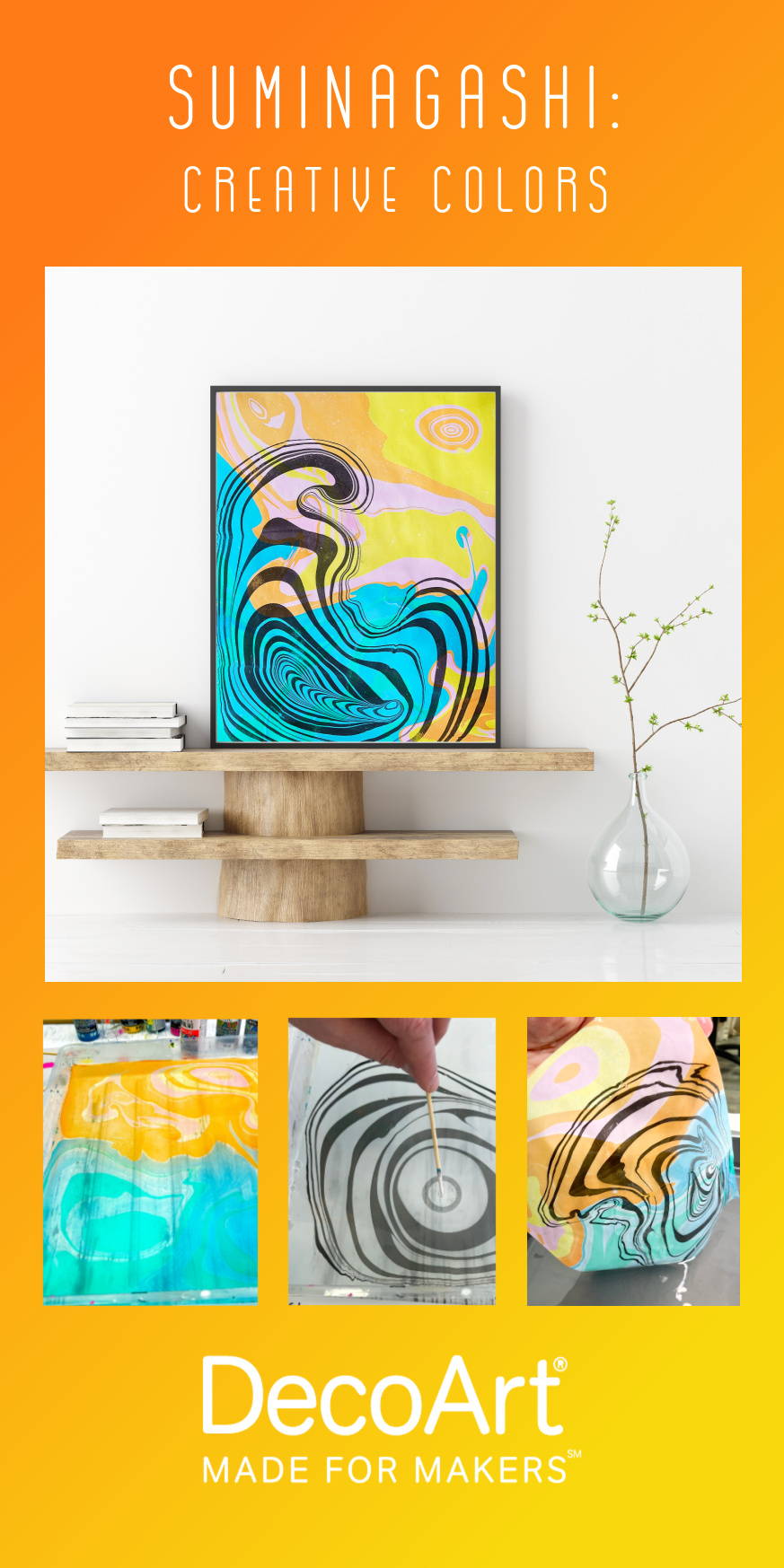 ---
---
Step 1- Prep work
Who hasn't started a project without first having everything you need in your reach? But having everything set up and accessible makes water marbling even easier and hassle free. First, make your size according to the instructions on the jar. While the size is dissolving/cooling, get all of the supplies you will need and create your working area. Having your trays, papers, tools, garbage can and paper towels ready to go ensures a faster and worry free experience while making your art!
---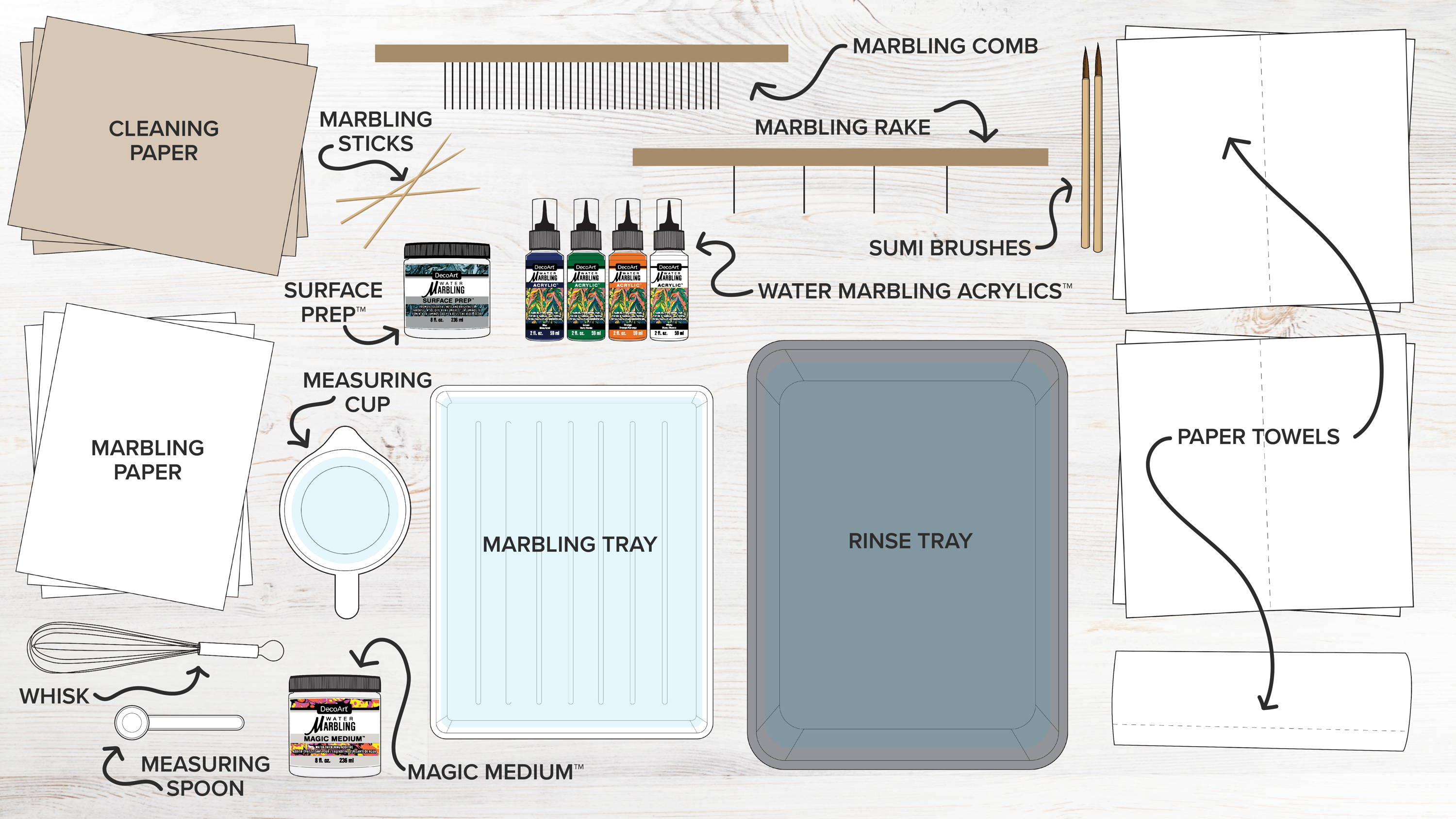 ---
---
---
Want to watch the DEMO first? CLICK HERE!
---
TIP: First, make all the color prints and allow them to dry. You can do as many as you want with as many different color ways and techniques as you can imagine, but I will show you a combo of warm and cool colors side by side and a technique based on Suminagashi.
Step 2- Gather your paints
Since we are doing a double print with the color print being first, I will begin by showing how to use the following Water Marbling paint colors for this design: Pink, Orange, Yellow, Green, and Lght Blue.
TIP: A great way to visualize your Water Marbling paint colors is to paint them out on a white sheet of paper for reference. (As shown above.)
Step 3- Lay down some color
Start by pouring a line of Orange Water Marbling paint horizontally across the center of the tray. On one side of the tray, vertically pour a line of Light Blue down the tray. Inside the blue, drop a stone of green. Then alternate dropping stones of blue and green with in the circles created.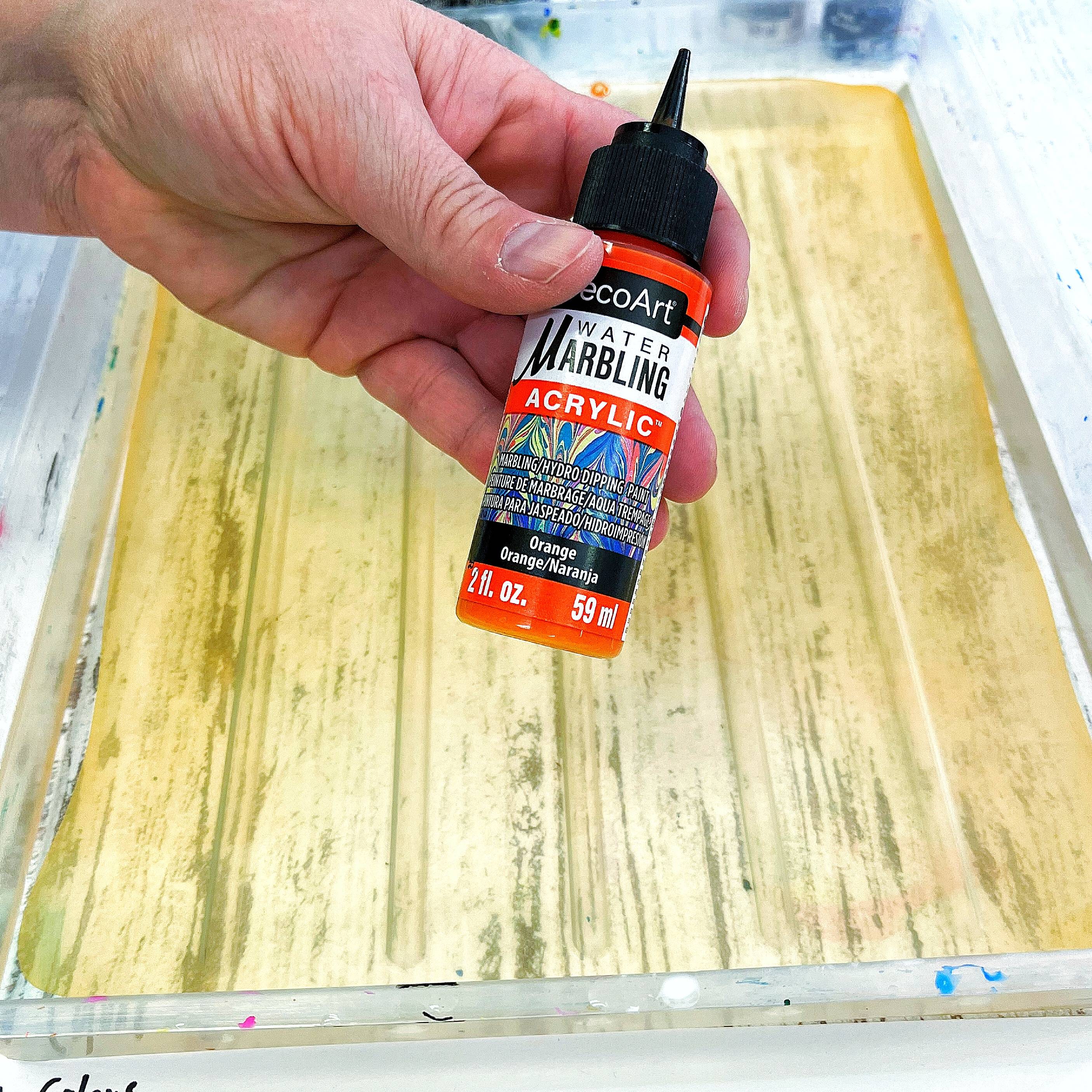 ---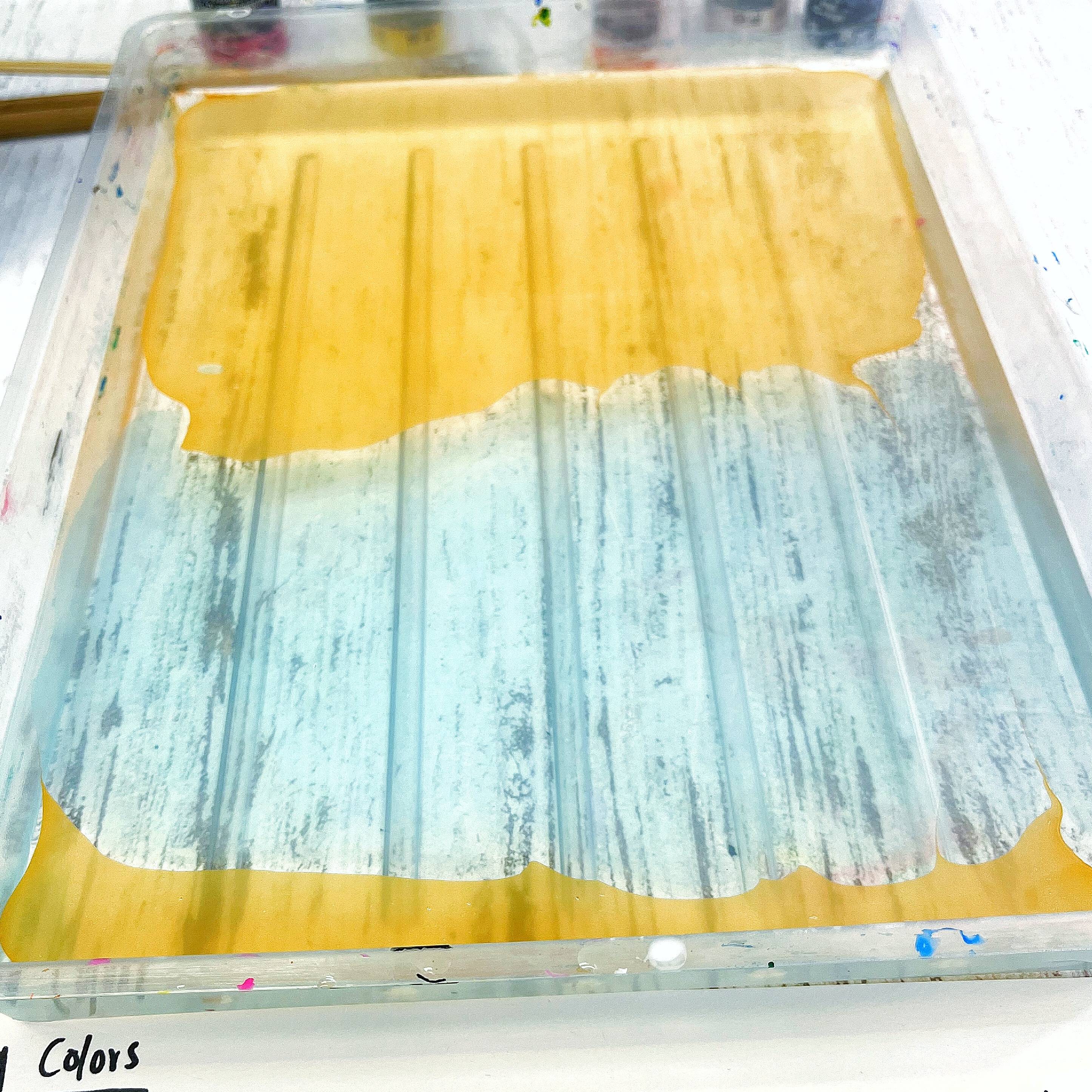 ---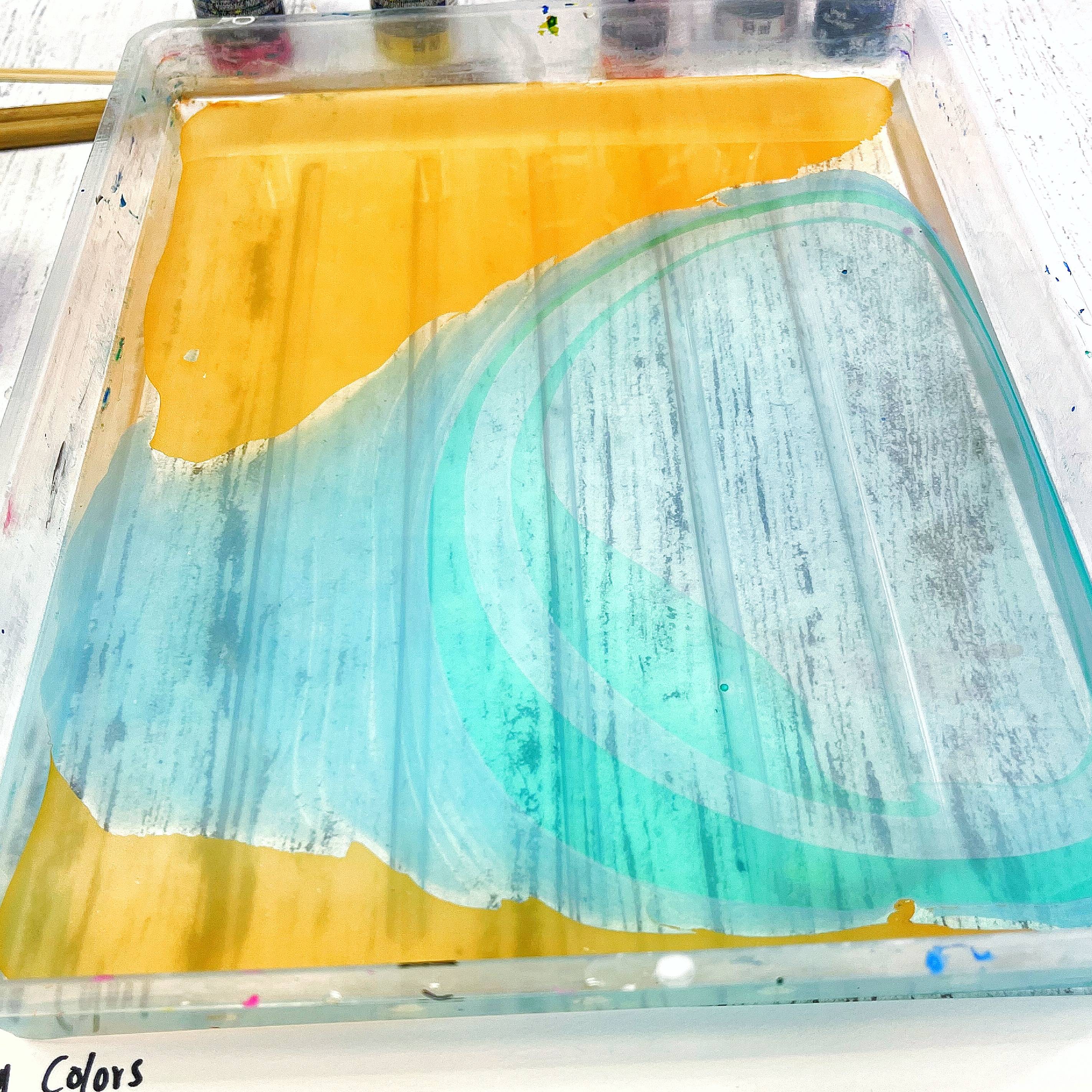 ---
---
Step 4- Create more visual interest
Drop alternating stones of Pink and Yellow into the Orange side. Dip the tips of water marbling sticks into the paint and then into the size to create smaller stones. As you are alternating colors, you begin to create a rhythm that is very calming and creates a mindful experience.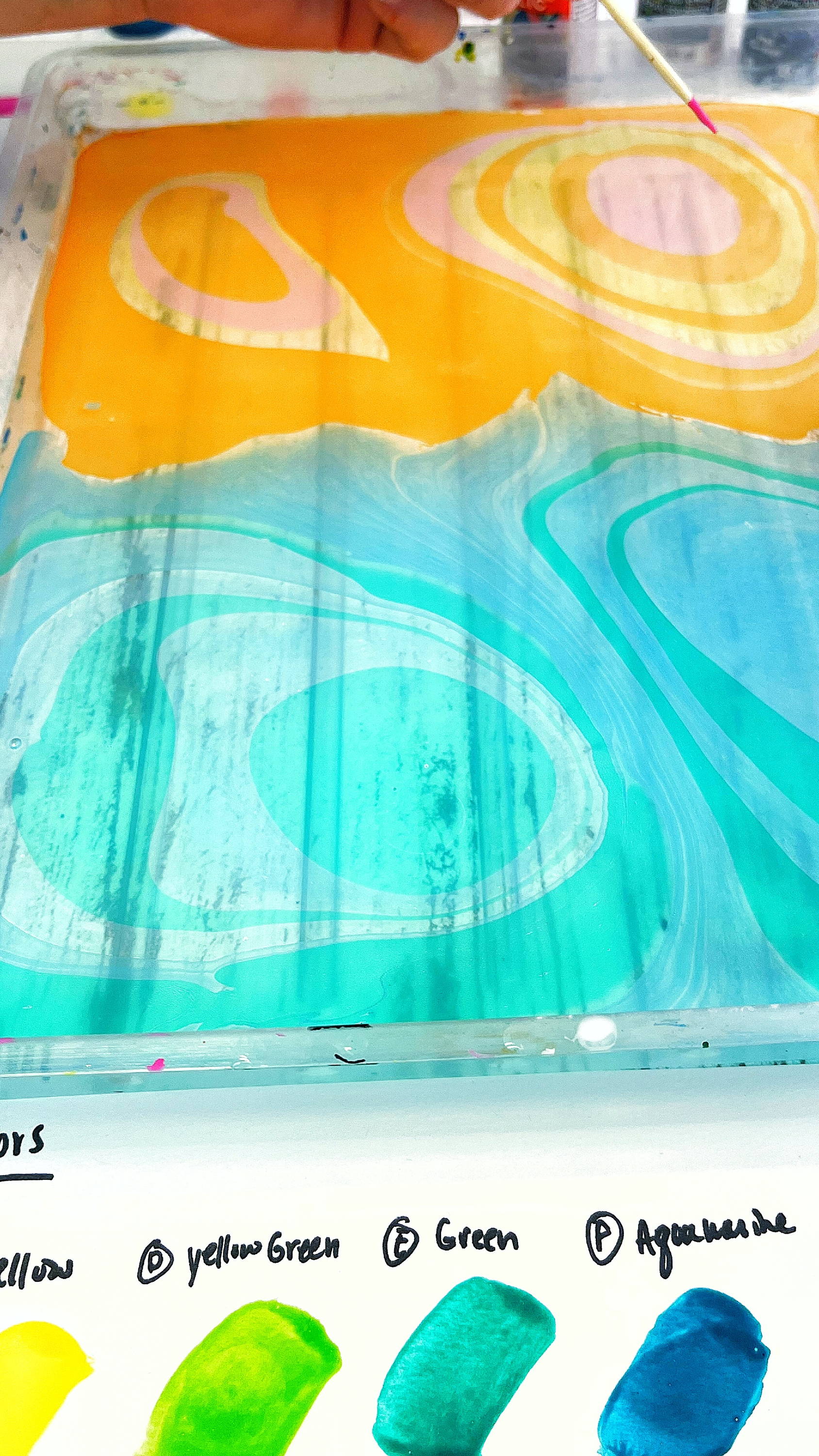 ---
---
Step 5- Adding movement
Traditioanlly, Japanese artists would slightly move the surface with air using a fan or breath. This is still a great way to move the paint on the surface to create an organic design. The resulting design is very remniscent of natural landscapes. You may be inspired to paint back into your dried water marbled print by adding trees or rocks to emphasize the landscape.
---
Step 6- Pulling the print
Once you have a design you are happy with, place a piece of the Water Marbling Paper onto the surface of the size. Allow the center to touch first and slowly drop the sides. This will minimize the possibilty of trapped air, which will result in a white spot on your print. Pull the paper out of the size by the corner and drain off excess size. Place face down in a clean water rinse tray and slightly agitate. (This removes any excess size and paint from the surface for a crisp bright print and allows for faster drying and less curling up of the print.) Pull print out of rinse tray and drain off excess water. (Be careful to not touch the surface because the paint will smear until dry.) Place print face up on paper towels to dry.
---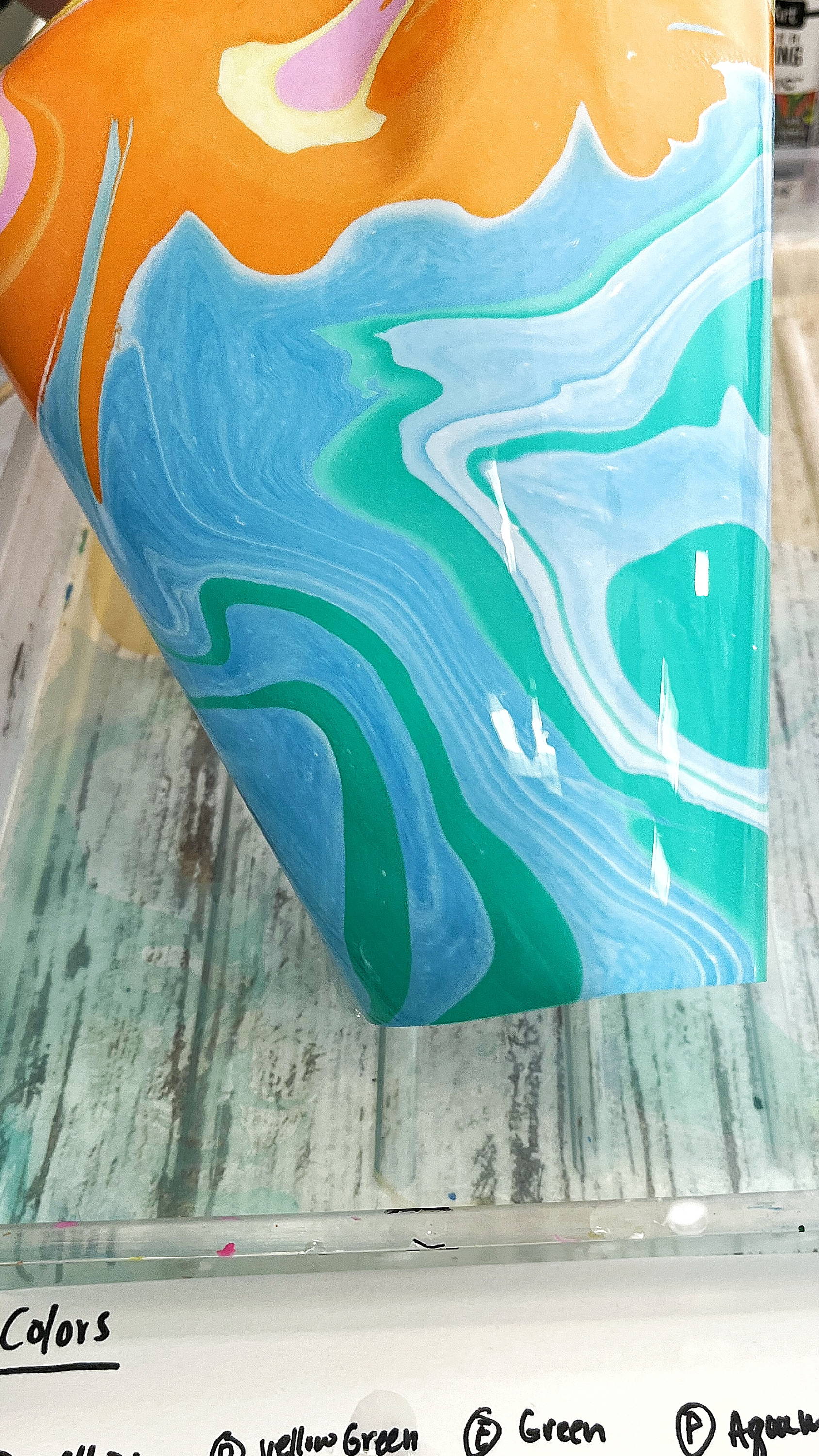 ---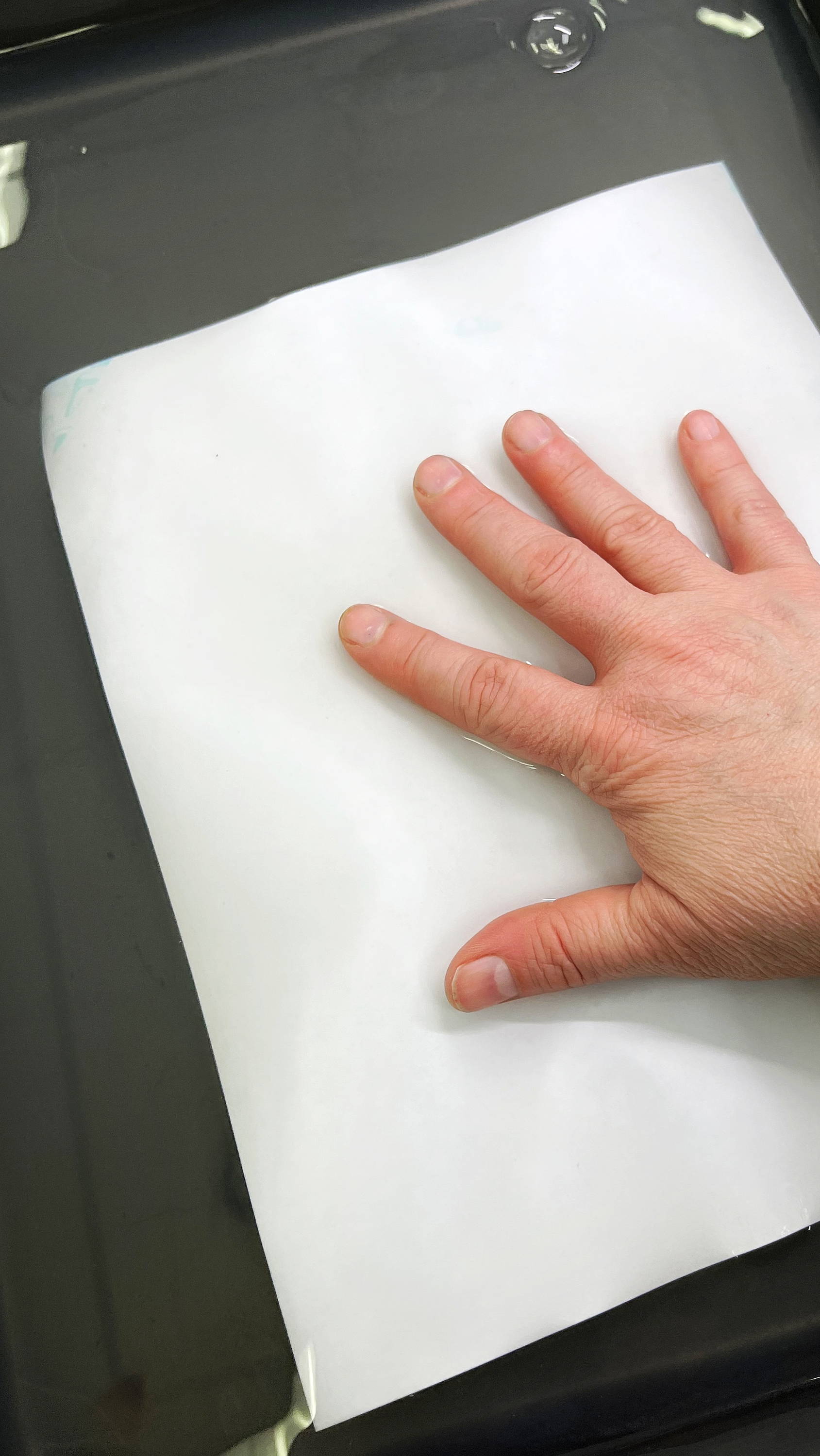 ---
TIP: There will be paint left on the surface, instead of cleaning it off with the cleaning papers right away, take another print! The second and third prints, from the initial application of paint, give completely different color tones and patterns. It is a great way to have extra prints to use in future projects, as well.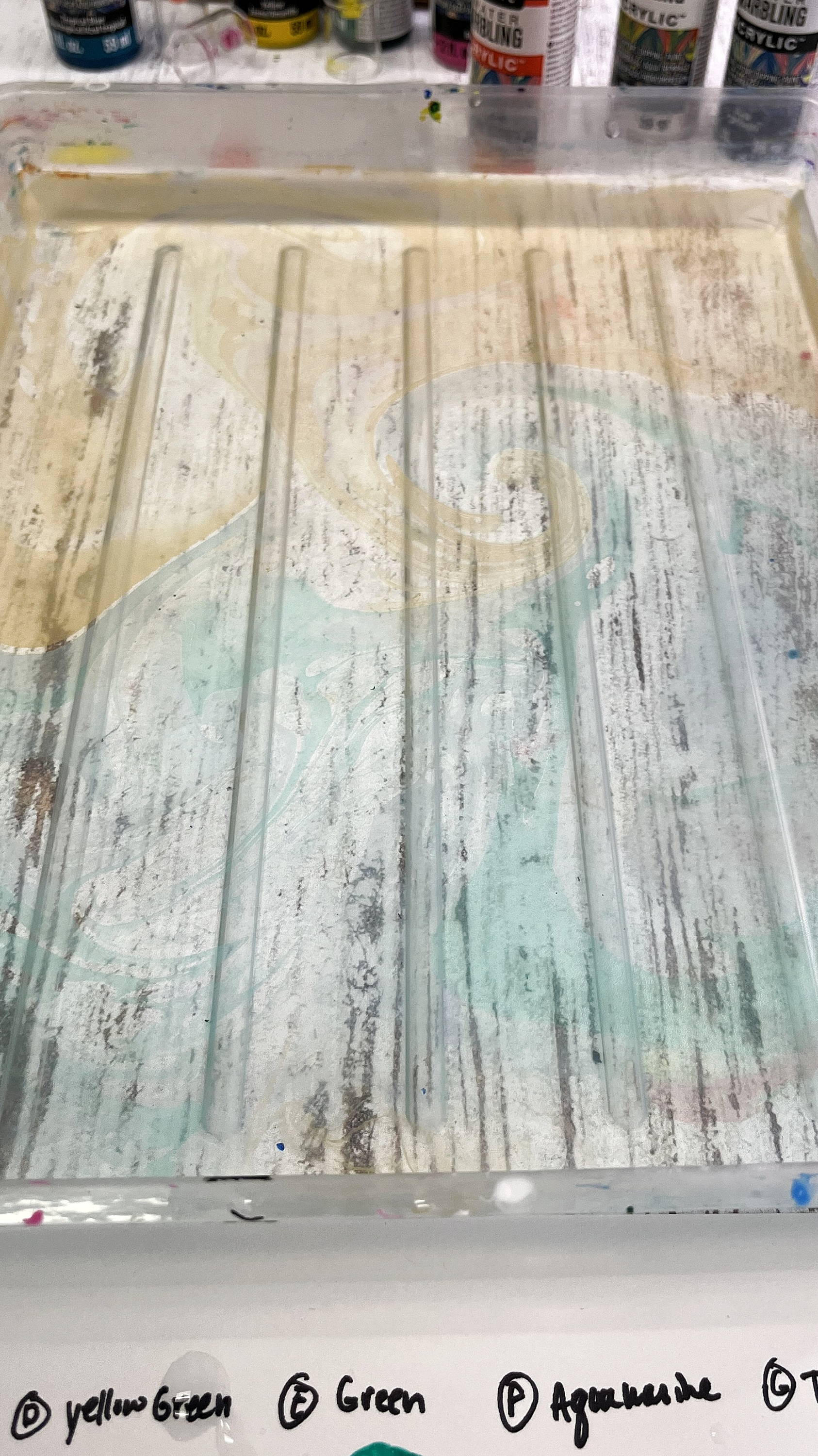 ---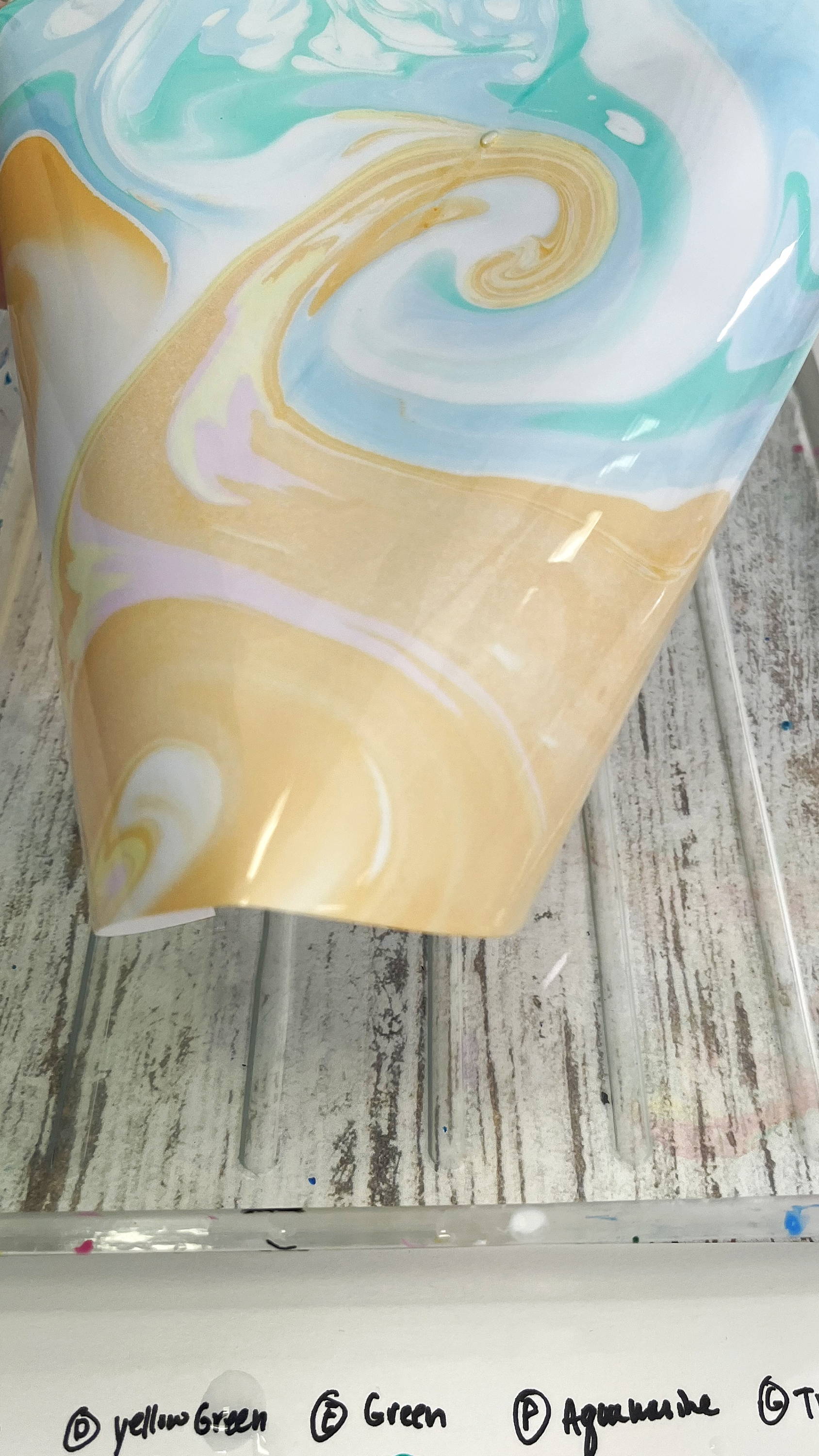 ---
Step 7- Add some heat
Once prints are completely dry, place face down on a piece of clean watercolor paper and iron the back to flatten.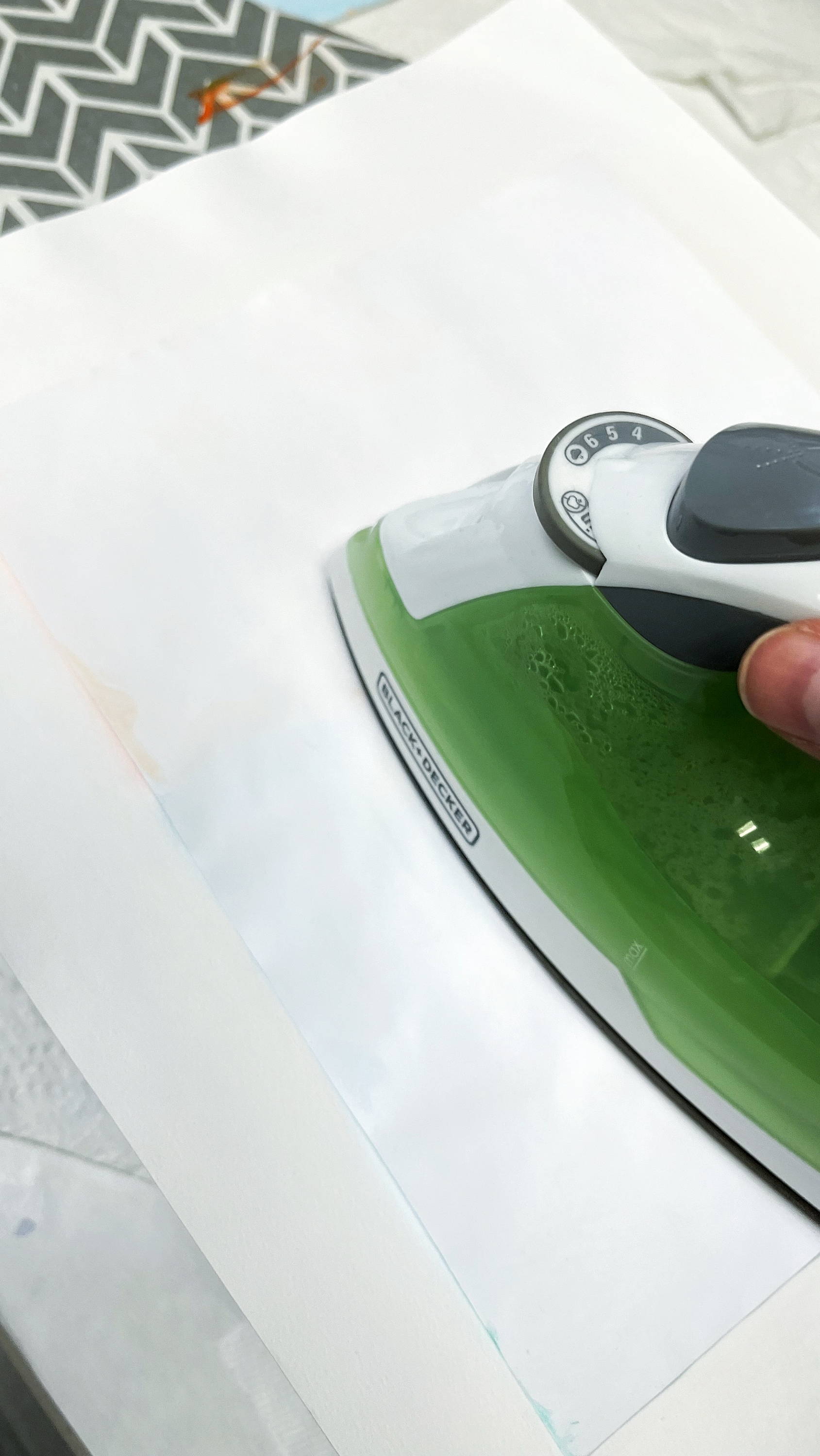 ---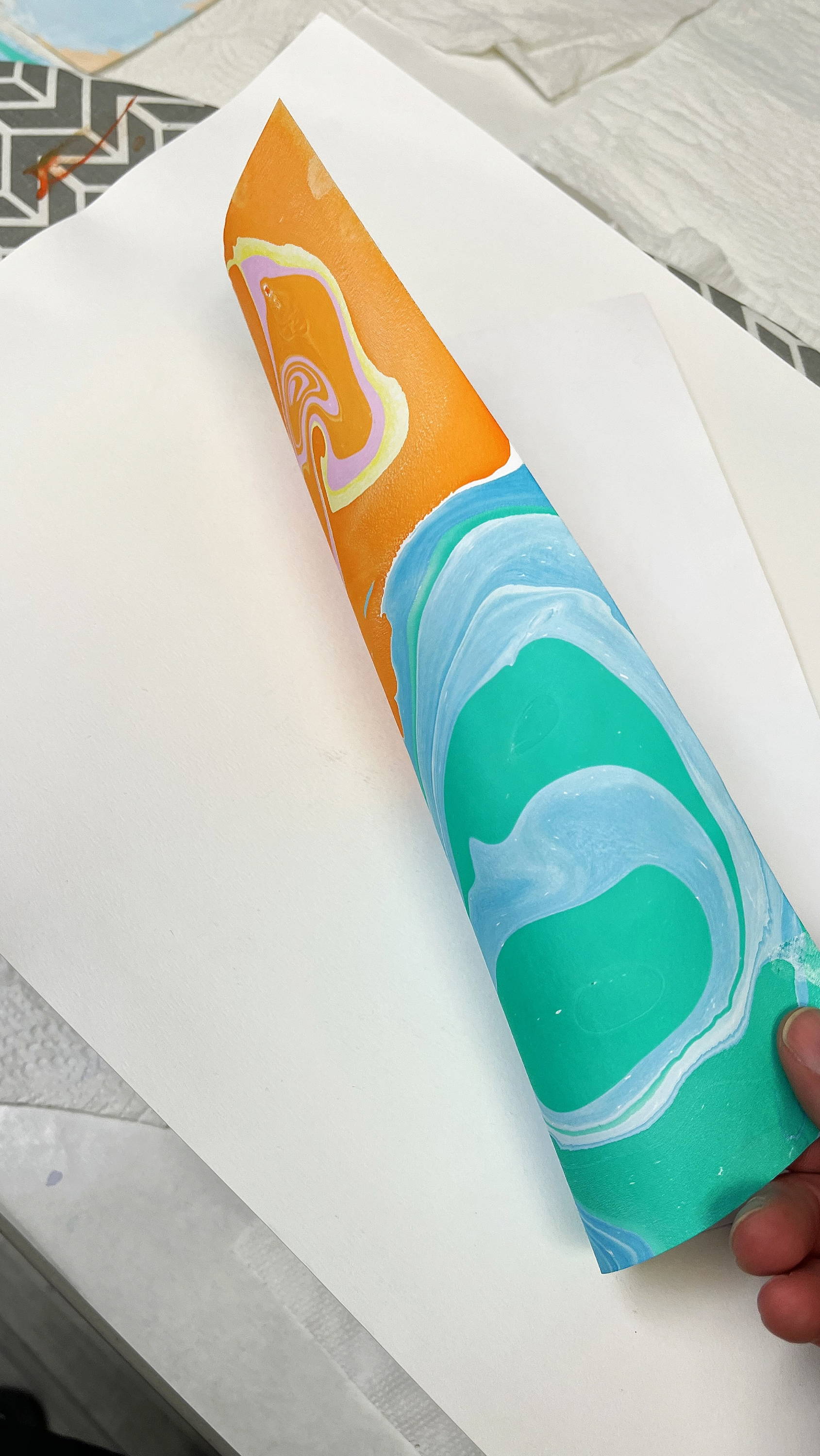 ---
Step 8- Black and white Suminagashi
Using Black and White water marbing paints to create the top layer of the double prints will really bring in graphic quality to your art pieces. You can also do this step using different colors as well! To begin this next step, make sure the surface of your size is cleaned off with the water marbling cleaning papers. Begin by pouring a line of white across the surface of the size to create a base. Next, drop a "stone" of black paint onto the surface. Continue to drop alternating black and white stones into each other.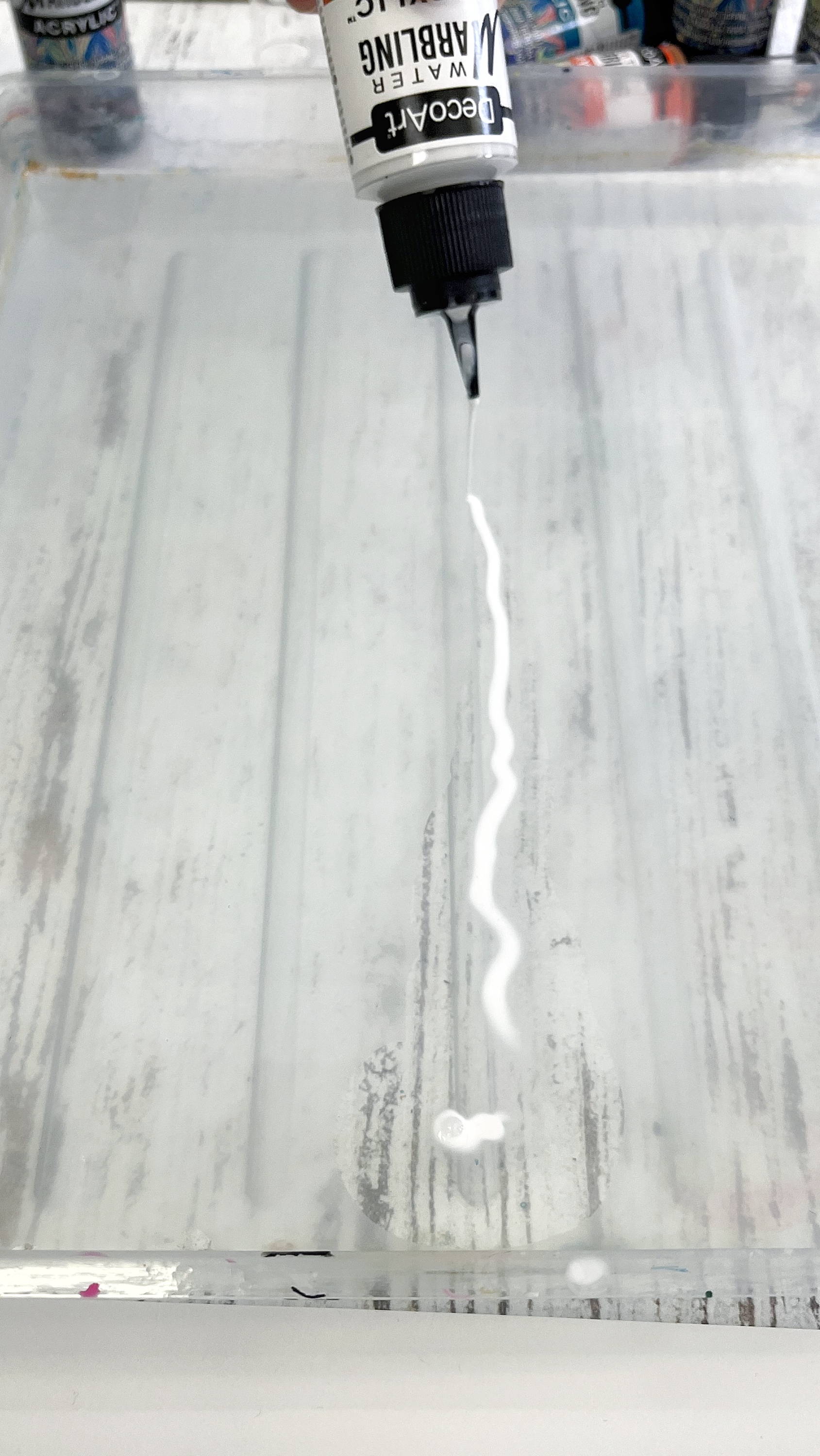 ---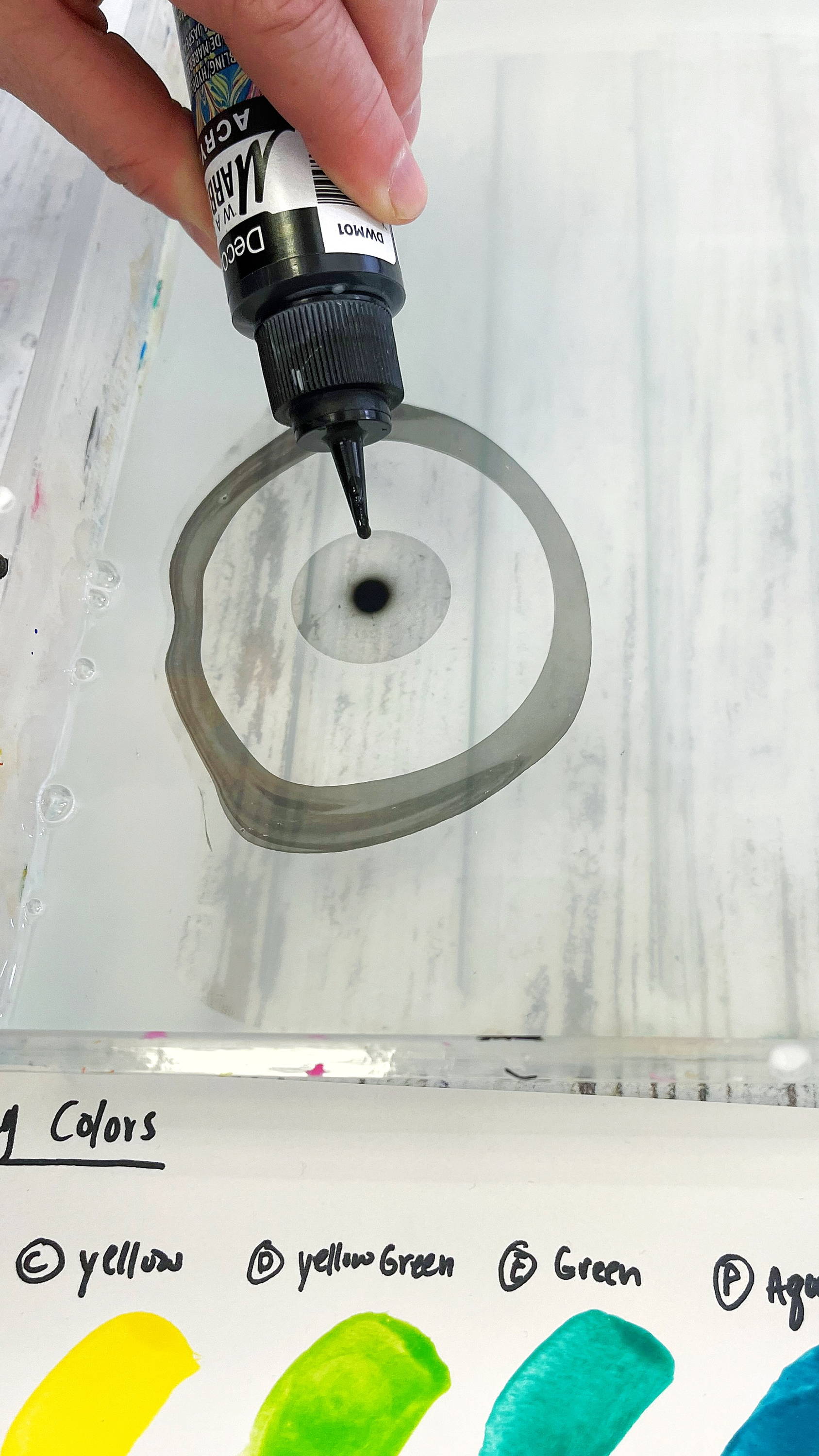 ---
---
Step 9- It is all about the details
to build the design with more detailed rings use different tools to drop paint into the center. Pour out a small amount of paint onto a non-stick surface and dip the ends of the water marbling sticks into the paint and touch the surface of the size to create smaller stones. Also, try adding the next stones of paint into the outer edge instead of the center. This will create a dimensional look!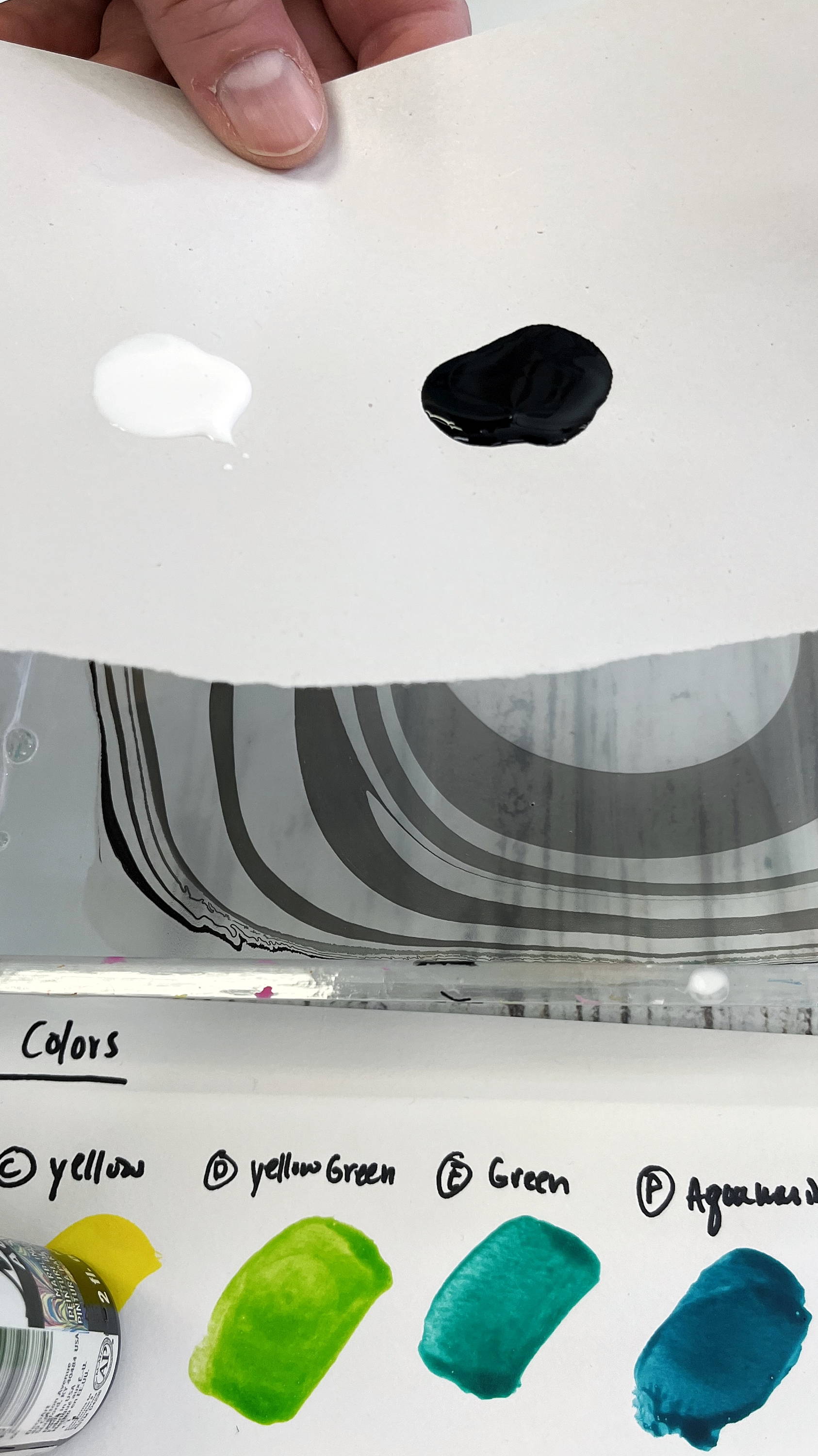 ---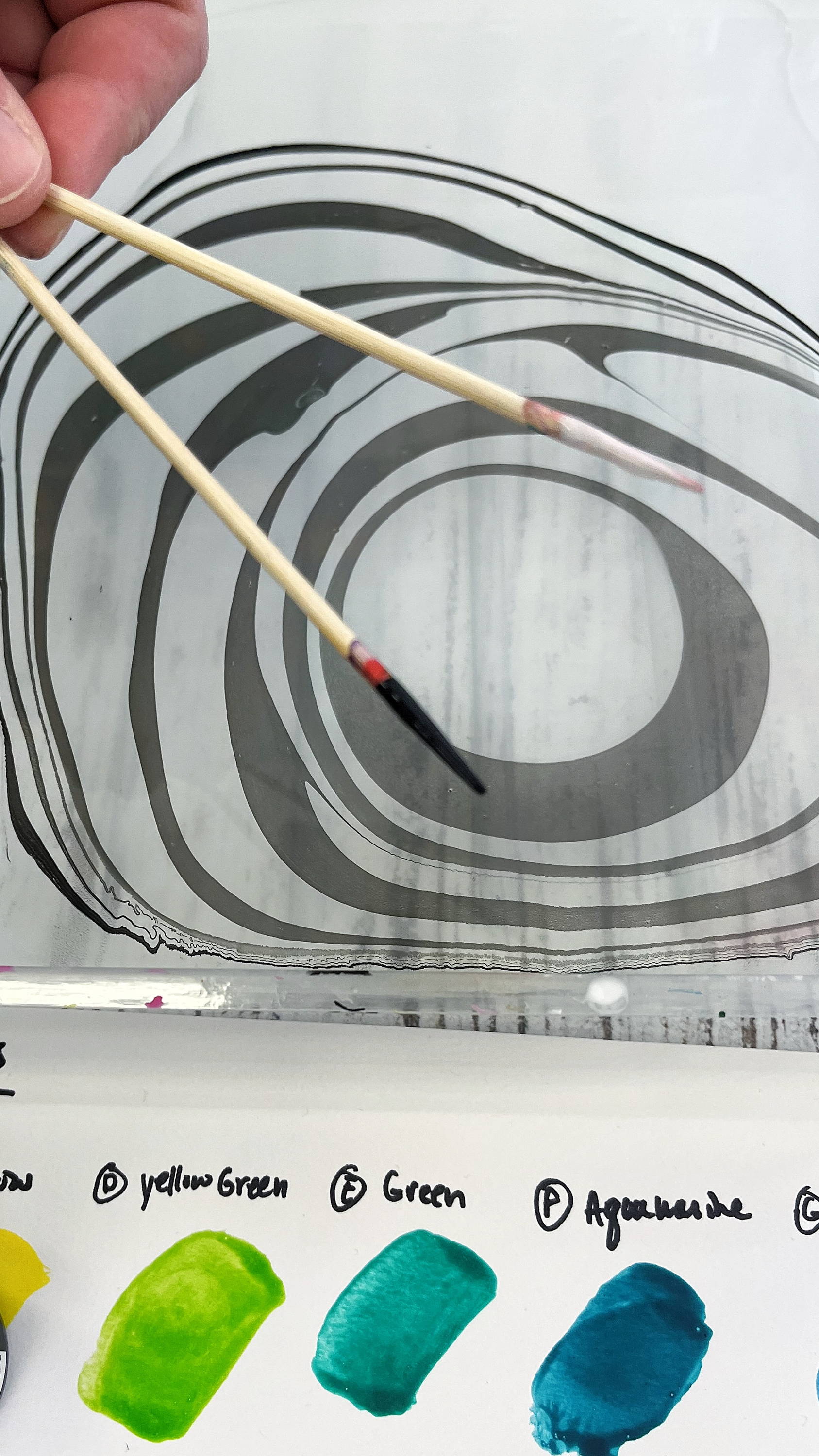 ---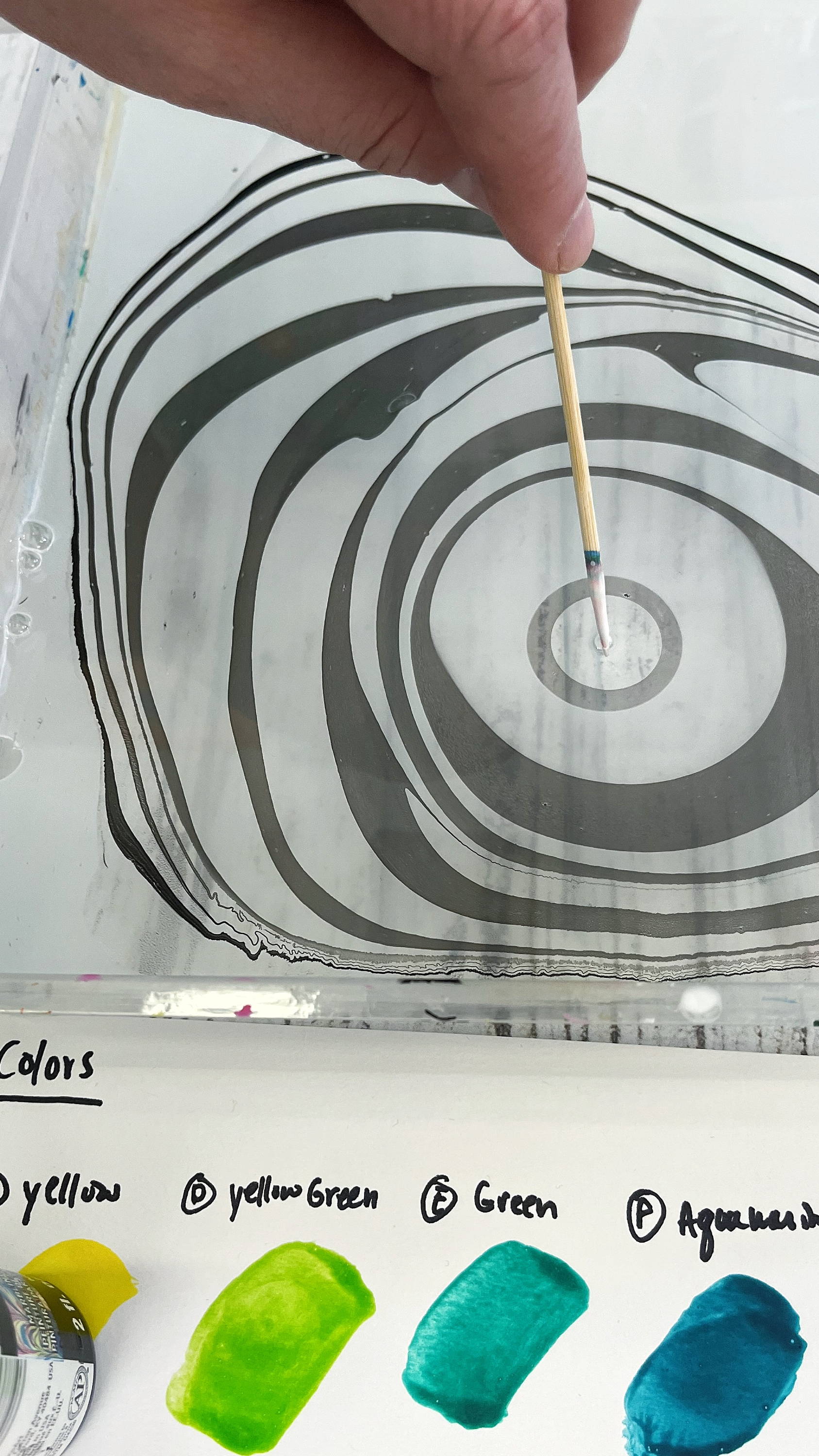 ---
---
TIP: For a fun twist, try using a different color with white to layer onto the water marbled color print. This will create a softer final look.
---
Step 10- Double take
To acheive the final look, place your colorful, ironed print face down onto the black and white Suminagashi design. Pull up the print and drain off size. Place print in clean water rinse tray face down and agitate. Pull up print by the corner and drain off excess water. Place face up on paper towels to dry completely. Iron face down on a clean piece of water color paper. Now your double Suminagashi print is ready to frame!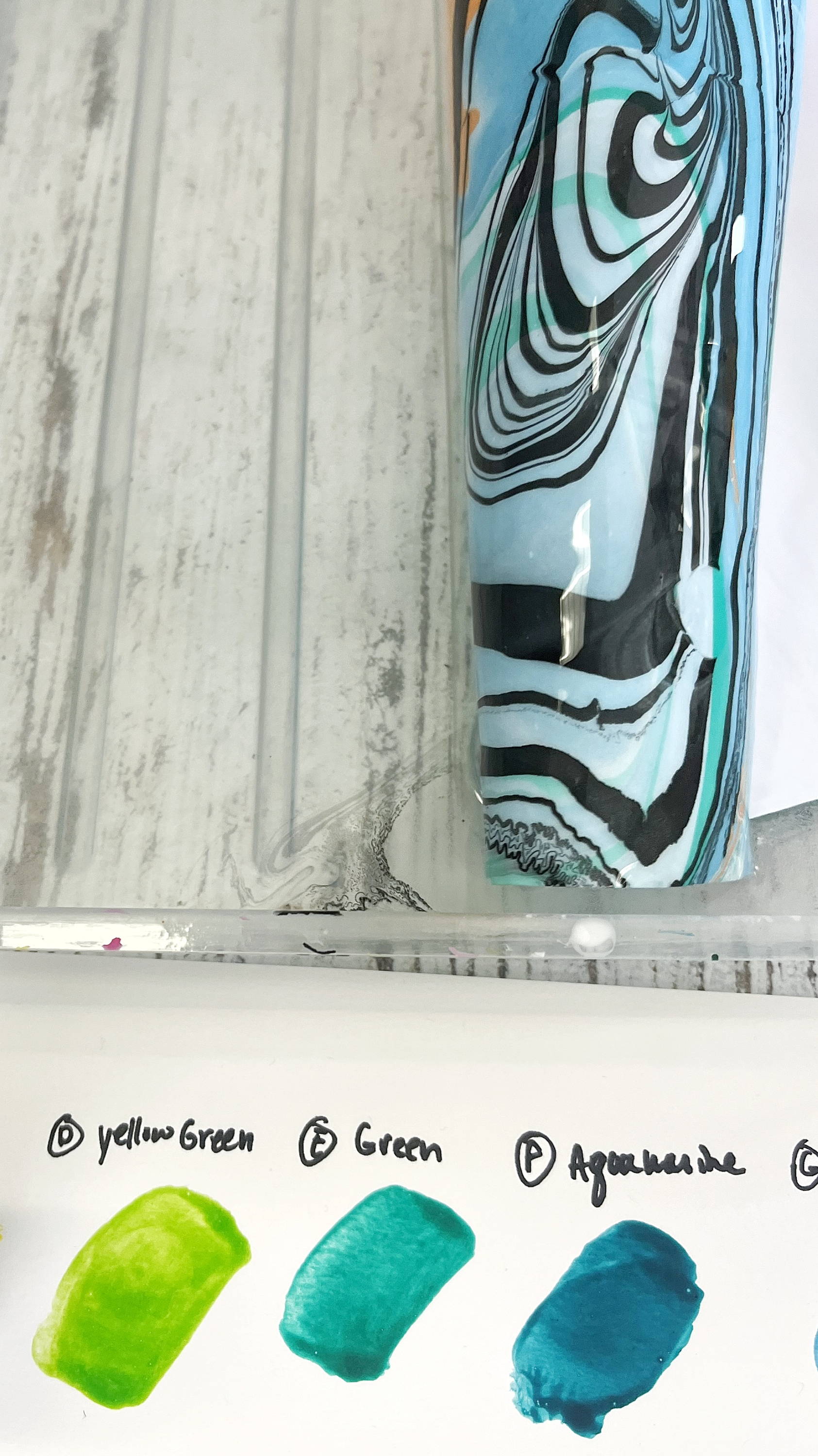 ---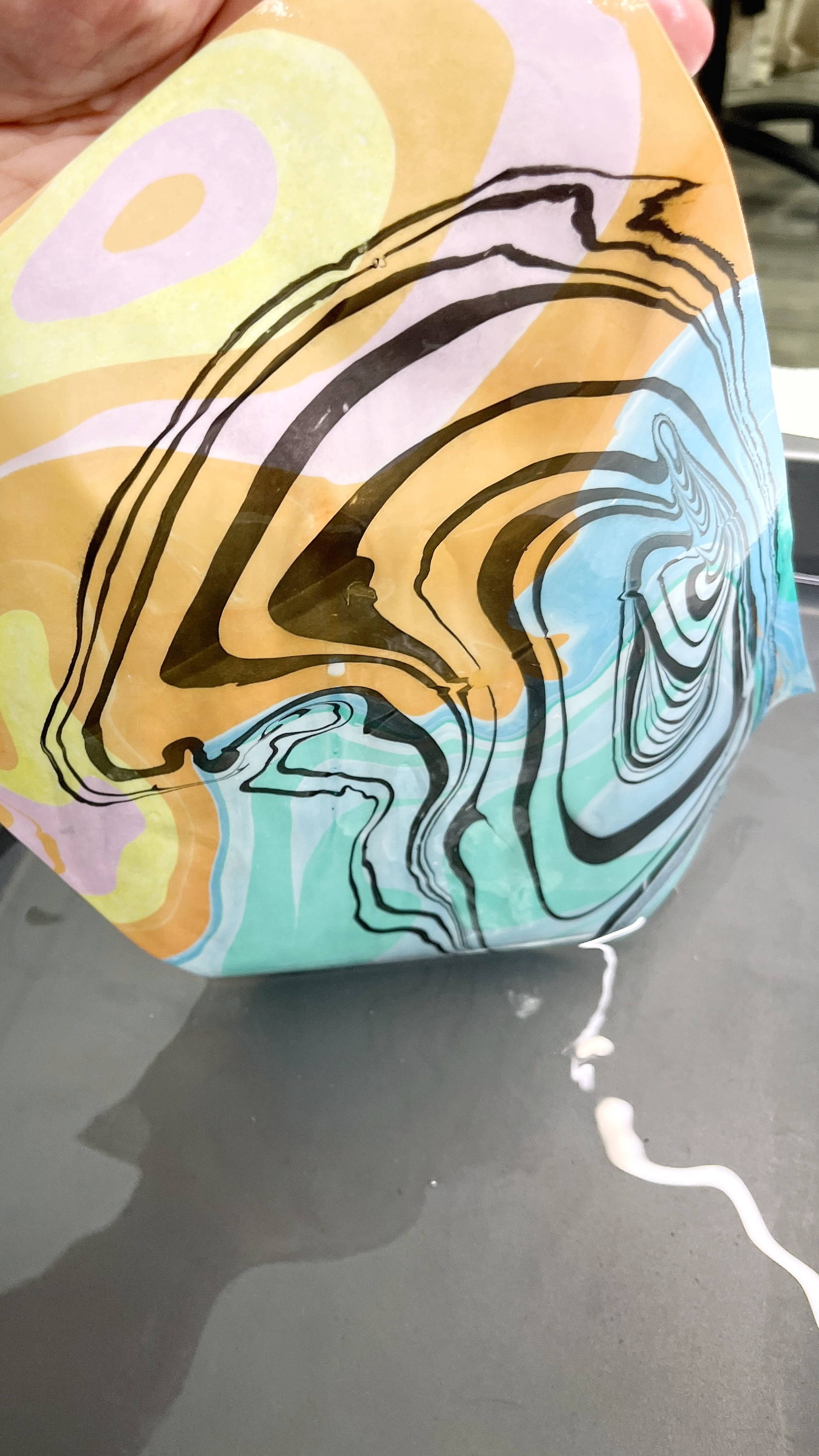 ---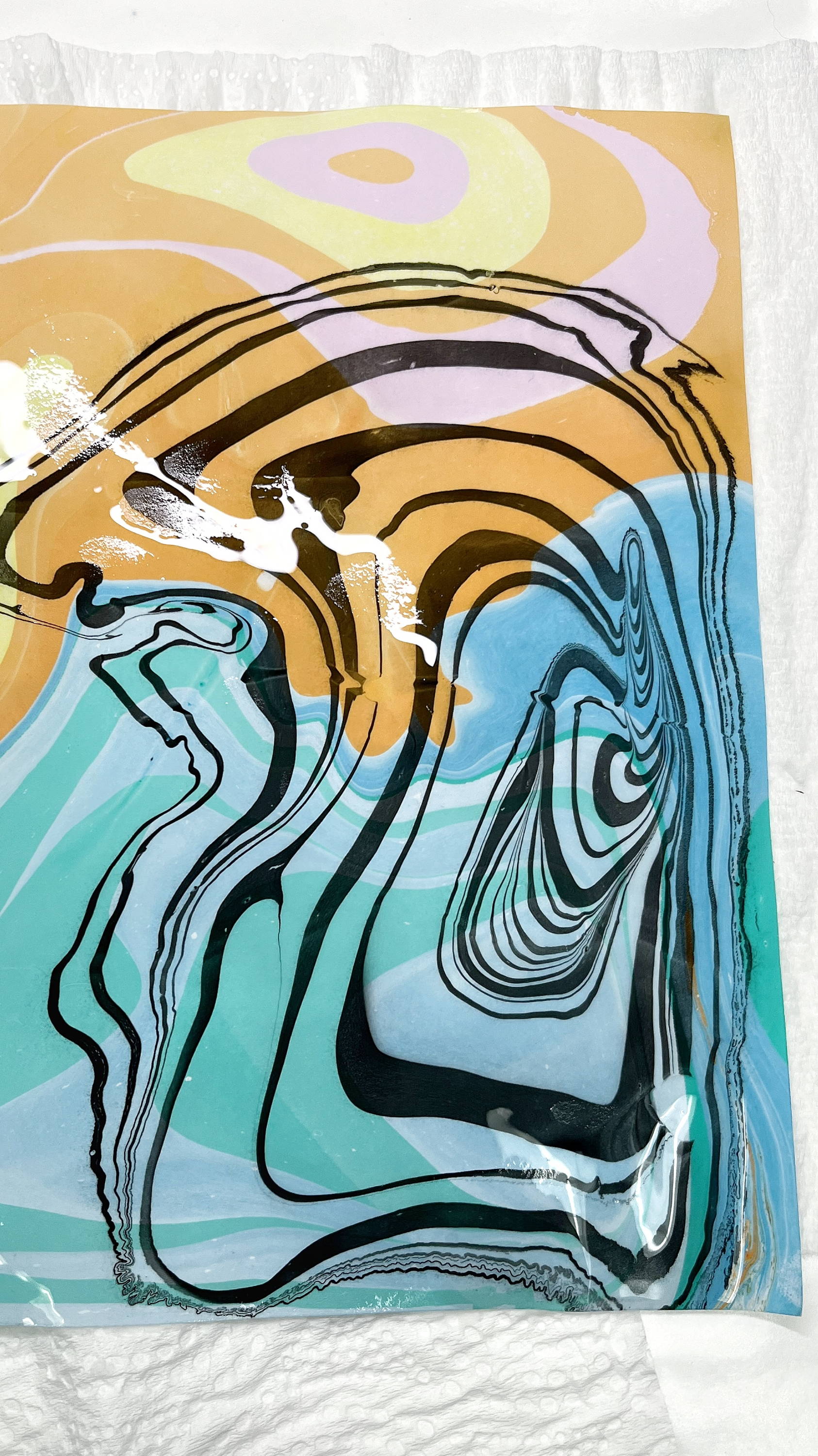 ---
TIP: Why stop there? Try painting some trees or other things onto your dry water marbled paper prints. -Next level landscape painting in your art!
---
---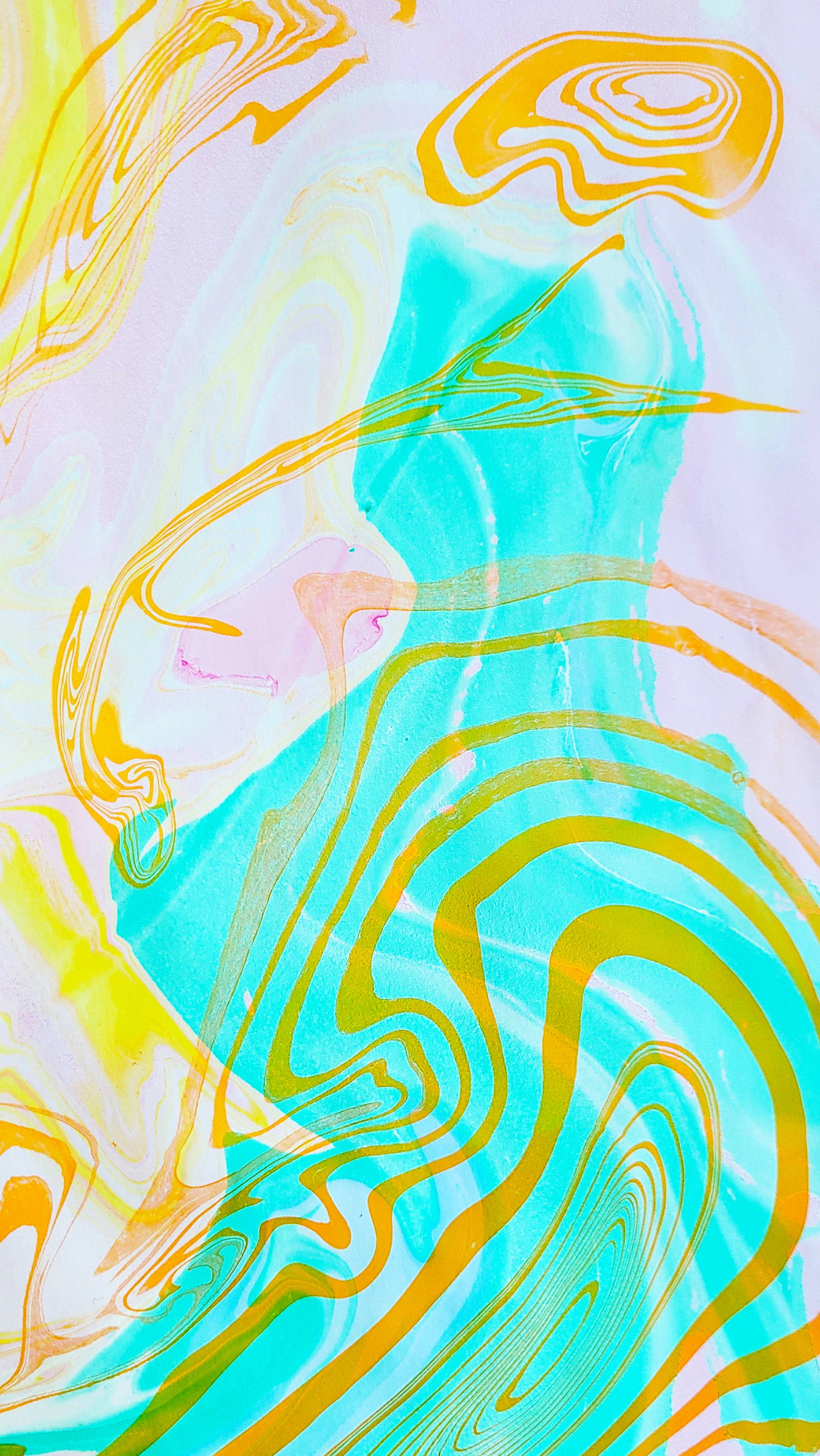 ---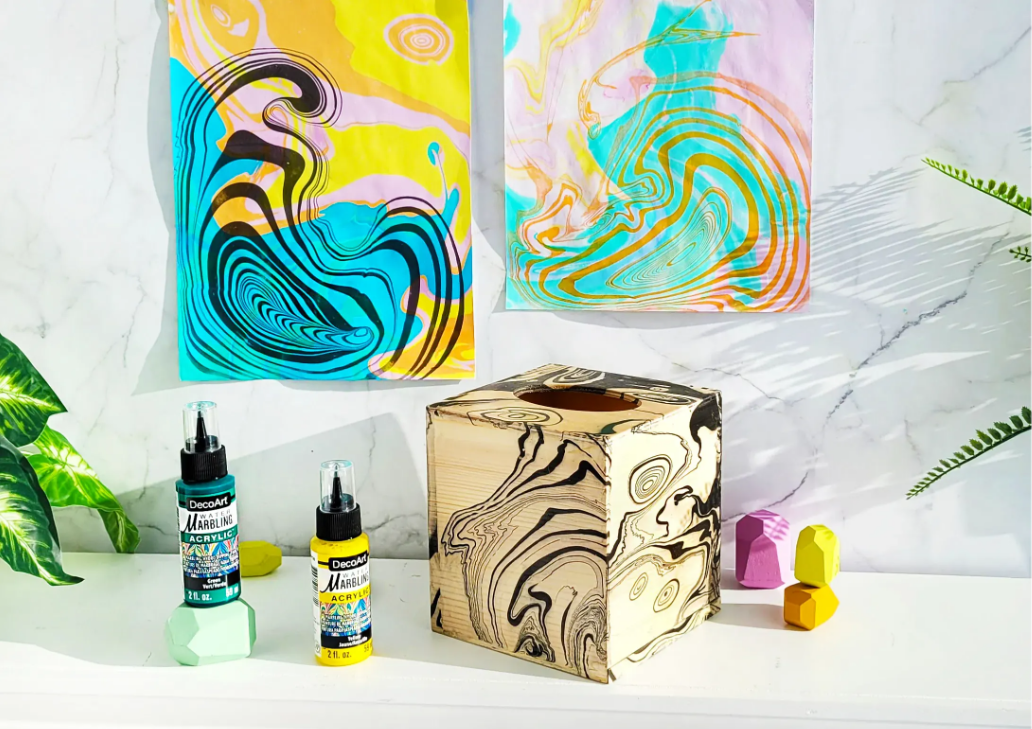 ---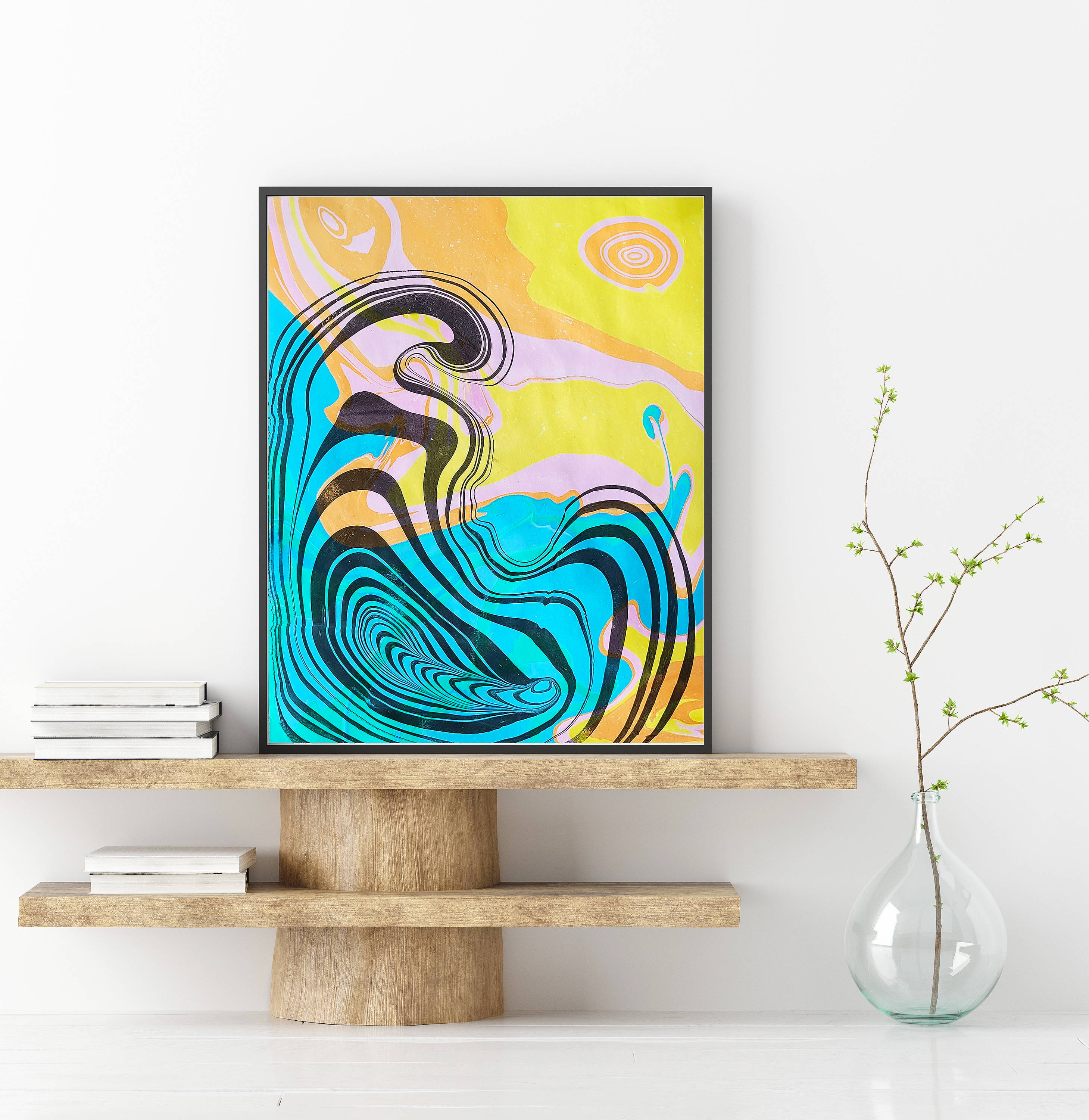 ---
Make sure to check out even more Suminagashi inspired projects on our blog!
---