Posted by DecoArt on Mar 22nd 2017
Warmer weather means we will all be spending a little more time in our outdoor spaces. We want to inspire you to spruce up your outdoor decor with our Americana Decor Outdoor Living paint. It's available in 30 rich colors that can be mixed and put together for a variety of looks.
To help you with your outdoor decorating, we have pulled together ten different color palettes for ten different styles! Tell us which color combo is your favorite by leaving a comment below... and then get to upping the ante on your outdoor decorations!


---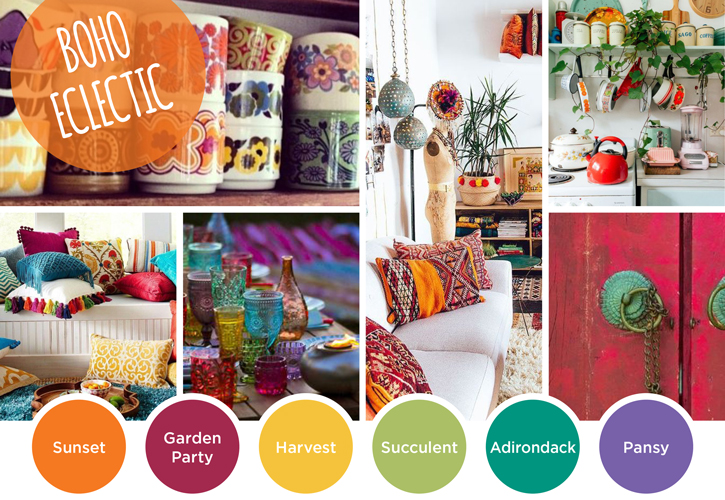 Make your neighbors think you've just returned from shopping in an exotic souk by incorporating these bold and warm colors throughout your outdoor space. To add just a dash of this flavor, consider painting an arrangement of pots in these vivid colors and fill them with herbs to make a statement on your porch or patio. 
---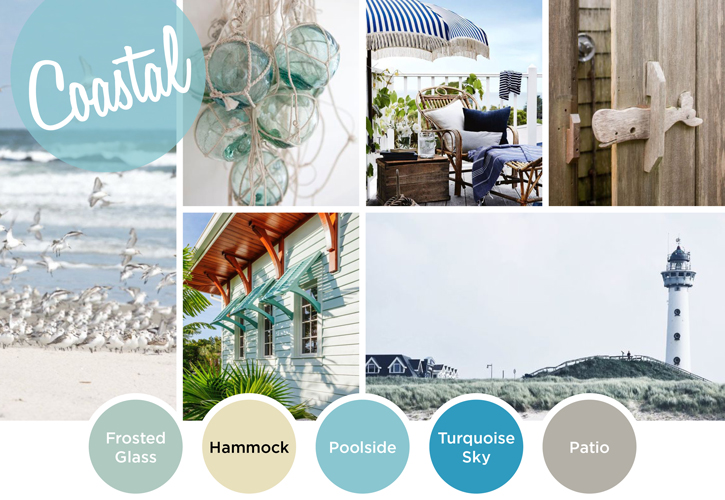 Whether you live by the sea or just wish you did, this palette was plucked from the colors of nature. The blues of the sky and water marry perfectly with the warm colors of sand and beach pebbles. The Turquoise Sky color is the perfect pop of bright against all of the cooler shades in the palette. Use it on pots, house numbers, outdoor signs, and more to contrast nicely with larger pieces painted in the more neutral shades. 
---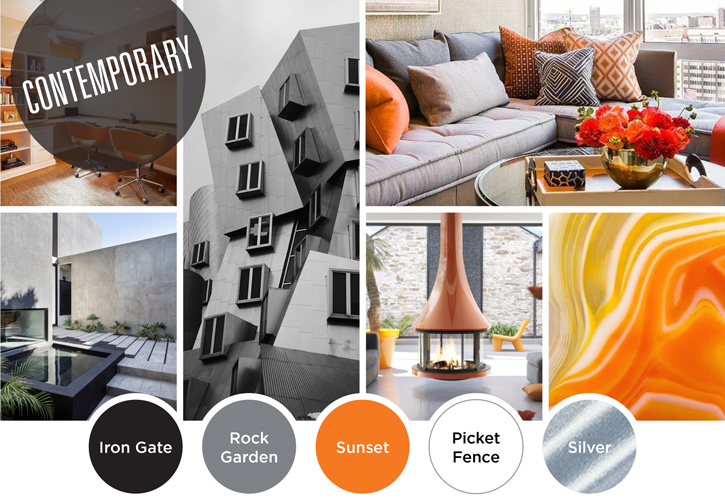 Sleek and modern appeals to a lot of homeowners. This color palette works well in an urban setting. The cool tones will be highlighted even more by adding splashes of the warm Sunset color. If space is tight, a vertical garden would work well on your balcony adding fresh green foliage to the overall modern look.
---


It's the literal American dream - the white Picket Fence! Bring your idyllic country home vision to life with this serene color selection. The lack of a major contrasting color makes it easy to mix-and-match pieces and create a lived-in, harmonious outdoor space. We can see a vintage wheelbarrow filled with flowers with the handles painted in Wildflower sitting right inside your picket fence. Mix up a pitcher of sweet tea, we are headed over to rock on your front porch!
---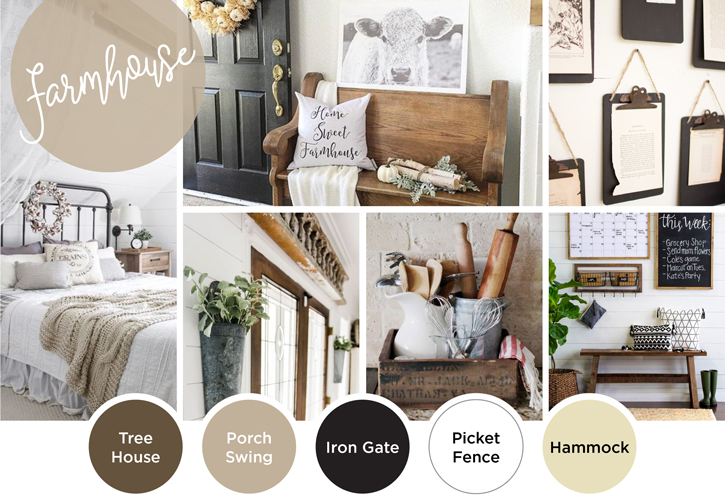 Warm and weathered is farmhouse style. Items are selected based on their functionality and ability to withstand continuous use over time. This color palette has us thinking of well-worn woods and scrubbed floors. It supplies the perfect backdrop for vintage finds or family heirlooms. Visitors to your home will immediately feel a sense of history and welcome.
---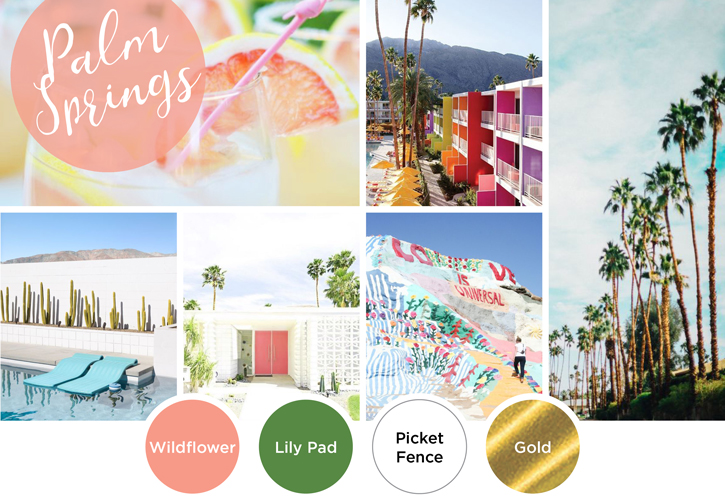 The playground of the stars needs to have a color palette that matches the larger-than-life personalities that can be found in every resort and spa dotting that desert landscape. Bring a little of that glamorous, relaxing atmosphere to your own home with this timeless color selection. Make sure you include pops of gold whether it is on a pot or candle holder to really set that mood.
---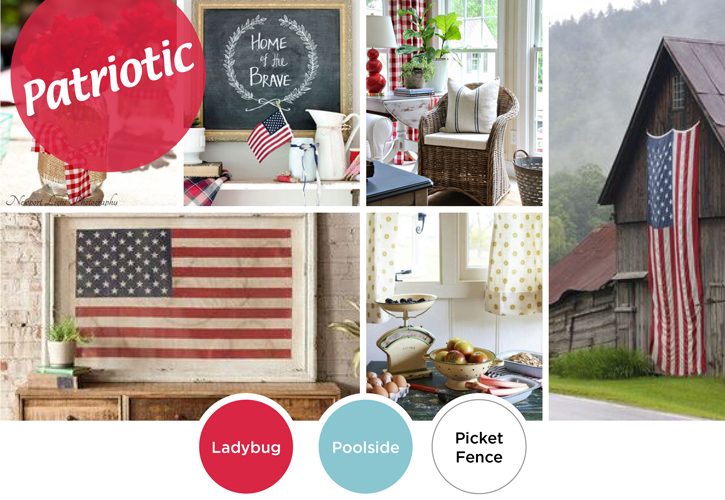 This modern take on the traditional red, white, and blue would look appropriate even if it isn't July 4th. Whether you have a rustic lake-house, a country cabin, or a weathered cottage on the cape, this palette will highlight your patriotism and convey a sense of place. 
---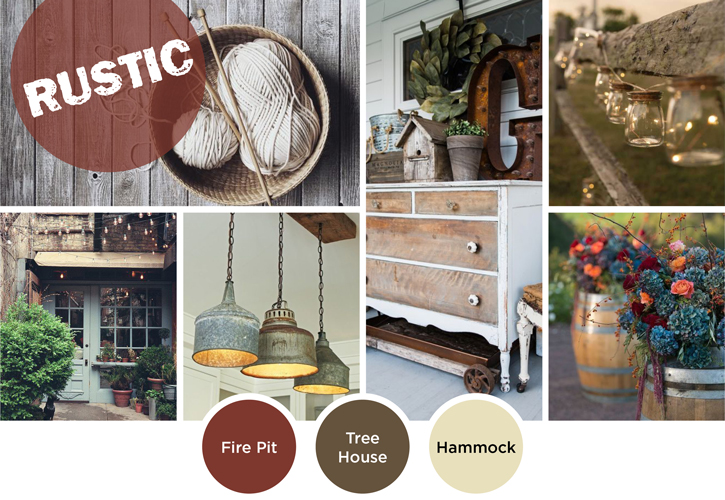 Rustic style is surprisingly versatile. It works well with a more country-style home but also complements a modern, urban dwelling. Add an industrial feel to your entryway with lighting or a funky, painted door-knocker. Score flea markets for fun accessories that can add curb appeal without a lot of cost. Highlight those finds with shelves painted in one of these three, industrial colors.
---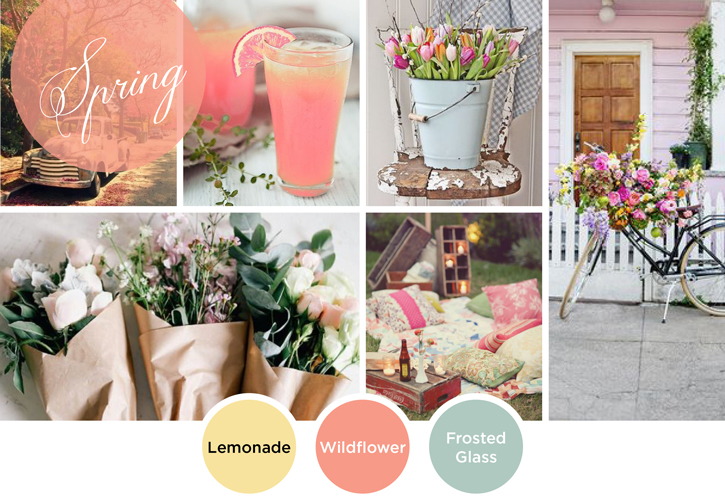 Who wouldn't want their outdoor area to reflect the renewal of spring? With soft, pastel flowers coming into bloom, it's easy to pull your color inspiration straight from nature. Transform vases and jardinieres into stylish accent pieces filled with your favorite blooms and display them on your deck or porch. 
---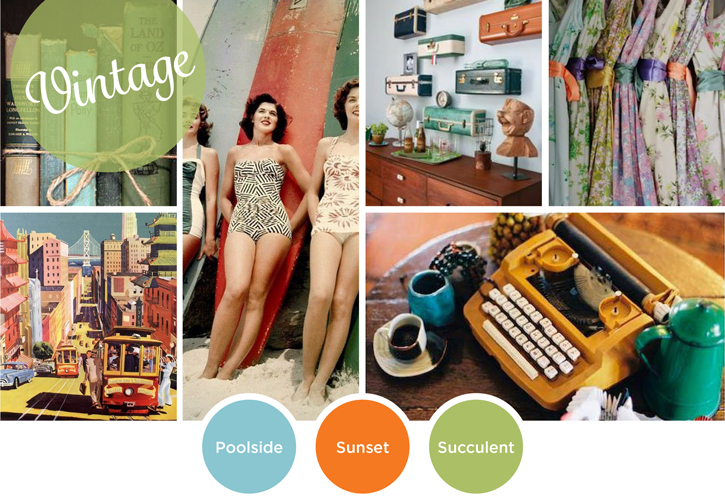 Whether you want to play up your homes actual vintage age or you just want to add a sense of time and place to your more modern construction, this color palette should do the trick. Bright and playful without actually being too out there, these are colors that play well into outdoor accessories. Add some new life to an old door mat or redo an outdoor bench to reflect your love of retro design.
---

Remember to leave us a comment and tell us which Outdoor Living color combo is your favorite!