Posted by DecoArt on Apr 20th 2016
Hello everyone! Have you ever wanted to experiment with silkscreening but without the heavy equipment and expense? Well, today's project is the perfect alternative for you!
I'll show you how I create my handmade silkscreens using gloss medium as a resist, my favorite stencil all with very easy techniques for printing.
Let's play!
Items Needed:
Silk Fabric (I'm Using Organza)
Embroidery Hoop (one That's Smaller Than Your Stencil; My Hoop Is Seven Inches In Diameter)
Large Tub Of Water
Scissors
Sponge Or Palette Knife
Kraft Or Construction Paper
Solid Colored Monoprints
Assorted Americana Acrylics
Assorted Media Fluid Acrylics
Instructions:
Gather your supplies and paint color choices.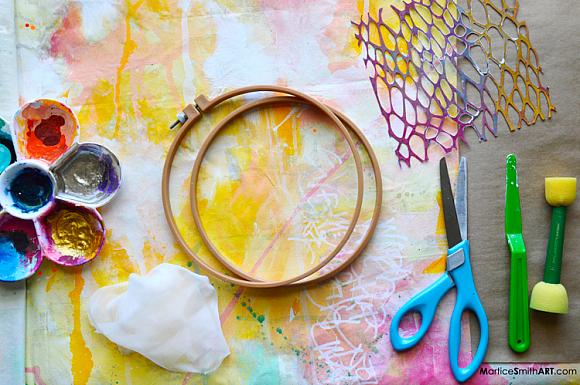 Prepare Resist:

Gloss Decou-Page works very well in helping the acrylic paint glide across it and onto the silkscreen.
I used an empty paint bottle and attached a fine point applicator cap.

Create a mixture of Gloss Decou-Page with a few drops of water. (Don't have it too runny! This mixture should remain thick.)
Give it a shake, shake, shake and you're resist is good to go.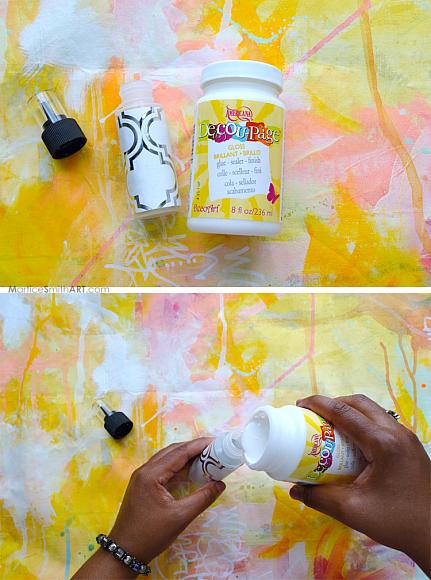 Prepare Silkscreen:

Cut a square of silk (or organza) fabric about 2 inches larger than the embroidery hoop.
Place the fabric in the frame and tighten the top screw. Next, pull on the excess material that's hanging off the edges, to tighten the fabric.
Trim about 1-inch (25mm) of excess material from the hoop's edge. Readjust tightness, if needed. Keep in mind: the fabric should not be sagging inside the hoop.
Choose Stencil:
Here, I'm using Snake's Web stencil for my silkscreen design.
Place your stencil on top of a piece of kraft paper, then place the silkscreen on top of the stencil, fabric side down.
Trace stencil with resist:

Make sure the applicator tip is touching the surface of the silkscreen. Starting at one end, gently squeeze the bottle to start tracing the lines of your stencil.
You don't need a lot of pressure - just let the resist flow out of the applicator tip. Slowly work your way to the other side of the screen. (Keeping the tip to the surface will help you create nice, even lines!)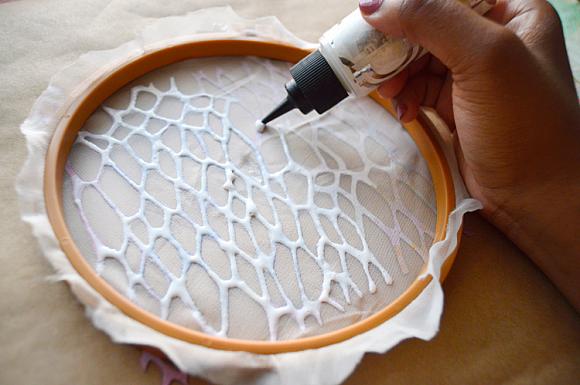 Repeat this step! ...just to make sure you didn't leave any air bubbles. Completely seal every line you trace.
Here's what my silkscreen looks like, up close…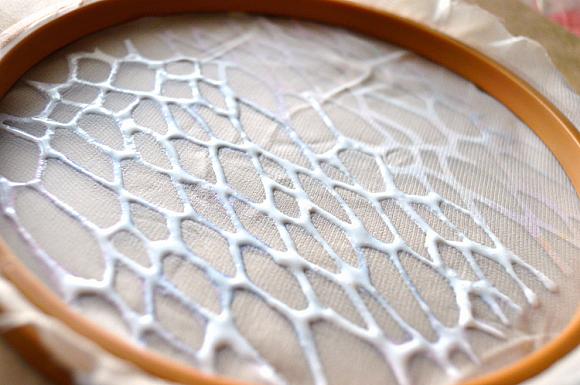 TIP: If your applicator tip clogs up, take a needle and thread and poke the resist back down into the bottle. Super easy, right?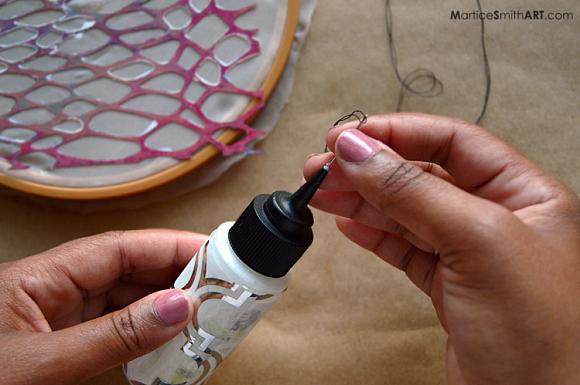 Remove stencil from silkscreen:
Flip the screen over so that your stencil is on top.
Staring at one corner, carefully peel the stencil away from the silkscreen.
Immediately place your stencil in a tub of water.
Admire your work, then place your silkscreen aside to dry for a few hours or overnight. You'll know when the resist is cured when it turns clear.
It should look like this…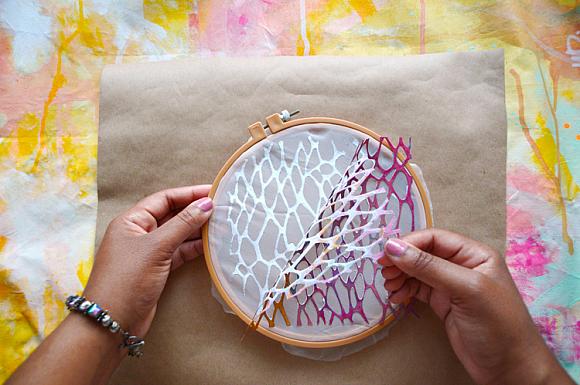 Admire your work, then place your silkscreen aside to dry for a few hours or overnight. You'll know when the resist is cured when it turns clear.
It should look like this…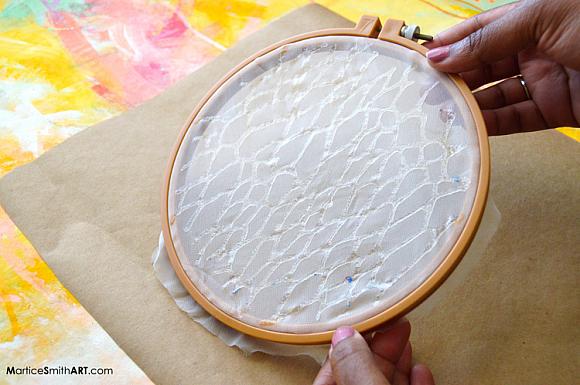 Now here's the really fun part! We slap some paint on our silkscreen!
You can use a hotel key card or palette knife for this step.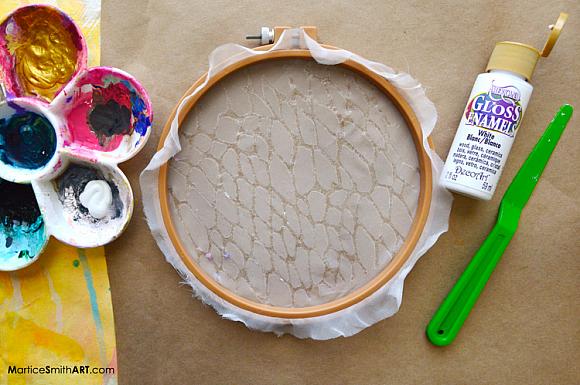 Let's silkscreen!

Place the screen, silk side down, onto your kraft paper. Squeeze paint directly onto your screen or in your painting palette.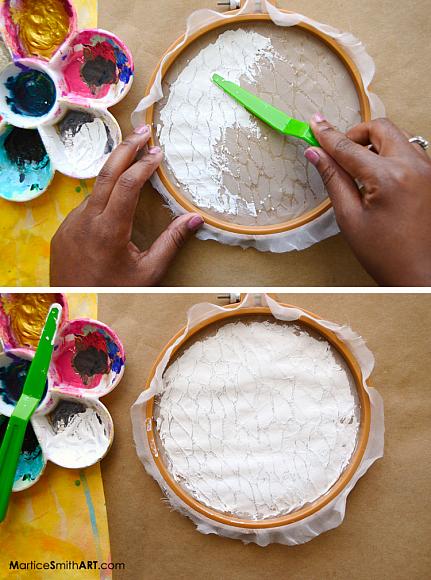 TIP: Add a few drops of painting medium to your acrylic paints to keep them from drying up during painting sessions.
Next, scrape the paint across the entire back of the screen with your scraper or palette knife.
Lift the screen to reveal your print!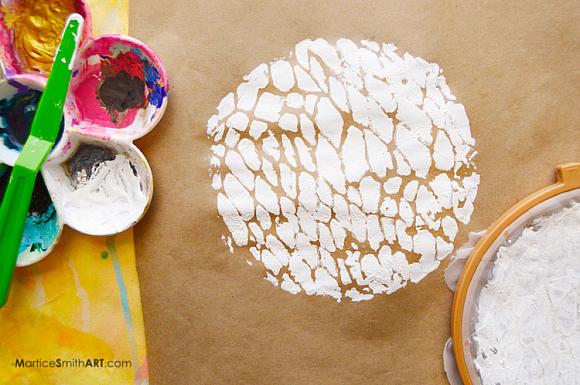 Another close up...notice the texture of the screen. Ooops! See how the paint kind of seeps outside the lines? Looks like I went a little crazy slappin' on that paint, but I LOVE the mottled effect.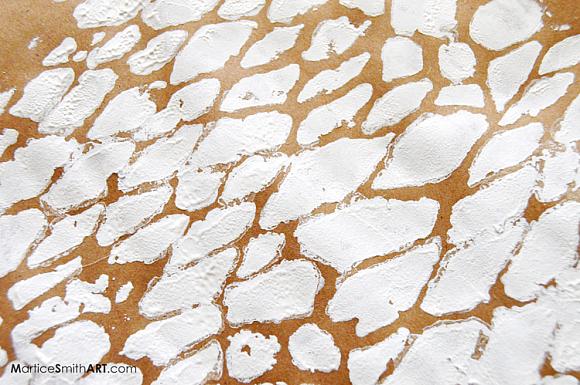 Now, let's try applying fluid acrylics with a sponge. You gotta work a bit faster if you try this method. You do not want your paint to dry on the screen.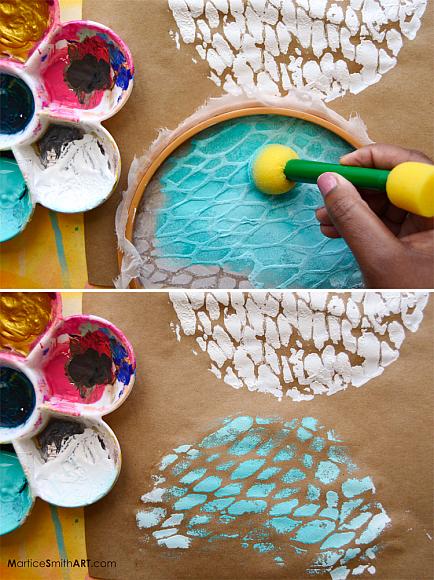 Yes! I like the hazy, grungy effect the sponge produces much better than the scraper. Which one do you like better?
Here's another print I created on a monoprinted background...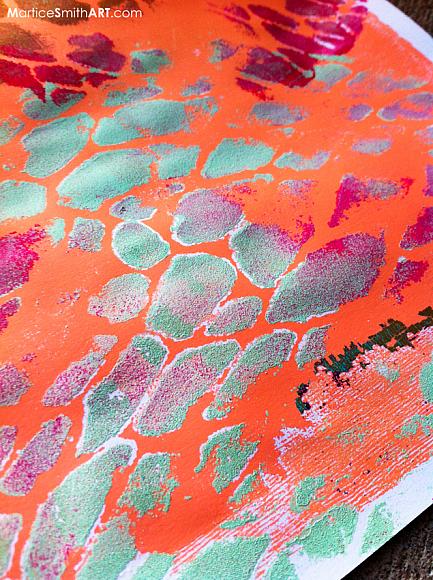 TIP: When you are finished printing, be sure to take apart the silkscreen and soak the fabric in water.
Dried paint will clog and ruin the screen, so be mindful of this
Which DecoArt stencil would you choose for this project? Let us know in the comments, below!
Thank you for creating art with us today!