Posted by DecoArt on Oct 9th 2017
Halloween provides the perfect opportunity to hide and hunt painted rocks in your community. Gather family and friends (and your favorite DecoArt products) to paint an assortment of rocks for hiding or giving away throughout your trick-or-treating adventures! 
In the comments below, tell us what you're doing with the Halloween rocks you paint and make sure to share them on social media using #decoartrocks for a chance to be featured and to win DecoArt paint! Make sure to visit the 
DecoArt Rock Painting Headquarters
 for all you need to know about the rock painting trend that's sweeping the nation.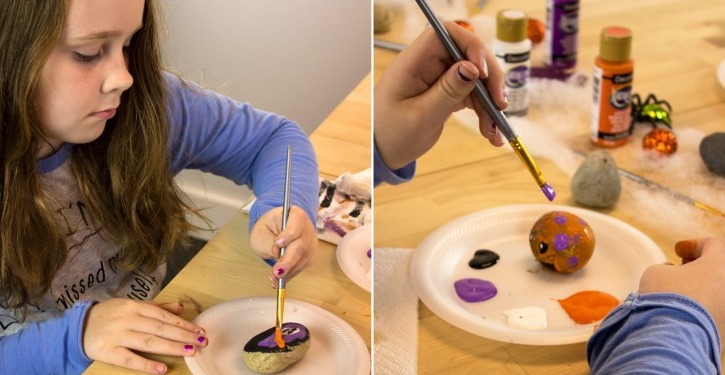 TIPS for Halloween Rock Painting
When it comes to rock painting, there are a few important things to remember:
• PREPARING the Surface:
- Dirt and mud will prevent paint from adhering properly. Use a small amount of dish soap and water to soak your rocks in a bucket. Scrub rocks to remove any caked-on mud or other debris.
- Make sure the rocks are rinsed well and allowed to dry completely.
- Remove any overly-rough patches from the rocks using a high-grit sandpaper.

• PAINTING the Rocks:
- Pick a paint most suitable for your desired end result. Here are some of the paints we suggest.
- Use a pencil or piece of chalk to lightly sketch your design.
- Control is key! Use a permanent marker to add tiny, finishing details to your painted rocks.
- Add fun details to your rocks using specialty paints like: Extreme Sheen, Craft Twinkles, Glamour Dust, or even Glow-in-the-Dark.

• PROTECTING the End Result:
- If using a paint besides Americana Multi-Surface or Patio Paint, seal with Multi-Purpose Sealer, or DuraClear Varnishes before placing outside.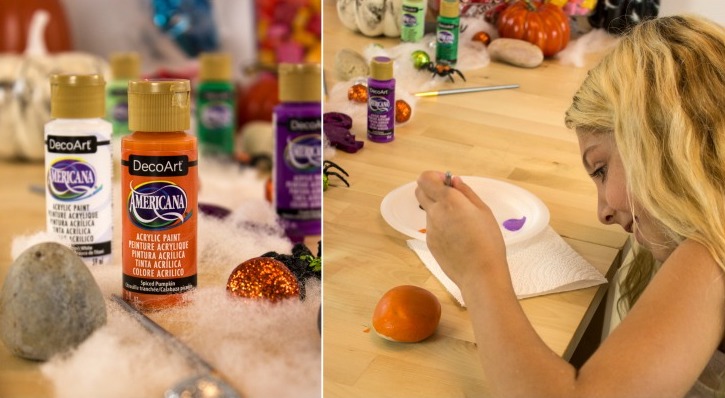 SHARING
Halloween Rocks

The whole fun in rock painting is sharing your work with others! Here are some ideas to share your rocks on Halloween night and any other time of the year:
• HIDE Rocks Around the Yard & Neighborhood: 
On the sidewalk or in a flower bed – take your pick! Just make sure they are visible and easy to snag.

• GIVE Rocks Away as a Bonus "Treat":
We are definitely not suggesting that you give no candy away (that's a frightening thought!), but giving a painted rock away as a bonus treat could certainly make a kiddo's day!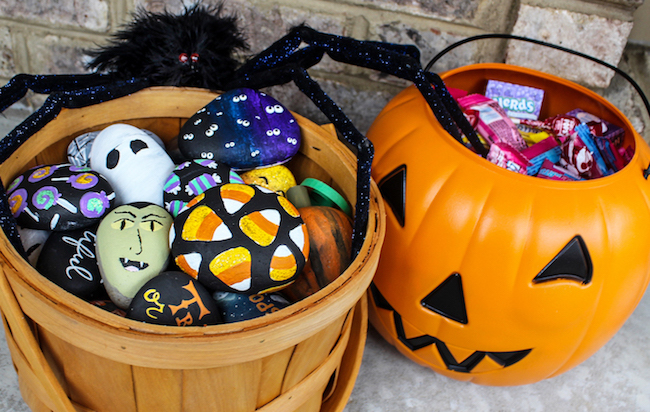 • INCORPORATE Rocks into Halloween Decor: Paint a few rocks to coordinate with your Halloween decorating theme. Then, hide them after the holiday passes and the decorations come down!


GET Inspired
Check out some of these fabulously frightening Halloween rock projects below – step-by-step instructions and images included!