Posted by DecoArt on Oct 4th 2018
If you haven't heard, DecoArt had a booth at the first ever In the MKNG - the creativity festival - September 29th-30th sponsored by the
Association for Creative Industries
. It was located in New York at Bethel Woods, the location of the 1969 Woodstock music festival. With hippy-vibes in the air, the grounds were breathtaking with rolling hills and sunny weather in the 50s.
We set up our boho-themed booth in the days leading up to the event and you can watch a short timelapse of it coming together here:
At our booth, we had groovy make-it-take-it projects featuring some of our favorite DecoArt products including wood round necklaces painted with
Vintage Effect Wash
, rock painting with
Americana Multi-Surface Satin
, and, of course, we had pumpkin painting parties concluding each day of the event! We shared some of the highlights from our booth in real time with
our Instagram
followers. If you missed our Instagram Stories, you can get caught up here:
We also had paint pouring demos throughout the entire weekend featuring our new
DecoArt Pouring Medium
. We went live on
our Facebook page
with a vibrant rainbow paint pouring demo using a 7-day pill organizer you can find at the dollar store. Watch
Mark Montano
, our celebrity guest crafter, and DecoArt Designer, PLA, give a quick demo to the audience surrounding our booth: 
How do you think our rainbow pour with the pill organizer turned out?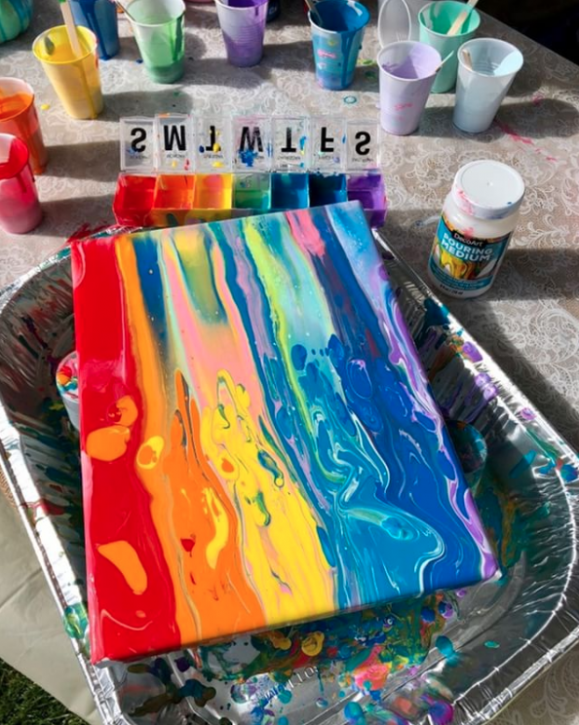 Leave us a comment below if you have any questions about In the MKNG or about any of the projects and demos at our booth!