Posted by DecoArt on Jan 9th 2018
My lovely niece and I share the love for glitter and bears, so I decided to create a little icy and glittery polar bear wall hanging for her. I had some lids from round tin cans lying around in my studio (besides tons of other "treasures" of that kind). I don't know what happened to the matching cans. Maybe they are still somewhere in my studio (buried deep down under stuff to never be found again). Or maybe I have used them as flower pots and then threw them away once they had started to rust (which is very likely). Fact is: the lids are still there, I hadn't managed to throw them away (being a great and incurable hoarder of all things "alterable") and they are just perfect for being used as lovely round shadowbox frames! 
Items Needed:
Die Cutting Machine
Sizzix "Animal Portraits" Thinlits Die
Die-namics "Making Waves" Die
White Card Stock Or Pages From A Sketchbook
Assorted Brushes
Old Round Tin Can Lid
Turquoise Glitter
White Gel Pen
Sticky Foam Pads
Tissue Wrap
Palette Knife
Tiny Glass Bowl
Old Plastic Store Or Credit Card
Instructions:
Use white, beige, and blue Americana Premium and Media Fluid Acrylic paint with a plastic store card to create the backgrounds for the polar bear and waves.

To do so apply small dots of paint onto a single sheet of cardstock or an art journal page. Then drag the plastic card across the page to mix paints. Lift off the card and repeat the dragging in different spots on the page. Don't overdo this step! Otherwise you will end up with "mud" on your paper instead of different coloured streaks.

Keep another sheet or page ready for scraping off excess paint from the plastic card as you move on. This way you will get two backgrounds in one go. Apply at least two layers of paint for a beautiful result!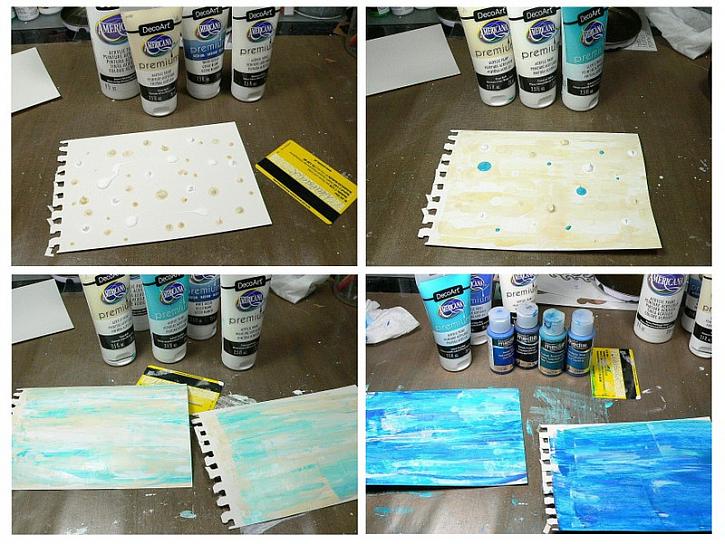 Repeat the same with different tones of browns to create the base for the icebergs.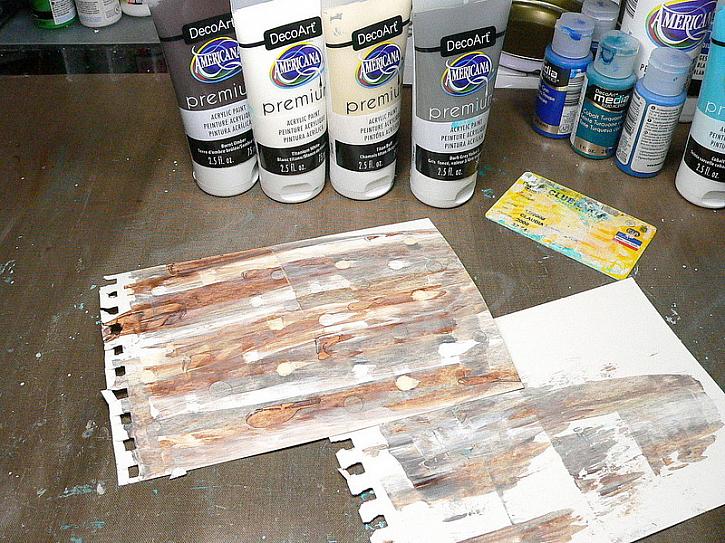 Using Matte Decou-Page and a soft brush cover the lid with tissue wrap. Flip the overlap over to the other side of the lid and cover that with tissue wrap too. Use scraps to cover the whole lid. Let air dry.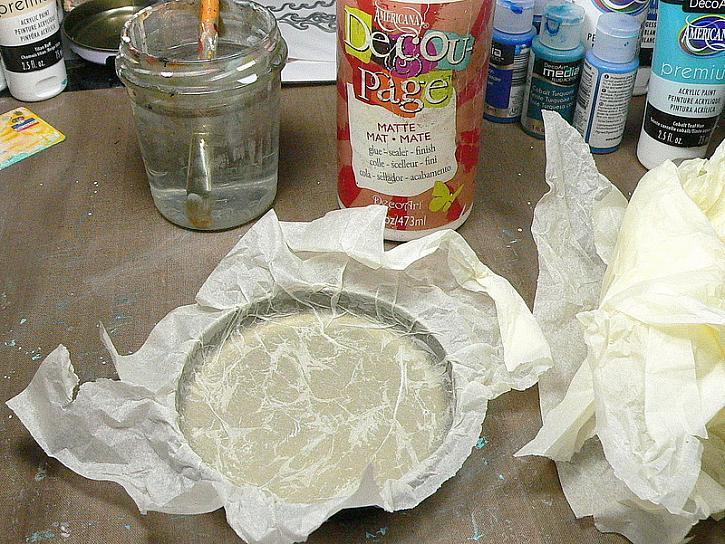 Paint the inside of the lid with a mix of Americana Premium Cobalt Teal Hue and Media Fluid Acrylic in Phthalo Turquoise.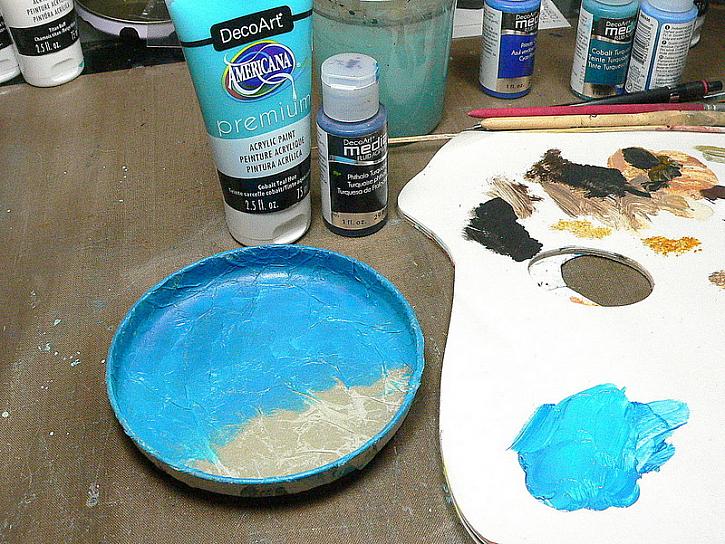 Die cut at least three rows of waves from the dark blue background and the pieces for the polar bear from the bright blue background. Leave one of the waves pieces with a "long end", so it will cover the lower section of the lid completely. Use scissors to loosely cut out two shapes for the icebergs.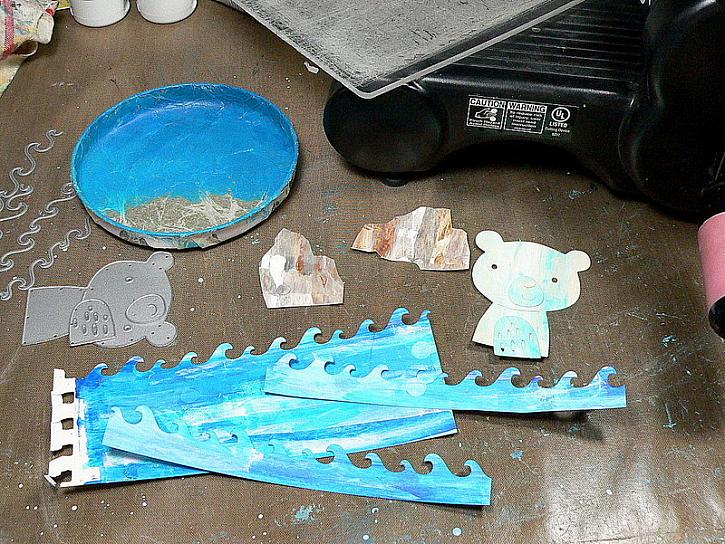 Paint the belly, the ears' insides and the bear's nose and a small strip of scrap paper with Americana Premium Burnt Umber. The painted strip will be glued behind the bear's head to form the eyes (as these are cut out by the die).

Apply a thin layer of Media White Crackle Paste onto the cut out icebergs using a palette knife. Let air dry.

Hand cut the largest waves section into a circular shape by using the lid as a template and tracing its shape with a pencil. Glue all the tiny polar bear parts into place using matte Decou-Page and a fine tip brush.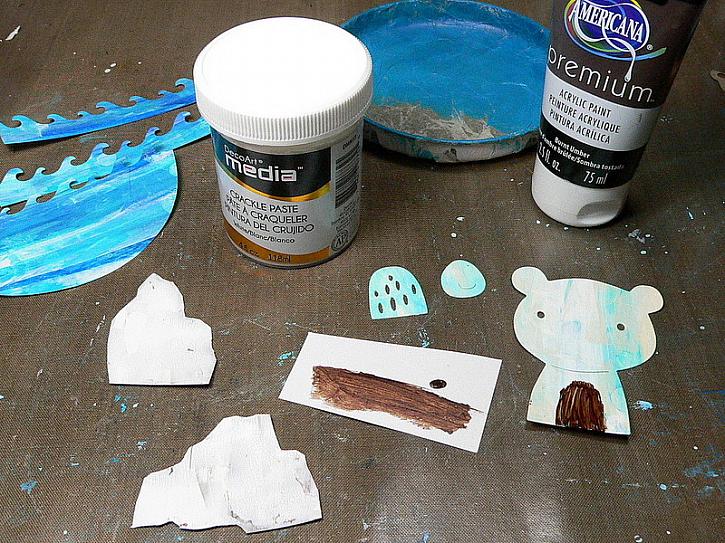 Once the Crackle Paste has dried add a wash of Media Patina Green Antiquing Cream to highlight the cracks and add that typical iceberg colour. Wipe off any excess with a damp cloth after the Antiquing Cream has dried until you're content with the result.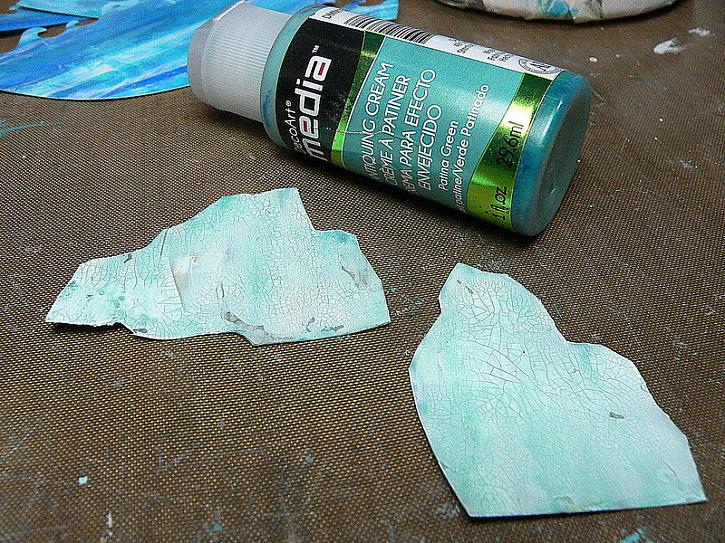 Add little speckles of White Media Shimmer Mister (using the nozzle's tube for sprinkling) to create the starry sky. Use a fine tip brush to paint the moon with Americana Premium White Gesso.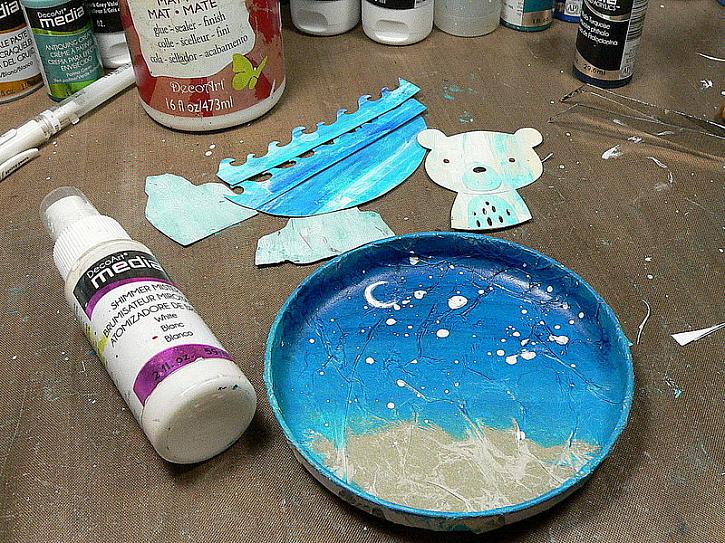 Stack sticky foam pads as needed to build up the layers of the shadow box.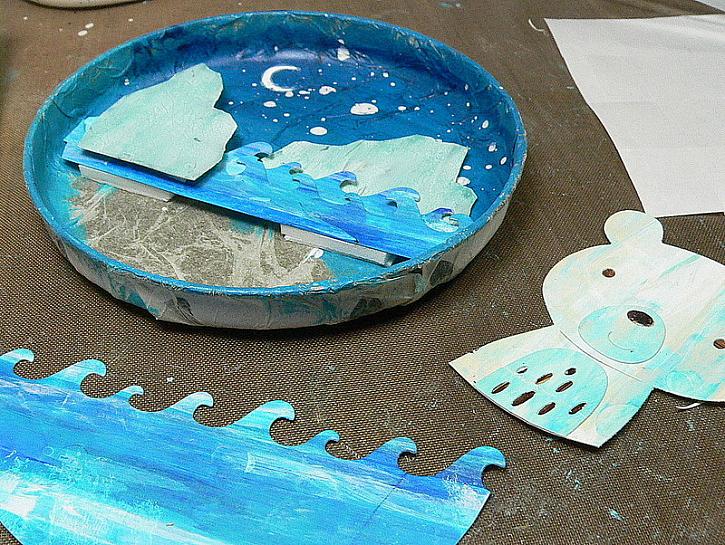 Add some glitter to the sky and icebergs by brushing on thin layers of Ice Crystal and Turquoise Sparkle Glamour Dust. Use a white gel pen to add some doodling on the bear, waves, and icebergs.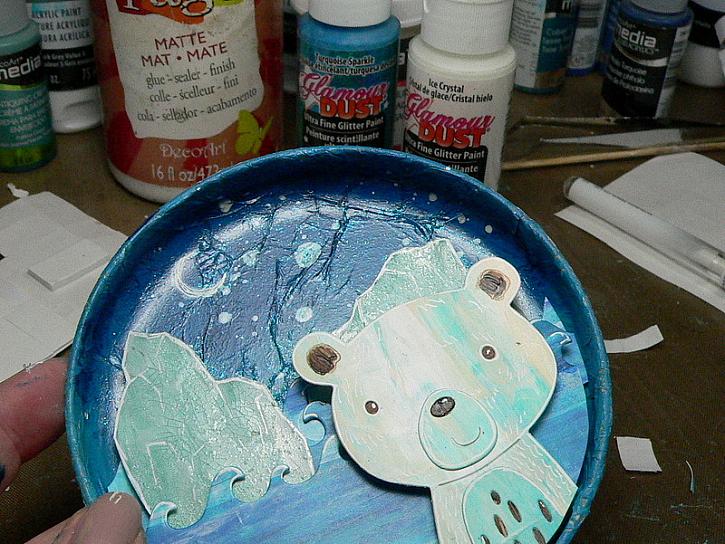 Using a tiny glass bowl (or an old large bottle cap) and a palette knife, scoop three tips of Heavy Gel Medium into the bowl. Then add one drop of Media Cobalt Turquoise Hue Fluid Acrylic and a teaspoon of turquoise glitter to the mix and stir well. Use the mix to seal the gaps between the cardstock pieces and the lid's rim. Apply with a palette knife and smooth out with a wet soft brush. Let air dry!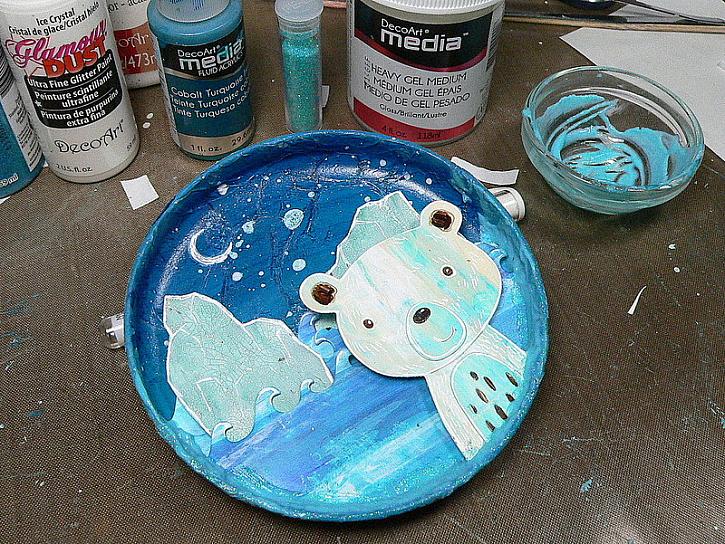 Finish off the back of the lid by priming the tissue wrap with Americana Premium White Gesso. Then dry brush on some Americana Premium Cobalt Teal Hue. Use Matte Decou-Page, a thin strip of tissue wrap and a piece of rough cord to attach a hanging loop.

You're done!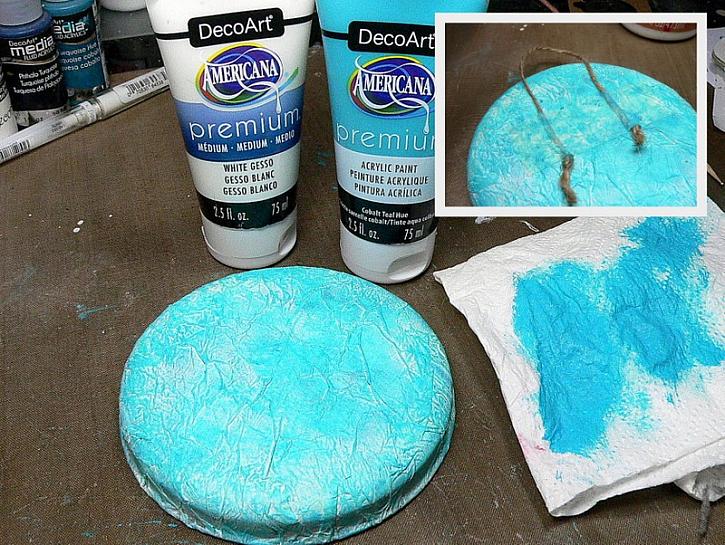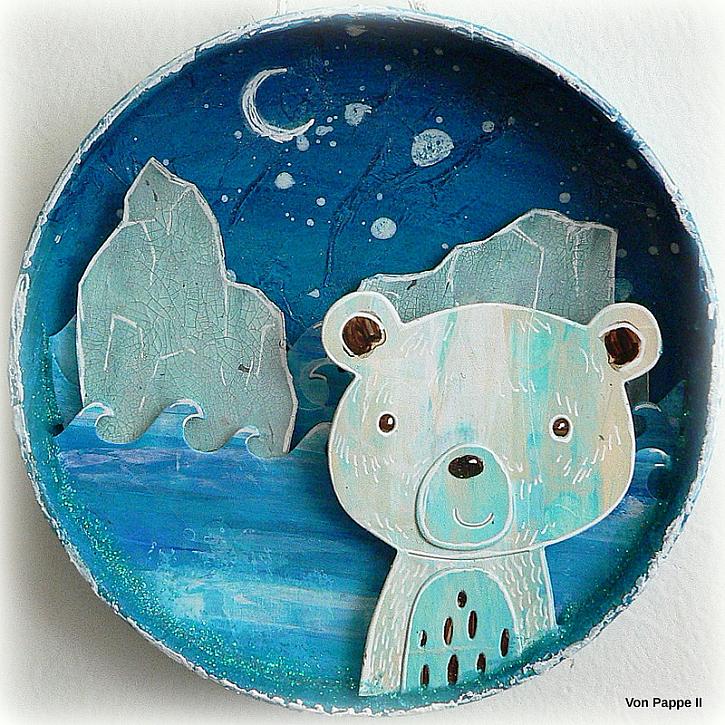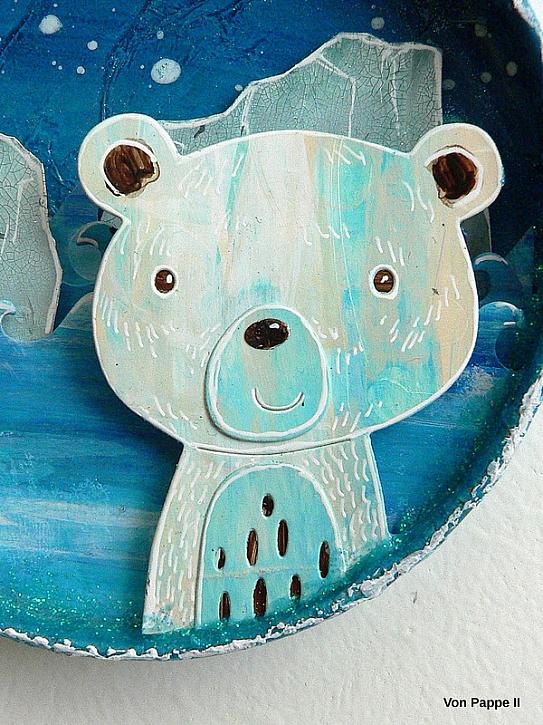 Now there's only one more thing to do: find a name for the cute little polar bear... ah, well, I guess I will leave that up to my niece!
xxx