Posted by DecoArt on Jan 3rd 2014
I don't have a very pretty bathroom. In fact, this house was built in the early fifties and the décor in here was horrendous. You can see that the original Victorian wallpaper and contact paper are still inside the cabinets. I've made some small changes, like painting the green cabinets white and adding some DIY décor to the walls. One thing I don't have that most bathrooms have is a medicine cabinet. However, I have an entire wall of cabinets to make up for it.
Instructions: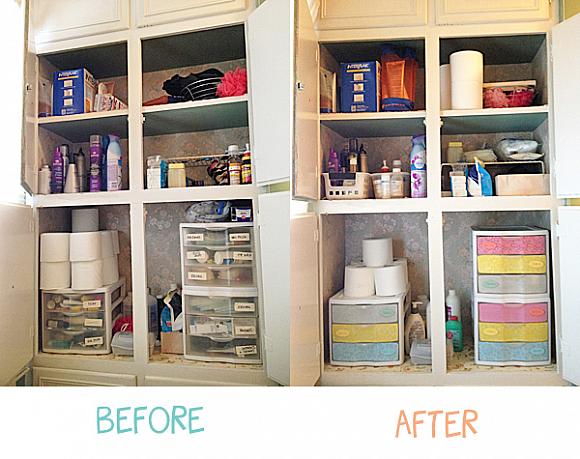 For storage I've been using those inexpensive plastic storage drawers you can buy at Walmart. They do a great job of keeping things contained, but I'll admit they were looking rather ratty. The labels were hand written and peeling off and the plastic was getting dirty. Who cares, they're behind cabinet doors right? But you do know that your guests secretly peek into your cabinets when they use the bathroom don't you? ;-)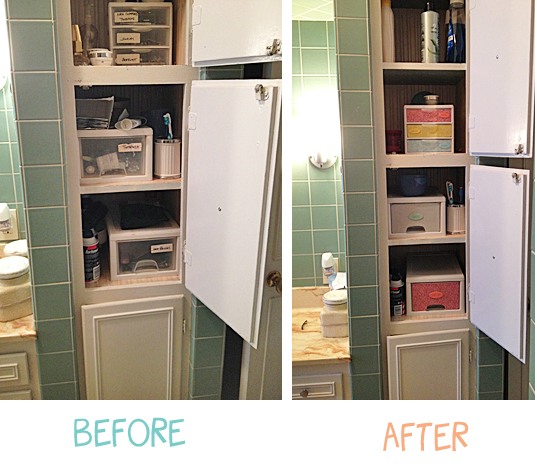 Not only were they looking pretty ratty, the organization of them needed to be revamped. I still had a couple of drawers dedicated to my daughter's things, and she moved into her own apartment over a year ago! So I took this opportunity to empty everything out, wash them up and give them a facelift.
I used Americana Decoupage for Fabric. If you follow me on Instagram you probably saw this picture! This stuff is really cool in that you can actually decoupage fabric to fabric and afterward you can wash it, but it won't come off! That's a project in my very near future. Another great thing about this is if you paint your fabric with it first, when you cut the fabric it won't fray! It also keeps the fabric pliable, which really surprised me. I have used decoupage medium on fabric before and it always makes it hard and stiff. That was a pleasant surprise!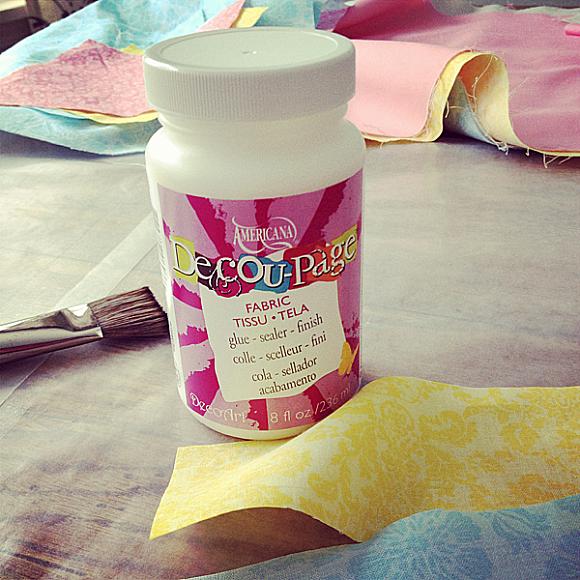 DecoArt challenged me this month to use certain colors in my organizing project. I was happy to use them, as they are mostly the colors I use in my bathroom already. I hit JoAnn's fabulous wall of fat quarters, and was able to find some great matching material.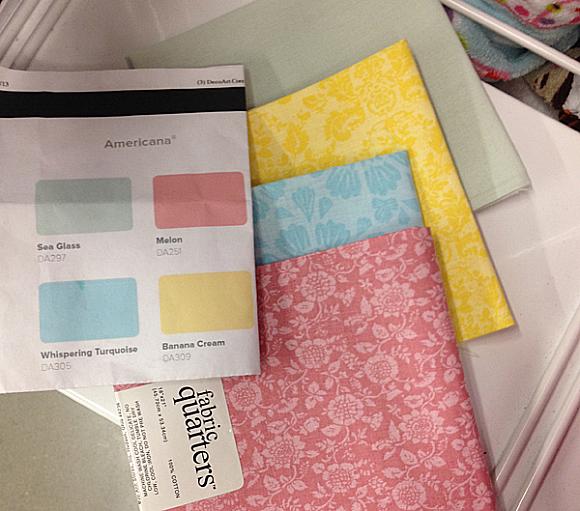 I also used Americana acrylics in these exact colors: Whispering Turquoise, Sea Glass, Banana Cream and Melon.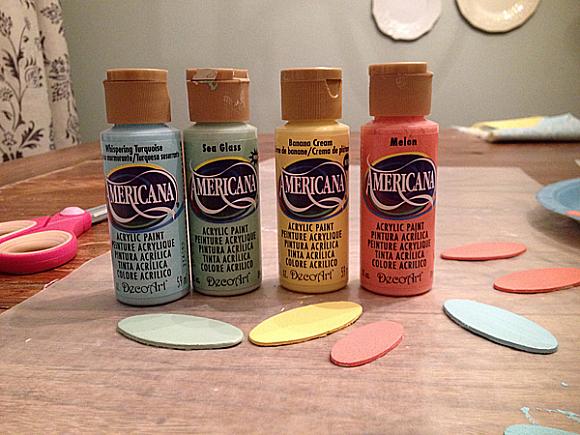 After I washed all of my containers, I prepped the fabric with decoupage on some waxed paper. Don't leave it there too long or the waxed paper will stick! Remove it after about 20 minutes and simply move it to another piece of waxed paper to dry more.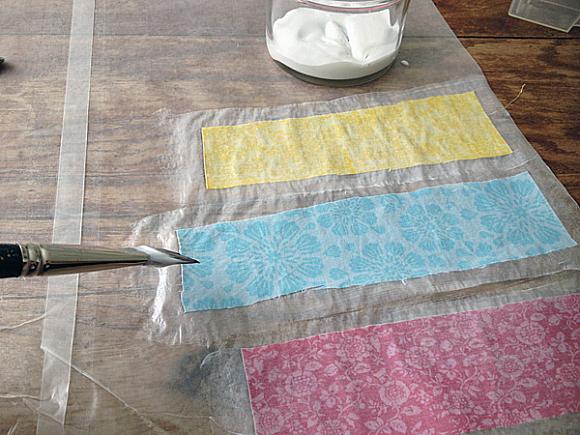 While that was drying, I created templates for my drawer fronts using a piece of paper and creasing it along the edges of the drawers. When the fabric was ready, I traced the pattern onto the fabric with a pen and cut the shapes out, cutting right inside the pen lines.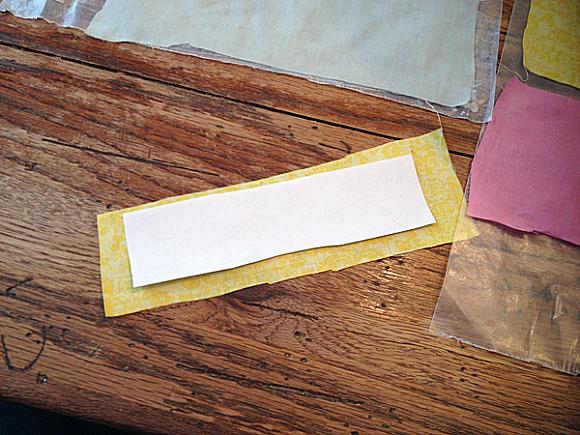 Once I lined up the fabric on the drawer front and trimmed anything that needed it, I applied a thin coat of decoupage to the drawer front and to the back of the fabric. Then I placed the fabric onto the drawer front, smoothed it out and applied decoupage over the top.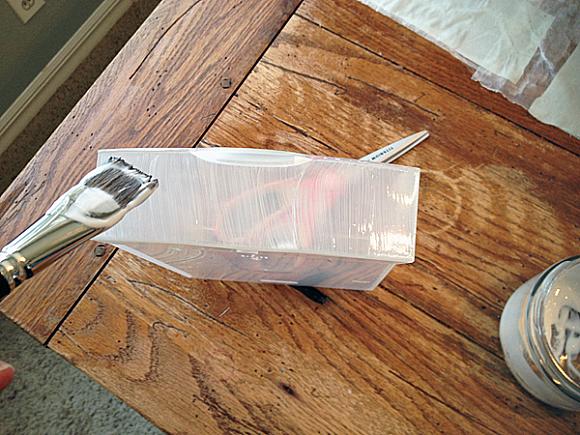 While the drawers were drying, I painted wooden oval shapes with the acrylic paints, each one matching the corresponding drawers. Contrasting the colors would have been cool too! I used a micron pen to write on each oval. With the drawers standing on end, I attached the ovals with white craft glue and allowed them to dry.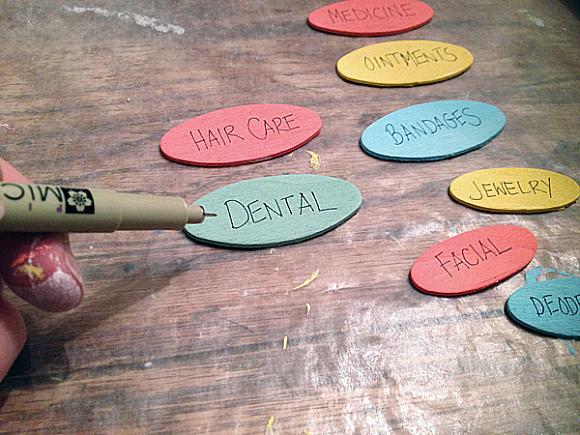 This was a fun project and now my bathroom cabinets are organized once again! A great way to start off the new year.