Posted by DecoArt on Jul 2nd 2019
Cutoff denim shorts are EVERYWHERE this summer! And, the only thing more nostalgic than creating your own hand-cut and frayed pair of denim shorts is customizing them with a little hand-painted art!

I'm going to show you how to use DecoArt SoSoft fabric paint and some road trip inspired images to create your own custom denim cutoff shorts just in time for summer cookouts and trips to the lake.

Let's be real. Most of us have an extra pair (or more) of denim jeans in our closet. I had this distressed pair that I wasn't wearing much and thought they would make the perfect pair of cutoff shorts. But, if you aren't ready to cut a pair from your closet, just grab an inexpensive pair - this is the perfect opportunity to upcycle some vintage denim too.
Items Needed:
DecoArt SoSoft Fabric Acrylics 2oz - Primary Blue
DecoArt SoSoft Fabric Acrylics 2oz - Bright Yellow
DecoArt SoSoft Fabric Acrylics 2oz - Avocado Green
DecoArt SoSoft Fabric Acrylics 2oz - Red Pepper
Paintbrush
Stencil Dauber Or Art Sponge
Palette Or Plastic Plate
Piece Of Cardboard
Washi Tape
Scissors
Pencil Or Fabric Pen
Seam Ripper
Denim Jeans Or Shorts
Instructions:
If you are cutting off an old pair of denim jeans, make sure the item is clean and washed without fabric softener. You may want to grab a pair of shorts that already fit how you like to use as a template for cutting.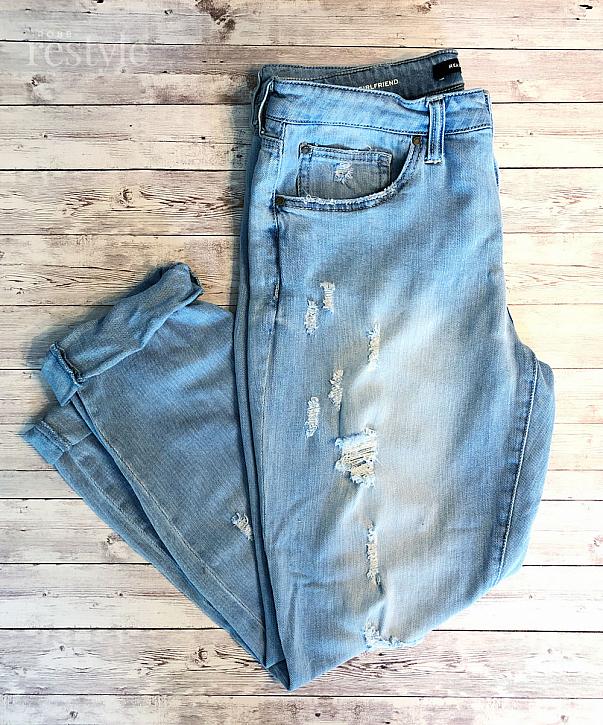 My jeans were already distressed and frayed, but if you wish to create holes and patch them with the excess denim, do that before you start painting. You may also want to iron the pockets or other places you plan to paint. A smooth surface is much easier to work with.

Next, use washi tape to pull back any frayed string that might get in the way of painting.

Grab some inspiration. In addition to the stencil, I decided to use this front patch to recreate the colorful stripes on a vintage wool camping blanket. I penciled in my lines first.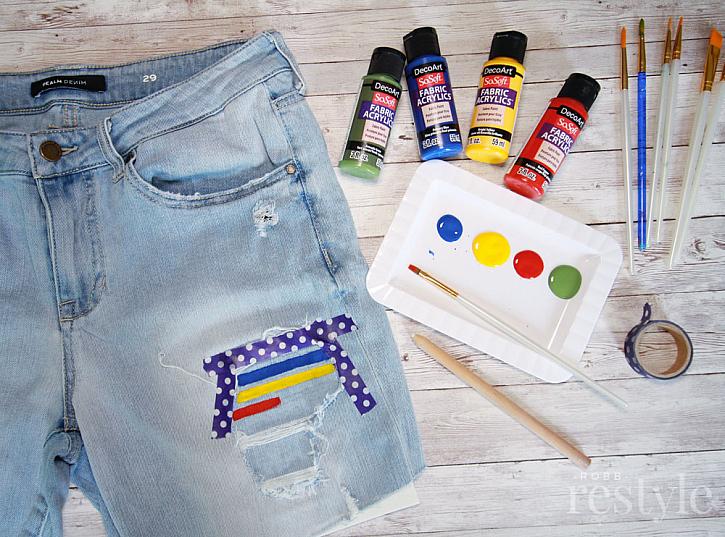 Next, I added some freehand images like this little dotted path with little Xs in a random pattern.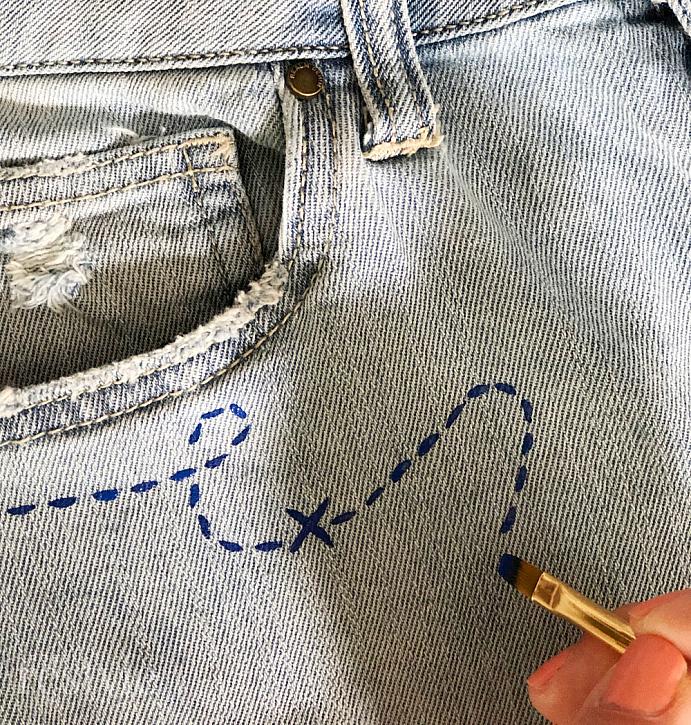 I used the little camper from the See America stencil on both the front and back of my shorts. It's the perfect size for this project and has an adhesive backing that makes a nice, clean image on fabric. Just make sure you use an up and down motion with your sponge.
Once my painted images were dry, I created a little more fray on the hem that I cut with scissors. You can do this by using a seam ripper to pull out the horizontal strings in the denim fabric.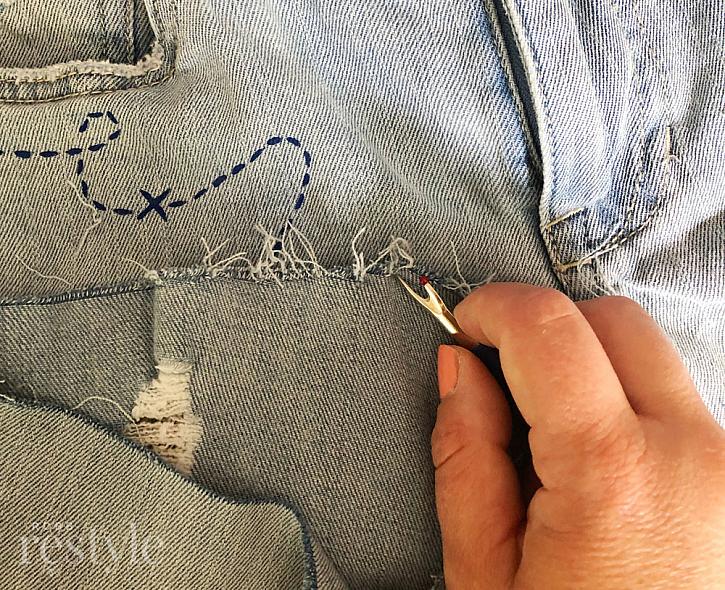 As you can see, I carried the dash pattern around the pocket with the stenciled camper and added some freehand lettering on the other pocket. How fun are these?!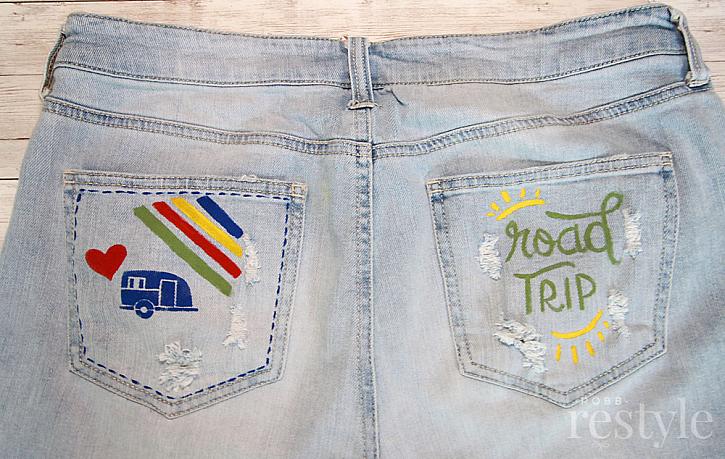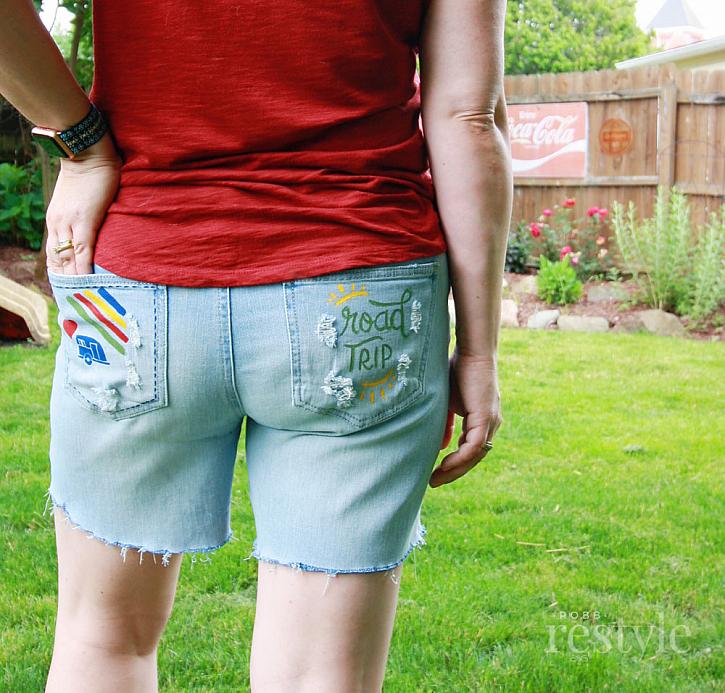 And finally, wear them proudly! Pair your new custom shorts with a swimsuit or a cute top and sun hat for a perfectly unique summer outfit.