Posted by DecoArt on Jun 6th 2019
Even though beautiful, acrylic still life painting can be intimidating for a lot of people. This fun and easy cut paper collage technique using acrylic paint, mixed media paper, decoupage, medium and Americana Premium Acrylics can have you creating still life art like a master painter, no art skills needed! The best part is, most of the painting is fun, and messy, and gets squirted or dolloped right on the paper and canvas! For this project, I used a mix of Americana Premium Tube Acrylics and Americana Craft Acrylics. I love that both paints can be easily mixed. This project may seem like a lot of steps, but really it's about waiting for paint to dry!

In composing your artwork, If you just want to have the fun of creating the fruit, a printable version of the bowl in this project can be printed and cut out, otherwise, you can come up with your own unique paper container. If you use the free printable provided, it's recommended to have it printed on cardstock on a regular printer and not an inkjet printer. Inkjet ink is water soluble and can bleed when used with decoupage medium. A print with toner holds up much better with wet techniques.
Items Needed:
Mixed Media Paper
12x14 Pre-primed Canvas
Paintbrush
Scissors
Paper Towels
Instructions: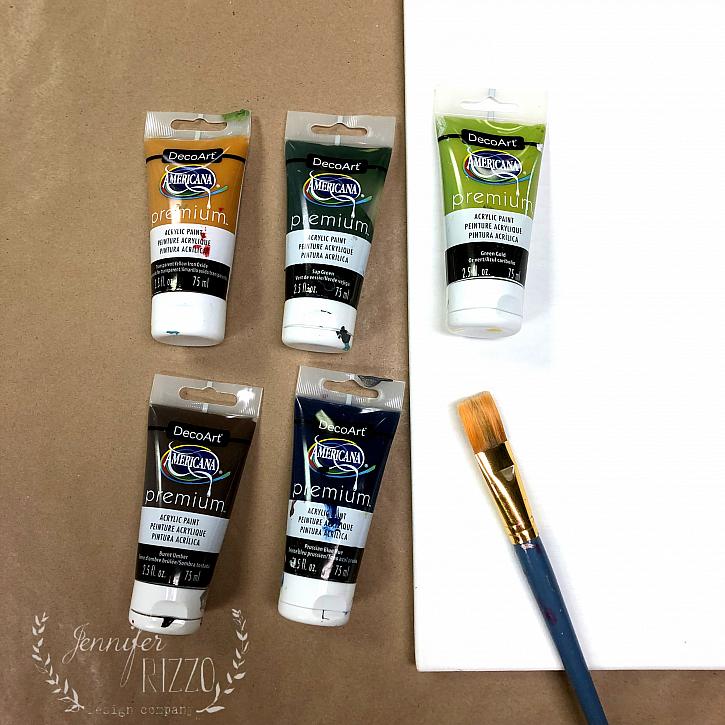 Painting background and art elements
Step 1: Squirt Bright Blue in Americana, and Burnt Umber and Carbon Black in Premium Acrylics onto the canvas and paint blending the edges of each color together. Additional colors can also be added to add depth and texture. I also added Citron Green in the background to make the bowl pop. You can also add color after images are decoupaged before it's sealed if desired. Let canvas dry.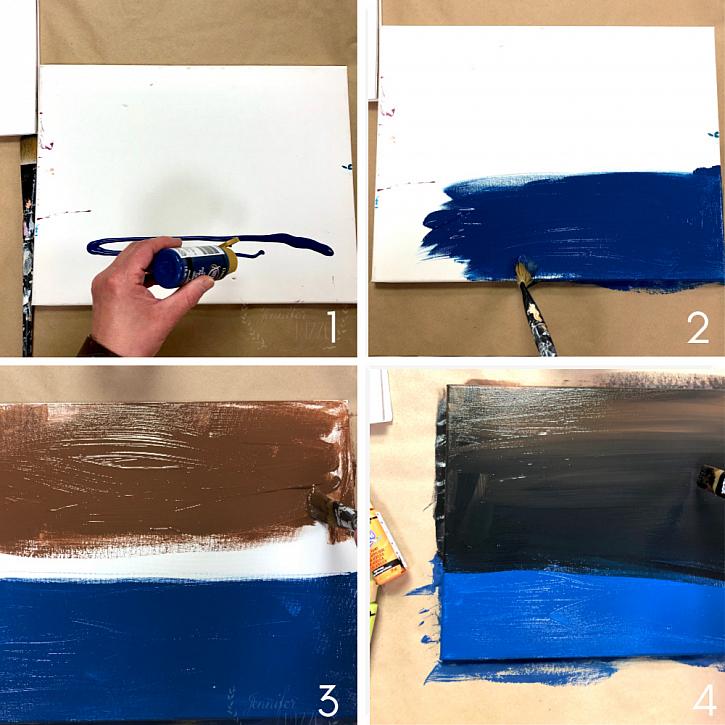 Step 2: While the canvas is drying, on mixed media paper, squirt Cadmium Orange Premium Acrylic and coat paper. While the paint is still wet, add droplets of Sunny Day, Burnt Umber and Citron Green. Use a paper towel to blot, and blend the paints together using a dabbing motion to create an orange peel texture, let dry.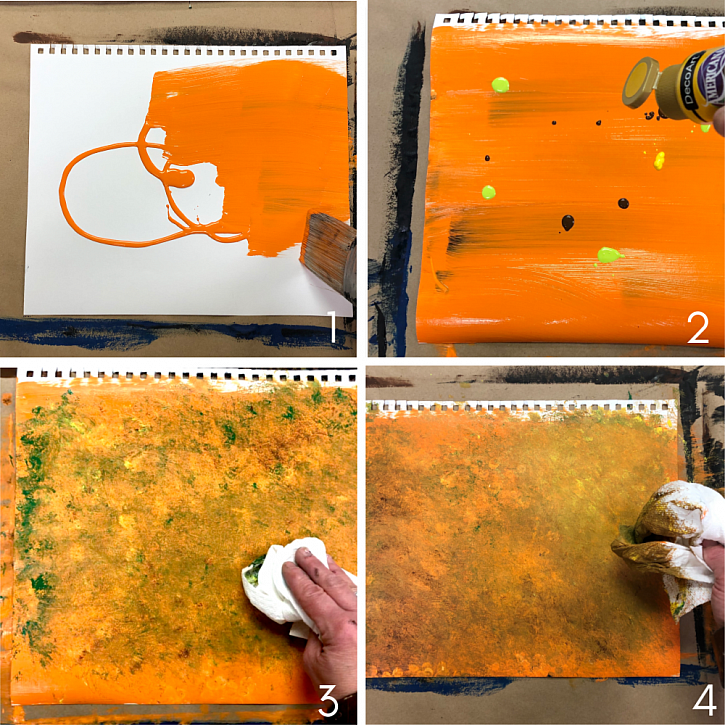 Step 3: On another sheet of mixed media paper, paint Viridian Green toward the top of the paper, Sap Green in the middle, and Citron Green at the bottom, and blend towards each other. This will be used to cut out leaves.
Step 4: Paint a bowl or container in Cerulean Blue (or use printable provided). Once dry, cut out.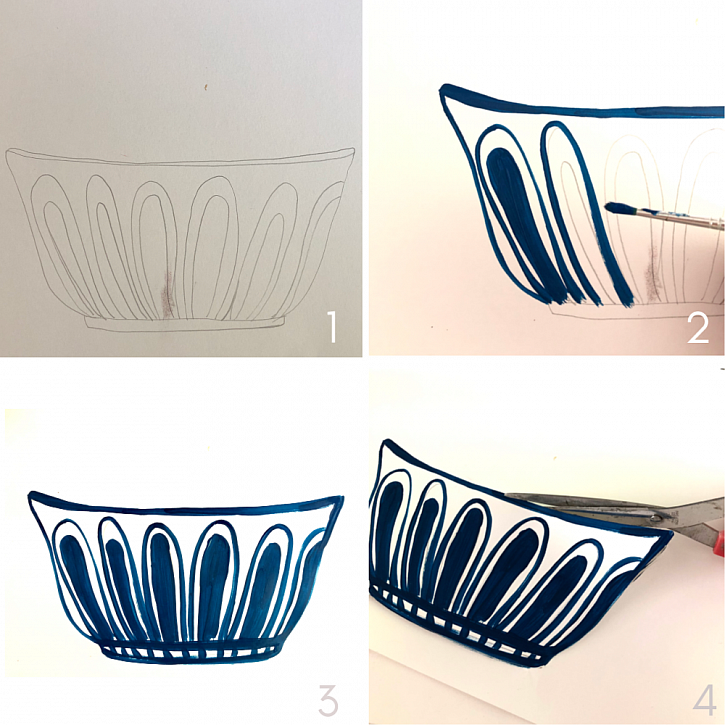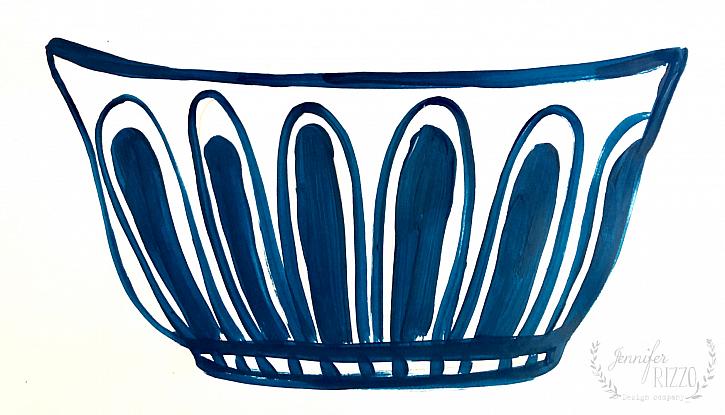 Step 5: Once all of your paper and canvases are dry, trace and cut.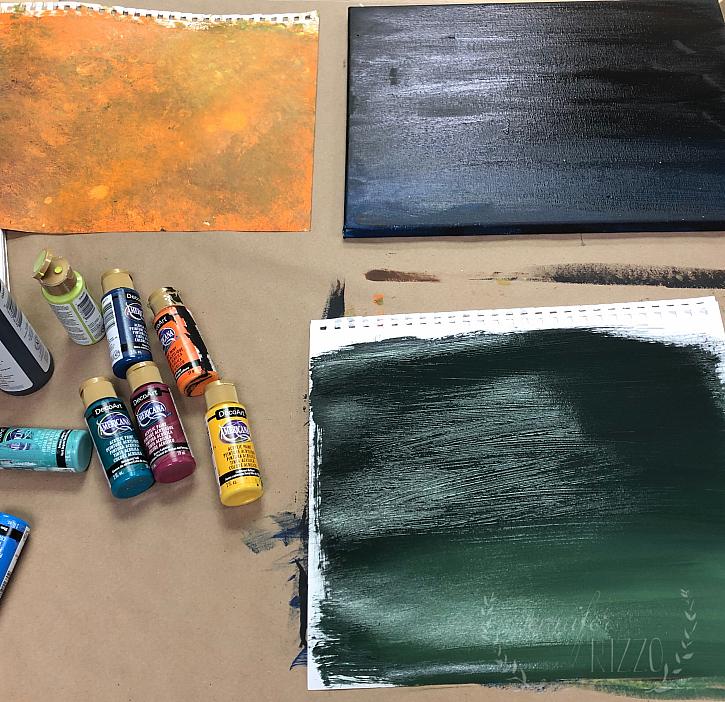 Step 6: Use a glass or the template provided to trace circles on the orange paper, and cut out.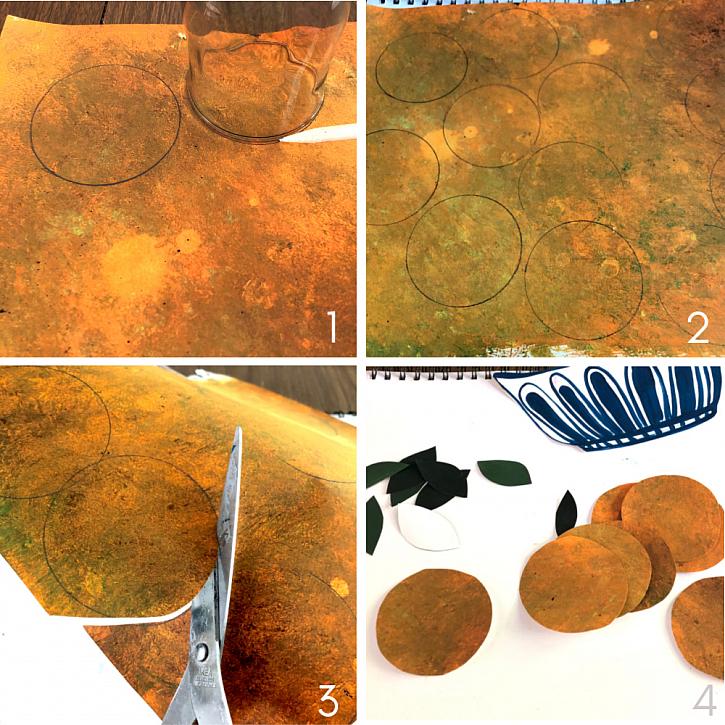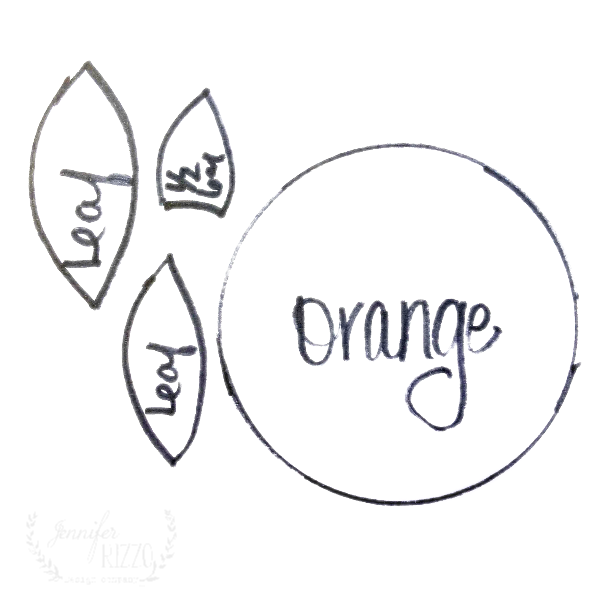 Step 7: Trace leaf shapes and also cut, making sure to trace in different areas of the paper to pick up different shades of green leaf tones.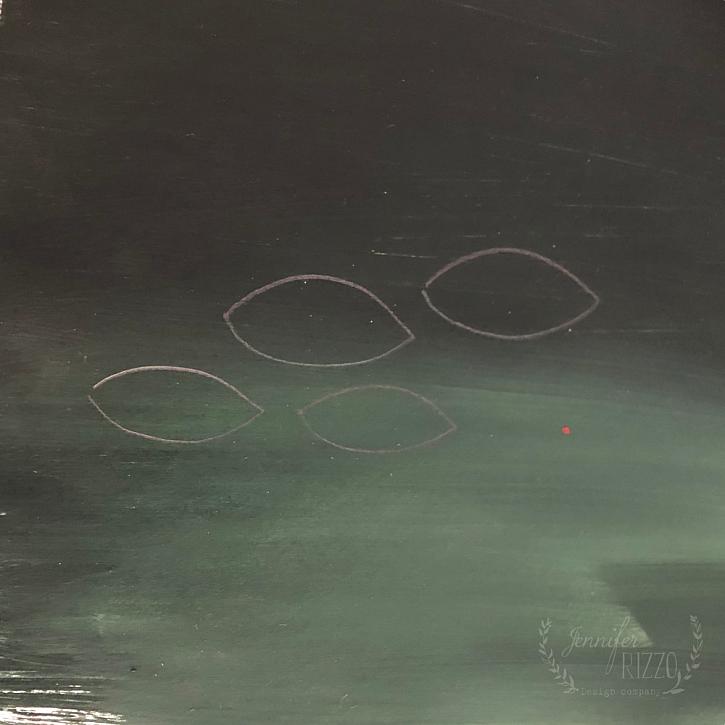 Once all of your paper is cut out, it's time to decoupage and create your still life art!
Decoupage
Step 1: Compose your image by laying out cut pieces to determine placement before using Decou-page Glue.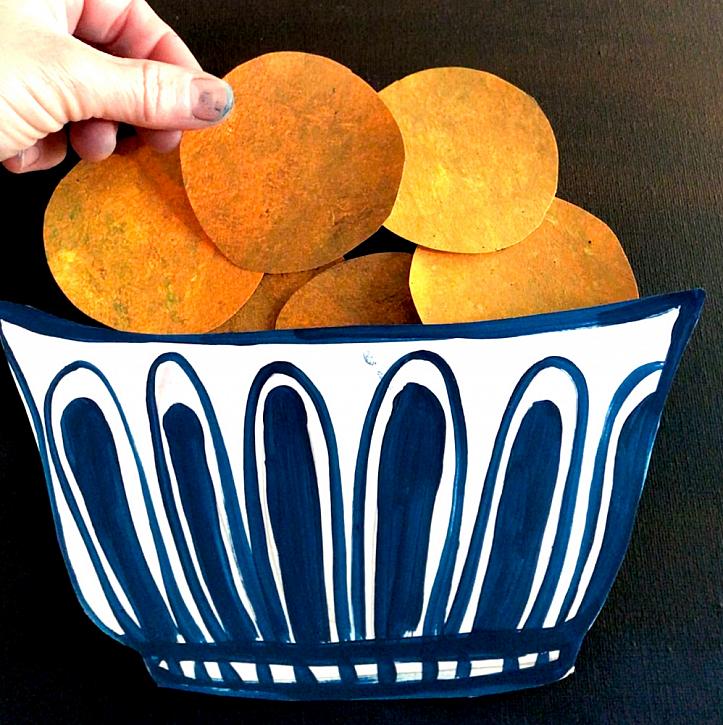 Step 2: Apply Americana Decou-Page Glue to the back of the cut-out paper orange, then place on the canvas. Smooth together using gentle pressure to remove any air bubbles. Continue with placing and gluing oranges, then gluing the bowl over the top, and adding the leaves last.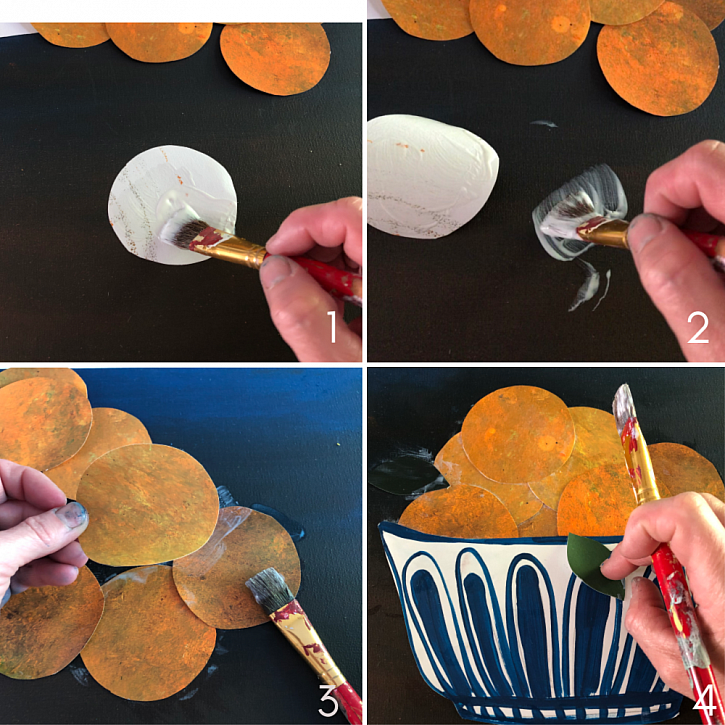 Step 3: Once all of the pieces are placed and decoupaged (add any additional paint colors now before sealing), apply decoupage medium over the entire surface of the artwork. It will appear hazy at first, and then dry clear. This will act as a sealer, and deepen the paint colors.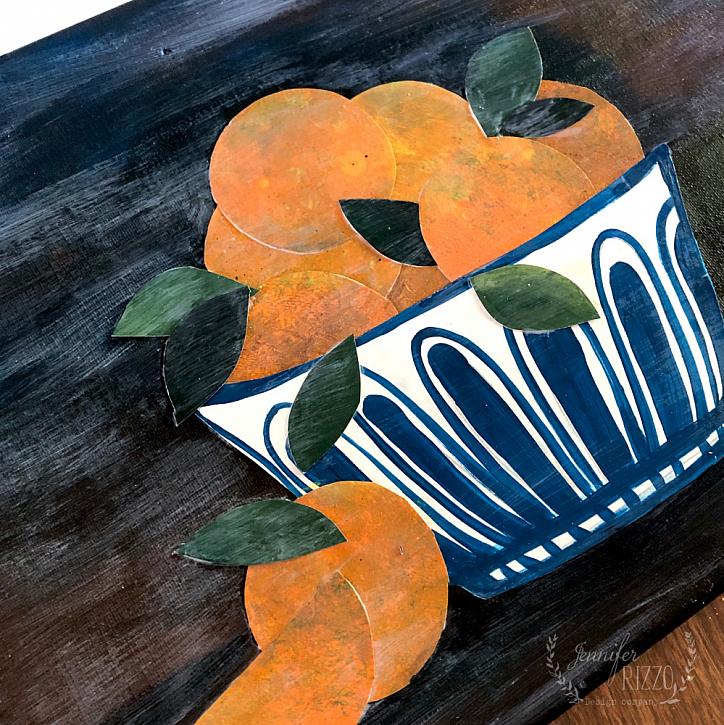 Add a hanger to the back, and display your cur paper still life orange bowl painting!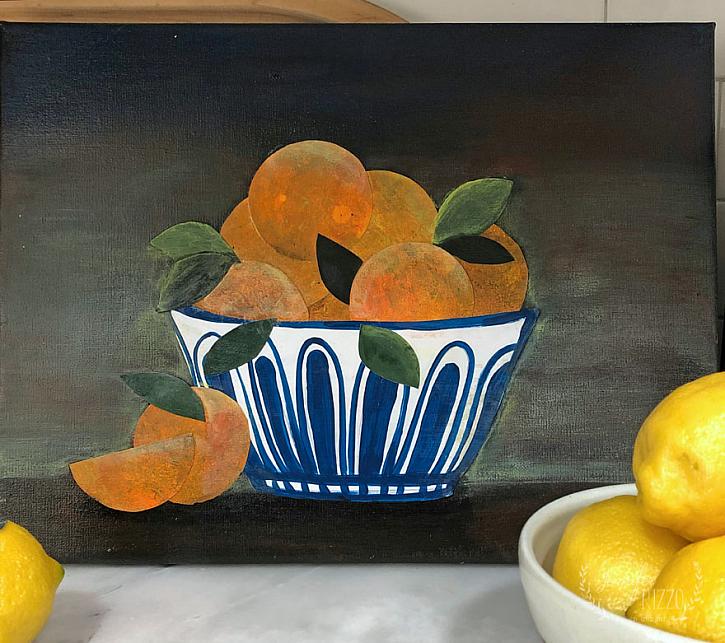 Find more creative inspiration, makeovers, and crafts, visit me at: JenniferRizzo.com, or visit my retail store, and take a workshop with me! The Collective lhe Makery in Lisle, IL