Posted by DecoArt on Jan 31st 2017
I love working small and I love all things vintage, and here I've combined the two in some little mini canvasses featuring old lace and adorable little metal chocolate moulds. This project uses one of my favourite DecoArt Media products – Crackle Paste. This product always seems to give amazing results! On these pieces I didn't even bother to prime the canvas; I just slapped it right on there and it cracked like a dream! The other main product I've worked with is Liquid Glass which I used to fill the moulds and to capture lots of pretty inclusions. I think the quartz chips floating in the clear Liquid Glass medium looks like broken ice.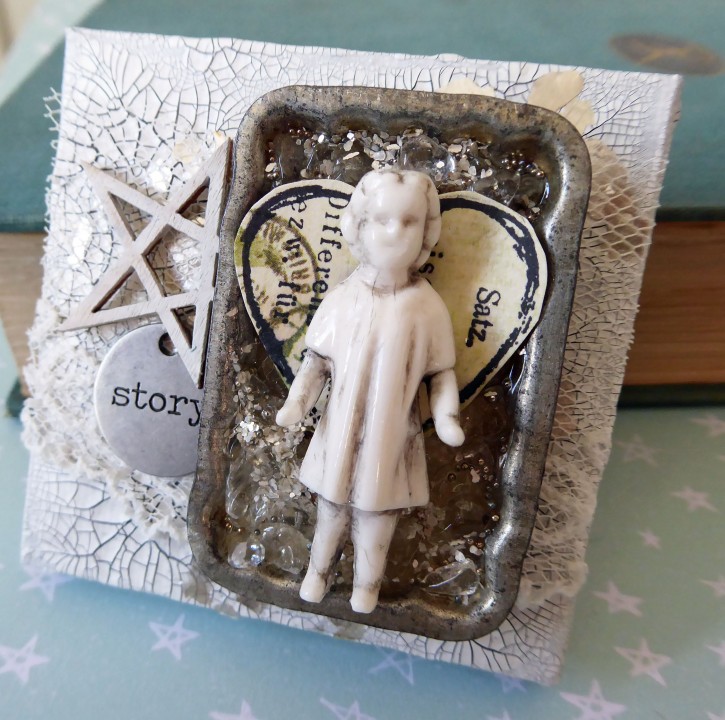 I made the piece 'Story' (with the doll) first. The inspiration behind this was the story of Frozen Charlotte as the doll reminded me of that folktale (won't bore you with the details - Google it for more info if it interests you). The second piece is more purely decorative and this second piece was created specially so I can demo the techniques in a video for you. Hope you enjoy it!
Supplies:
Media Crackle Paste
Media Antiquing Cream – Black and White
Media Liquid Glass
Americana Decou-Page - Matte
Mini Canvasses
Vintage Chocolate Moulds
Quartz Gemstone Chips
Stampendous Frantage Glass Glitter- Silver
Stampendous Frantage Mica Flake – Pearlised
Stampendous Andy Skinner Stamps – Handle with Care
Embellishments of your choice (e.g. doll, word tag, word bead, etc)