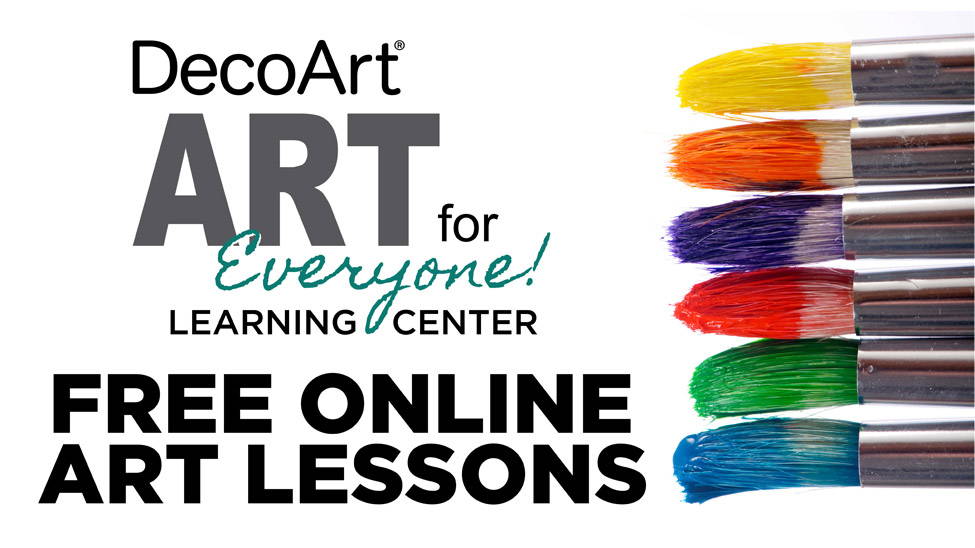 THE DECOART LEARNING CENTER
DecoArt's Learning Center is an online resource for Artists and Makers of all ages and abilities. This free library of art-related videos is available for anyone looking to understand art concepts and subjects from the anatomy of a brush to advanced composition. Accomplished artists from the U.S. and Canada will inform and inspire you with videos that provide a solid foundation of artistic knowledge. Choose any of the categories to begin your creative adventure!
Be sure to check back periodically for new content. Video lessons are being created and added to the library every month to fuel your creativity and inspire the Maker in everyone.
Using techniques and ideas from master artists of the past, these videos are the ideal way to introduce young, creative minds to art history in a fun and engaging way.
Discover basic art concepts to give yourself a solid foundation of the core principles of art.
This series of easy-to-follow videos goes deeper, into more advanced concepts and techniques, to inspire any Artist or Maker, regardless of ability or experience.
Creative expression and exposure to the arts have wide-ranging, positive effects on our cognitive and psychosocial health wellness. Explore these videos to discover the benefits of including art in your life.
Incorporating core subjects - reading, writing, math and science - with art and crafting to engage and excite creative minds.
Experience the simple joy of creating. Let us inspire you to pick up a brush and start crafting.
Discover handy tools and resources to have at your disposal.