Posted by DecoArt on Sep 10th 2019
With the temps getting cooler around here I've definitely been feeling Fall making its way back into our lives. Now, don't get me wrong, I live for summer, but it's so nice to mix things up a bit with all of the beautiful colors fall brings.
As I get a head start on my fall crafting, I wanted to incorporate the color-changing leaves into my décor.  For my DIY textured Fall leaf garland, I used the Americana Decor Texture and the Americana Decor Petals & Leaves Stencil to really bring my leaves to life. The texture paint is so rich and creamy. It gave my leaves the right amount of dimension, which you can see since the paint has a glossy look to it. Americana Décor Texture also comes in beautiful colors that are perfect for replicating Fall leaves! Check out the video tutorial below to see how you can make your own DIY textured Fall leaf garland!

Items needed:
Americana Decor Texture - Cream
Americana Decor Texture - Brick Red
Americana Decor Texture - Burnt Orange 
Americana Decor Stencil - Petals & Leaves
Palette knife
Cream cardstock 
Brown paper wire
Double-sided tape
Painter's tape 
Scissors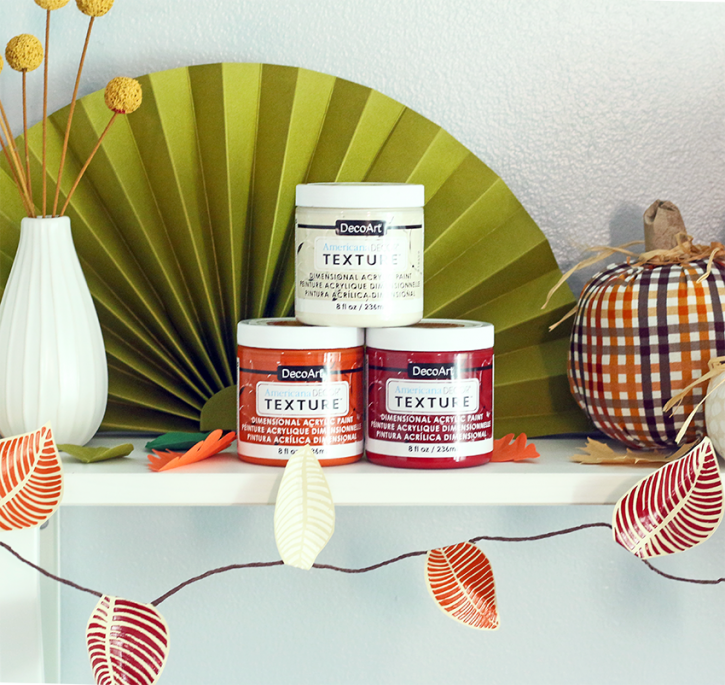 This DIY textured Fall leaf garland is perfect for a mantle, banister, shelf, or any other area in your home that could use a little color and texture for the Fall season!