Posted by DecoArt on Sep 30th 2014
Thrift store shopping gives me an adrenaline rush. I love finding a great deal on an unique object. Sometimes it's all about looking beyond what the object is to what it could be for my home. That was the case for a little vase that I found at the thrift store a few months ago. I thought the vase had lovely markings, but the color was dull and didn't match the decor of any room in my house. That's where DecoArt Metallic Paint came in to play. After a few coats of metallic paint and a coat of metallic lustre, and my husband didn't even recognize it as the same vase!
Items Needed:
2 Small Paint Brushes, One Smaller Than The Other
Sponge
Sand Paper
Water Basin
Paper Towel
Palette
Instructions:
For my vase, I wanted to scuff up the surface a bit to remove the finish on the vase. I used the sandpaper for this. Skip this step if your vase doesn't need it.
Cover the painting surface with plastic. On a small plate, pour Dazzling Metallics Paint in Oyster Pearl. Apply this to the entire vase, even in the grooved markings. Let this coat dry, then continue applying the paint until the entire vase surface is completely covered. For my dark colored vase, I had to apply 4 coats. Let the paint dry thoroughly.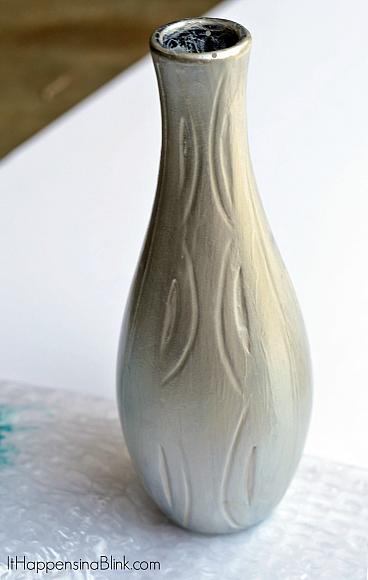 Now pour a small amount of Dazzling Metallics Paint in Peacock Pearl on a small plate. Take the smaller paintbrush and paint the Peacock Pearl into the grooved markings. Continue until the grooves are evenly painted. For me, this equaled 2 coats of paint. Let the Peacock Pearl dry.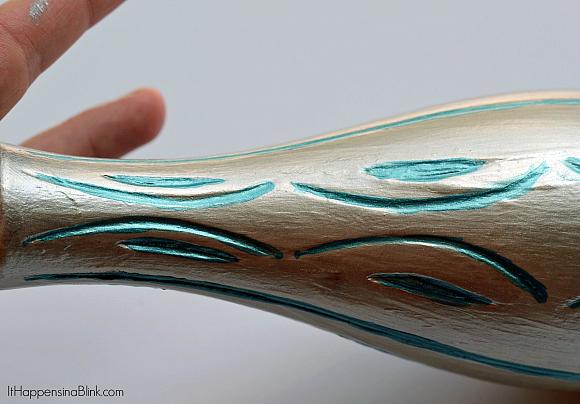 At this point, I liked to look of the vase, but I did want to deepen the color. I didn't want a gold vase necessarily, but I did want to add a warmth to the vase. The Metallic Lustre in Champagne Ice is an excellent wax that coordinates with the Metallic Paints. It buffs to a shine, adding to the color underneath without overtaking it. Using a sponge, apply a layer of the Metallic Lustre to the vase. Buff it with the sponge until the color is evenly distributed around the entire vase. Let dry completely.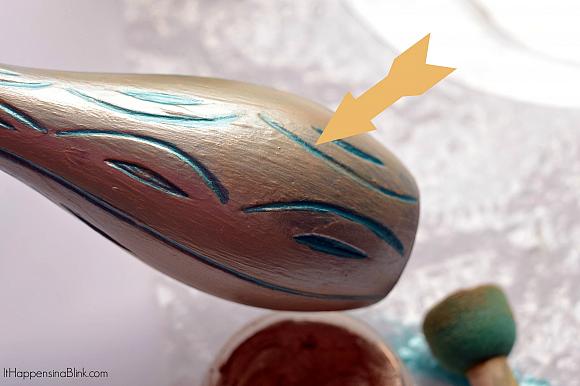 This has to be my favorite vase upcycle to date! The metallic paint gives a modern look to the vase while maintaining the classic undertones that the original creator intended. What would YOU upcycle with Metallic Paints?