Posted by DecoArt on Jun 10th 2014
Hi Everyone! I'm Katie and I blog over at Addicted 2 DIY.
Today I want to share with you some tips and ideas for hosting a fun and stress-free BBQ. My husband and I love to throw parties and BBQs, and over the years, we have learned a lot about how to throw a successful BBQ with minimal stress. After all, it isn't very fun to be stressing over small details when everyone else is having a great time.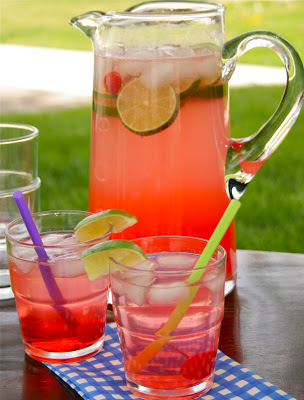 DRINKS. Trying to accommodate every single person attending your party by buying their favorite beverages can add up fast. Supply some water (bottled or in a large dispenser), a few types of sodas or iced tea, and maybe a large dispenser of a drink recipe that will be loved by young and old alike such as this copycat cherry limeade from Lauren's Latest. It is simple, and inexpensive to make. For alcoholic beverages, there is no shame in asking people to BYOB. Most people don't mind bringing their own adult beverages to a party. They've been in your shoes and they know how much that can add up for a group of people.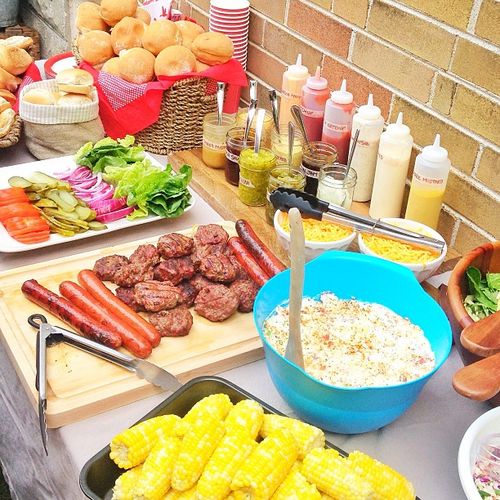 MAIN DISH. You don't want to be married to the grill during the entire BBQ, so pick a main dish that is easy to prep and serve. A build-your-own burger bar like this one by Family Bites is a great idea. She included your traditional toppings, but went beyond that for guests to try some fun flavor combinations. Pick a time that you want to have your guests eat, and plan to have everything finished on the grill at that time. Hamburgers and hot dogs are easy to keep warm in aluminum trays and can be reheated in the oven, if your guests like to be fashionably late.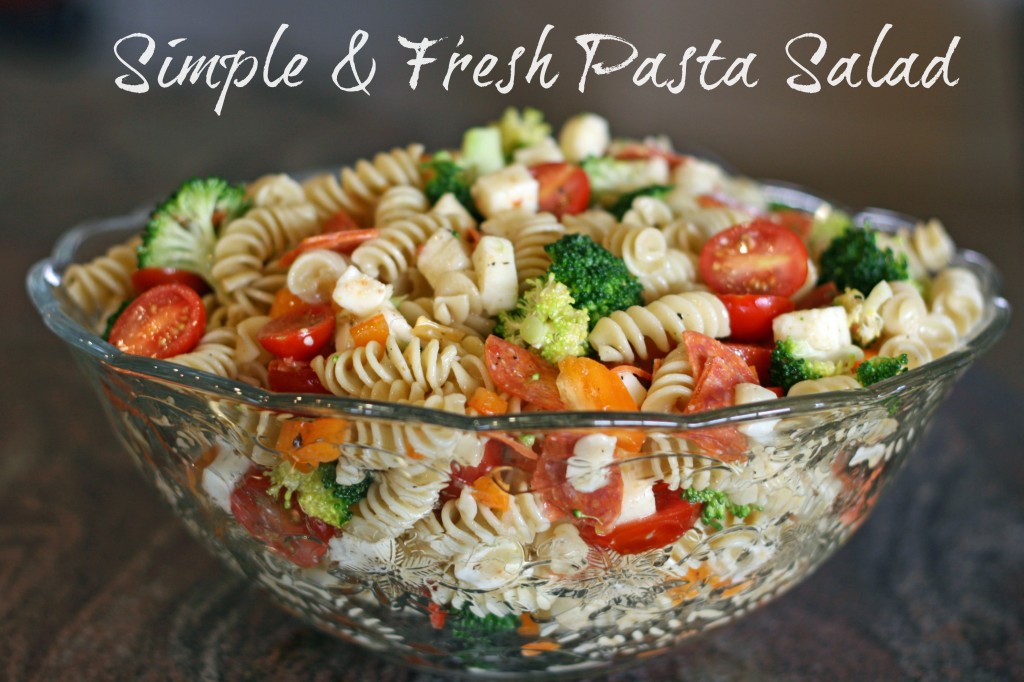 SIDES. Summertime BBQs also mean warm weather. Cool your guests off with chilled salads like pasta or potato salad. My favorite salad recipe to feed a crowd is my Simple and Fresh Pasta Salad. Fruit salad, or watermelon slices are also always a big hit at a warm summer BBQ.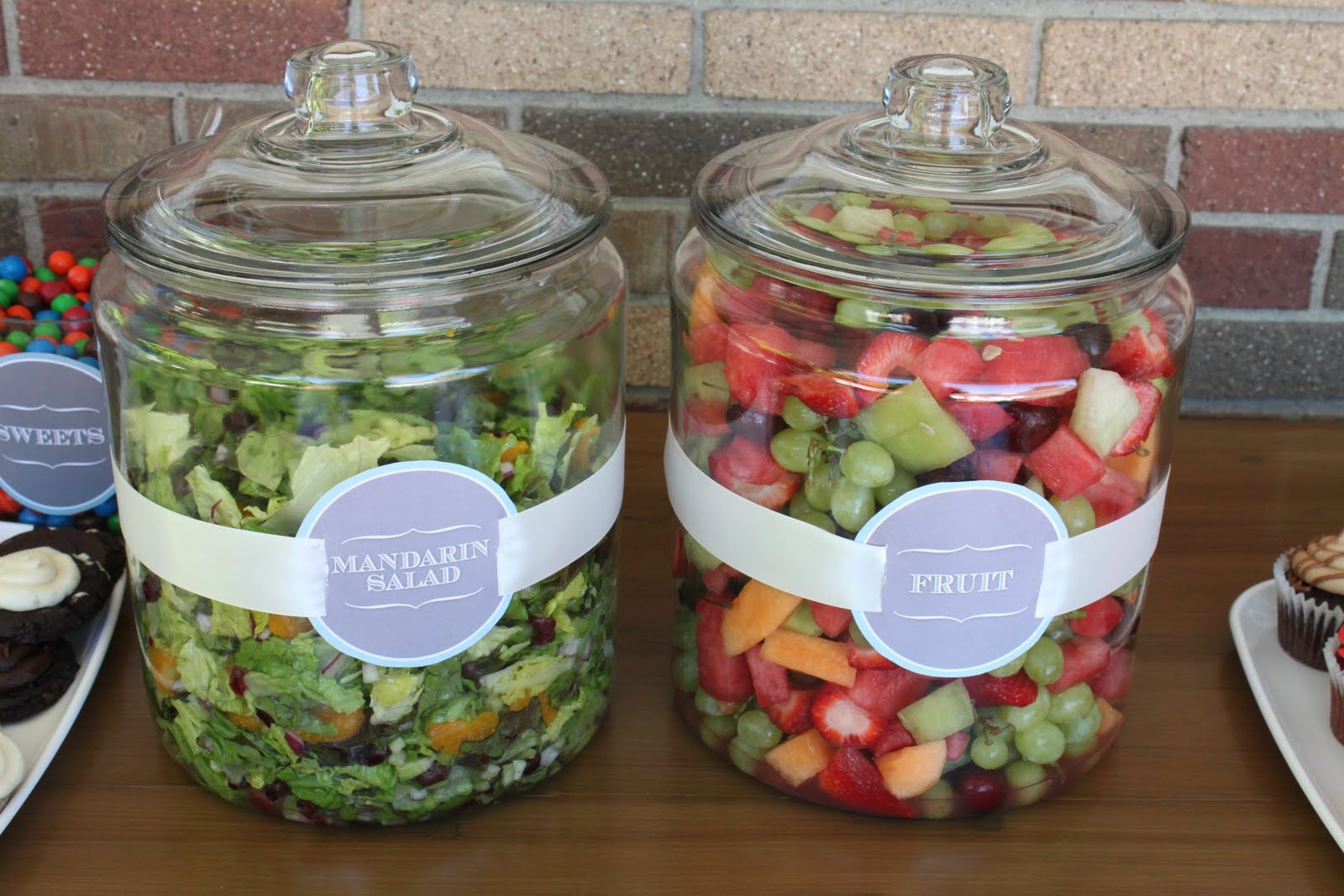 Setting up the food table. Keep the bugs out of your side dishes by serving them in large glass canisters like these from 4 Men and 1 Lady.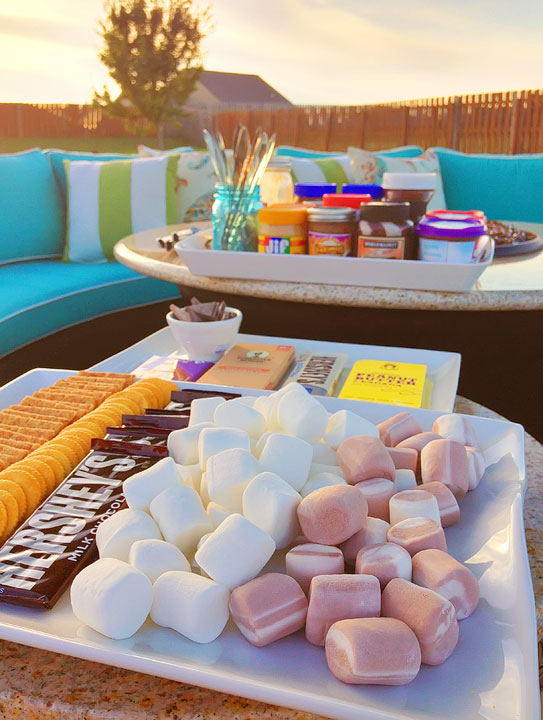 DESSERT. Kids (and adults) love to make s'mores. A s'mores station like this one from Kevin & Amanda is the perfect way to treat your guests and let them create their own custom s'mores. If it's too warm to light the fire pit, place sterno cans in the fire pit for everyone to safely roast their marshmallows. If you have a dessert that needs to be refrigerated or frozen, set a timer to go off that will remind you to take it out when that time comes. There's nothing worse than spending a ton of time preparing a dish, only to have it forgotten.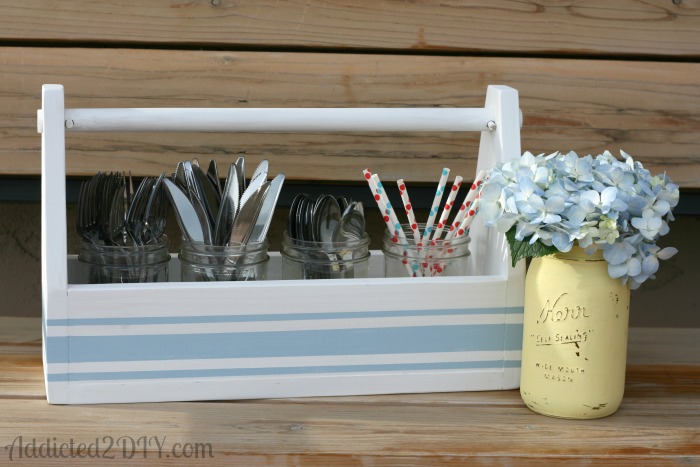 PLATES & UTENSILS. Place a stone or weight on top of napkins and plates to keep them from blowing away on breezy evenings. Mason jars make for pretty and functional utensil holders. I made this chalky finish spring centerpiece to double as a utensil holder for parties and BBQs. You can shop DecoArt's chalky finish paint here.
BBQs are a great way to enjoy warm summer evenings with friends. Just remember to plan ahead and be organized the day of the party. Don't be afraid to ask your guests to bring a cooler with their favorite beverages. If your guests ask to bring a side, let them! It's one less thing you have to try to accomplish and it also saves you money. Just tell them what your main dish will be and they can bring a side that goes along with it. Most of all, just have fun!
Looking for more fun ways to spruce up your space for the perfect Barbecue?
Check out our other outdoor diy projects! Already have a project idea in mind? Pick up some of our number one selling outdoor Patio Paint or Outdoor Living paint.