Posted by DecoArt on Feb 23rd 2019
Here at DecoArt, a new year means new products! We are excited to share with you a sneak peek of what you will find on store shelves and in our online store over the next few months. Leave us a comment and tell us which product you are most excited to try out!
---
DecoArt Galaxy Glitter:
Create out-of-this-world sparkle with DecoArt Galaxy Glitter. Specially formulated with the ideal combination of various sizes and colors of glitter, craft projects will burst with bold flare!
Find it in our online store!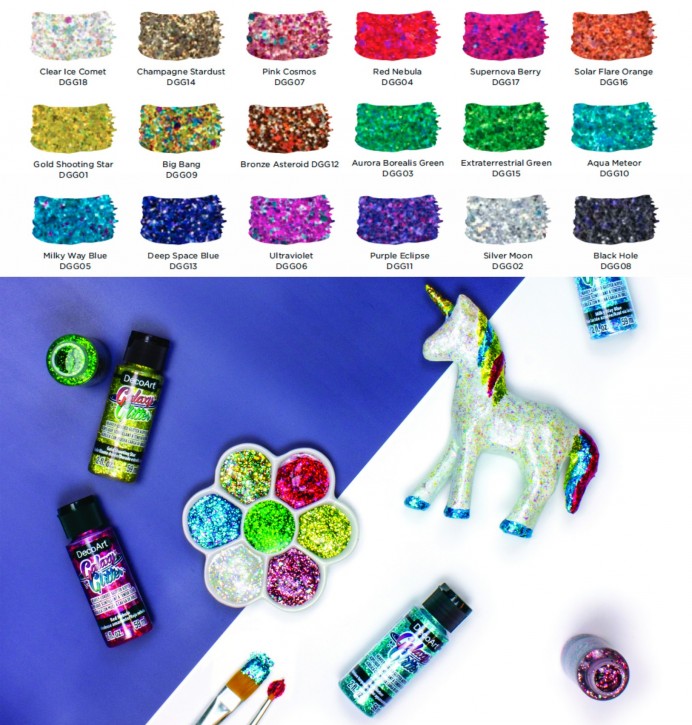 DecoArt Chalky Gesso:
This ultra-matte primer is formulated to create a much smoother paint surface than regular gesso, allowing paints to glide across the surface with no sanding needed.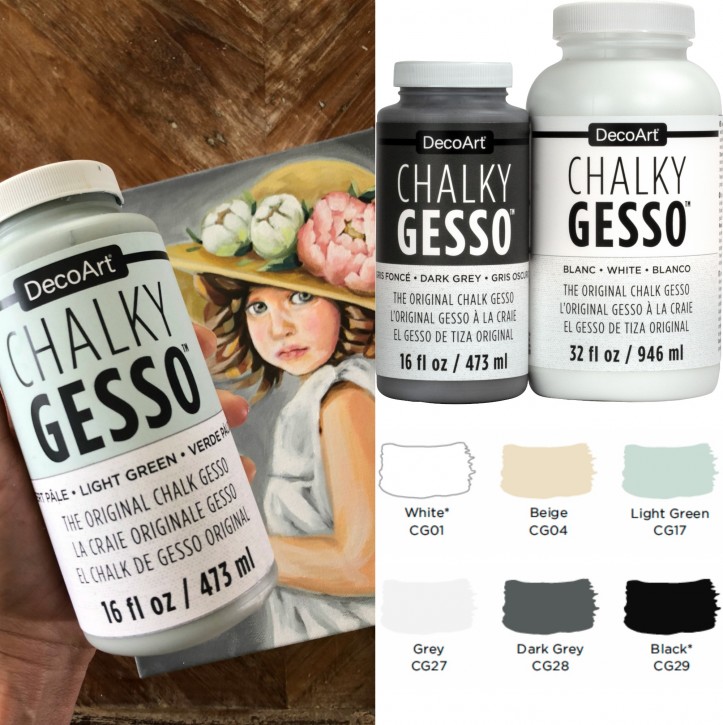 DecoArt Fluid Art:
Highly-pigmented, ready-to-pour paints that are the ideal consistency for creating unique and layered paint pours in one step. Paints are formulated to flow easily and don't need to be mixed with any mediums or additives. Perfect for any level of artist to create custom artwork.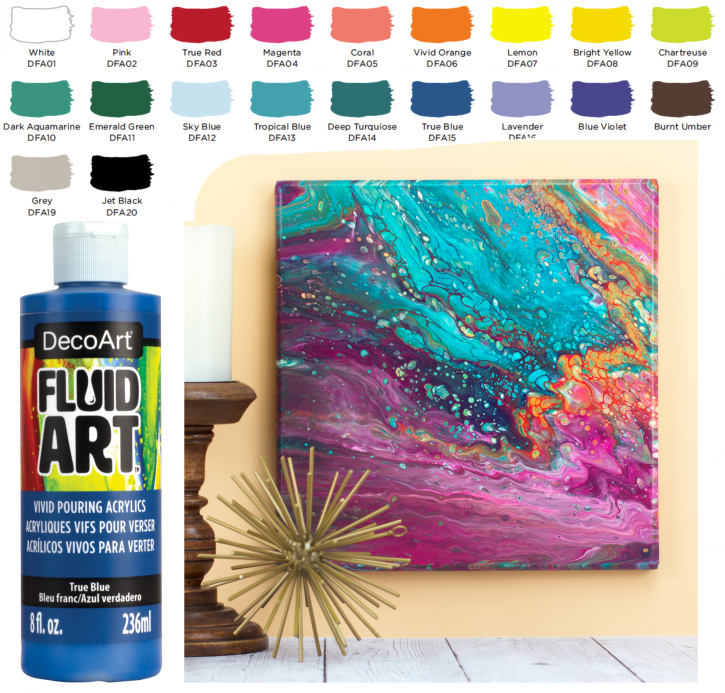 ---
Crème Waxes:
Give raw and stained wooden or painted surfaces a hand-rubbed luster and durability.
Iridescents:
 These transparent finishes shift in color depending on light and viewing angle and will not hide the design underneath.
Galaxy:
Contains crystalline glitter for a shimmering effect and large-flake glitter for high-reflectivity.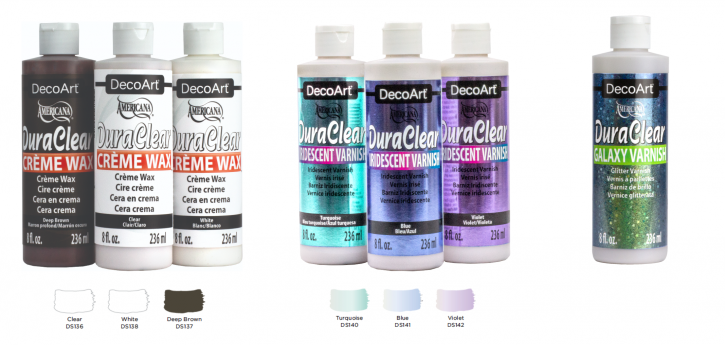 ---
DecoArt Black Light Neons:
 Electrify wearables, craft projects, and home décor with this intense neon paint. Utilizing fluorescent pigment technology, these psychedelic paints can be used on many different surfaces and create vivid glow effects when viewed under a black light.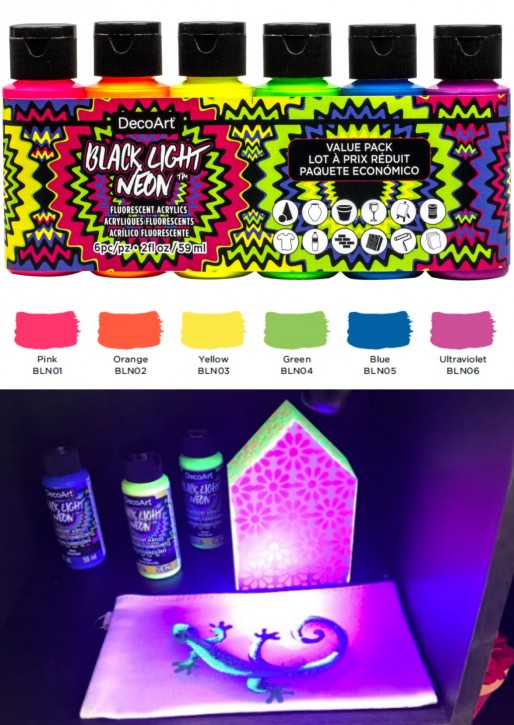 DecoArt SoSoft Fabric Paint & Stencils:
SoSoft fabric paint
is permanent and requires no heat setting. It adheres to all textiles and will not crack, peel, or harden. The
adhesive stencils
are perfectly shaped to fit areas of your garments like jean legs and pockets, shirt collars, hemlines, and cuffs. They are made from a durable, phthalate-free PVC material and are adhesive-backed for secure placement, making them reusable and repositionable.
Brushes and Accessories:
New
brushes
and accessories to come out this year include DecoArt Artist Quality Brushes, DecoArt Crafters Quality Brushes, Writer Tips, Paint Daubers, and Paint Pumps.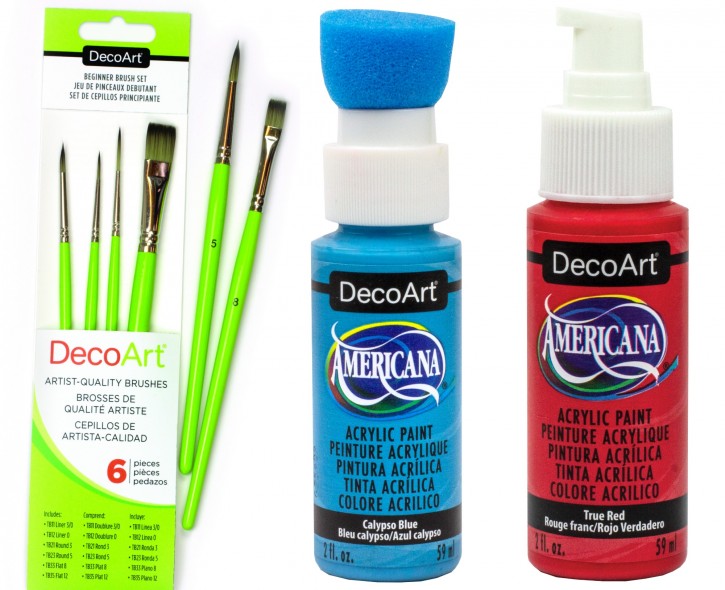 DecoArt Value Kraft Stencils:
 Quality kraft stencils made from durable paperboard for repeated use. Fun and affordable, each pack includes two sheets of 8″ x 8″ designs. (25 designs available)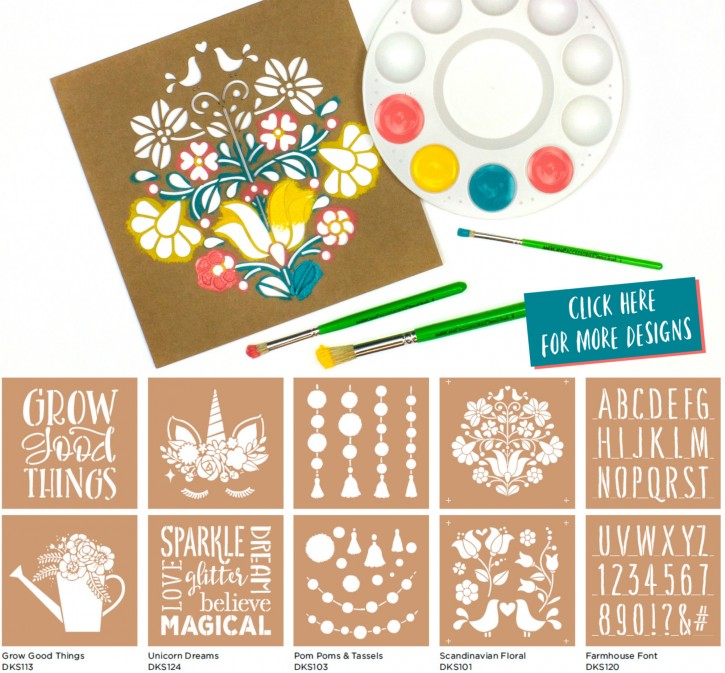 Americana Stencils on a Ring:
 Offering a quick and convenient method for organizing stencils, this product allows crafters to stencil without having to rummage through large packages of letters. Each ring contains an entire alphabet font in both uppercase and lowercase, numbers 0 through 9, and eight punctuation marks. Available in nine trendy fonts!

---

Value Packs


DecoArt Color Trends:
Specially-selected color collections target emerging color palettes and are perfect for arts, crafts, and home décor projects. Available in Americana Acrylics, Americana Multi-Surface Acrylics, and Extreme Sheen options. 
Paint Pouring Packs:
Eight perfect color combinations to create vibrant, stunning paint pours. Each pack comes with four 2-oz. bottles that, when mixed with DecoArt Pouring Medium, can create one 12″ x 12″ and one 16″ x 20″ canvas.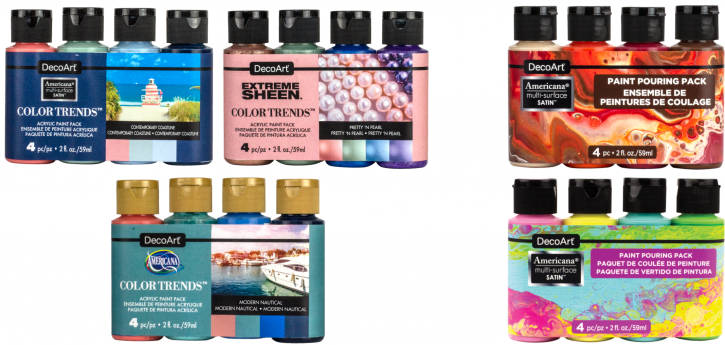 ---

New Colors

Each year we expand select product lines and introduce new colors!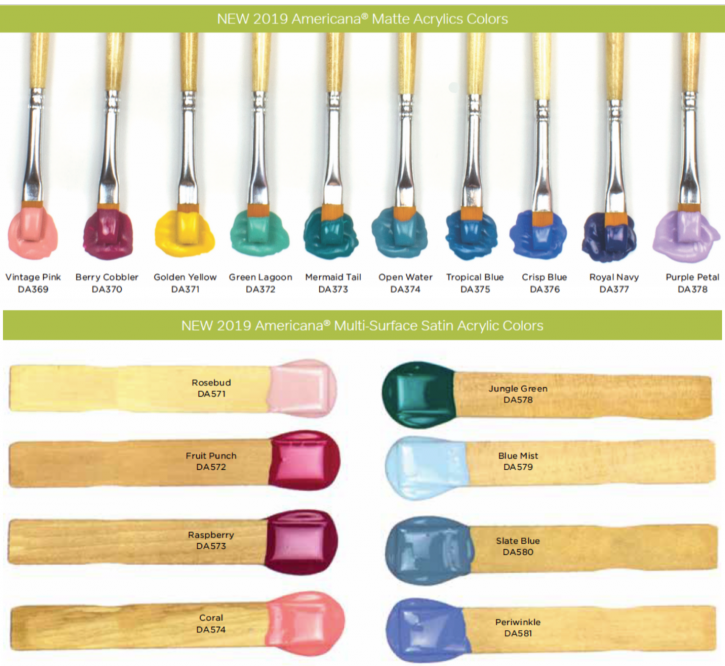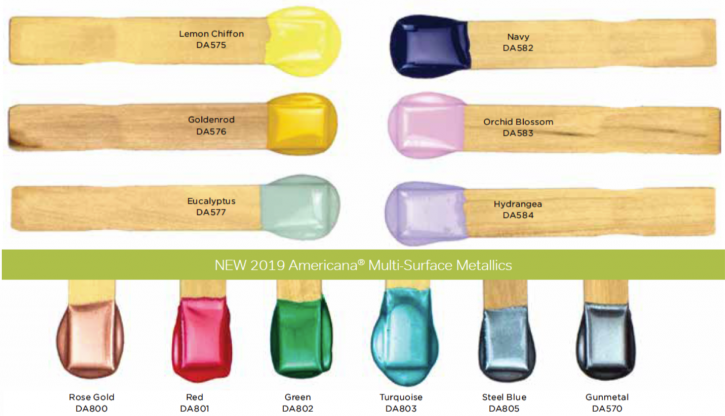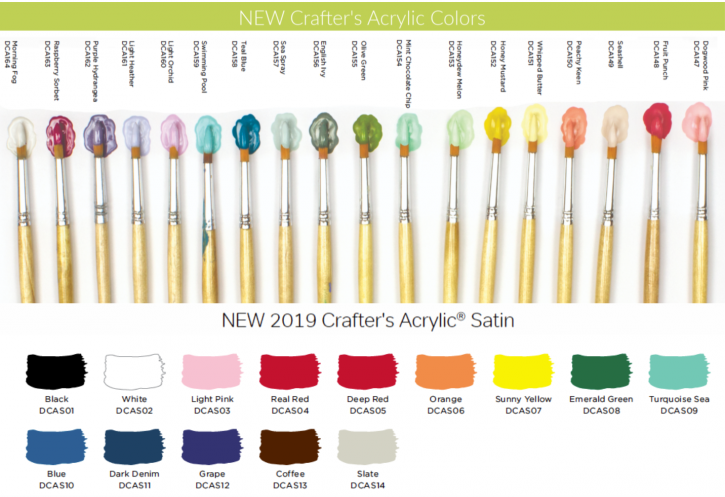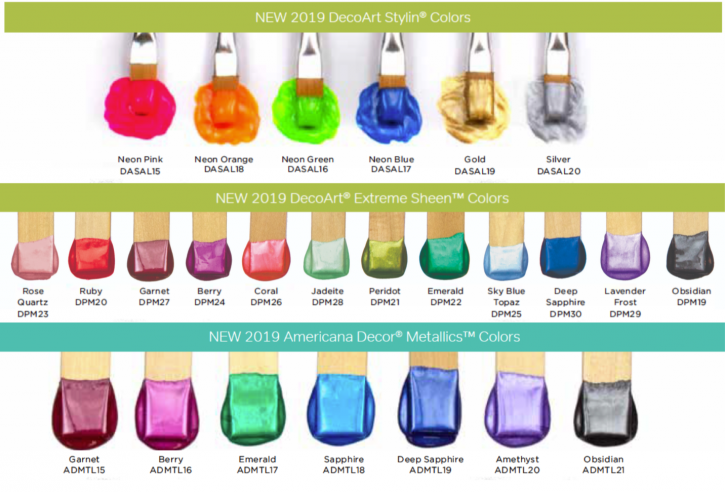 ---
Stay tuned in the coming weeks and months for even more information about the 2019 NEW products, and take a few minutes to flip digitally through our 
2019 Product Catalog
.