Posted by DecoArt on Oct 7th 2021
As sweet as pumpkin pie but as spicy as its signature latte, our color of the month for October is spiced pumpkin! This warm and inviting orange is a quintessential part of any fall color palette. Use it to add a touch of fall magic to your home decor, wear it the next time you're out at the orchard, or use it to create the perfect pumpkin painting. Spiced pumpkin is the fall color you'll want to add to your collection this year.
Photo by Toa Heftiba.
Orange in Nature
Spiced pumpkin is a vibrant orange color with just a touch more yellow to give it a lovely autumnal glow. This seasonal favorite is one of the many colors you'll see painted onto fall landscapes or in fall decorations. Walk outside and you'll see fallen leaves, mums, marigolds, and just-ripe pumpkins all sporting this beautiful orange hue.
Photos by Alisa Anton and Erica Marsland Huynh.
The natural beauty of changing leaves is one of the many reasons we love fall for color inspiration.
Photo by eberhard grossgasteiger.
Orange Color Theory
In color theory, orange is considered a secondary color. Secondary colors are made when two of the primary colors on the color wheel are mixed together. In the case of orange, that is red and yellow. To learn more about the color wheel and color theory, check out our blog here.
Spiced pumpkin is a yellow-orange shade, which makes it a
tertiary color
. A tertiary color is made when you mix equal parts of a secondary and primary color together. With spiced pumpkin, the extra dose of yellow is mixed together with orange. This gives this color its uniquely bright and vibrant look.

Across from spiced pumpkin on the color wheel is bright blue. This complementary color can be paired with spiced pumpkin for maximum contrast and truly gorgeous looks. Think of a field of pumpkins under a clear blue sky!
While this orange is a welcome addition to fall color palettes, its charm doesn't end there. We've come up with some other great color schemes to help inspire you.
Orange Color Palettes
This floral pumpkin painting is one of our fall favorites! Try using spiced pumpkin as an accent color alongside blue-green, rosy pink, and white for a bright bohemian vibe.

How to Use Orange in Home Decor
If you're looking to add warmth to your home, orange is a great color choice. Orange is the happy medium between bold red and bright yellow. Consider painting an orange accent wall to add some color to your living room or dining room. Gathering spaces in your home are the perfect place for warm and inviting colors like orange.
Photos by Beazy and Matt Wildbore.
If you aren't ready to commit to an orange wall just yet, consider orange accent furniture. This color is interesting enough to be a statement piece all on its own. Plants, wood furniture, and simple white walls look dressed up with orange accents.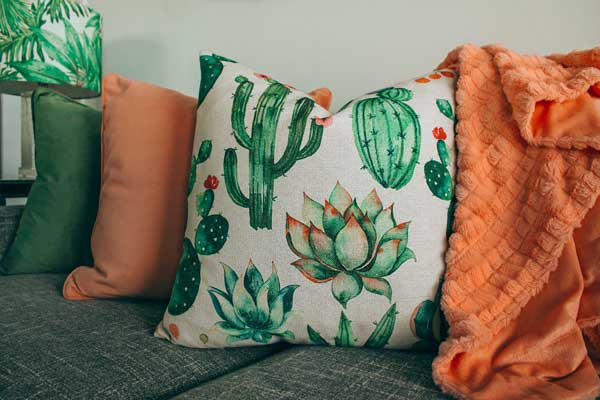 Photos by Andrea Davis and DESIGNECOLOGIST.
Spiced Pumpkin Inspiration
Are you craving more pumpkin spice? Try it for yourself by pairing it with your own favorite colors, you may just find your new favorite color combination! Here we have a list of DecoArt® products in this lively orange, all are available now on our website shop.decoart.com.

DecoArt Products:
Americana® Acrylics in Spiced Pumpkin
Americana Acrylics in Bright Orange
SoSoft® Fabric Paint in Cadmium Orange
Patio Paint Outdoor® in Tiger Lily Orange
Gloss Enamels in Bright Orange
Americana® Pearls in Bright Orange
Crafter's Acrylic in Bright Orange
Americana Decor® Curb Appeal in Mid-Century Orange
Fluid Art Ready-to-Pour in Orange and Neon Orange
Spiced Pumpkin Projects
We've gathered up some of our favorite DecoArt® projects inspired by spiced pumpkin. If you're looking for more color inspiration, be sure to follow us on Facebook, Instagram, and Pinterest. Every week we post new and creative ways to use our color of the month as well as exciting craft and DIY projects. Happy making!