Posted by DecoArt on Dec 5th 2019
In our home, we are really big on recycling. I love when we can fill up the recycling bin, and there is hardly any garbage to put out. Since we always seem to have soma glass jars, I love being able to grab one and put them to use for all kinds of other secondary uses. In the summer, I'll grab one to use as a vase full of flowers, or even to start cuttings in. I thought it would be fun to take a few recycled jars, paint them with Americana Multi-Surface Satin paint and use them to make a sustainable way to give a gift. I came up with three very different projects to try, a fun little elf to hold "Elf Treats," a reindeer vase to gift to a neighbor, and an easy movie theatre inspired gift jar!

Items needed: 
Americana Multi-Surface Satin Acrylics - Paprika
Americana Multi-Surface Satin Acrylics - Cotton Ball
Americana Multi-Surface Satin Acrylics - Blue Lagoon
Americana Multi-Surface Satin Acrylics - Gold
Americana Multi-Surface Satin Acrylics - Coffee Bean
Paintbrush
Recycled and cleaned jars with lids 
Tape
Floral elements from the craft store
Round glitter ball (or make your own)
Antlers
Elf head
Cardstock 
Paper drinking straw
Hot glue
Paint pen 

Make the Elf Treats Jar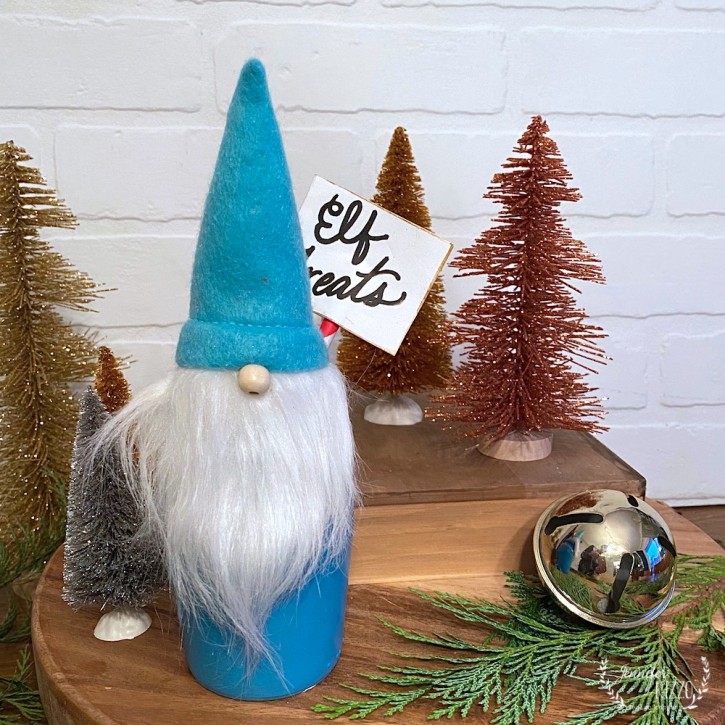 One of the jars I grabbed was an old mustard jar. I thought it looked like a little pudgy elf body.

(1 + 2 ) I started by painting the jar and lid in multiple coats of Multi-Surface Satin paint in Blue Lagoon, letting it dry between coats. (3) Once it was dry, I removed the floral pic from the elf head and glued it directly on the jar lid with hot glue. (4) Using the cardstock and paper straw, I created a little "elf treats" sign and hot glued it to the jar lid. Now the jar is ready for wrapped treats!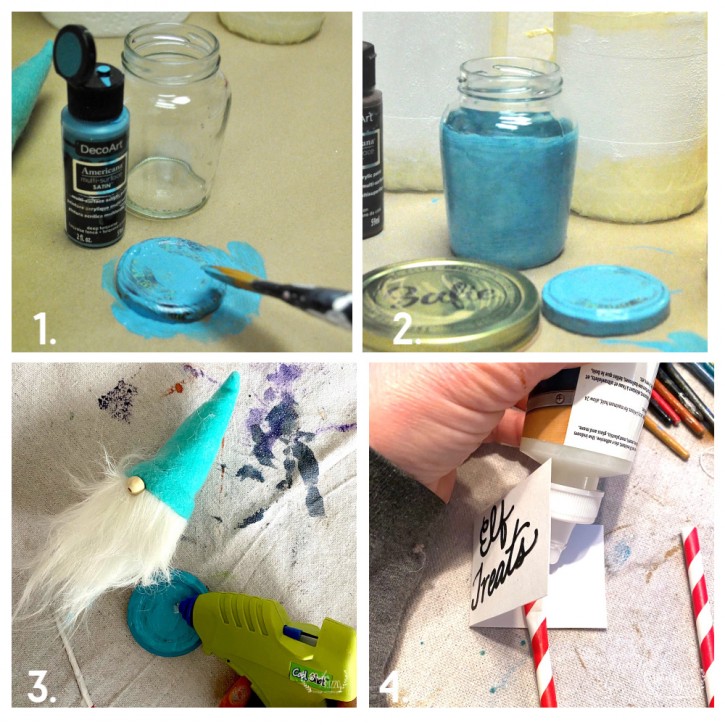 Create the Reindeer Jar Vase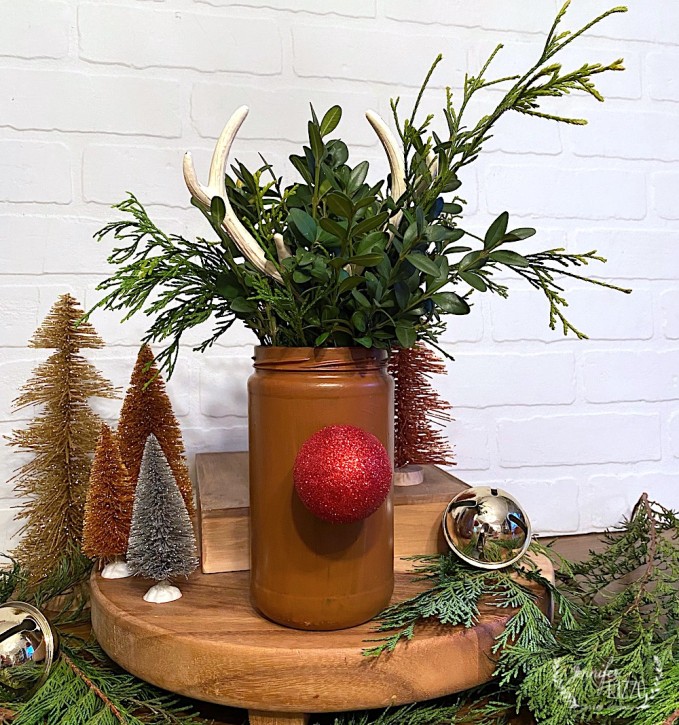 This one is one of my favorites and the easiest! And I love getting fresh flowers and plants, even in the winter!

(1) Painting a tall jar with Multi-Surface Satin Paint in Coffee Bean with multiple coats, letting it dry between coats. (2) Remove one of the glitter balls was removed from the floral pic. (3) Hot glue where a nose would go. (4) After adding water inside of the jar, and filling with flowers and greenery, some cute antlers were added to the top.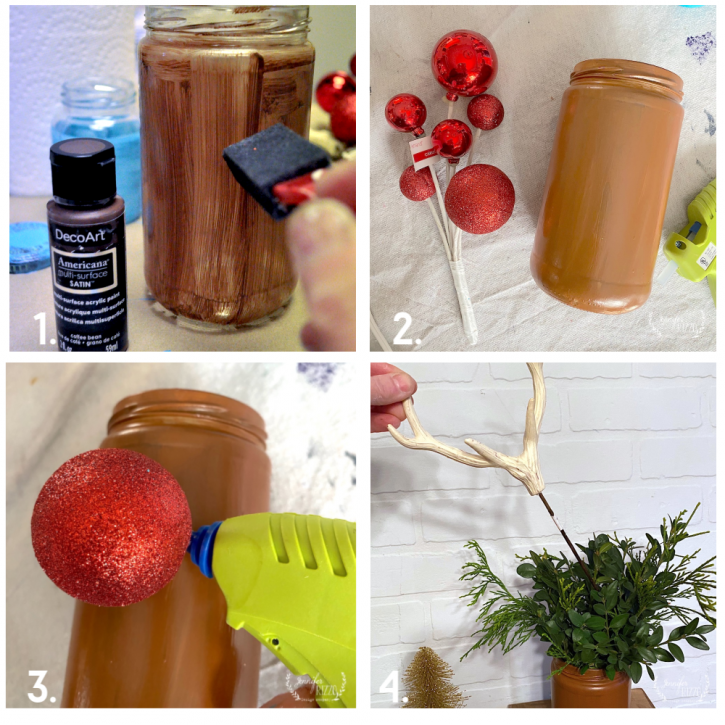 Make the Movie Theatre Gift Card Jar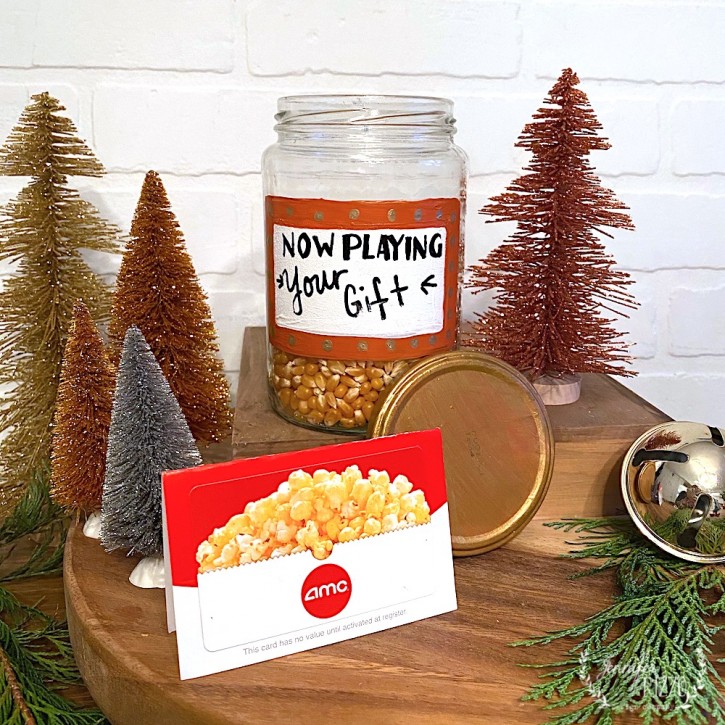 The gift of an experience is one of the most important gifts of all! A gift card to a movie theatre is a great way to give it! Instead of just putting it in an envelope, create this marquee-inspired gift jar filled with unpopped popcorn to hold the card in place!
(1) Tape a square with painter's tape, and (2) paint on the inside of the painted square with Cotton Ball Multi-Surface Satin paint. Remove the tape before the paint is totally dry. Once dry, (3) paint an edge around the outside in Paprika Multi-Surface Satin Paint and let dry. (4) With Gold Multi-Surface paint and the back of your paintbrush, create dots to mimic stage lights and let dry. While the jar is drying, paint the lid in Gold Multi-surface paint. Once it's dry, write a message on the white area with a paint pen, add popcorn kernels, and tuck the gift card inside!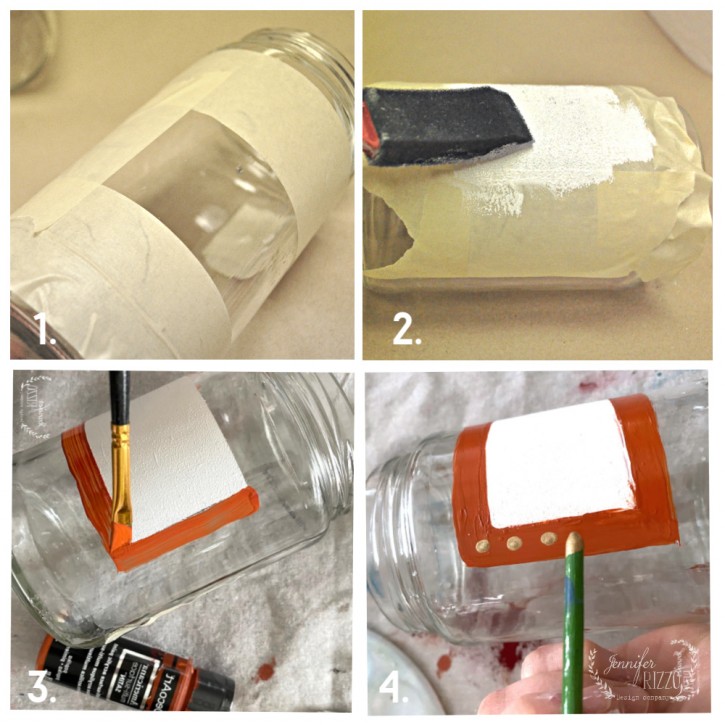 There are so many ways you can use recycled jars in your gift giving for the holidays, I hope these ideas inspired you to create a few of your own!
Find more creative inspiration, art projects, makeovers, and crafts, visit me at JenniferRizzo.com or visit my retail store and take a workshop with me! The Collective lhe + Makery in Lisle, IL