Posted by DecoArt on Jul 16th 2013
Tree art is big and canvas is pretty affordable, especially when you use an in-store coupon! I love making my own wall art. In fact, I dont think Ive actually bought anything for my walls in years! For this project I decided to try creating a resist-look on canvas using Americana 3D Writers and a bit of sandpaper. The result was a pretty cool looking piece of art thats different than anything Ive done before.
Items Needed:
10 X 10 Canvas
Paintbrush
Sandpaper
Sheet Of Paper
Pencil
Instructions:
I started off by sketching out an idea for the tree. I drew the swirls first, then added in a few lines for the basics of the trunk and branches.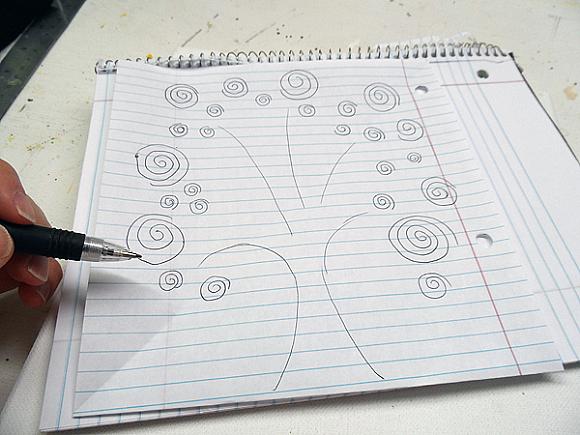 Then I used that basic idea to fill in more swirls, the branches and the trunk.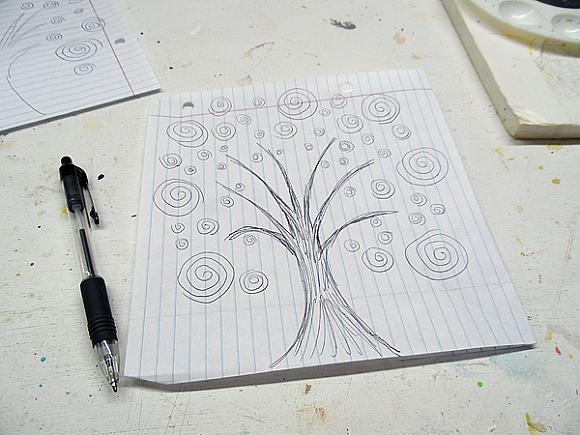 I then took pencil to canvas, just doing some very light sketching, and only of the large swirls and the basic shape of the trunk. I just wanted to give myself a starting point. Be careful though, it's hard to cover pencil marks with white paint, so sketch lightly and only very basic shapes that you will be able to cover with the 3D Writers.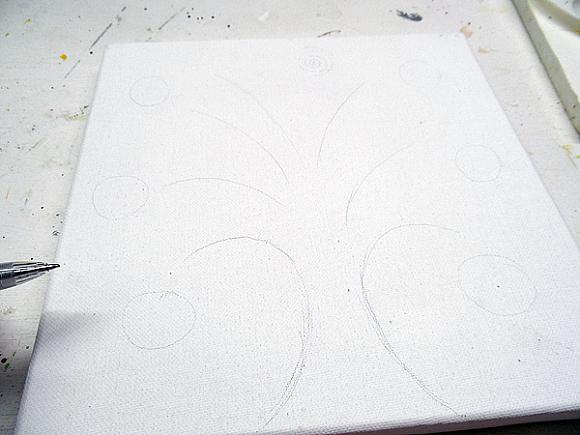 I started by making the large swirls first, using the Americana Writers.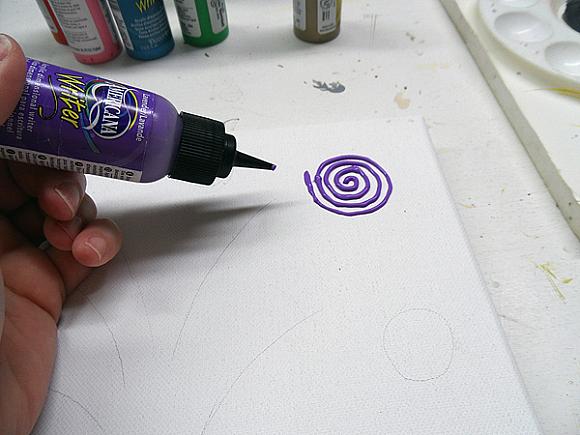 I used a different color for each swirl.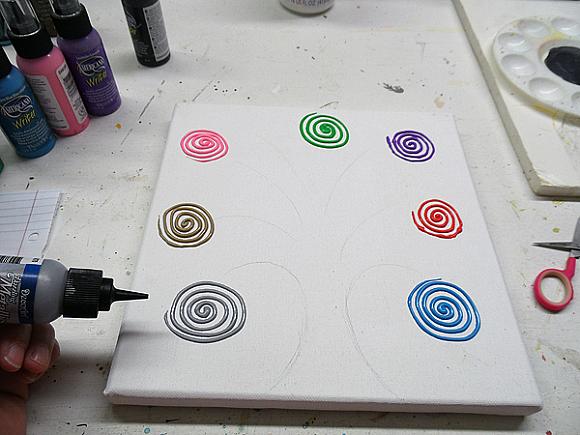 Next I added in medium and small swirls using all the different colors.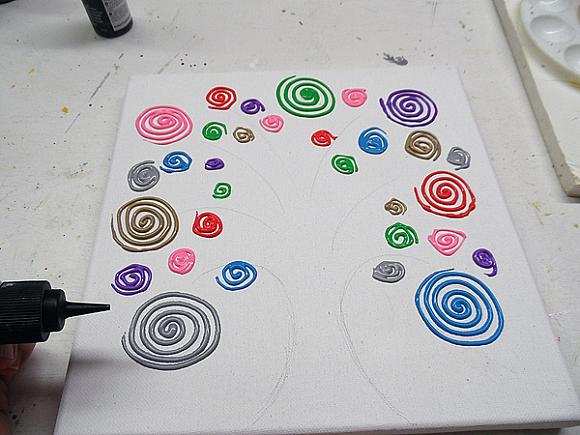 Then came the basic shape of the branches and trunk using the Black Americana Writer. Next I filled in the gaps to create the final shape of the branches and trunk.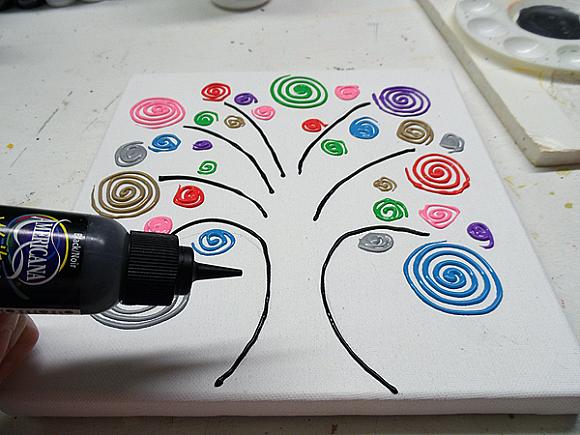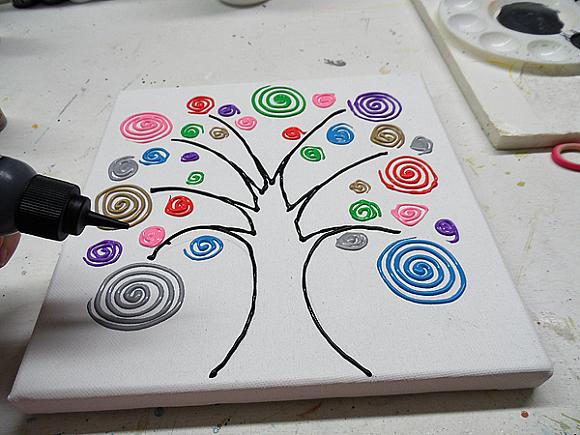 Fill in the trunk with a bit of the black Writer and spread it out with a paintbrush.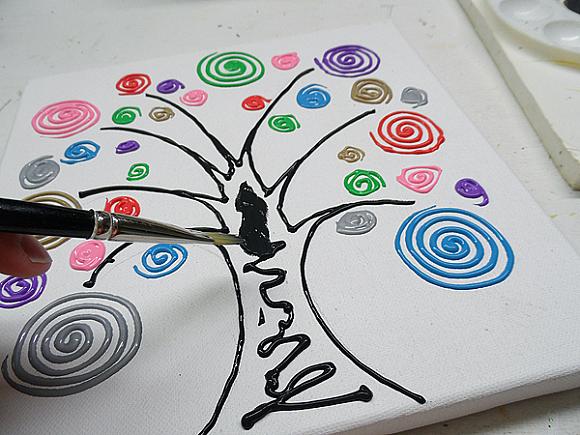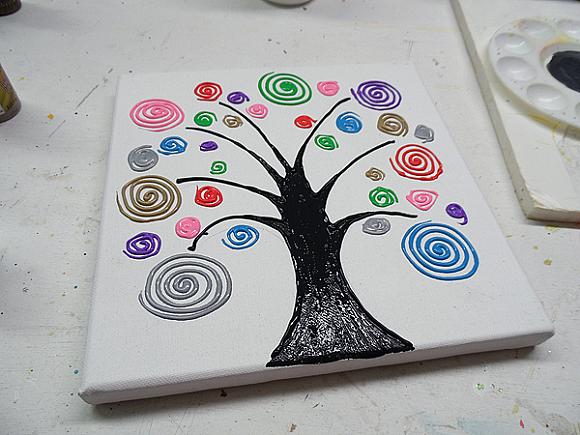 Add in a few dots using the Writers. To make dots without a tail at the top, squeeze the Writer straight down, gently inserting the tip into the dot. Release the pressure, gently lift up and as if drawing a circle, trace the tip around the top of the dot. This will allow the paint to drop onto itself, rather than creating that "top of the ice cream cone" swirl.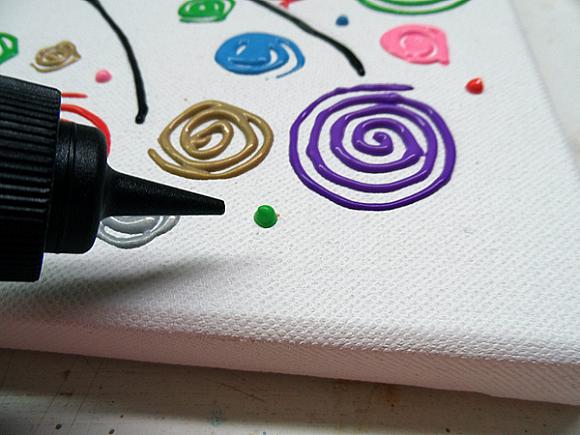 When you're happy with your design, set it aside to dry completely. This can take several hours.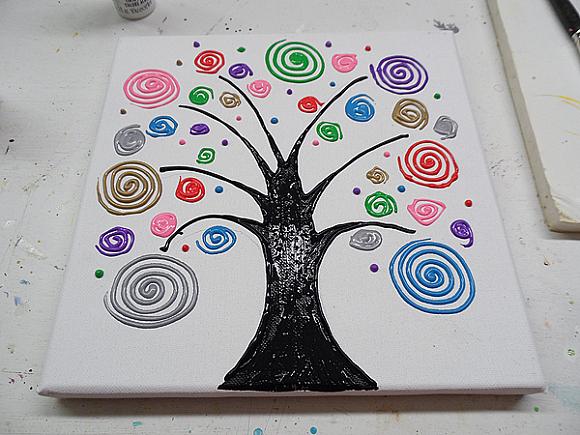 Using Americana Cool White, paint the entire surface of the canvas white; covering the entire tree design. Allow this to dry completely before moving to the final steps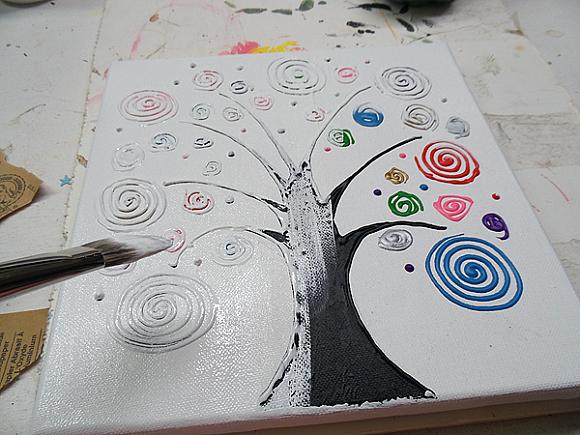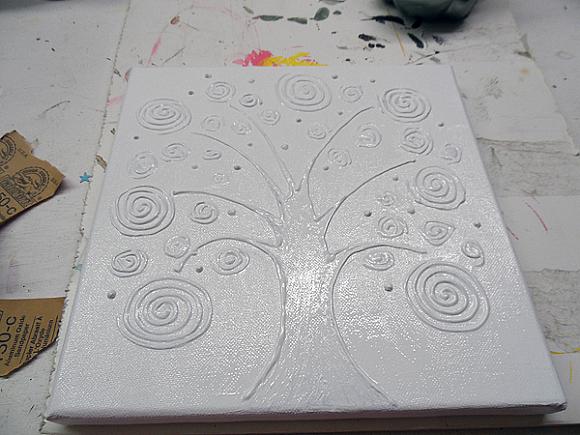 Use sandpaper to gently remove the dried white paint from the color designs underneath. If sanding the painted trunk isn't enough, dry brush some Americana Lamp Black lightly onto the trunk until you are happy with the results.