Posted by DecoArt on Jun 24th 2014
It's no secret that I love the Americana Decor Chalky Finish paint, I've been using it on everything.  With the upcoming 4th of July holiday I wanted to create some easy decor to add to my existing decorations.  After a quick dig through my craft stash I found some burlap, it's always the perfect blank canvas for a cute banner and was just what I wanted for this 4th of July Banner.
Items Needed:
Burlap - 4x6 Pieces
Foam Brushes
Painter's Tape
Jute Twine
Hot Glue
Instructions:
Cut your burlap in to 4 x 6" pieces/flags. You can make these any shape or size you like, a basic rectangle will be easiest.
I used painters tape and cut each piece of tape in half lengthwise to create 1/2" stripes on my burlap. Press firmly.
Using a foam brush just dab your Rouge - Red paint for the stripes. You will only need to do one coat since this paint covers so well. Set aside to dry.
For the Legacy - Blue pieces I just painted the entire piece of burlap and let dry. Once dry you could do one of two things either paint simple polka dots with the Legacy - White paint, or you could create a stencil and do stars. I went with the simple polka dots and just used the wood end of my foam brush for the dots.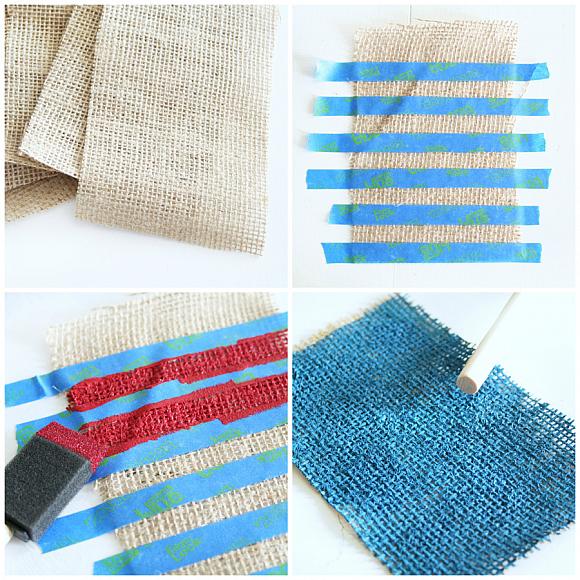 Once everything is dry use your glue gun to fold the tops over a piece of jute twine to create your banner.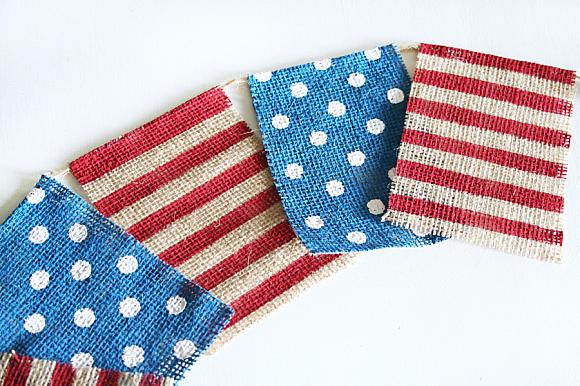 Now you have cute and simple 4th of July decor to hang on your porch, front door, mantel, really anywhere! You can make this banner as long as you want, mine is 5ft. long. I love how this banner turned out and it will be the perfect addition to our front porch for the summer holiday!