Posted by DecoArt on Feb 1st 2019
So Valentines Day is almost around the corner and I decided to create a fun 80s inspired pattern on a mason jar, perfect for placing gorgeous roses or even candy.
Even though I went with an 80s pattern you could go the traditional route and create Xs and Os, hearts or even polka dots. I wanted to add a little twist on mine hence why I went with the 80s design and I think it turned out pretty cute if I say so myself.
To create this beautiful, glittery Valentine Mason Jar you just need a few simple supplies.
Items Needed:
Paintbrushes (wide And Narrow)
Instructions:
I used a mason jar for my project but you could use an empty bottle that you might have at home, for instance, an empty pasta sauce bottle.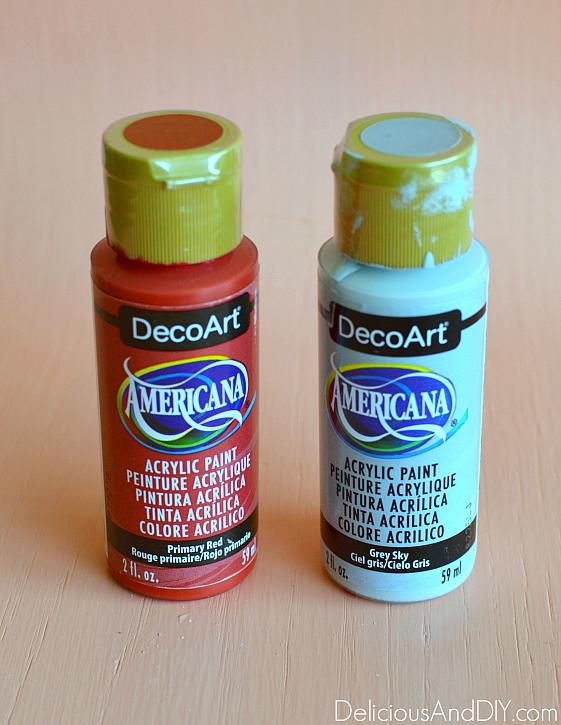 I decided that I wanted the red color to be more prominent so more than half of the mason jar I painted using the Americana Acrylic in Primary Red and the rest I painted using American Acrylic in Grey Sky.
When the mason jar was dry I went ahead and used DecoArt's fun little new product the Galaxy Glitter. For the red portion of the mason jar, I used Galaxy Glitter in Red Nebula which compliments the Primary Red color beautifully. And for the Grey portion of the jar, I used Galaxy Glitter in Silver Moon.
Let the jar completely dry before you move onto the next step.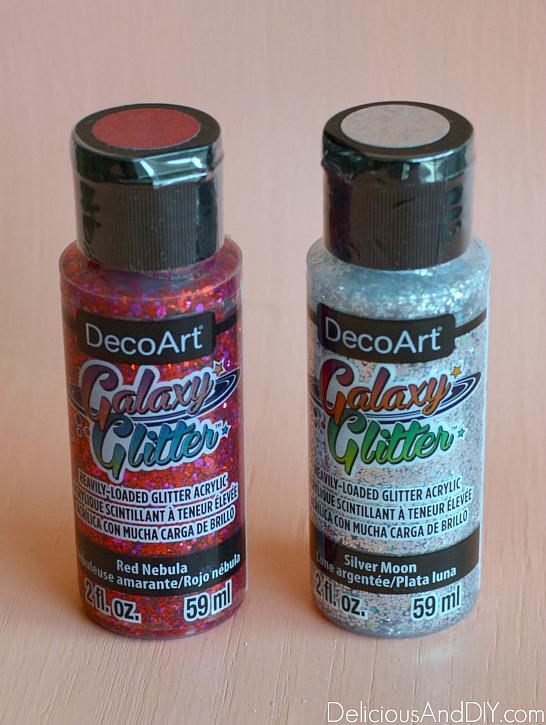 This is the fun part as I mentioned earlier you could create the traditional patterns like hearts etc. but I went with the 80s design.
I have also created this fun design on a bag before and you can check out my 80s Inspired Bag Makeover to see how it turned out.
On the red glitter portion, I used the American Acrylic Paint in Grey Sky and created triangles, squares and a few dots and repeated the pattern all around.
The same I did on the grey glitter portion but I used Americana Acrylic Paint in Primary Red on top of that area.
Let it dry.
The last step was to go over the 80s design with the Galaxy Glitter. I left out the dots and did not add glitter on them but the rest of the patterns were painted with glitter.
Let it dry again for the last time.
And there you have it.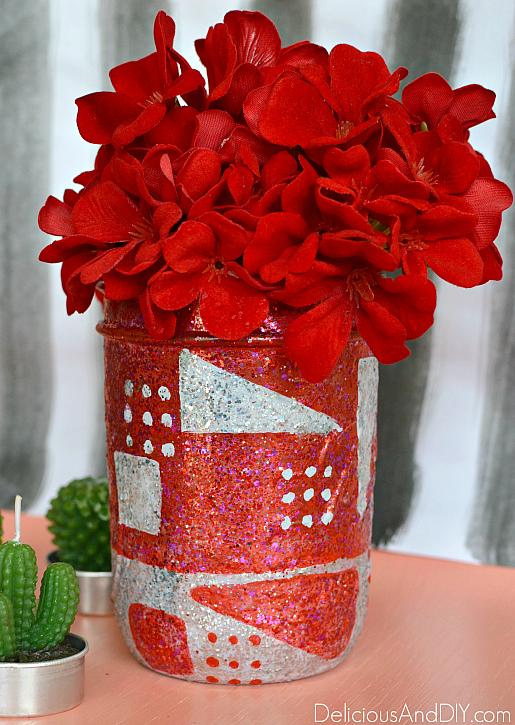 All Done.
What do you guys think?
Doesn't it look so adorable!