Posted by DecoArt on Sep 25th 2019
It's September and we are now approaching those cooler autumnal days in the UK where the mist forms beautiful low layers over the garden swathing the plants and trees in a mellow blanket of hazy, murkiness and in places creates indistinct shapes that fade away before your eyes.
It's the start of another beautiful season!
The process steps of this project were an experiment in creating that overcast look of the early mornings that has that blurred and more nebulous feel to them. 
Items Needed:
Grey Board
Scrapbook Rings
Paintbrushes
Palette Knife
Instructions:
Step 1: Cut two pieces of greyboard 11 x 22½ cm and seal with a coat of DecoArt Media Gesso on both sides.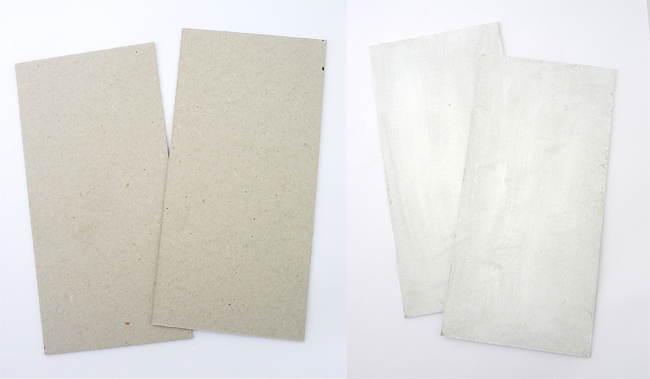 Step 2: Use a medium-size brush and wet the surface all over with water and let it pool in places. With the wet brush pick up a small amount of DecoArt Media Fluid Acrylic in Raw Umber and dabble it in a couple of places around the edges. Whilst still wet repeat that step with Medium Grey, Quinacridone Gold and Titan Buff keeping it lighter and more watery in the middle. Dry with a heat gun after each layer. Repeat this a couple of times more to get some nice layering effects of the watery colours. Finish with some light splattering of the same colours used and lightly distress the edges with a sanding block and brown distress ink.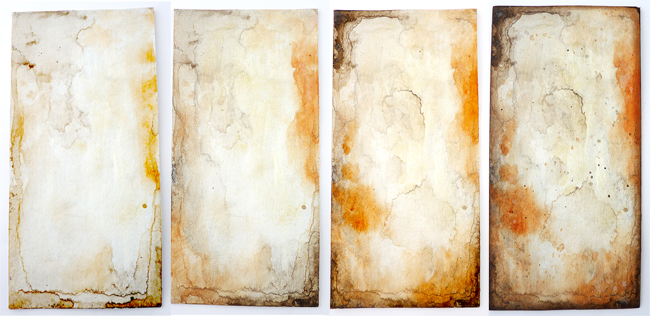 Step 3: Mix some White Modeling Paste with a little Tinting Base and apply through a stencil with a palette knife. Leave to dry.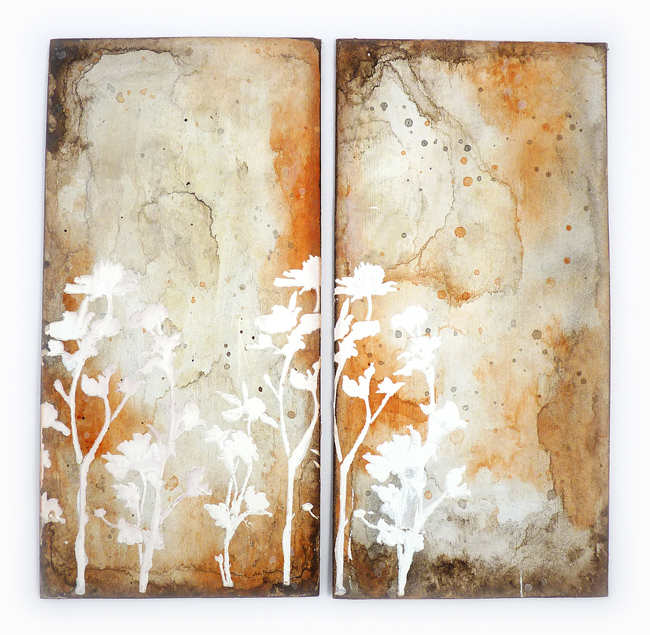 Step 4: Start creating a misty background effect. Spray over and around the stenciled flowers with water and use a paintbrush to blend in some Medium Grey media acrylic paint. Spritz with more water, let it drip and flow around the flowers and dry. Repeat process with another layer of the Medium Grey mixed with Dioxazine Purple, a third layer using Dark Grey and then a fourth using Titanium White. Splatter some of the Medium and Dark Grey as a watery wash.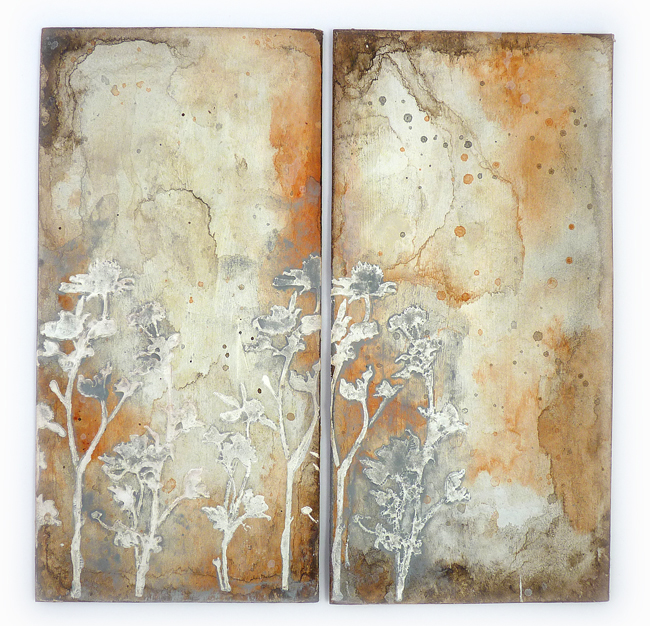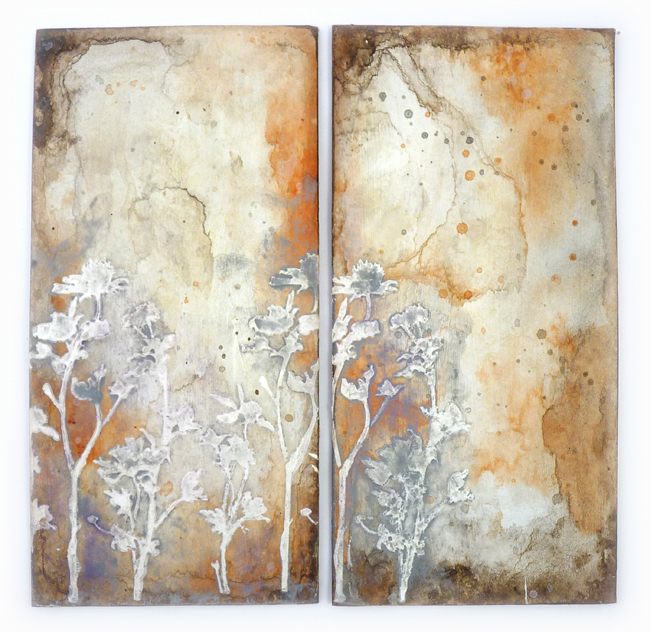 Step 5: Choose a small, fine paintbrush and using Sap Green, Burnt Umber, Quinacridone Burnt Orange and Titan Buff, mix colours and water to paint in a background colour to the stenciled wildflowers.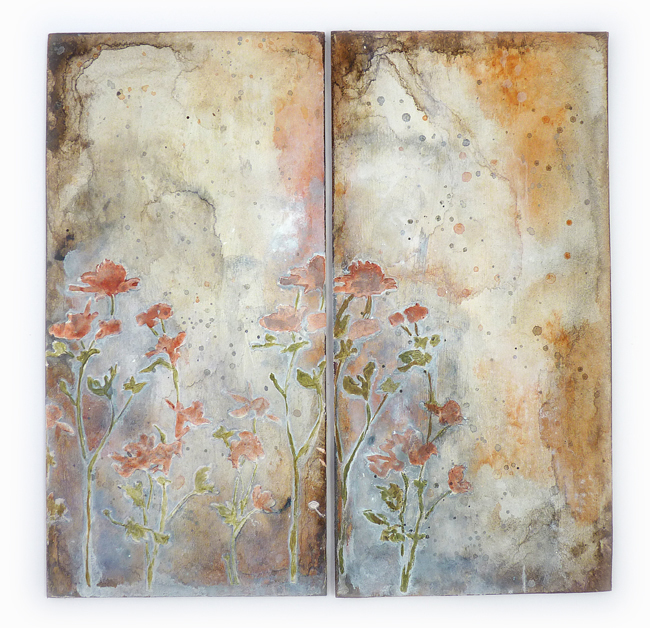 Step 6: Add in some of the Dioxazine Purple and Dark Grey to add more detail to the flowers and leaves and also some levels of lower background foliage.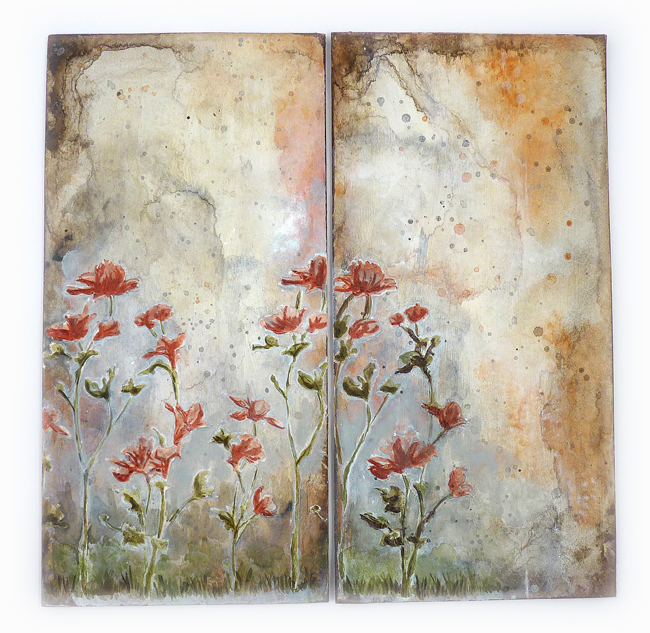 Step 7: Having given the flowers some depth we're now going to knock them back a bit by wiping some white Antiquing Cream down the flowers, drying it with a heat gun and then using the fine brush and clean water to pull back random parts of the flowers as if they are peeking through the mist.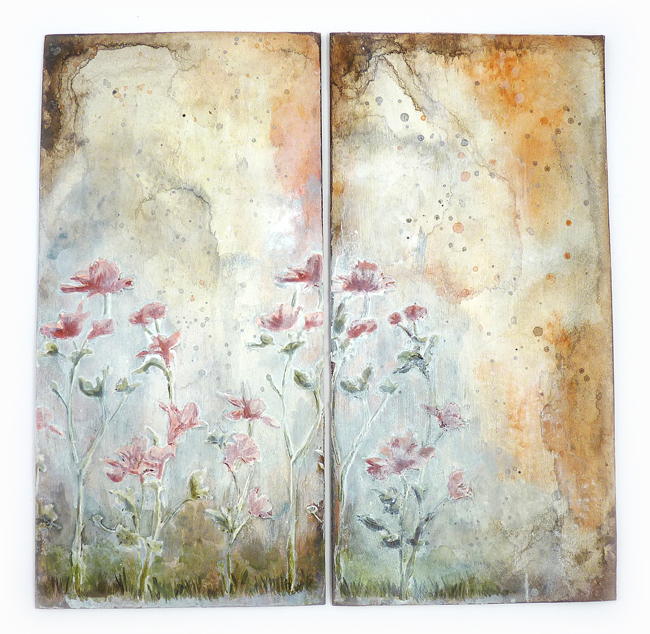 Step 8: Finally I used my black water pencil to create some dark shadows and more murkiness and also added a little wash of the Quinacridone Burnt Orange to bring back some faint colour. I loved the use of the watercolour pencil so much I added some red to the flowers too. I hope I've not overdone it!!!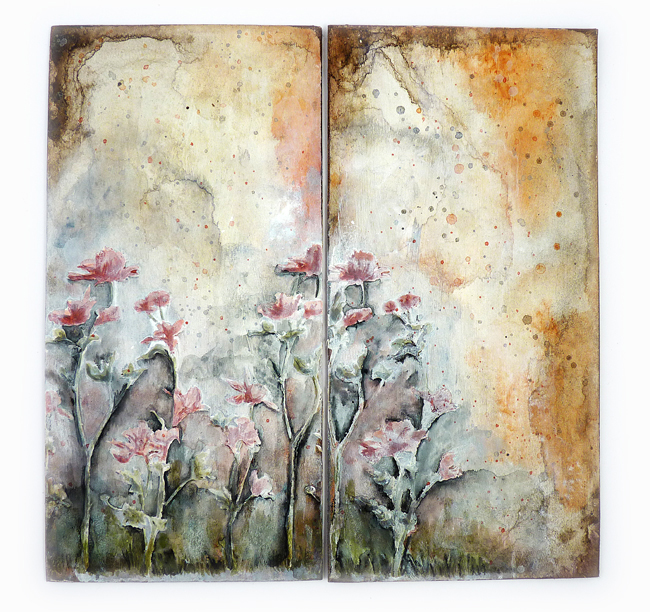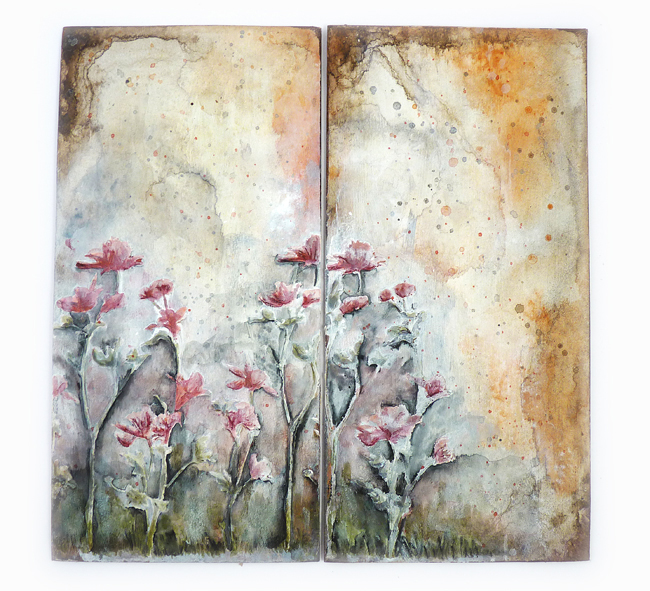 Step 9: To finish the booklet I re-sanded the edges and inked them and added a computer-generated title and ......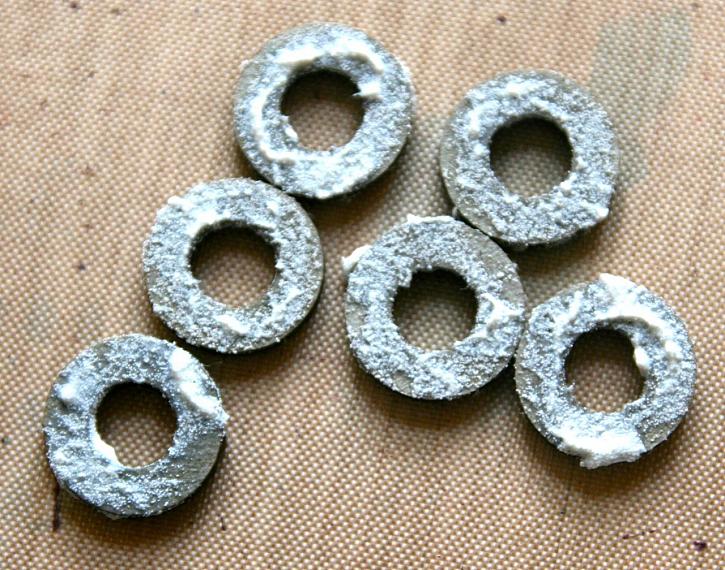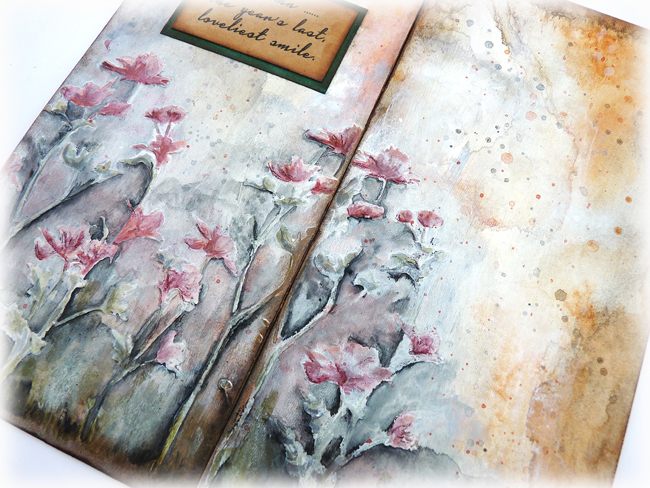 Step 10: .... I made holes to add rings to hold it together and filled it with some papers.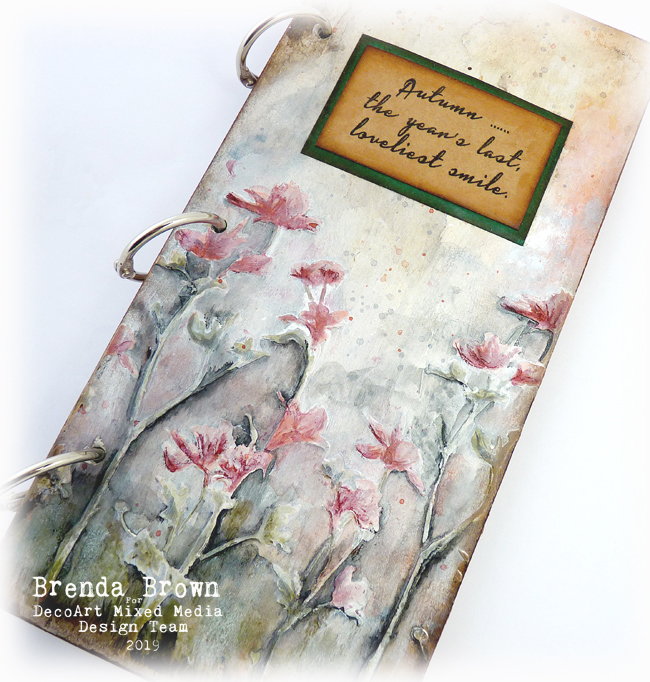 I hope you will pick up a paintbrush and have a go at painting in some stenciled flowers or images and see how you go.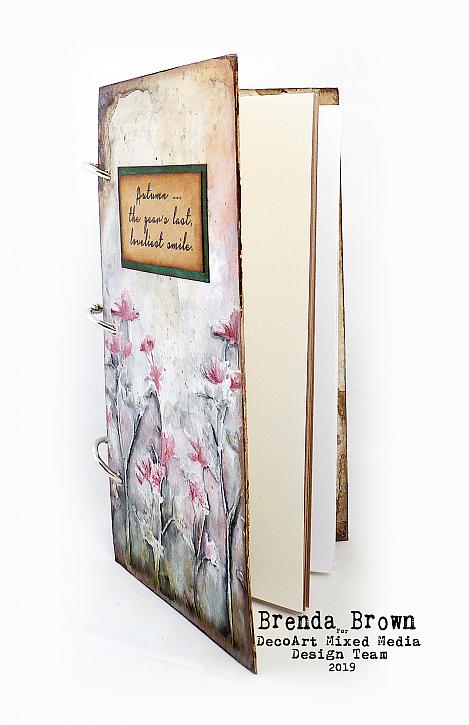 Thanks for stopping by.

Hugs Brenda xxx