Posted by DecoArt on Aug 2nd 2017
I was inspired by Andy Skinner's newest stamp set, especially by the crow/raven image which got me to thinking about Irish mythology and the deity of the Morrighan. There are many tales of her, and I often think of the story where she turns into the "battle crow" and flies above the battlefield. She was said to foretell doom and death in battle. Sounds dark, I know!
I also thought about the saying "a murder of crows" which just means a group of them. We have a few crows who roost near our home, and love to wake us up with their loud cawing. 
Items Needed:
Americana Premium Acrylics - Yellow Green Light
Americana Premium Acrylics - Phthalo Green-Yellow
Americana Premium Acrylics - Primary Yellow
Stampendous Andy Skinner Birds And Bones Stamps
Art Journal
Old Book Paper
Assorted Brushes
Palette Knife
Spray Bottle
Black Waterproof Pen
White Waterproof Pen
Graphite Pencil
Black Archival Ink
Sponge
Paper Towel
Baby Wipes
Scissors
Heat Tool
Letter Stamps
Instructions:
Stamp images onto old book paper with black archival ink. Cut out.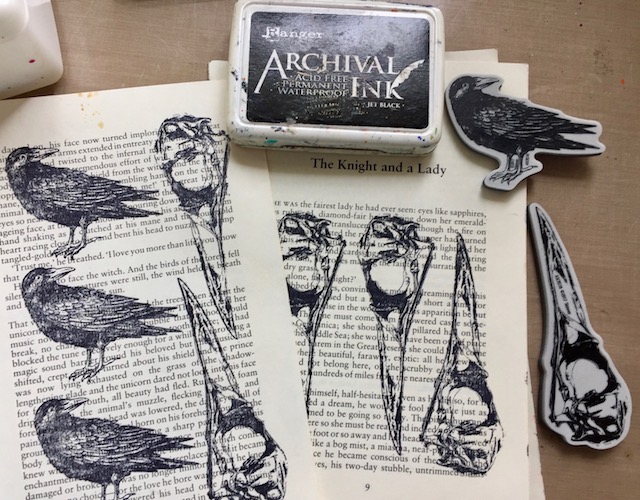 Use Tread Carefully stencil and palette knife with Modeling Paste to go around the art journal page and create a border. Let dry. Brush Yellow Green light, Phthalo Green-Yellow and Primary Yellow Premium Acrylics onto the page.
Create depth by adding the next layer of paint with Americana Thermal Green Neon and Margarita Americana Acrylic. Brush onto page randomly.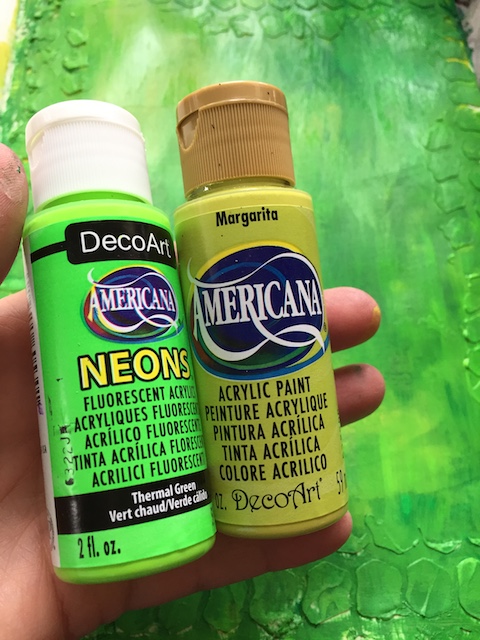 Brush on a layer of Green Gold Fluid Acrylic in the central area, let dry partially, then spritz on water droplets. Lay a paper towel onto page and lift up.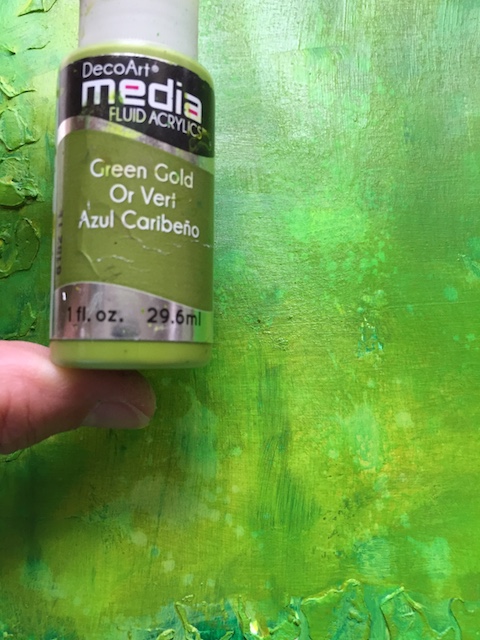 Sponge Quinacridone Gold Fluid Acrylic onto the Alphabet Spaghetti stencil. Use a light touch with the paint.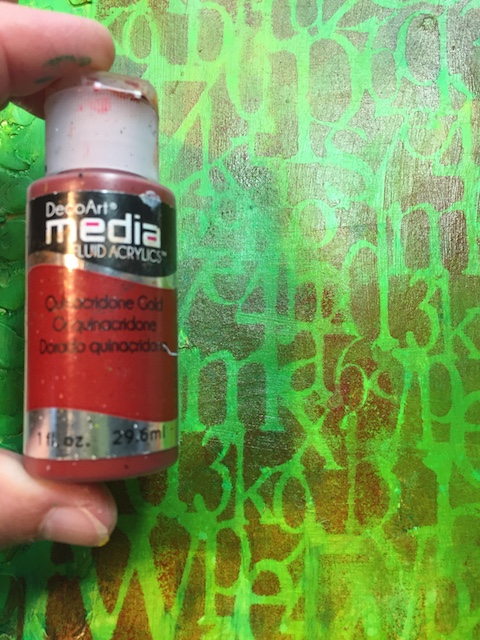 Rub Patina Green Antiquing Cream and Black Simmer Metallic Lustre over embossed areas.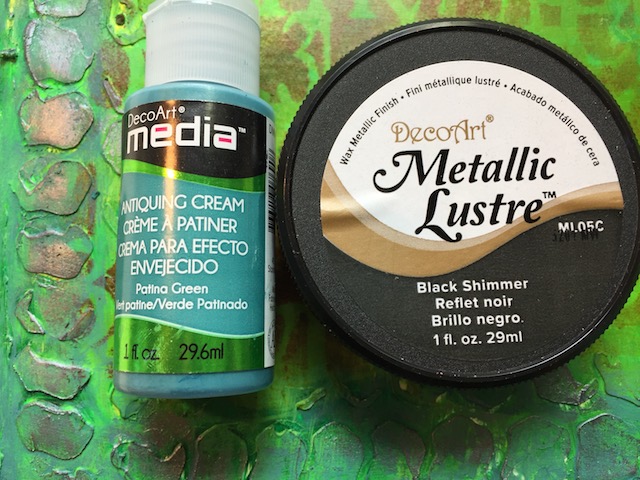 Lightly mist Carbon Black and Turquoise Misters onto the page.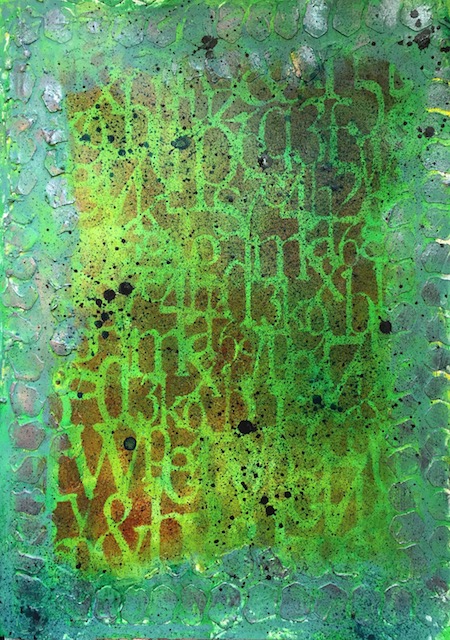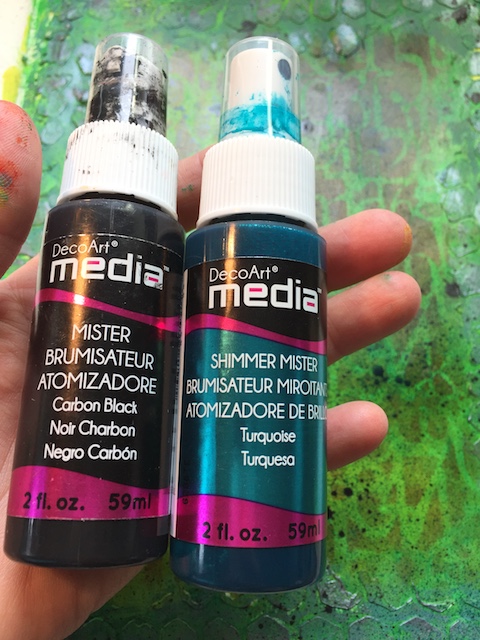 Collage stamped images onto page with Decoupage to create the bone fence for the crows to sit on. Use the skeleton limbs to stamp around the fence posts with black archival ink. Add shadows with a graphite pencil and water, then dry. Scribble around the images with black waterproof pen.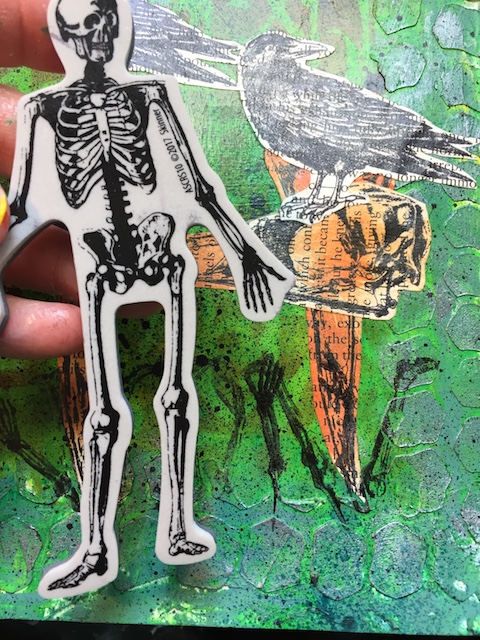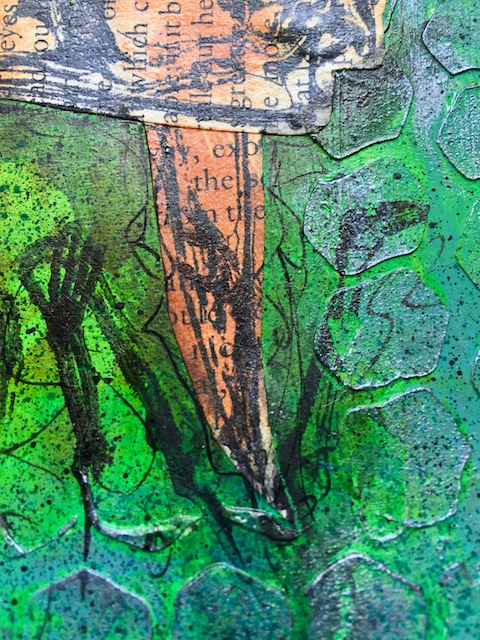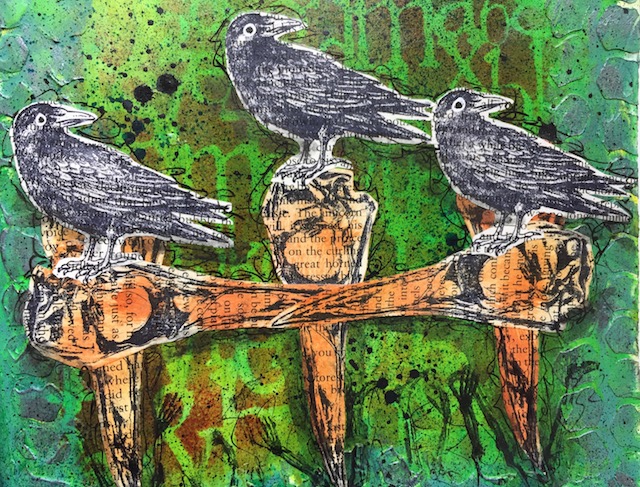 Stamp title with black archival ink, then doodle around letters with white permanent pen. Enhance crows' eyes with black and white pens.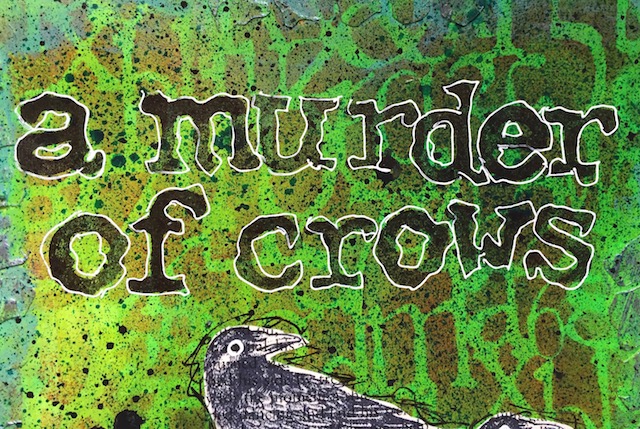 A murder of crows on a fence made of bones...is there a dark tale here, or is it just a trio of friends gathering - you decide!