Posted by DecoArt on Oct 11th 2017
I wanted to celebrate Fall (my favorite time of year) with my latest art project, so what else but with some pumpkin art.   And I decided to make the pumpkin my own by using my favorite way of making art with my painted papers in a patchwork style.
Items Needed:
10 X 10 Birch Deep Edge (1 1/2") Cradle Board
Brayer
Assorted Paintbrushes
Stencil Brush
110lb Cardstock
Brush Tip Black Permanent Pen
Washi Tape
Decorative Knobs
Instructions:
I started by painting 110lb cardstock papers for collage which becomes my 'palette'. I chose my colors with the season of Fall in mind, using Andy Skinner's Alphabet Spaghetti and Industrial Elements stencils. I also used some corrugated cardboard and a foam stamp for added texture--basically whatever you have at hand to create collage papers. You can paint on any type of paper also--the possibilities are endless.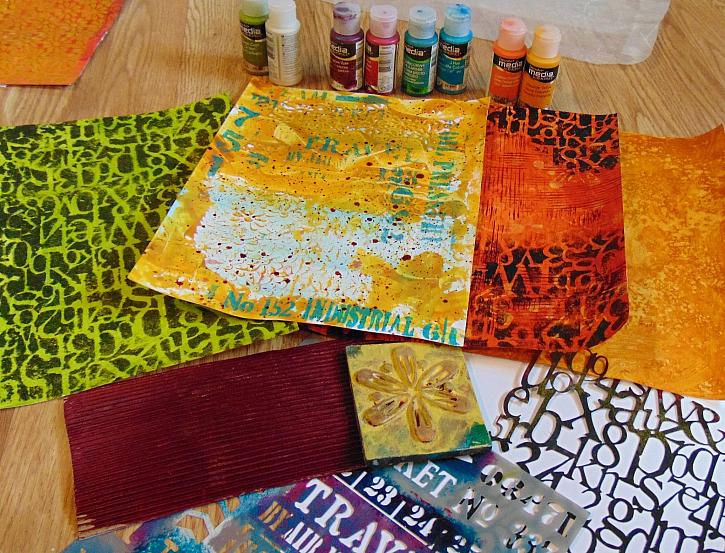 Looking for more textured papers, I embossed some papers with my embossing machine and I also had some textured wallpaper--once again adding my chosen paints on them. The DecoArt acrylics are very rich and vibrant, so whichever colors you choose to use, you'll be happy with.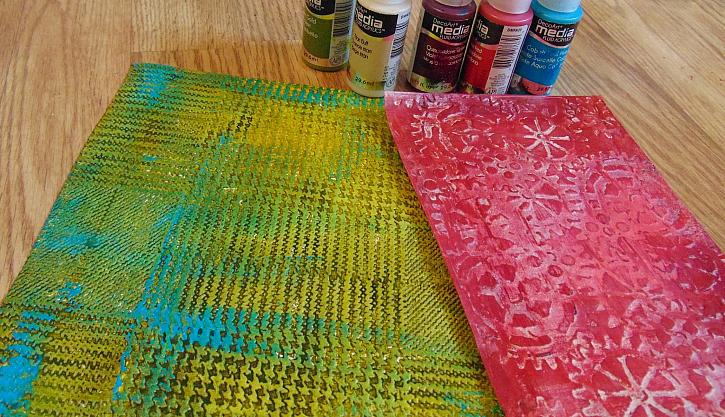 Another way I like to get some texture on my collage papers is with modeling paste through a stencil. I used the Daisy Chain stencil. I mixed some paint into the paste before I applied it to an already painted paper. This is why I like to use the 110lb cardstock--it stands up to anything.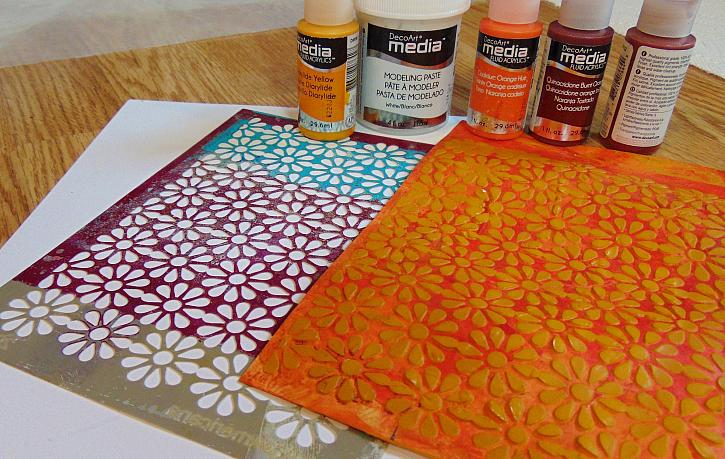 Once I had a good selection of papers, I started my piece on my cradle board by collaging my papers onto it. The papers are fairly heavy because of the layer of paints on them, so it's good to spritz some water onto the back of them before you apply your matte or gel medium. I applied gel medium to the back of them and also to the surface for good adhesion and this also helps to eliminate air bubbles once you brayer the paper down. To seal the papers I applied the DecoArt matte medium over the top of them. I chose to use washi tape for a border and adhered it with the matte medium, since the tape tends to come up from the surface by itself.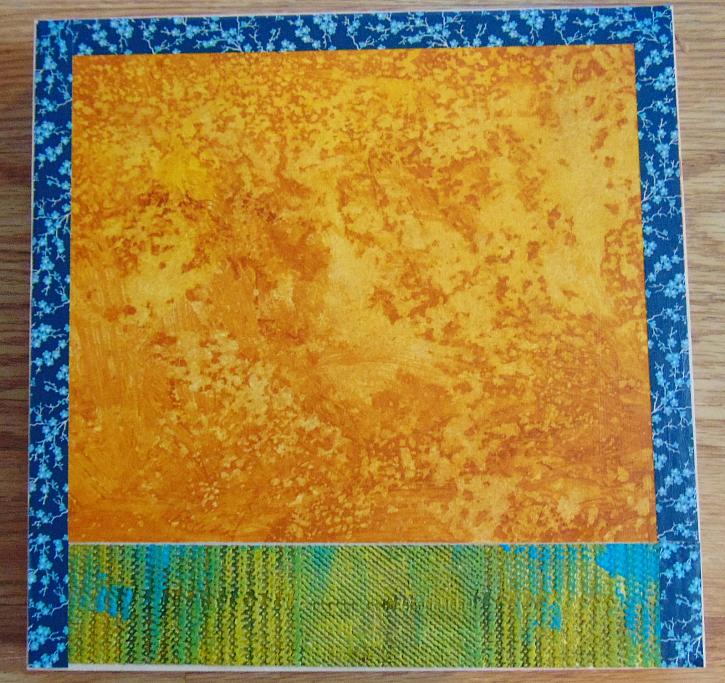 Once everything was dry I applied the DecoArt Crackle Glaze to the yellow part of the piece and when that was dry, I applied the Patina Green Antiquing Cream according to directions, and all of these wonderful little cracks appeared.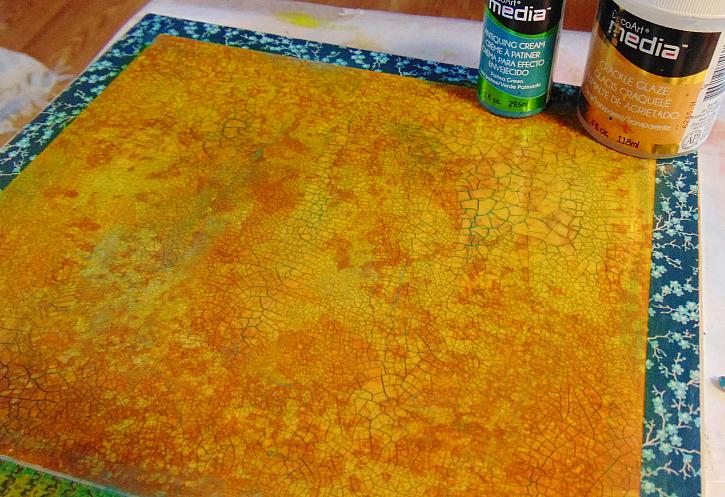 I set this aside, and drew a basic sketch of a pumpkin and crow to use as my template.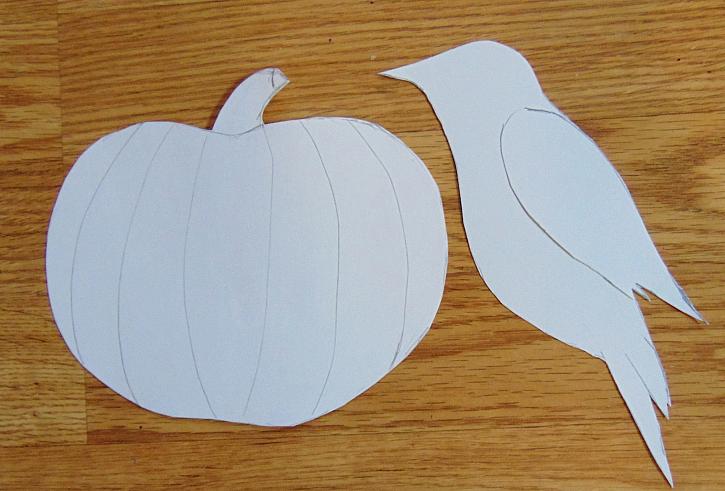 Next, I cut up my pumpkin template into sections to use for my painted papers, and also my crow. For my crow, I painted one of my embossed papers with the Carbon Black paint.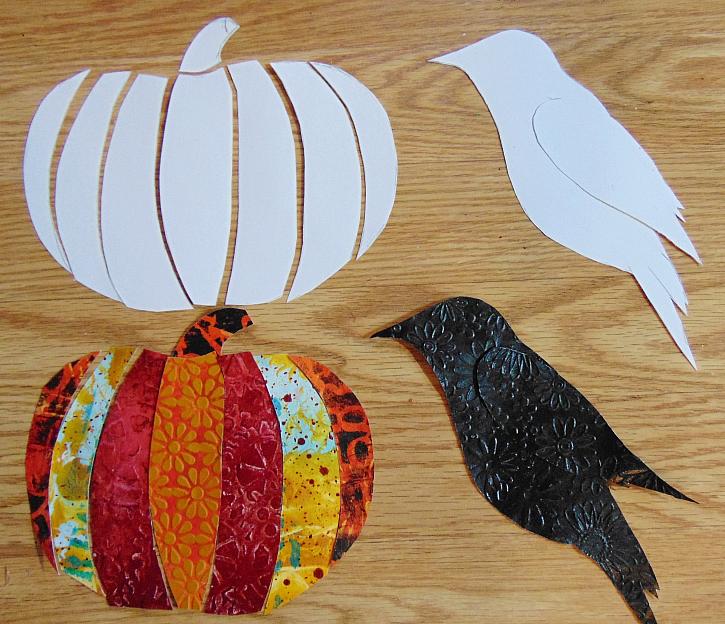 Next, I placed the pumpkin and crow on my surface, and when I was satisfied with the placement, I adhered it in the same manner as I did with my first layer of papers.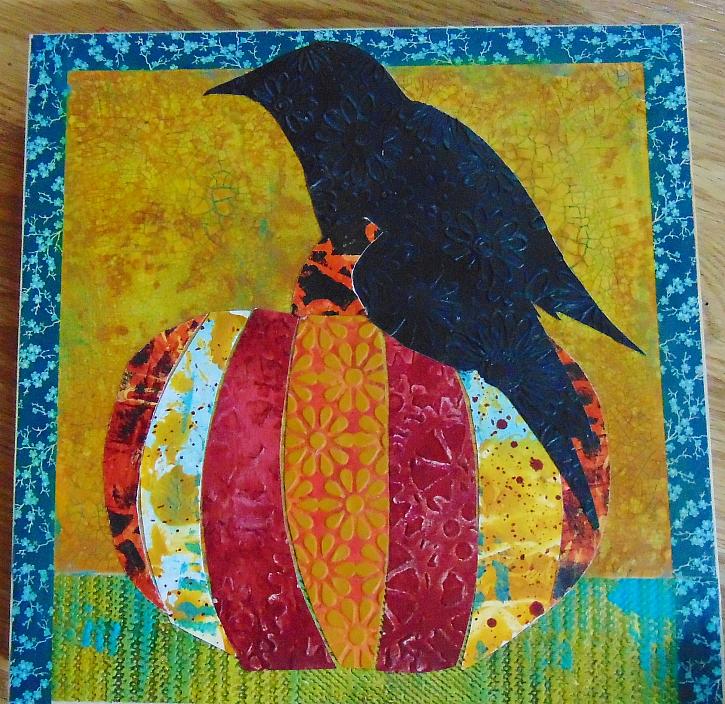 For added details, I outlined the pumpkin and crow with a black brush tip marker pen, and also added highlighting and shadowing around the pumpkin with some titan buff and quinacridone gold.
I also added some details with my Beliefs stencil for the border and word sentiment.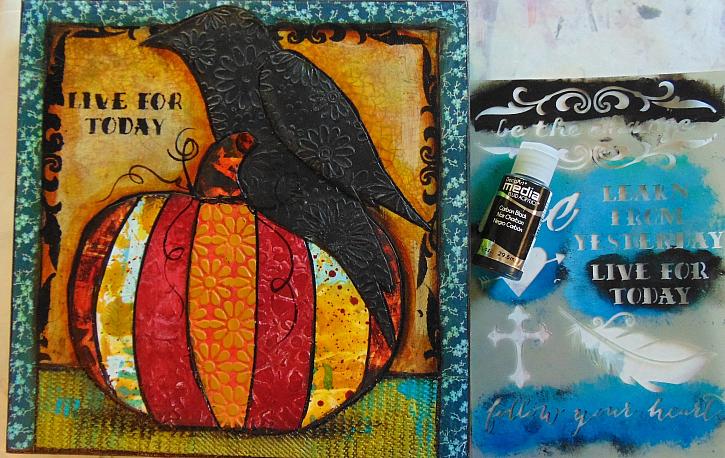 I collaged one of my painted papers on to the sides instead of painting them. When all was dry, I sealed the entire piece with a couple coats of the DecoArt gloss varnish, which makes the colors pop even more.
My finishing touch was decorative knobs on the top of the board.
I hope I have inspired you to make your own pumpkin with your color choices, and to try making your own collage papers if you've never tried this before. Once you get started painting papers, you won't want to stop. Happy Fall everyone!