Posted by DecoArt on Mar 18th 2020
Do you find there are times your muse takes a walkabout and you've lost the inclination to sit at your desk and create something new?
I've been through a tough time with my art motivation for quite a few months caused by a number of new influences in my life, like …..  time needed to help the family; having a husband retire and be at home more and because of that finding myself under pressure to create projects I was committed to.
I am now coming out of the fog and starting to create and make things again, so when asked if I could do a project for the mixed media blog this month I thought I would share an 'exploration' session rather than a thought-out project like I normally do. I had no plan of action other than to use whatever was 'handy' and to see where I would land. Each step was completely random; I took whatever popped into my head as the next step.
Items Needed:
3 Media Boards
Collage Elements (borders And Butterflies)
Text And Number Stamps
Transfers/rub-ons
Instructions: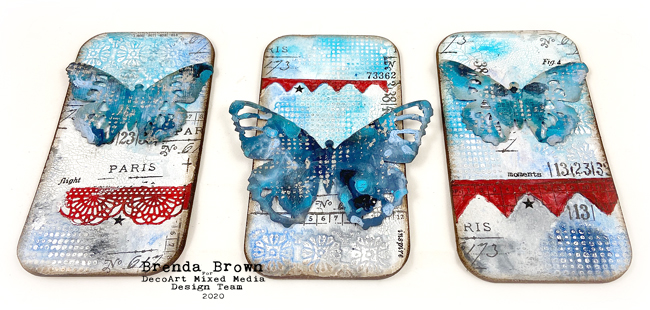 Step 1: I began with three small media boards and gave them a rough coat of DecoArt Media White Gesso and adhered a die-cut border to each of them.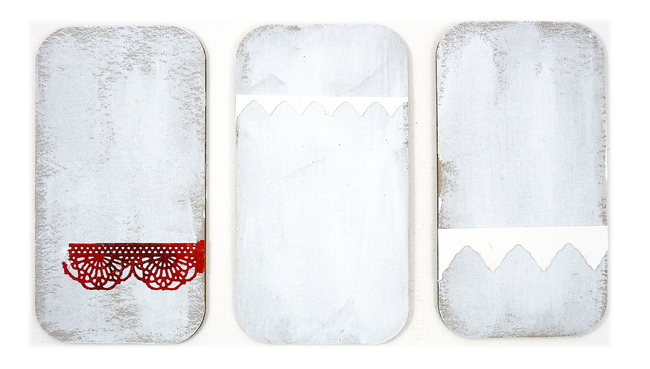 Step 2: Using the white Modeling Paste and a palette knife with some stencils I added some further texture.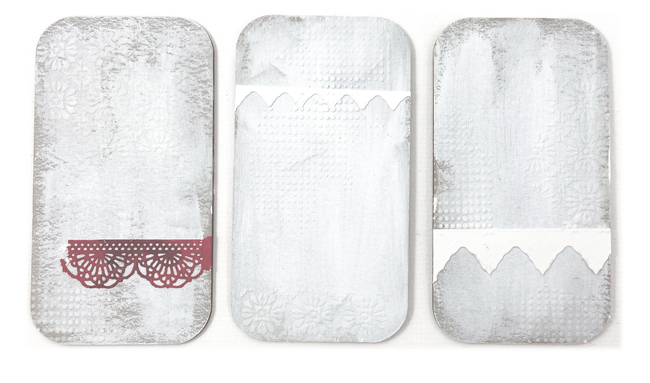 Step 3: Once the Modeling Paste had a skin on it I dragged some white Crackle Paste in a few areas and then put it aside to fully dry.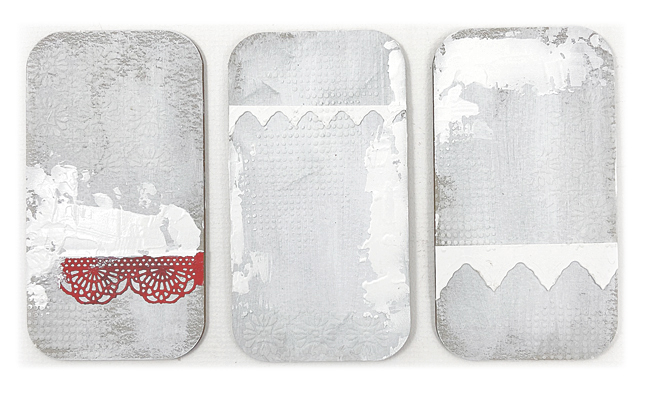 Step 4: It was here I began wondering what I would add to the background to embellish it so I started gathering some bits and pieces and particularly these three butterflies…

….and I sealed them with Heavy Gel Medium to strengthen them for some painty layers. I took DecoArt Media Fluid Acrylics in Prussian Blue, Phthalo Blue and Phthalo Turquoise with a brush and water spritzer and just dabble some of the colours on the butterflies, drying between each layer.

Then I took Primary Cyan and Ultramarine Blue with Translucent White and dipped the butterflies in watery washes of the mixed colours.

Step 5: I had decided by now my colour scheme was blue, red and silver. I wanted to try out some metal leaf size I had bought so dabbed some through a stencil using a piece of sponge, left it for 15 mins to become tacky and added some silver foil.
Step 6: By the time I had finished the butterflies and photographed them the media boards were dry. I painted the white border pieces red (Pyrrole Red mixed with Raw Umber and a spot of Carbon Black) to match the lacy piece and added some dabbles of watery paints and spritzed them to allow them to move around. I used Ultramarine Blue, Primary Cyan and Payne's Grey for the first layers.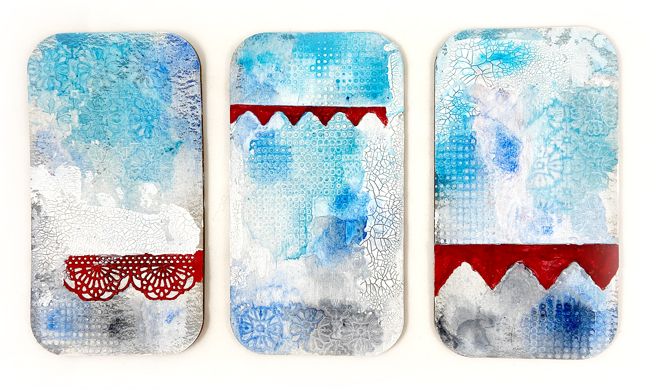 Step 7: To add some interest and contrast I took some small stamps and added words/numbers to the gaps.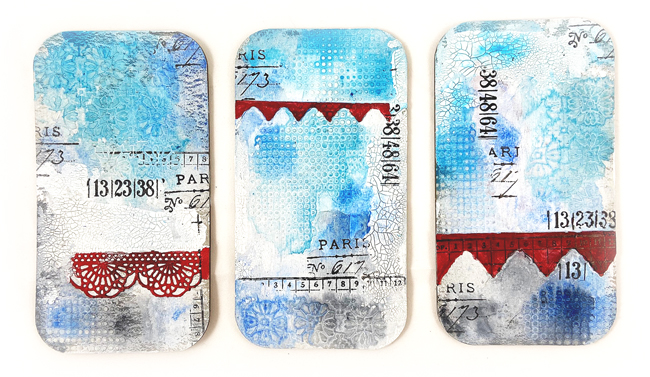 Step 8: The Modeling Paste had taken on the watery colours so to bring the textures back to life I finger rubbed some white paint over the raised textured surfaces.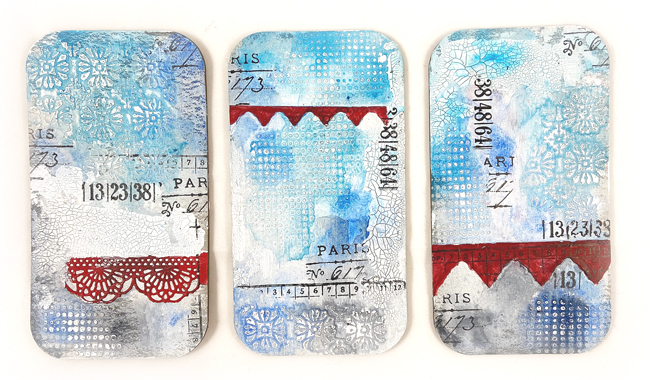 Step 9: I always like to frame my pieces creating a distressed look so I sanded the edges and rubbed in some brown distress inks.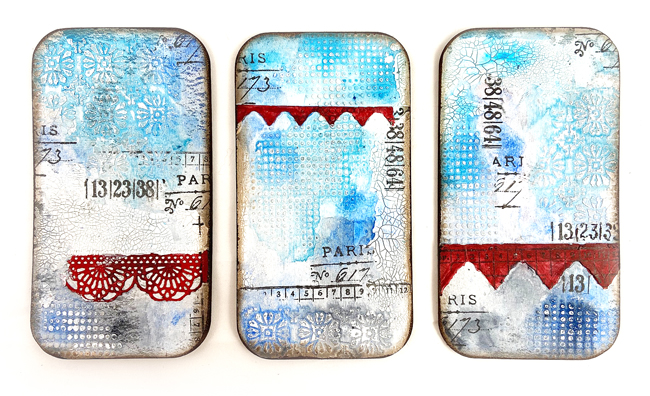 Step 10: To finish I attached the butterflies and added some transfer/rub-ons that were needed to balance out the composition.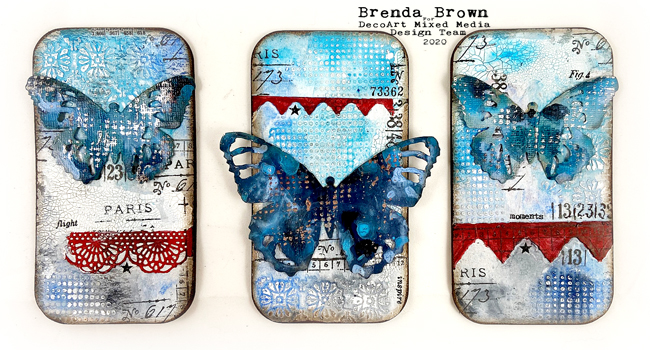 And so appeared this little set of three butterfly media boards with some gorgeous textured painty layers and with quite an unusual colour combination for me.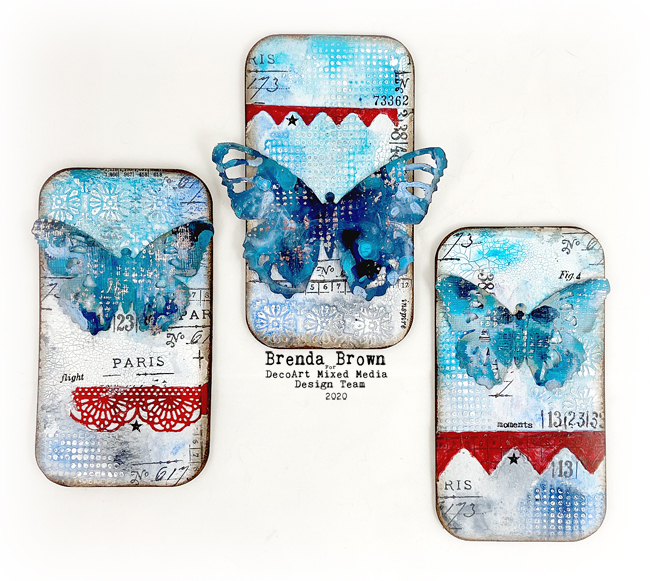 I hope you have time to mix colours and find exciting new shades, experiment with mediums to find out what they can add to your artwork and just thoroughly enjoy the processes of layering and creating your own unique and beautiful designs.
Thanks for stopping by.
Hugs Brenda xxx