Posted by DecoArt on Dec 21st 2017
I worked in oils when I was at college (many, many moons ago) and now mostly work with acrylics and mediums (the DecoArt Media line of course) and create layered backgrounds for my shabby, vintage, timeworn projects. It occurred to me earlier in the year that some of the backgrounds I create could be enlarged and might look like abstract art pieces. So this is one of my experiments in trialing and experimenting to see how it would work. Between each layer of medium and paint, I make sure the canvas is dry unless stated differently in the instructions below.
Items Needed:
30 X 30cm Canvas
Assorted Brushes
Tissue Paper
Cheesecloth
Instructions:
We are going to seal the canvas with a coat of gesso and at the same time use the gesso as 'glue' and paste down a wide strip of crumpled tissue paper and a couple of pieces of fine cheesecloth.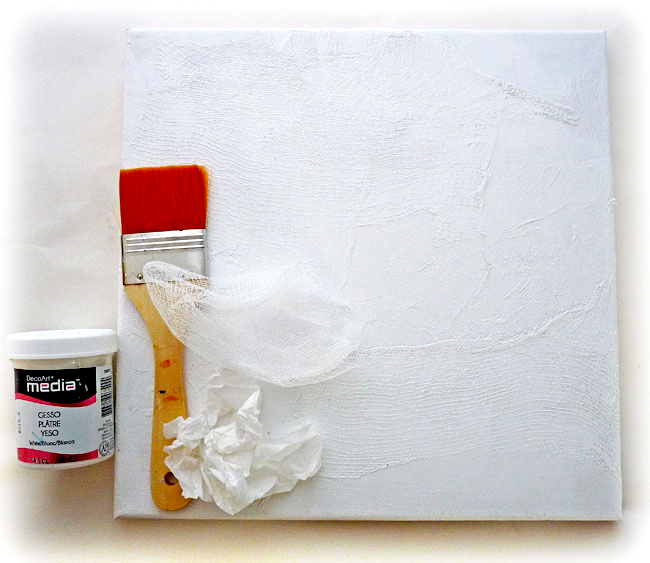 Mix gesso and modeling paste together and add stenciled patterns randomly across the canvas leaving an unpatterned narrower gap at the top and an unpatterned wider gap to the bottom.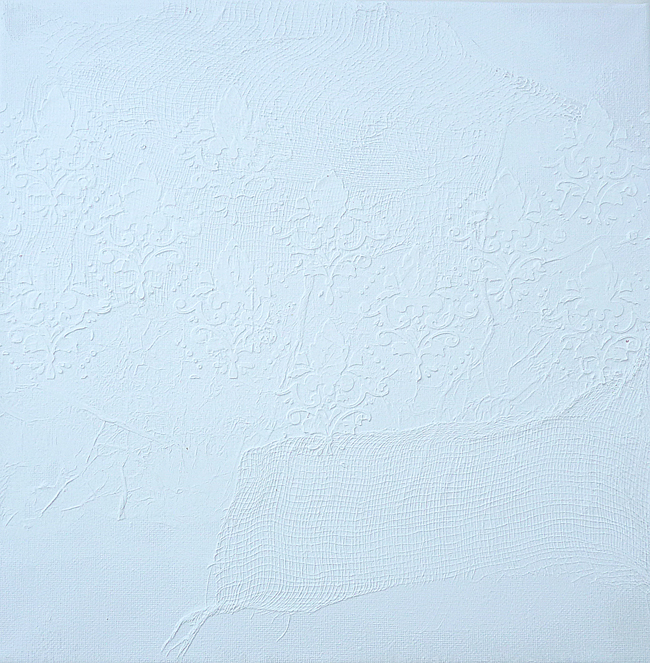 Mix white gesso with burnt umber fluid acrylic to create a soft beige colour.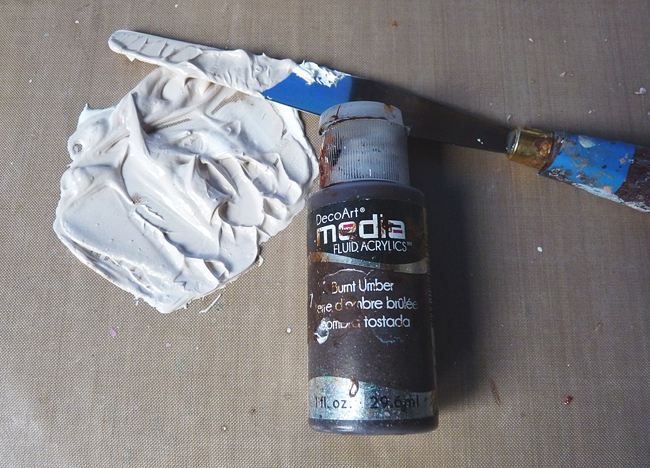 Scrape over textured areas to create more depth of texture – try to keep the stencilled areas from being covered up.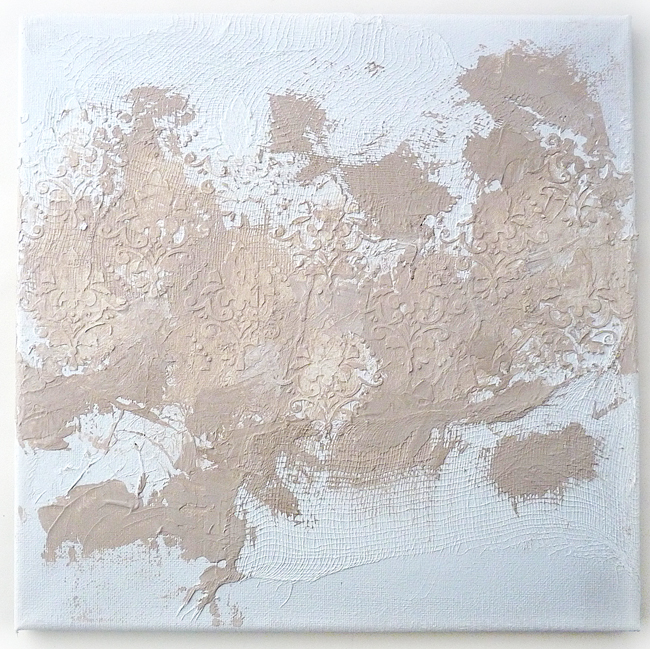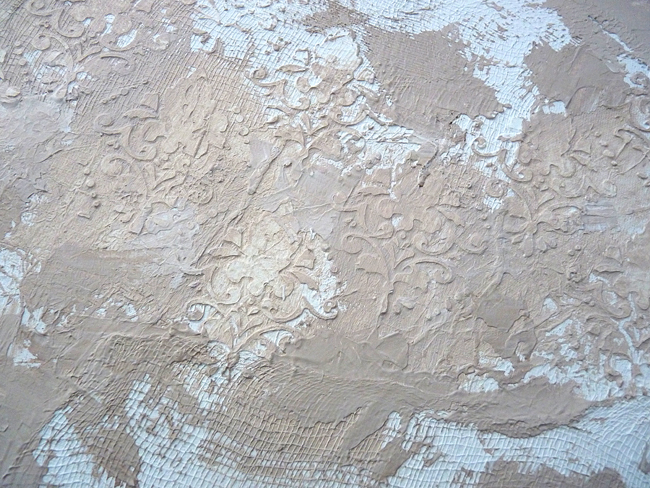 Use a paintbrush and a wet wipe to paint watery washes of pinks over the canvas.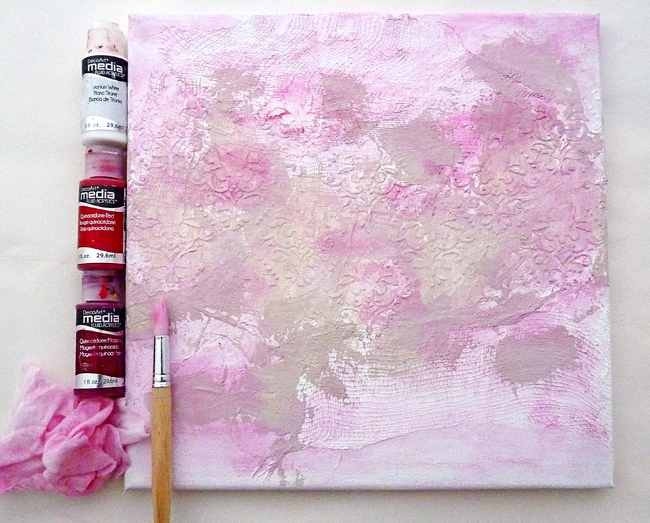 Make a strong watery wash of pink and add some perfect pearls heirloom gold for a shimmery effect and with a fine brush drop colour onto textured areas and spritz with water so that it creeps into the crevices and lays in pools.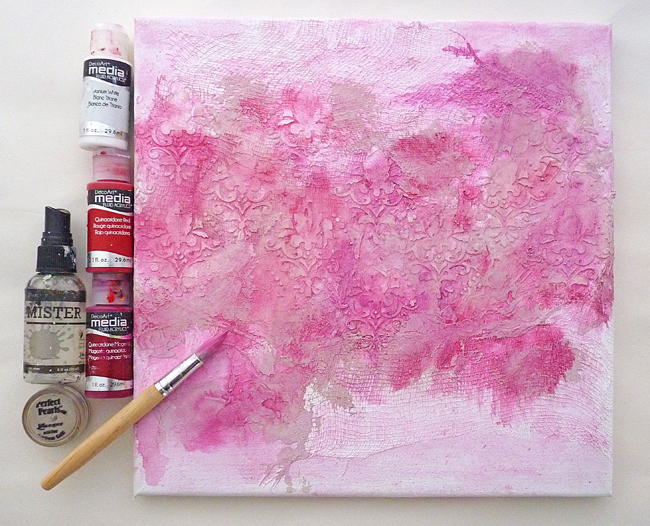 Repeat the colour step above with the brush and spritzer using reds and magenta straight from the bottles. Tip the canvas and let the colours run over the sides.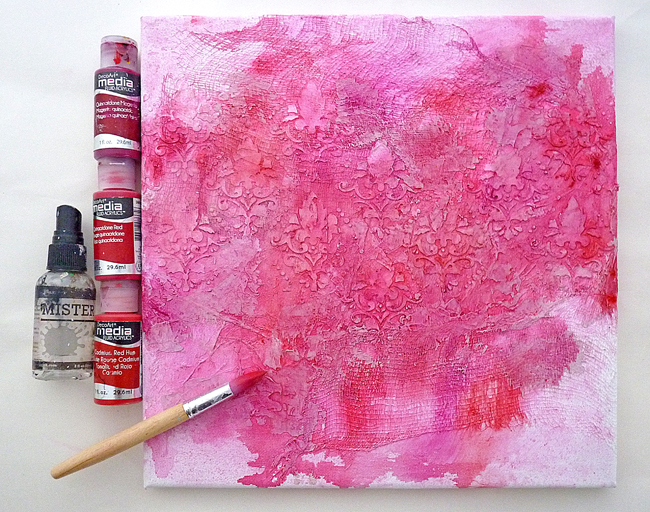 Make your own mister of watery brown fluid acrylic and spray randomly over the flat canvas so that it again pools and collects in crevices. Repeat layers to your own liking.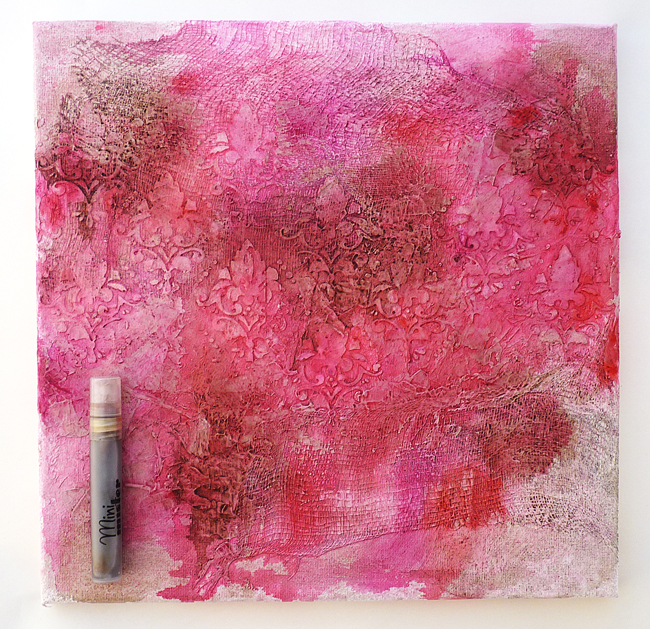 Dry brush white gesso over the textured areas and around the edges of the canvas.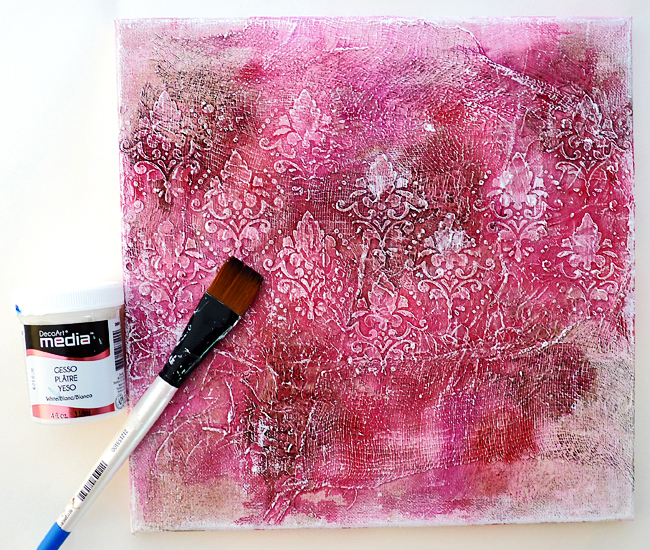 At this point I decided I needed some more contrast and added some deeper colours by dabbing them on and spritzing them with water again.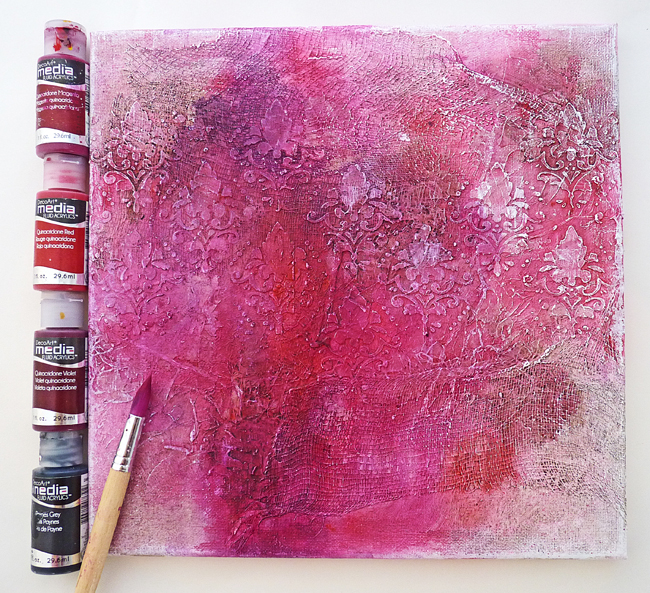 I then repeated the dry brushing with the white gesso over the stenciled pattern.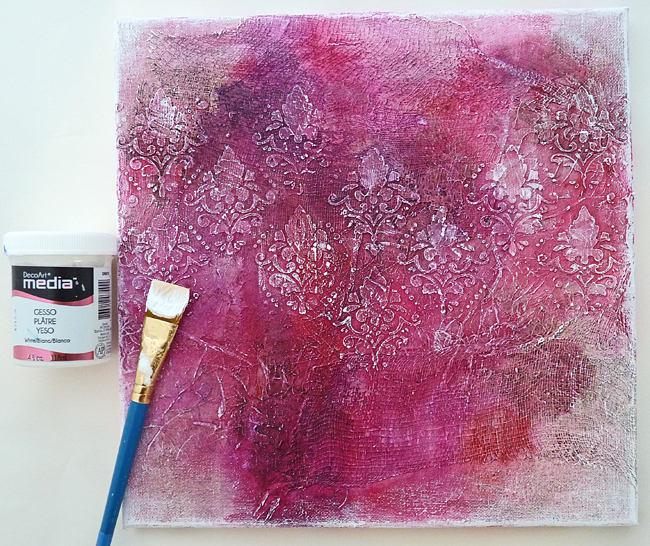 Flicking some of the deeper colours and a little payne's grey adds further depth and interest.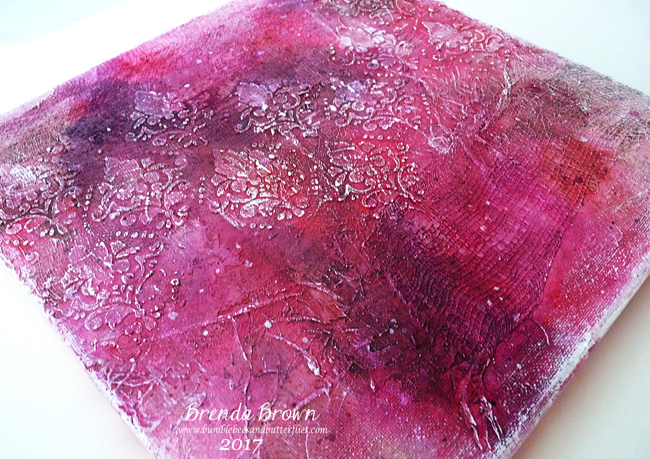 Once finished of course you should seal it and I gave it a spray of Americana matte varnish and you could leave it as it is OR you could use it as a background and add a photo collage, flowers and embellishments etc. It's yours make it into what suits you.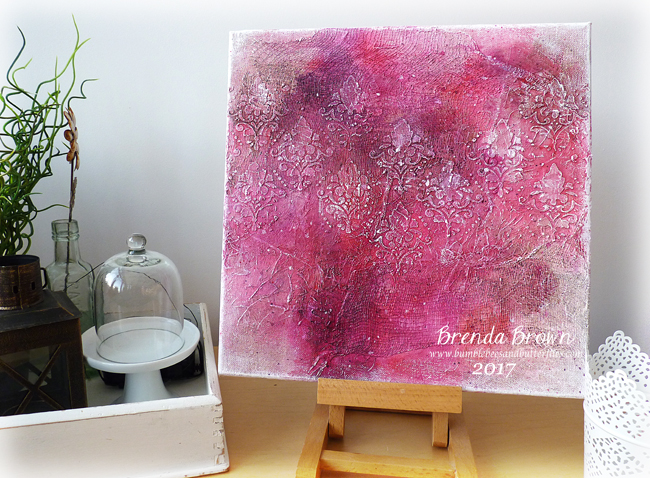 As it's December and Christmas being one of my favourite times of year I decided to add some festive embellishments.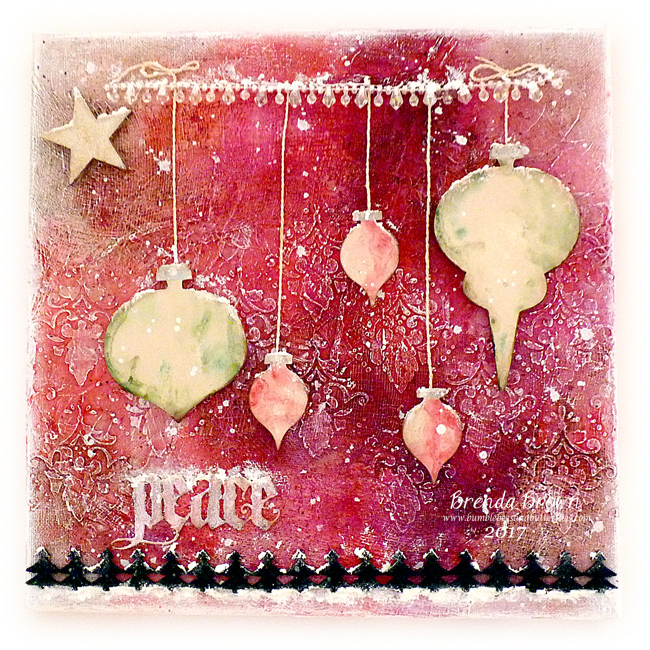 Wishing you all a very Merry Christmas
Hugs Brenda xxx