Posted by DecoArt on Mar 29th 2017
When I create a collage  I'm always looking for different elements that I can use.  I like any kind of texture--it always adds more interest to the piece.  One way I went for the texture (among others) was by including metal that I embossed.  Embossing metal is very easy, and even easier when you use stencils to emboss with, so here's my latest collage with texture.
Items Needed:
6" By 12" Birch Cradle Board
Assorted Brushes
36 Gauge Embossing Metal
Wood Or Plastic Stylus
Foam Pad For Embossing
Alcohol Inks
Scissors
Scrap Paper
Old Book Pagers
Brayer
Heavy Gel Medium
Brush Tip India Ink Permanent Black Marker Pen
Embellishments Such As Jewelry Parts, Keys, Metal Tags, Tokens, Etc.
Heavy Gel Medium
Instructions:
My substrate that I decided to use was a 6 x 12 birch cradle board. This is the easiest surface to adhere the metal too especially if you've never done this before.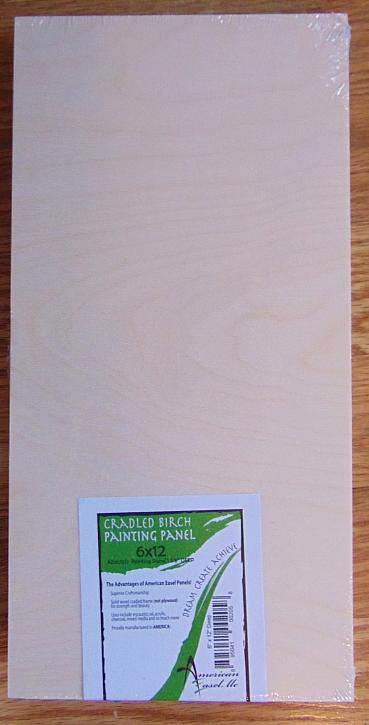 The first thing I did was collage some book pages onto the cradle board surface with the DecoArt Matte Medium, using a brayer to do this, and leaving spaces for the embossed metal pieces. When dry I added a wash of Yellow Oxide, Diarylide Yellow, and Burnt Sienna--adding and taking away color with a damp paper towel until I was happy with the result.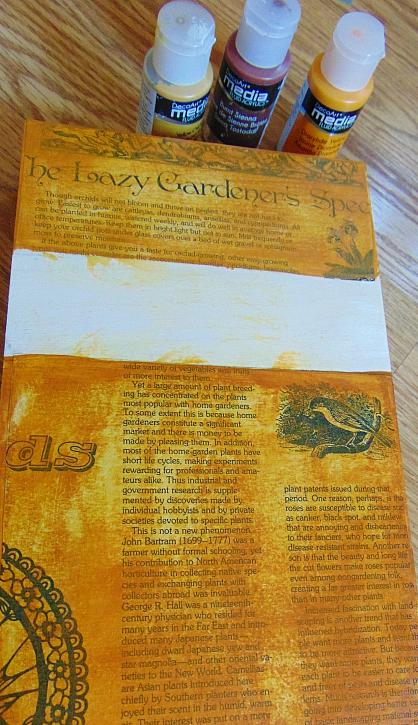 Next, I started embossing my metal. I used copper, but you can use any type that you want--it will be colored in later. Using regular household scissors I cut the metal to the size that I needed for the surface. To start, put the metal on a foam pad (an old mouse pad), and place the stencil over top of it. I used the Americana "Daisy Chain" stencil. And then simply take your stylus (or anything with a blunt tip--like a pencil) and start going over the stencil design. The metal is fairly soft and very easy to work with. I usually go over the stencil 2 times for a deeper impression. If you've never done this before, try practicing on a metal scrap piece, until you're comfortable with the technique.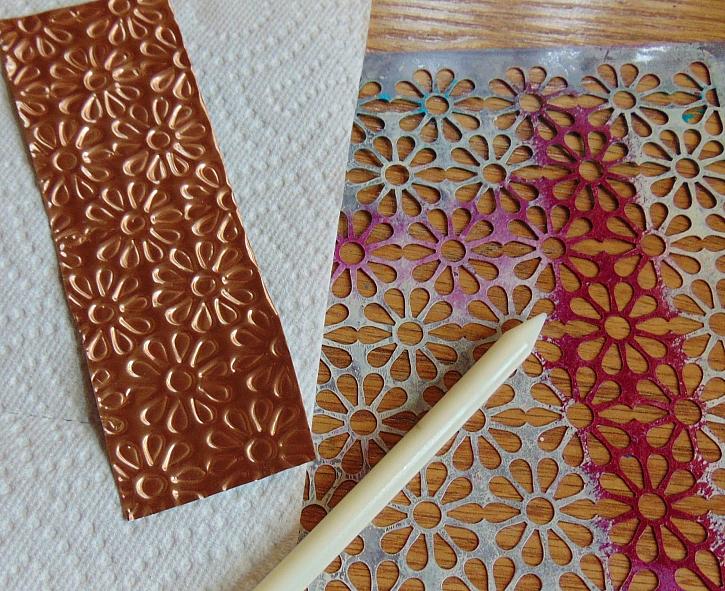 After that I used alcohol inks to add color--again adding and taking away. The inks blend easily and will keep blending because of the alcohol in them, but when they dry, they're permanent. When dry, I like to take my black india ink brush marker pen and smudge it into the grooves.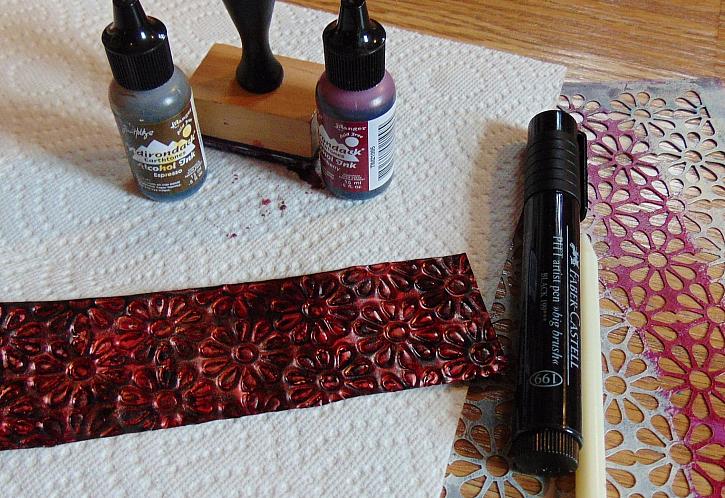 I also embossed another piece of metal in the same manner with the Urban Ink "Beliefs" stencil. I then set the metal pieces aside and went back to my cradle board.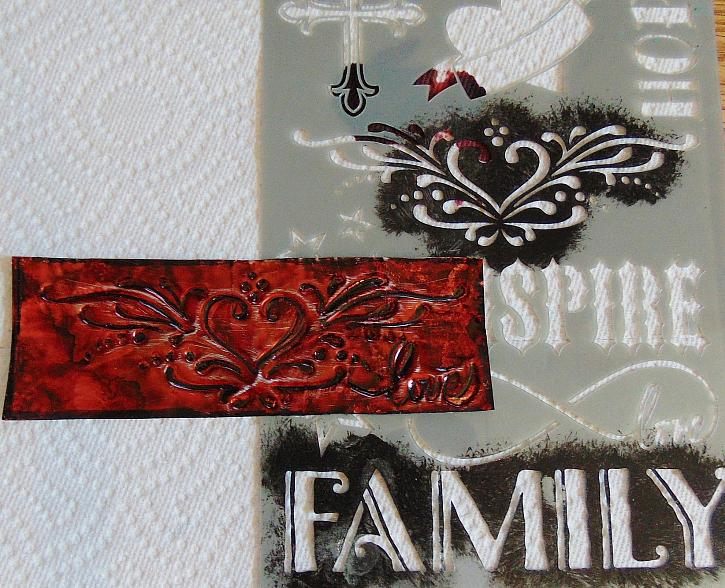 So I knew that I wanted to make a pair of love birds. I made a simple template of a bird and then traced it on to cardstock, and then reversed the template and traced it on to the cardstock again facing the other bird, and then cut out the images with a craft knife or you can use small sharp scissors for this step--basically making a stencil.
Going for more texture, I applied the DecoArt Crackle Paste through my bird stencil over the top of my collaged book page on the cradle board. When dry, you end up with these wonderful little cracks. I added the Cobalt Turquois paint over the top of the birds--wiping some away, so most of the color ended up in the cracks (make sure that the crackle paste is completely dry before adding paint to it). And then I edged the birds using a liner brush with the Carbon Black Antiquing Cream--smudging it as I went. I added the heart and painted it with Quinacridone Magenta paint. I also added some Cobalt Turquoise paint around the edges of the board.
Next I made some houses with my scraps of painted papers from past projects--again adding a little more texture (notice the roofs) These were papers that I had put modeling paste through stencils and then painted them, and also an embossed one that I made with my embossing machine. And also for an added touch put on a bottom border using an old cloth tape measure. I used matte medium to adhere these and gel medium for the heavier paper making sure to seal them on the top as well before proceeding to the next step.
When dry, I added shading to the houses with the corresponding paints, and carbon black paint around the edges using a liner brush. I also adhered the embossed metal to the cradle board using heavy gel medium to do this--apply the gel to the back of the metal and also the surface for good adhesion. I always put some kind of weight on the metal while it's drying (such as heavy jars)--it won't crush the embossed parts. I took my brush tip black pen and outlined the sections and edges of the board also to add a little more definition to the piece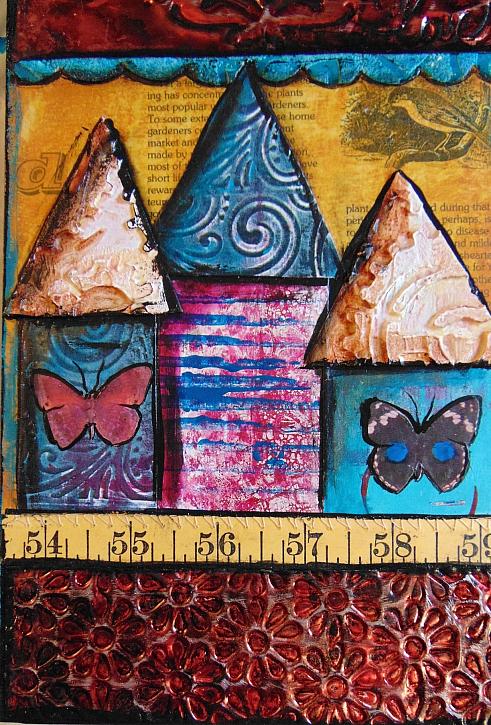 When everything is completely dry, I apply a couple coats of the gloss varnish. This especially enhances the embossed metal. And for the finishing touch, I like to add some embellishments.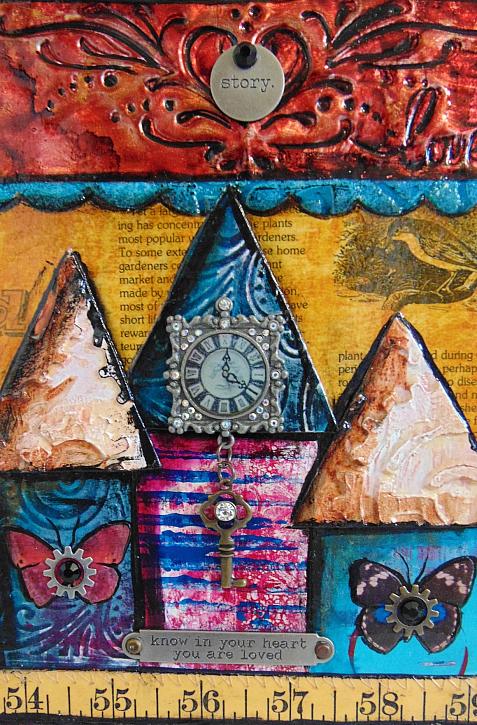 This was another fun project for me to bring to you using DecoArt products.
I hope I've inspired you to add different types of texture to your collage, and to experiment with techniques that you've been curious to try.