Posted by DecoArt on Jul 6th 2016
Nothing is more exciting than a new addition to the family! What better way to make baby feel at home than creating some custom nursery wall art? We have lots of easy-to-do styles here to make that DIY wall art a simple and relaxing way to spend time as you wait on the arrival. 

We'd love to see how you decorate your nursery. Share your projects with us for a chance to be featured #decoartprojects.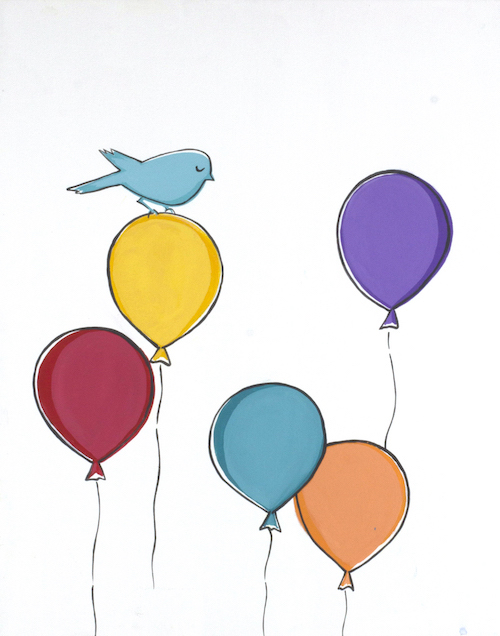 ARTIST: PLA Schneider
I love all the colors of the rainbow and I especially like the way they look against a plain white background. This simple yet bold design is the perfect way to add a pop of color to a kid's bedroom or playroom. I started off by painting the background with Titanium White. Once dry I sketched the design in pencil. Next, I painted the bird in Indian Turquoise and the balloons in Peacock Teal, Primary Yellow, Bright Orange, Lavender and Primary Red. I mixed up lighter versions of those colors by adding white in order to highlight the bird and balloons. Lastly, I added the line work in with a liner brush in Graphite.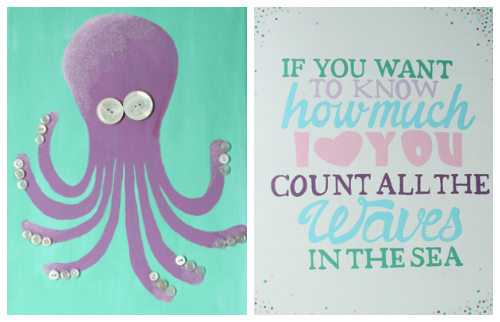 ARTIST: Tara Nehil (Spot of Tea Designs)
See how Tara of Spot of Tea Designs carried an under the sea theme across multiple nursery wall décor pieces. By keeping the same color palette across all of the pieces, unity between them was easily achieved! Tara used: Wild Orchid, Lilac, Poodleskirt Pink, Sea Aqua, Whispering Turquoise, and Titanium White.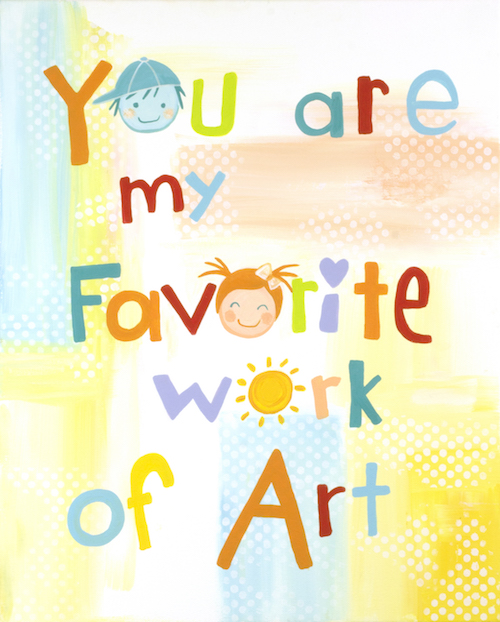 ARTIST: PLA Schneider
As parents we are always telling our kids how much we love them. This simple canvas, not only will it add a pop of color to their room, it will remind them every day. I created the background by loosely painting areas in Bright Yellow, Bahama Blue, Bright Orange, and Titanium White with a chip brush. I used the eraser from a pencil to add random white dots. After the background was dry, I sketched the letters, faces, and sun with a pencil. Lastly, I painted the design in these bright colors: Bahama Blue, True Red, Yellow Green, Bright Orange, Lavender, Bright Yellow, and Desert Turquoise.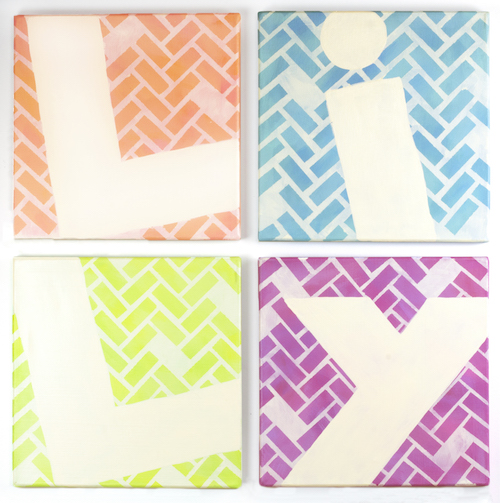 ARTIST: Angela
Barger
I wanted to create something simple and abstract, yet personalized, for my daughter. I first base-coated the canvases with two shades of each color. I used Coral Shell and Tangerine for the orange canvas; Turquoise Blue and Sea Breeze on the blue canvas; Lemonade and Citron Green on the green canvas; and Vivid Violet and Royal Fuchsia on the purple canvas. I mixed those colors directly on the canvases and made sure to leave brushstrokes for added texture. Next, I used scotch tape to mask off the herringbone pattern. I removed random pieces for added interest. Light Buttermilk was used over the scotch tape mask to create the lines. After that dried, I pulled up the tape pieces and added the letters in Light Buttermilk as well.

ARTIST: Kelli Mullins (Lolly Jane)
Break away from store-bought baby gifts. Create a one-of-a-kind piece of art for a new baby with this simple technique from Kelli of Lolly Jane. What makes it even easier? Cutting the silhouettes from vinyl... and enlisting the help of your daughter!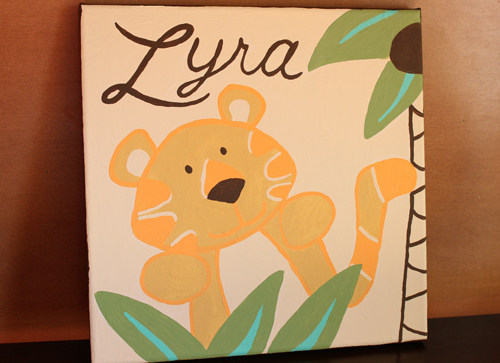 ARTIST: Tara Nehil (Spot of Tea Designs)

Tara of Spot of Tea Designs was also inspired to break away from only purchasing store-bought gifts. This cute little canvas was custom painted and inspired by the room décor already on the mom-to-be's registry! She purchased one small item, a light-switch plate, and used that as the guide. Genius!
Which nursery idea is your favorite?