Posted by DecoArt on Apr 6th 2016
My favorite way to warm up when I'm creating art is to paint a batch of papers with various stencils and other techniques, which will end up in my art collages.  And if paper collage is what you enjoy, then you know that nothing gets thrown away, which means that you most likely have a lot of bits and pieces of paper.  This is a great way of using those paper scraps to help create your own unique piece of art.


The paint colors that I've listed are what I used for painting my papers, but you can choose any color that you favor--whatever appeals to you.
Items Needed:
Mark Making Tools I.e.: Bottle Caps, Foam Stamps, Texture Tools, Etc.
White Cardstock
8 X 8 Gallery Wrapped Canvas
Brayer
Black Permanent Marker
E6000
Embellishments - New And Found, I.e.: Buttons, Watch Parts, Jewelry Findings
Instructions:
Gather up papers that you have painted in the past, or paint a new batch. On 110lb white cardstock paper I used the assorted Andy Skinner and Americana Décor stencils for this batch, plus lots of paint layers adding texture with mark making tools, such as bottle caps, bubble wrap, texture combs, etc. Look around your home--it's surprising what can make great texture and add interest to your painted papers.
Starting with your canvas, using the reverse side to create a shadowbox, cover the sides an front edges with your papers using DecoArt Matte Medium. A good tip is to wet the backside of the papers to make them more pliable to work with. Use a brayer to smooth the papers down and get any air bubbles out, making sure to seal the top of the papers with the matte medium also to seal them.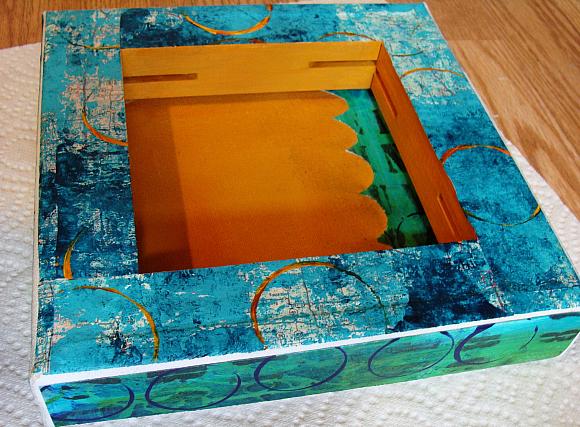 When all is dry, paint the inside of the canvas with a paint color of your choice. I used a combination of the DecoArt Media Fluid Acrylics Primary Yellow and Yellow Oxide. Edge the sides and front edges with the black permanent marker pen. When dry, spray with either the satin or gloss sealer spray.
Next, gather items to help you make the story inside of your shadowbox. Look around for objects in your home and start looking at them as something different--something that they were not originally intended to be used for.
For instance, I took a lid from a canning jar, covered it partially with a scrap of my paper to make it the sun, and then I cut pieces of a metal tape measure to create the sunrays.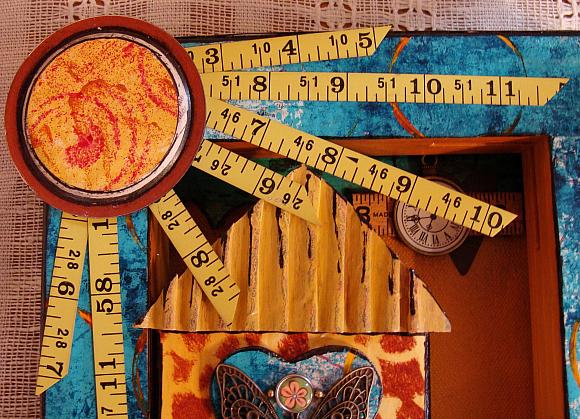 I had an unfinished wood house shape that I've had for a while. These are easy to find either on Etsy or Ebay. I covered it with one of my paper scraps and I painted a piece of corrugated cardboard for the roof.
And the finishing touch for the house before I put it inside the shadowbox-a plain wooden heart covered with another scrap of my paper and a metal butterfly with the word 'family'.
Finally, I had this little boy that was a perfect fit for this story. All of the pieces were glued inside the canvas with E6000.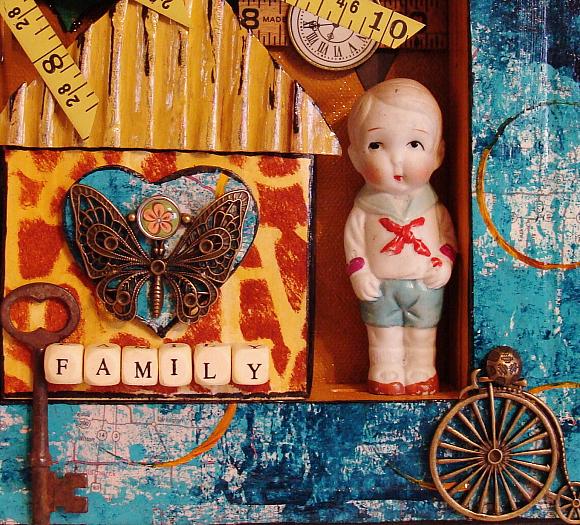 The DecoArt fluid acrylics are wonderful to make painted papers with because of their rich color, which in turn, becomes a great addition for these collage shadowboxes.