Posted by DecoArt on Oct 14th 2015
I love recycling packaging materials and incorporating them with my projects and if you – like me – love buying embellishments of all sorts you will find that they often come in wonderful transparent blister packings! So with this industrial style panel I used some of these as capsules that hold (and protect) some hand stamped metal word bands. Don't they just look cool?! 
Items Needed:
3" By 9" Paint Board
Transparent Blister Packaging
Cutting Mat
Knife
Ruler
Brass Eyelet
Eyelet Setting Tool
Hammer
Goldsmith Anvil
3 Strips Of Metal
Tin Snips
Metal Letter Stamps
Metal Hinge Clip
Assorted Brushes
Old Book Pages
Copies Of Old Portraits
Word Stencil
Texture Rubber Stamps
Archival Stamping Ink
Palette Knife
Brown Alcohol Ink
Felt Pad And Blending Tool
Baby Wipes
Scissors
Heat Tool
Instructions:
Cut your paint board panel to size, then punch the hole for your eyelet at the bottom. This is for fixing an embellishment of your choice once the panel is finished.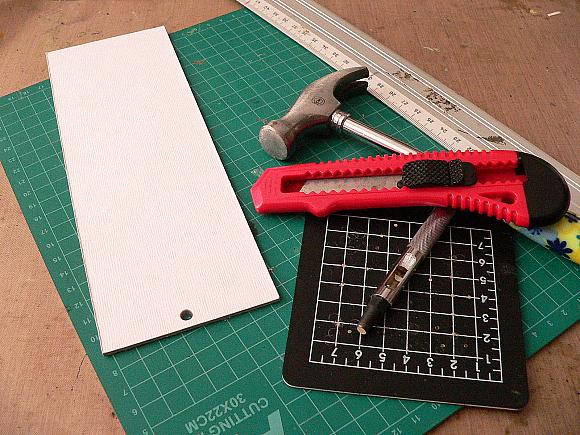 Search your collection of blister packaging and choose one blister for each word of your chosen quote. I used three for my "Life is Art" quote and saw to it that they were of different sizes as this creates more interest.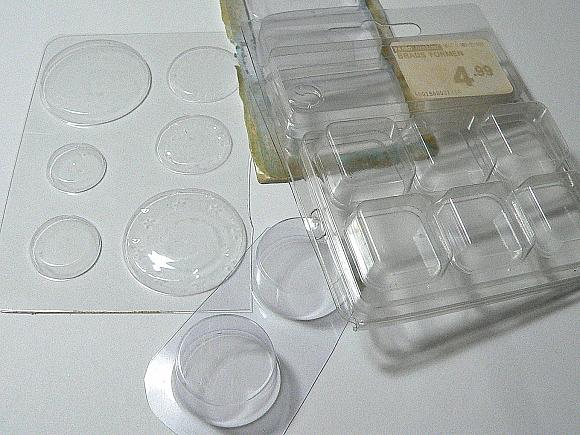 Once you have chosen your quote cut to size some small metal strips (one for each word) and stamp your words into them using a small goldsmith anvil and special metal letter stamps.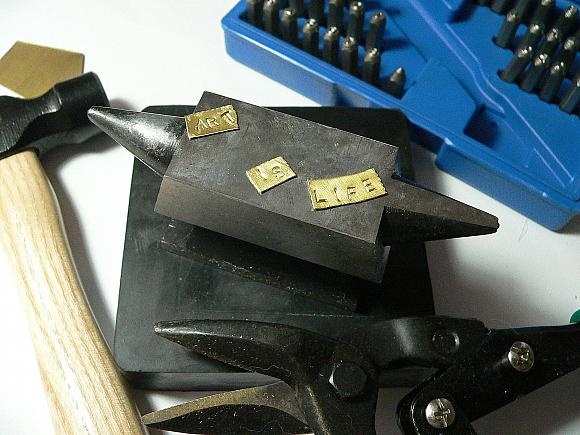 Apply a thin wash of diluted English Red Oxide to the stamped word bands and dry with a heat tool.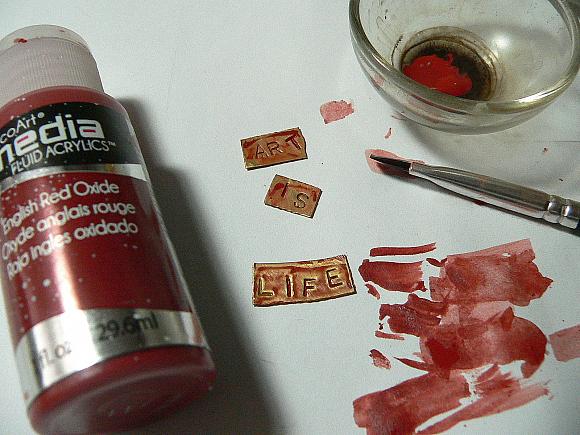 Using your fingertip dab on some Patina Green Antiquing Cream. You can use a baby wipe to wipe off any if you find you have applied too much. Use your heat tool to dry once you are content with the result .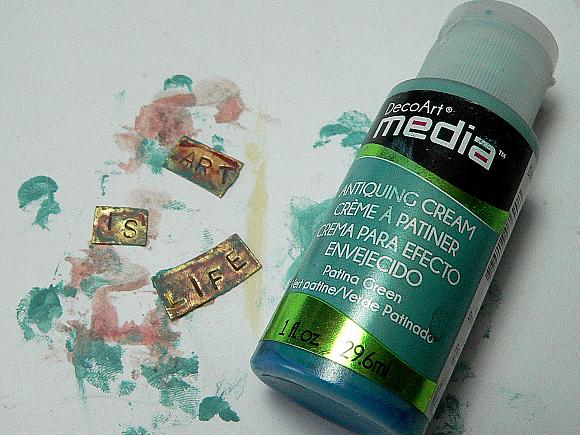 Mark the spots of your blister capsules with a pencil, then apply some white Media Modeling Paste using a palette knife and texture stencils of your choice. Let dry naturally!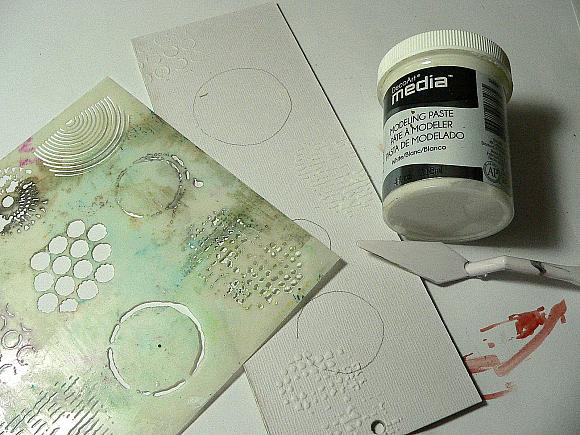 Tear some of Deco Art's lovely Decou-Page papers and an old book page to small scraps and apply them to your panel using Matte Medium and a soft brush. See to it that some of the layers overlap each other as this adds a lot more depth.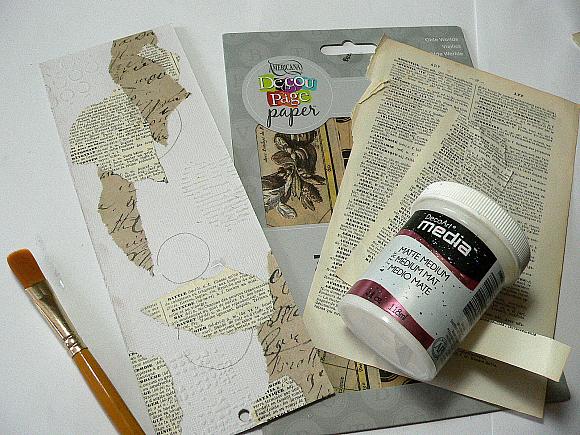 Blend it all in by painting on a layer of Titan Buff, thus covering the white untreated spots of the paint board.
Cut out and tear some copies of old portrait photographs the size of your chosen blister capsules. Glue them in place with Matte Medium.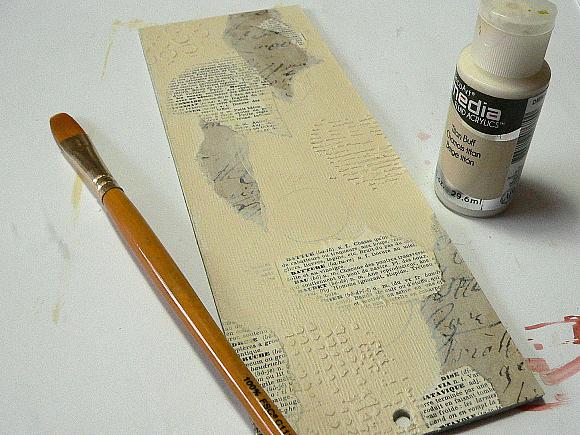 Stamp on some texture using black and dark brown archival ink. I love crackle and stitching patterns but you are of course meant to choose your favourite texture stamps as this is your project and not mine!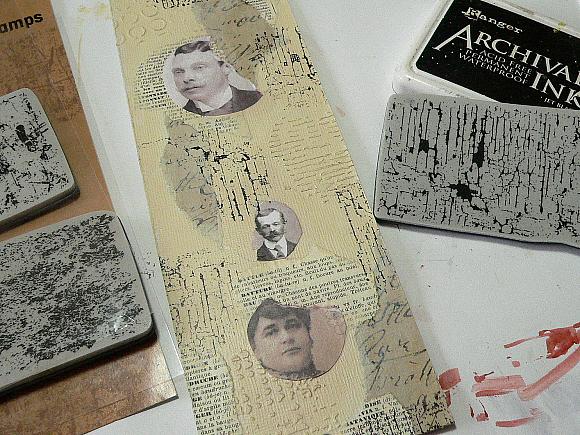 Stencil on some words of your choice using a mix of English Red Oxide with a bit of Paynes Grey. I also painted circles around the portraits with diluted Paynes Grey.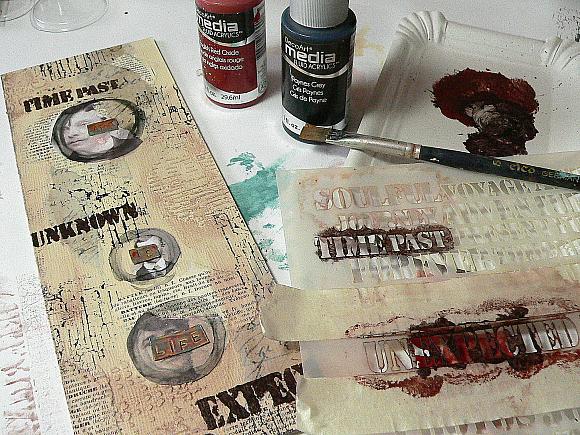 Tone down the transparent blister capsules by applying some alcohol inks with a blending tool. Then glue them in place using matte Decou-Page. Let dry. Create a mix of Texture Sand Paste, some oat flakes and three to four drops of English Red Oxide and just one drop of Paynes Grey and apply around the glued on capsules with a small palette knife. You can also use a baby wipe to wipe off any excess and smooth the paste out. Let dry naturally.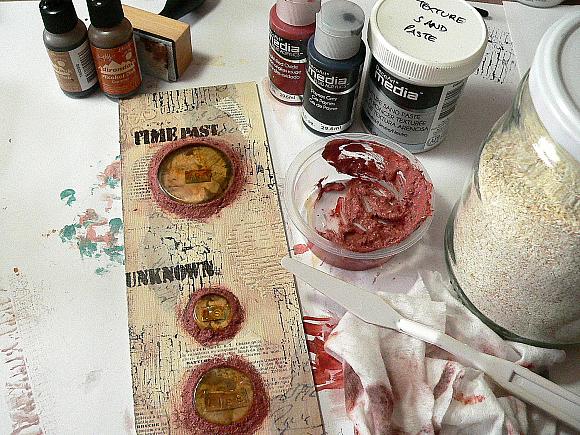 Dry brush some English Red Oxide over the stenciled texture.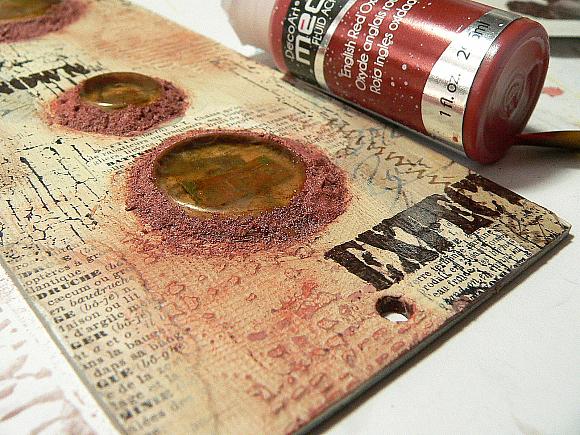 Use your fingertip to smudge some English Red Oxide along and around the edges of your panel to create a visual border.
Take a metal hinge clip and apply a coat of matte Decou-Page to get some "tooth" for your paints to hold on to. After that has dried use your fingertip to dab on some Paynes Grey, English Red Oxide and Patina Green Antiquing Cream. Heat dry between each layer.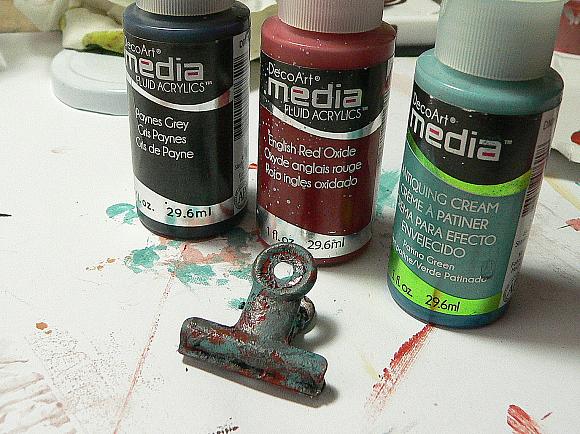 To finish off your industrial panel set the eyelet and attach some found objects like an old key at the bottom. Then attach your hinge clip to the top for a hanging device. You're done!