Posted by DecoArt on Feb 15th 2016
Hello DecoArt readers! It's Crystal from A Pumpkin & A Princess here to share with you an easy DIY Aztec inspired monogram. We're currently in the middle of a room makeover for my daughter so I've been working on small DIY projects to decorate the space. I'm a big fan of creating our own décor, especially if it's inexpensive and easy to make. When I started working on updating my daughter's room I considered what fun, modern themes she would enjoy. I decided to add a few Aztec décor pieces to give them room a modern vibe and add color.   
Items Needed:
Monogram Letter
Stencil Brush
Instructions:
For this project I'm using Americana Multi-Surface paint and a monogram letter from my local craft store.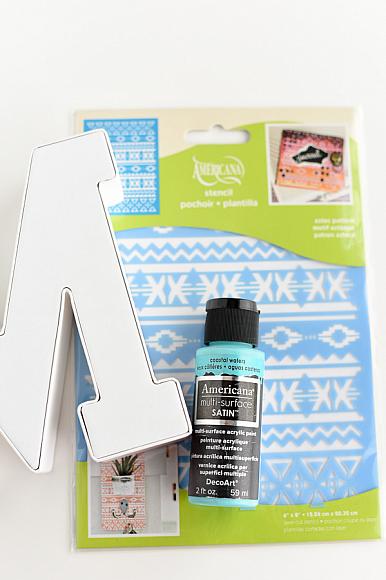 Apply stencil on top of the letter; use a light adhesive stencil spray or tape if needed. Since my monogram has a raised border it made it difficult to keep the stencil in place. I added a couple pieces of tape then later removed the tape and finished stenciling the portions that were covered.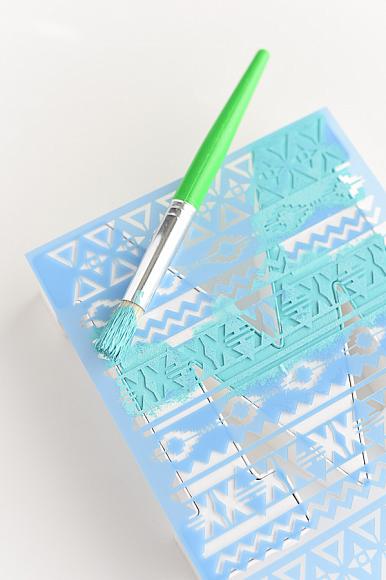 The multi-surface paint line is my absolute favorite. It covers really well and didn't need a second coat. Once I finished stenciling I removed the stencil and allowed the paint to dry for at least one hour.
Coastal Waters is one of my favorite DecoArt paint colors. Luckily it pairs really well with the décor I've started collecting for her room so this Aztec monogram is a perfect fit.