Posted by DecoArt on Jan 8th 2014
My daughter's bathroom sink can get so cluttered! It is hard to keep her organized. This craft idea is just the solution I'm looking for. I love crafting with mason jars, and once I saw these vintage blue mason jars out in stores, I new it would be a really pretty accent to her Tiffany blue bathroom walls.
To add an organizational touch, I wanted to add chalkboard labels to the jars. With Americana Gloss Enamel Glass Chalkboard paint, it was really easy! I also used some pretty coordinating fabric as an accent, which I used Americana Decou-Page Fabric Glue and Sealer with.
Items Needed:
Vintage Blue Mason Jars
Cosmetic Sponge
Sponge Brush
Painters Tape
Fabric Of Choice
Instructions: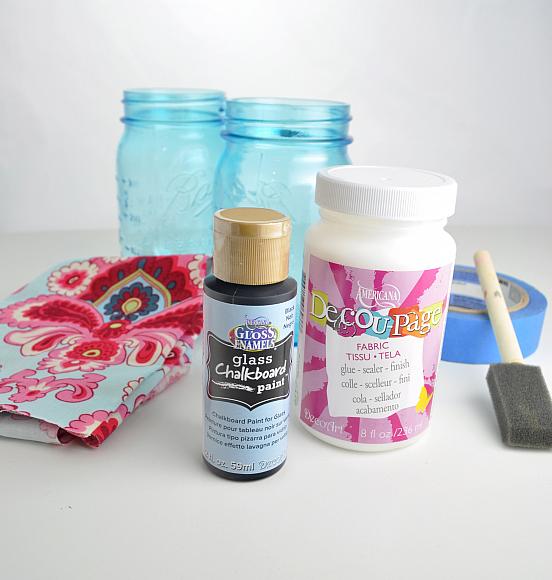 The first step was to create a chalkboard label area on each jar. I used painters tape to section off a large rectangle on the sides that didn't have any raised edges.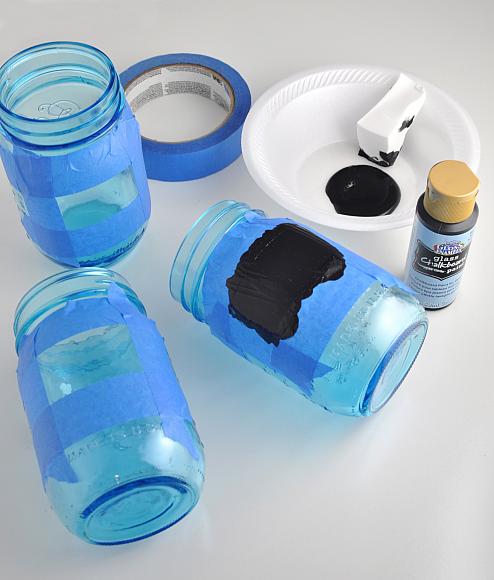 Make sure your edges of your painters tape are really secure, and use a cosmetic sponge to apply a coat of the Gloss Enamel Glass Chalkboard Paint. I let it dry for about an hour, and then applied a second coat. Then I let the jars dry for 4 days, removed the tape, and baked them in a 350 degree oven for 30 minutes. This seals the chalkboard paint to the glass surface, and even makes it dishwasher safe!
Once the chalkboard labels were set, I attached the fabric accent. I cut strips of fabric tall enough to reach from the bottom of my chalkboard labels to the bottom of the jar with about ½ inch longer overhang, and wide enough that it wrapped around my jar with about a 1 inch overlap. For my jar, that was 11 inches by 2 ½ inches.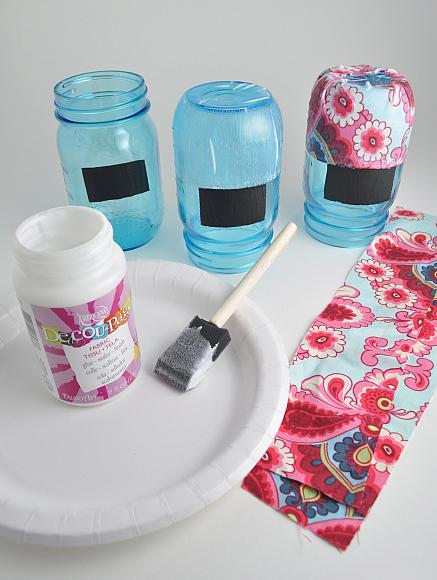 First I applied a coat of Decou-Page Fabric on the bottom layer of the glass mason jars. Then I carefully attached the fabric strip and applied a second layer on top of that with a sponge brush. I made sure to attach the fabric all along the bottom of the jars.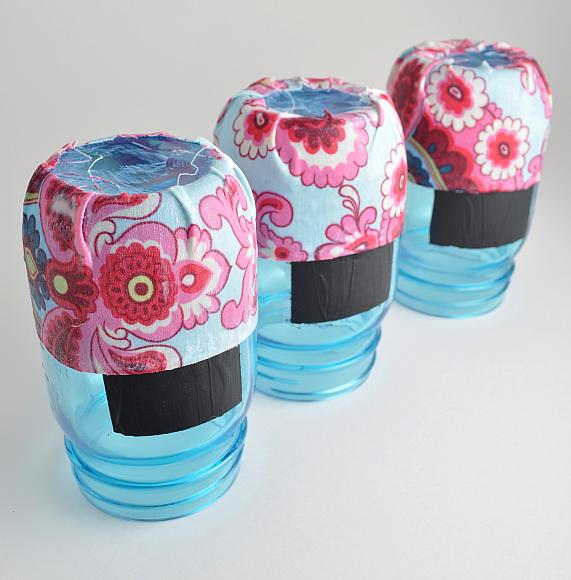 I let them dry overnight upside-down before using. It was time to put the organizer jars to work! I filled one with her toothbrush and toothpaste, another one with her hairbrush and hair accessories, and a third one with cotton balls and cotton swabs. I labeled them accordingly with chalk for her "TEETH, HAIR, and EARS".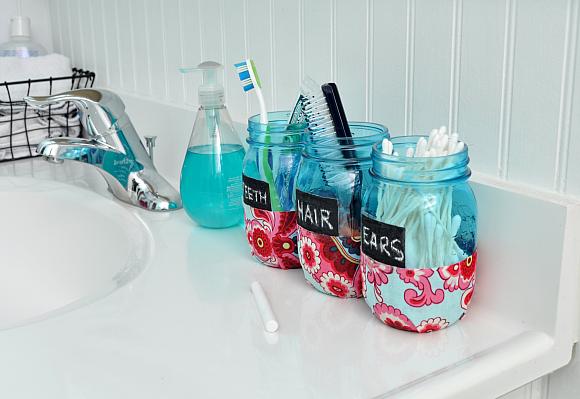 Now, my girl can stay organized and groomed!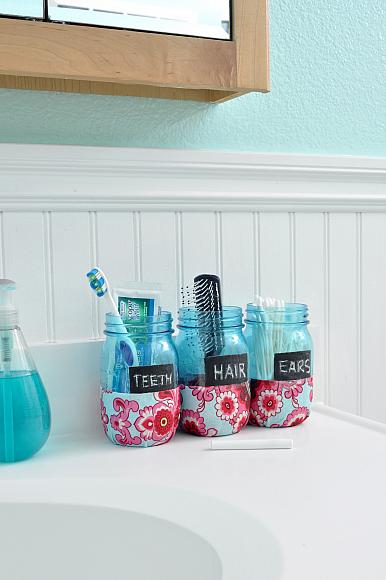 They turned out so pretty and perfect to help organize any space, and with the chalkboard labels, you can switch it up as you like.
Happy Crafting!